Starke Sound IC-H1 Elite Standmount Loudspeaker Review
Starke Sound IC-H1 Elite Standmount Loudspeaker Review
by
Brian Kahn
—
May 19, 2023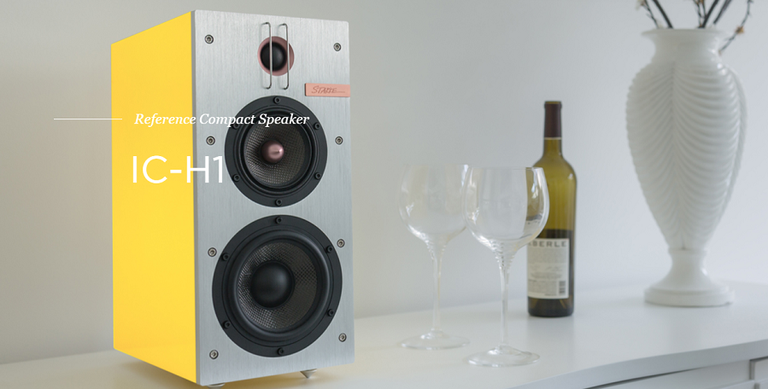 Starke Sound IC-H1 Elite
Enclosure Alignment: 3-way / bass reflex
Driver compliment:
Tweeter: 1" Soft dome
Midrange: 4" carbon fiber cone with phase plug
Woofer: 5.25" carbon cone
Sensitivity: 89dB / 2.83v / 1.0m
Impedance: 4Ω nominal
Frequency Response: 55Hz - 80kHz +/-2dB window
Dimensions (HxWxD): 15.1 x 7.0 x 10.1"
Weight: 11.0 kg (24.2 lbs.)
Recommended Amplifier Power: 100 - 400W RMS
SPL capability @1m: 107.0dB peak
Pros
Highly detailed sound reproduction
Sounds bigger than its size would suggest
Attractive industrial design
Works well close to room boundaries
Excellent build quality
Cons
Bass slightly thick compared to upper frequencies
Slightly laid back treble
Starke Sound IC-H1 Elite Introduction

I was first introduced to Starke Sound at an audio show nearly a decade ago and remember their demonstration room as being constantly crowded with attendees. When I could squeeze in I recall being impressed with the engineering and build quality of the speakers. Now, a decade later, I can finally take a close listen. The speakers that we are reviewing are the Halo IC-H1Elite and are the smallest speaker in the Halo line of speakers.
Starke Sound was founded in Southern California in 2009 by three audio enthusiasts, one of which is Dan Wiggins. Some of you may recognize Dan as the audio engineer behind many popular speakers and headphones, including Periodic Audio and several of the Sonos speakers.
Starke Sound now makes speakers, subwoofers and amplifiers with a focus on multi-channel music. They have multiple facilities but have kept their home base in the Los Angeles area of California. During my discussions with two of the three co-founders, Scott DeLoache and Dan Wiggins, I learned that Starke Sound is vertically integrated. This means they make the drivers, cross-overs and cabinets for their speakers. No off-the-shelf parts that you will find in other products. An additional and perhaps unintended benefit is that in today's world of supply chain challenges, the vertical integration reduces the likelihood of those supply chain impacts in addition to the intended benefits of providing more control over the finished product.
Appearance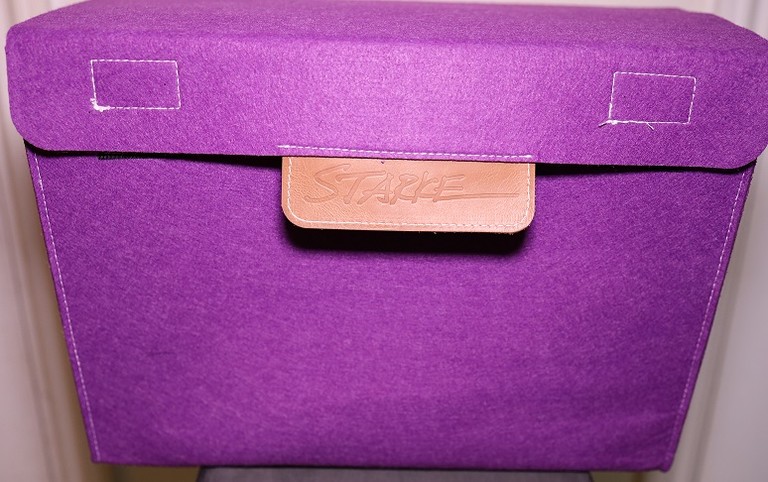 The Starke IC-H1s arrived nicely packaged in a leather trimmed soft case which itself was inside a traditional cardboard box with foam inserts. The nice packaging and white cotton gloves do nothing for sound quality but are a nice way to provide some pride of ownership while reinforcing the purchase decision. With some speakers, I must extensively experiment with positioning to get them to image well and disappear. The Starke speakers did that in both rooms with minimal positioning effort. Not that extra effort does not provide extra rewards, it does, but the first tries in each room were quite good.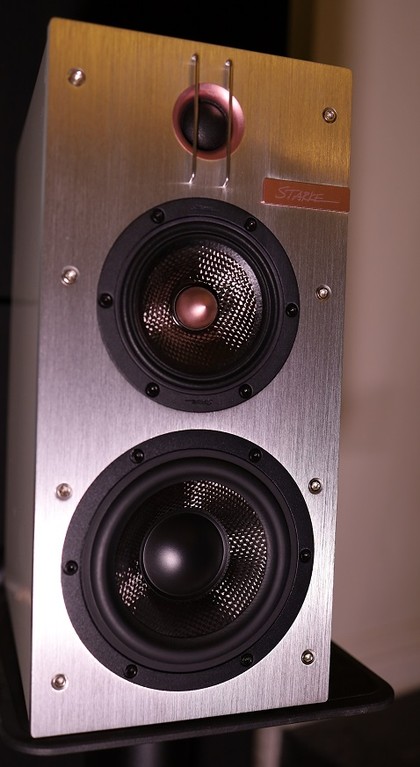 Once the speakers are out of the packaging, you can appreciate their clean, modern design. The finish on the aluminum panel and automotive grade gloss paint on the cabinets would be welcome on speakers that cost several times that of the IC-H1. Overall, they reminded me of Focal speakers with their combination of clean design, fit and finish. That said, I would have liked some more options, starting with the option for a protective grille.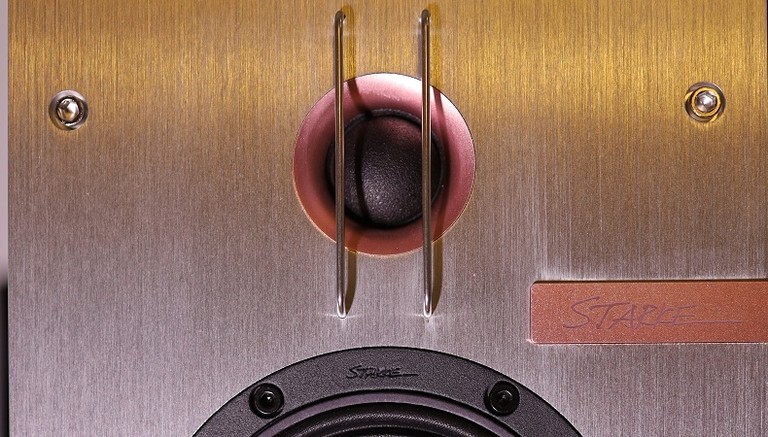 The bridge over the tweeter is a good start, but some additional protection would be a nice option if they are placed in an area with lots of young fingers. I would also like to see some other finish options other than gloss black or white. These are stylish speakers and I would suspect that those who are attracted to them may have some more color in their homes.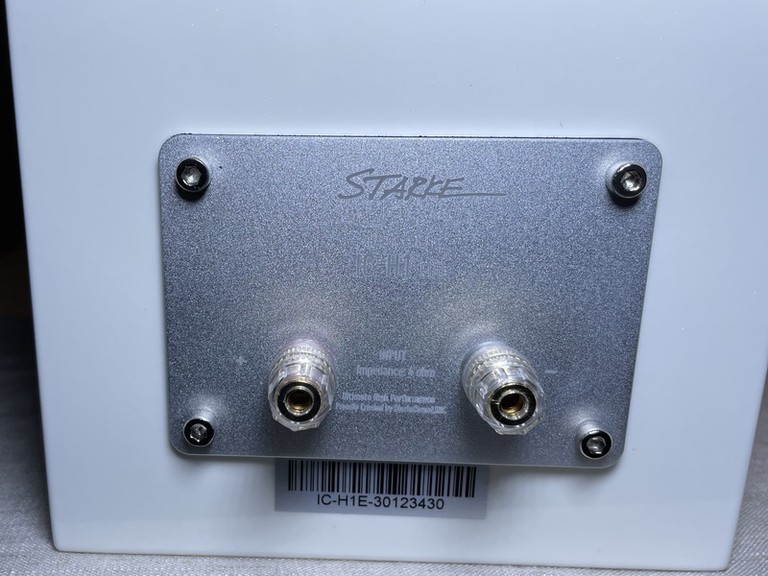 I found the fit and finish of the Starke Sound IC-H1 Elites to be excellent. The front baffle is made from ¼" thick 6061 aluminum alloy with a brushed finish. The vertical brush strokes complement the tall, narrow footprint of this "Reference Compact Speaker" as it is referred to by Starke Sound. The IC-H1 Elite's three drivers are exposed on the baffle with just a pair of small metal bridges running vertically in front of the tweeter to protect it from accidental impact. A small copper colored metal badge with the Starke name. The black, fabric dome tweeter is slightly recessed from the baffle and surrounded by a "pinnacle ring", which happens to look a lot like what most of us would call a waveguide. Both the midrange and woofer cones have an attractive woven pattern, with the midrange being the attention getter with a shinier surface and copper colored phase plug. The carbon in the woofer is a different weave making it less reflective and the woofer also uses a more traditional dust cap.
Design Analysis
The Starke Sound Halo series is said to have "an unbelievably wide dynamic range and sleek midrange". While I am not exactly sure what a "sleek midrange" is, I know that a wide dynamic range is important to properly reproduce music. Starke Sound was kind enough to set up a call with their Chief Technology Officer, Dan Wiggins. I had met Dan at an audio show many years ago and shortly into my call, found that his enthusiasm for audio engineering still ran strong.
The IC-H1 Elite is the smaller of the two stand mounted speakers in the Halo line at 24.2 pounds, 15.1 inches high, 7 inches wide and 10.1 inches deep. The side walls of the cabinet are angled inward, making the rear slightly narrower than the front, presenting a trapezoid shape when viewed from above. This eliminates a pair of parallel walls and their accompanying parallel interior surfaces, reducing standing waves. A gentle downward slope of the top panel eliminates another pair of parallel surfaces, but the front and rear walls appear to be parallel with each other. One of the first things I noticed about the speaker when I saw it was the front baffle which is made from ¼ inch thick 6061 aluminum alloy. This makes for a very stable mounting platform for the drivers. The rest of the cabinet is made from high-density fiberboard laminated over medium density fiberboard. Dan described the interior of the IC-H1 as asymmetrical and heavily braced, and my non-scientific knuckle test on various parts of the cabinet shows it is indeed solid. The rear panel has a small, flared aluminum port near the top and an aluminum plate toward the bottom with a single pair of speaker terminals. All the drivers are connected to the aluminum baffle with highly compressed Poron foam gasket to provide a seal and dampen vibrations.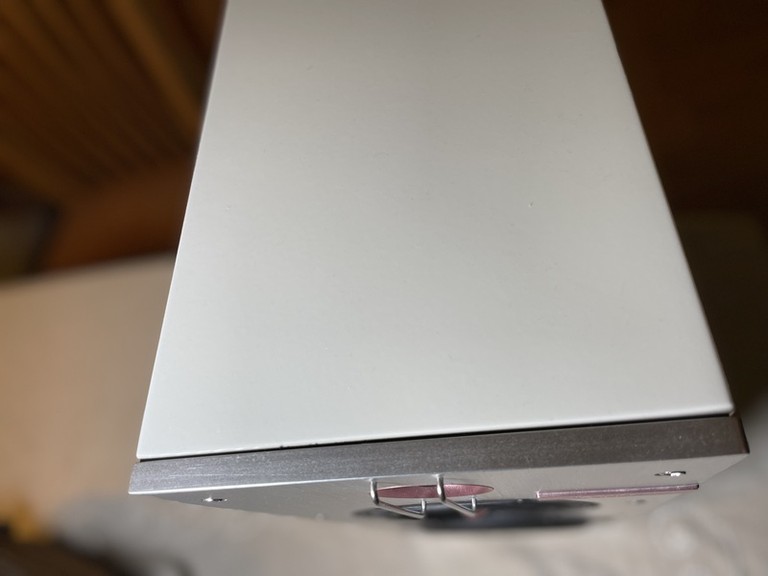 The one-inch silk dome tweeter is a proprietary Starke Sound design, as is every driver in this speaker. Dan Wiggins was extremely proud to explain that Starke designs each driver to obtain maximum performance for its intended use. In order to make sure the benefits of the designs are not lost in the manufacturing process, Starke also makes all of its own drivers for improved quality control and, importantly, in today's world, this has the added benefit of reducing supply chain issue. All the drivers incorporate "Linear Motor Force" ("LMF") driver technology. As explained by Dan, this results in a flatter Bl curve. The Bl curve shows how much force the magnetic motor strength is exerting (typically displayed along the vertical axis of the chart) at any given excursion point (typically displayed along the horizontal axis of the chart). This helps with improving dynamics and reducing distortion by reducing the variables that arise as the driver moves throughout its range of motion. The architecture of the LMF assembly includes a dual-gap magnet design which has the voice coil travelling through multiple gaps in which the design is overhung for the individual magnetic rings but underhung for the overall structure.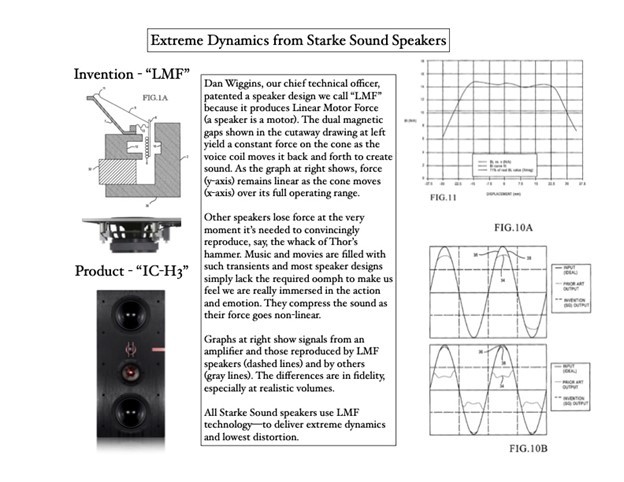 Other than the eye-catching phase plug, the four-inch midrange looks fairly normal. In speaking with Dan, he explained that the carbon fiber is over molded with a polymer rather than utilizing a more common laminate construction methodology. Dan states he has found the over mold process to provide a more uniform bonded surface. I asked why use a hybrid material and he explained that while the carbon fiber cones are extremely lightweight and stiff; they need to be damped. In this conversation, Dan differed from the now popular approach of making drivers as light as possible. He believes there is a proper weight range for each driver and they can be too light. The over mold process provides damping and brings the overall weight within the desired range. The 5.25 inch woofer is also carbon fiber, but appears to be a slightly different material.
As part of the Halo line, the IC-H1 Elite uses the Halo crossover. My description will not do the crossover justice, as discussing audio technology with Dan is akin to drinking from a firehose. In short, like other crossovers, the Halo seeks to keep each driver operating within its optimal bandwidth. The design philosophy behind the Halo crossover is to utilize high order crossovers to reduce power bandwidth, lobing and comb filtering while also providing flatter impedance.

Confused about what AV Gear to buy or how to set it up? Join our Exclusive Audioholics E-Book Membership Program!