SVS 3000 Micro Subwoofer Breaks the Small Size Barrier with BIG Sound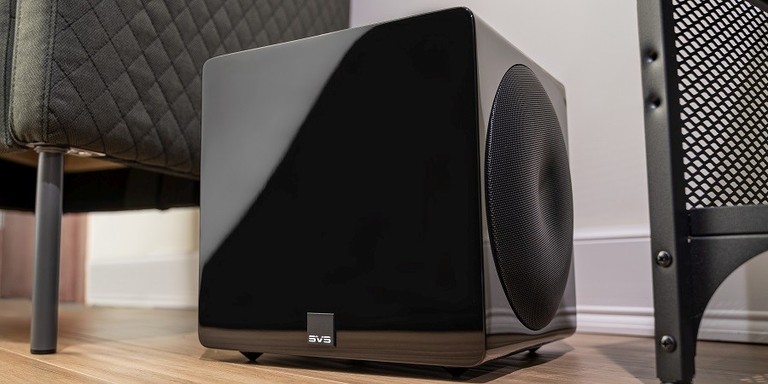 SVS 3000 Micro Subwoofer
Summary
800 watt RMS amplifier
Two side-firing 8" drivers
50Mhz Analog Devices Audio DSP
Subwoofer Control and Bass Management Smartphone App for Apple, Android, and Amazon Devices
Frequency Response: 23-240 Hz +/- 3 dB
Dimensions: 10.9" H X 11.7" W X 10.7" D
Weight (unboxed): 42.5 lbs.
SB-1000 Pro Weight (unboxed): 22 lbs.
RCA stereo input/output
Executive Overview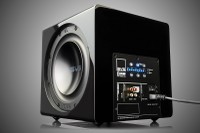 Hot on the heels of the just-launched 1000 Pro series, SVS releases a new subwoofer that is very much a surprise coming from them. It is a surprise not just as something that comes so soon after their last product launch but also it is an atypical design from SVS: a microsub! Yes, you read that right! They call it the 3000 Micro. However, SVS being SVS, they didn't just release a conventional microsub design; they put their own spin on microsub design which looks to yield big performance from a small box.
SVS has pulled some neat tricks to make a sub of this petite size work, and they have avoided the pitfalls of other microsub designs. Before we talk about what SVS does that is special, we should first briefly discuss why microsubs are so hard to pull off. Other manufacturers typically used a small, high-excursion driver that powered a heavy passive radiator. That old approach worked to get some deep bass out of a small enclosure, but it needed a ton of wattage, and it also required extremely high excursion by both the driver and passive radiator. The problem with that design is that it led to some serious reliability issues since the long throw of such a small cone created some high mechanical stresses on the suspension for which there was not a lot of room. Furthermore, stuffing a huge amount of wattage into such a small enclosure means putting a lot of heat into a small space and not much surface area to disperse it from, and heat is the enemy of long-term reliability in electronics. What exacerbates all of that is the passive radiator needed a lot of added mass to achieve a low resonant frequency, but that meant that it could get very heavy. In fact, those passive radiators became so heavy that they could vibrate the subwoofer out of position and even get them to walk across the floor in some models (indeed, I have often joked in the past about having microsub races using a tone generator as acceleration and steering). On top of that, the tremendous vibration was probably not good for the on-board electronics. What is more, to achieve that high-excursion and handle all of that wattage, those microsubs had a lot of voice coil, and that means lots of induction-related problems like high distortion and a peakish response.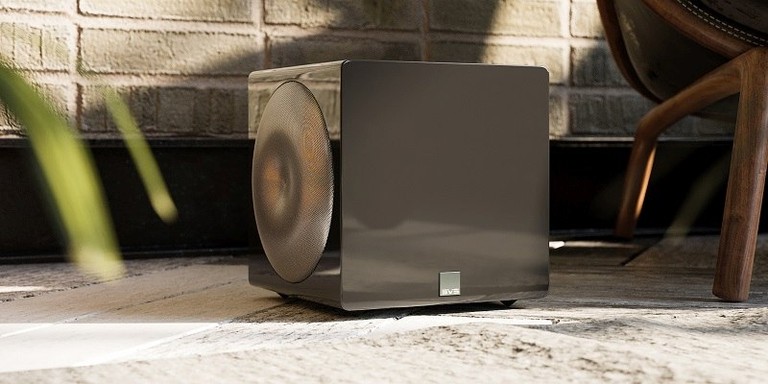 For all of their problems, there is a high demand for a sub of very small size, and that is an opportunity that SVS. For the above-stated reasons, SVS knew this old microsub formula wouldn't do, so they worked on their own approach. To start with, they use a dual-opposed design where two 8" drivers are mounted on opposite sides of the enclosure. That cancels out rocking motion since the driver's oscillation negates each other with perfect timing. That also takes advantage of more surface area which lessens the need for single-driver excursion to hit target SPLs; two 8" cones have about the same surface area as an 11" cone, but an 11" cone would not be able to fit on any of the sides of a sub this small. Reducing the need for huge excursion also makes the drivers more efficient and therefore doesn't need massive power just to wake up. Reducing the need for super high excursion also reduces induction problems by needing less coil. SVS also addresses induction by adding an aluminum shorting ring in the motor that should help inhibit its effects.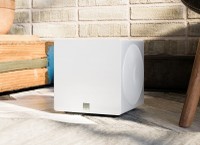 Displacement is everything in a sealed subwoofer, so the drivers still needed some serious power, and SVS has provided that with an 800-watt amplifier. However, unlike the class-AB brutes of old, SVS uses their efficient class-D 'Sledge' amps so not nearly as much energy is emitted as heat. The amplification is shared by the two drivers as they are wired in a parallel circuit, and that would indicate that the drivers probably have a relatively high impedance on their own that adds up to an easier load to drive together. Something else that assists in heat dispersion is the drivers' cones are made from aluminum which is a much better thermal conductor than fiber pulp or polypropylene cones, so it acts as an efficient heatsink as well as a transducing surface.
So just how micro is the 3000 Micro? It is approximately an 11" cube, so there are few places that it wouldn't be able to fit. Its slight size combined with the absence of rocking motion vibration could come in handy for people who just can not place a subwoofer on the floor. This is a subwoofer they may be able to place in shelving, and not only is it likely to fit, the lack of vibration means it won't rattle the shelving with everything on it. Most subs that could fit in shelving would likely transmit all kinds of audible vibrations on a surface like that. It should be said that dual-opposed designs like the 3000 Micro only neutralize rocking motion of the cabinet from the shifting mass of the moving assembly, but they don't necessarily render the cabinet inert.  The cabinet will still be subject to internal pressure differences from the backwave pressure of the cones. SVS addresses this by using extra thick side baffles and internal bracing to keep the enclosure from being affected by internal pressure waves. I could see this sub being used on a desktop gaming system pretty nicely since it won't eat up much space or rattle the desk surface.
The 3000 Micro bears many of the features that have made their way down the line of SVS's subs since the introduction of the 16-Ultra series which include smartphone app control, 50 MHz Analog Devices Audio DSP, MOSFETs on the output stage of the amplifier, and the 'Intelligent Control Interface' plate amp controls. We have covered those features extensively in other reviews and previews of SVS products, so we won't go over them again here, suffice it to say that SVS has squeezed a hell of a lot of technology into such a small container. It does come at a price though, and, at $800 (includes shipping), the 3000 Micro does cost a bit more than the 1000 Pro subs and is equally-priced with the SB-2000 Pro. One nifty attribute of the 3000 Micro which enhances its value is that its standard finishes are piano gloss, in either gloss black or gloss white. Its petite size and pretty finish should make it unobjectionable for all but the most aesthetically-austere households, and even then its small size makes it easy to hide out of sight.
SVS Micro Sized Sub, BIG  on Credential & Warranty

On top of the many features that SVS has packed into this compact sub and its slick finish, buyers also get SVS's industry-leading customer service which includes a 5-year warranty and 45-day risk-free home trial with free return shipping. That makes the 3000 Micro one heck of a value among microsubs at the moment. For some perspective, KEF recently released a microsub called the KC62 to acclaim by some in the audio press. The KC62 features a similar dual-opposed enclosure design (albeit with a radically different driver). It uses two 6.5" cones powered by two 500-watt RMS amps and is roughly a 10" cube. It's a neat design overall, however, for the same price as one KC62 you could get two 3000 Micros; you are paying an awful lot to shave off an inch of the enclosure size. In this light, the 3000 Micro is a very compelling value for those buyers who are looking to get the absolute most bang out of a small enclosure size. We intend to see for ourselves and show you the results; stay tuned to Audioholics for a review of the SVS 3000 Micro.

Confused about what AV Gear to buy or how to set it up? Join our Exclusive Audioholics E-Book Membership Program!
Recent Forum Posts:
jbentham84 posts on April 09, 2021 21:50
Kleinst, post: 1474449, member: 91045
Damn those Anthems are beautiful

Yea they truly are. Exquisite engineering and aesthetics
Kleinst posts on April 09, 2021 21:41
Damn those Anthems are beautiful
jbentham84 posts on April 09, 2021 19:41
I just bought this to pair with my Aerial Acoustics 6T, Anthem STR Preamp, and Anthem STR amp and all I can say is SVS knocked this out of the park! I've never owned an SVS product before but this one caught my eye and filled the need for a "little more low end" and it has exceeded all my expectations. The output is astounding for its size, we had to just keep turning it down to "blend". Fantastic product, I'm now a SVS believer!!!46463
Pottscb posts on March 19, 2021 19:31
Pretty excited about this…there's not been much new in the affordable micro sub category in years. I'm needing to replace a Velodyne mini-vee-10 and this should be perfect, can't wait to read the review (please include measurements).
shadyJ posts on March 19, 2021 15:33
Auditor55, post: 1469360, member: 76893
Is it the real deal, I know how you are when it comes to subs, you typically don't like them tiny.

I don't take points away for size. I evaluate any sub or loudspeaker in the context of its intended application. This is a sub meant for situations where a small size is of very high importance. So then I would ask, how well does this sub perform for the size/cost? How well does it do what a buyer would reasonably expect it to do? I am not scheduled to review this particular sub, but if I did, that is the framework under which I would review it.
Post Reply