PSB Synchrony B600 Bookshelf Speaker Review
PSB Synchrony B600 Bookshelf Speaker Review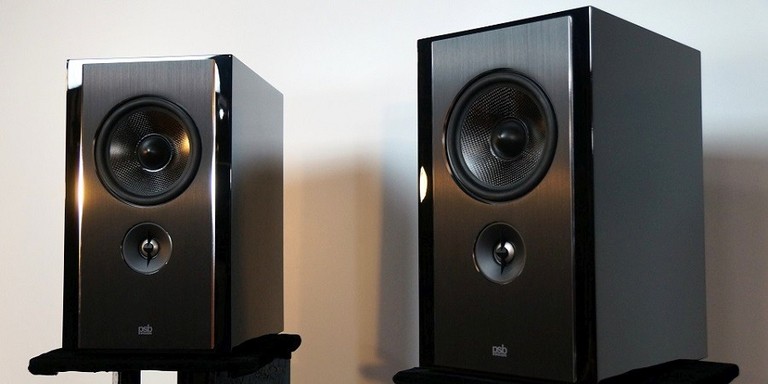 PSB Synchrony B600
Frequency response: 55-20,000Hz (±1.5db), 50-20,000Hz (±3db)
1 x 6½″ woofer with woven carbon fibre cone, cast aluminum basket, mass-loaded rubber surround, and advanced motor structure
1 x 1″ (25mm) titanium dome tweeter with Ferrofluid damping and neodymium magnet
Amplitude-perfect Linkwitz-Riley 4th-order acoustic crossover
Integrated acoustic isolators from IsoAcoustics
Low-resonance MDF cabinet with extensive bracing and decoupled aluminum-clad front baffle
Satin Walnut Veneer and High Gloss Piano Black, with acoustically transparent magnetically attached grilles
Size (W x H x D): 9" x 15 ½" x 11 ½"
Weight: 23 lbs. (10.4kg)
Pros
Good tonal accuracy
Outstanding low-frequency extension for bookshelf speakers
Good directivity control
Attractive appearance
Good build quality
Cons
Awkwardly designed binding posts
PSB Synchrony B600 Introduction
PSB Speakers has been an audio industry stalwart for over 50 years now, and they have to be doing something right to last that long in this business. Much of their success is undoubtedly due to the high praise they have garnered in review after review of their products. In the past, Audioholics has found their products to be excellent, but it has been a long time since we have last had our hands on one of their designs, and we figured it would be a good time to see what they have been up to. That brings us to today's review of the PSB Synchrony B600, their highest-end bookshelf speaker. At $2.8k/pair, they aren't the cheapest speakers around, so what can PSB do to justify that kind of price for a pair of medium-sized bookshelf speakers? That is the question we will be asking in today's review. Let's dig in to find out…
PSB Synchrony B600 Bookshelf Speaker Review Discussion
Appearance
While the B600 speakers look good, the styling doesn't break any new ground with respect to high-end loudspeakers. They are basically oblong boxes that are made to look as nice as oblong boxes can look. It's like functionality came first on these speakers, and then they were handed to industrial designers who had to work around a set design. There is no cabinet curvature here, so they can't really escape their boxiness. The edges aren't really beveled or shaped, although there is a very slight rounding in order to keep them from becoming hard angles. The units that I received came in the gloss black finish, and it was nicely done with no irregularities or orange peeling that I could see. The B600s also can be had in a satin walnut finish. The most notable visual feature is a brushed black aluminum plate on the front baffle that holds the drivers. The aluminum plate does have a slight beveling which lends the B600s a somewhat stately demeanor. There is also a smaller aluminum plate on the rear panel that holds the port and binding posts. Since the rear is usually out of sight, PSB didn't really have to do that, but it does lead to an aesthetic symmetry that I can appreciate.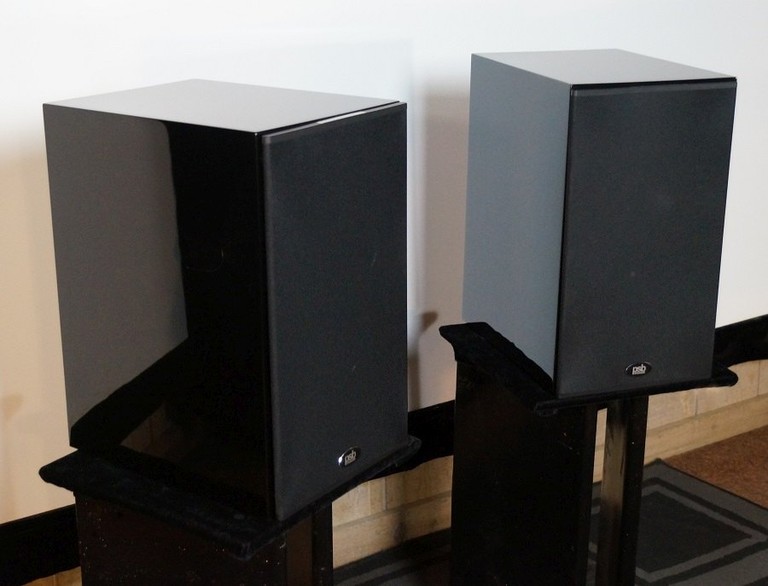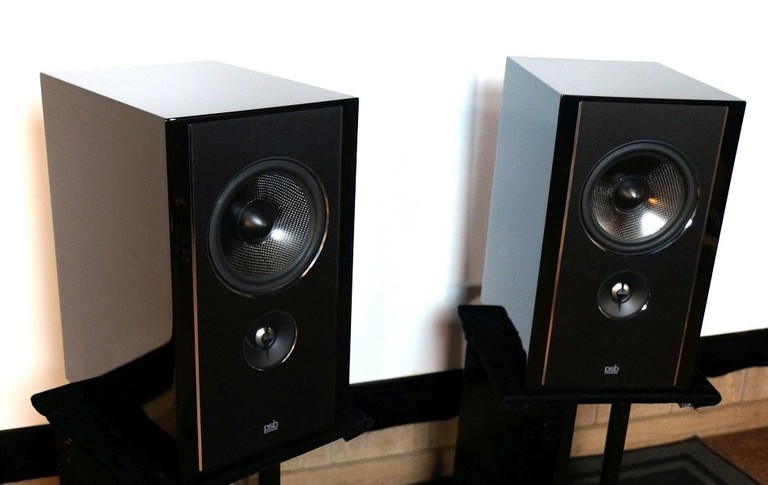 One slightly unusual touch is that the tweeter is mounted below the woofer instead of above as on most two-way bookshelf speakers. That is unlikely to bother anyone, and audio hobbyists are probably the only ones who would notice. At just a glance, they might think that the speaker has been placed upside down, but the PSB badge does indicate the B600's correct orientation. This can all be hidden by the magnetic grille, which is just boring black fabric draped over a frame. Of course, the grille considerably dulls the appearance of the B600s, and when it is attached, the speakers look like a featureless black box. I think that the B600s look much better without the grilles, but some people just cannot abide by the appearance of exposed drivers. The woofer has a cool-looking carbon fiber weave, and the tweeter is a normal-looking aluminum dome mounted in a shallow waveguide. Even without the grille, the B600s have fairly restrained styling, so the vast majority of people aren't likely to object to their appearance.
Design Analysis
The B600 is a two-way bookshelf speaker that looks like a fairly traditional design on the surface, minus the lower-mounted tweeter and upper-mounted woofer, but there are some design touches that promote this speaker above typical two-way bookshelf speakers that do lead to its higher pricing. Let's start our discussion of its design with the tweeter. The tweeter is a 1" titanium dome mounted in a shallow waveguide with ferrofluid cooling. As a tweeter diaphragm material, titanium is substantially more expensive than aluminum, but it is twice as strong as aluminum while being only 60% heavier. That means that a titanium tweeter can either have the same stiffness as an aluminum tweeter but be lighter, which would make it more sensitive, or it can have the same weight but be a stronger diaphragm which means non-linear 'break-up' modes can be pushed up to higher frequencies away from humanly audible ranges. Titanium is an excellent thermal conductor too, so it should be able to quickly transfer heat away from the motor and reduce thermal compression artifacts.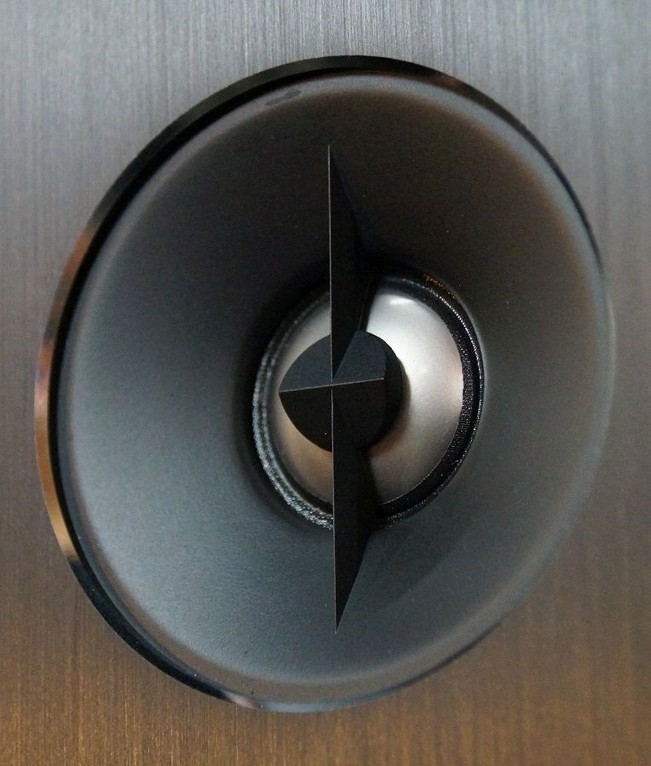 The tweeter motor uses ferrofluid in the gap. Ferrofluid is common but still a welcome attribute because it has some real advantages. One advantage is thermal transfer; it draws heat away from the voice coil which, again, decreases thermal compression and increases power handling. It also helps to center the voice coil in the gap, and this leads to better reliability, where the voice coil is less likely to make contact with other metals in the gap which can knock it out of alignment. It can also help damp resonances in the tweeter's response. The B600 uses a neodymium magnet in the motor. Neodymium is much more powerful than iron ferrite, on average 10 to 15 times stronger, so a little neodymium goes a long way, but it is also a lot more expensive. One disadvantage of having a smaller magnet is that it cannot radiate heat as efficiently as a large one, so the use of ferrofluid and a titanium dome is a good assist in thermal management. 
The tweeter is mounted in a small conical waveguide, and this should help control the directivity of the sound, especially at the lower end of its bandwidth. That is a good idea when mating a 1" dome tweeter with a 6.5" woofer. The combination of a 1" dome tweeter with a 6.5" woofer is very common with two-way bookshelf speakers. However, the fact is that they don't normally have perfect directivity matching, because the woofer will start to narrow its dispersion at any usable crossover frequency for a typical 1" dome tweeter. The directivity mismatch between these driver sizes is not usually a major audible flaw, but it can cause irregularities in the off-axis that a waveguide can prevent. A phase lens is built into the waveguide that covers the center of the tweeter dome. The purpose of a phase lens is to block sound from the raised center of the tweeter from reaching the listener, as its forward distance will cause it to be slightly out of phase with the lower edges of the dome. Such a small distance difference will likely only make any difference in very high frequencies. Another advantage is that the phase lens could offer additional protection against anything striking the fragile metal dome.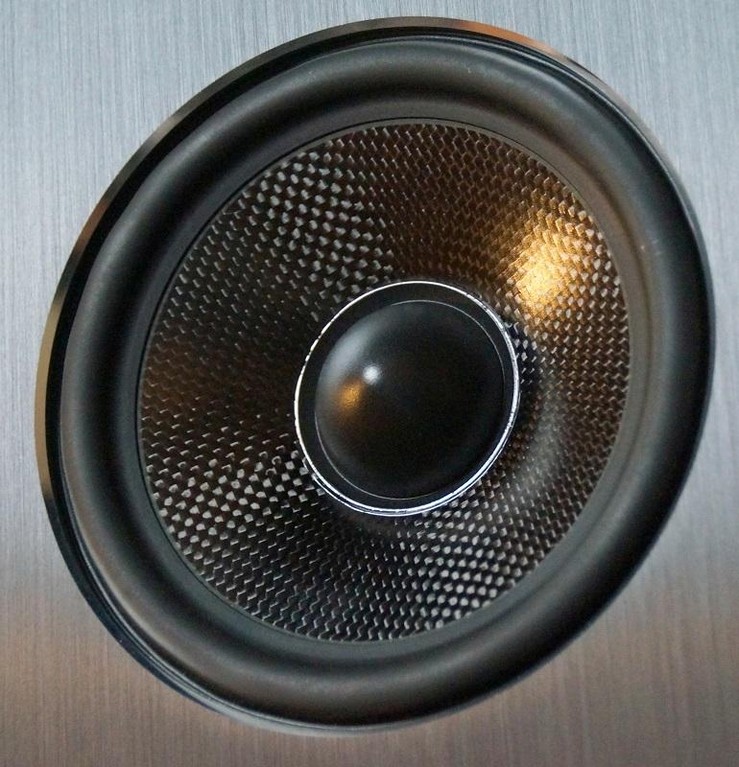 The woofer cone is made of carbon fiber, a very light yet tough material, but, as anyone in aerospace or automotive engineering will tell you, also a bit expensive. The high stiffness should allow the cone to play up to high frequencies without running into nasty 'break-up' modes where the rapid motion of the cone can cause it to bend. This bending is very audible and can sound awful, so the more it can be filtered out, the better the sound. The light weight of carbon fiber allows it to be moved without needing a ton of wattage, and this will increase sensitivity as well as dynamic range. The woofer is mounted in a cast aluminum basket, and the motor uses a shorting ring to suppress induction-based nonlinearities. 
The tweeter is crossed over to the woofer at 2.2kHz in a Linkwitz-Riley fourth-order that also factors in the acoustic slopes of the drivers so it is not a fully electric crossover. A full fourth-order electric crossover would have a ton of elements and would barely fit in a medium-sized bookshelf speaker. The crossover circuit uses high-voltage film capacitors and high-current inductors. PSB claims that this all adds up to a phenomenally flat response of +/-1.5dB from 55Hz to 20kHz, and we will see how close those claims match reality when we take a look for ourselves in our measurements. With two sets of binding posts, the B600s can be bi-amped or bi-wired, and this is an absurd feature on a medium-sized bookshelf speaker with a 150-watt power-handling spec. There is no real advantage in this unless you happen to have two lower-powered stereo amps instead of one good amp, but how often is that the case? PSB should just have just saved the money and gone with a single set of binding posts instead of catering to ridiculous audio marketing checklists.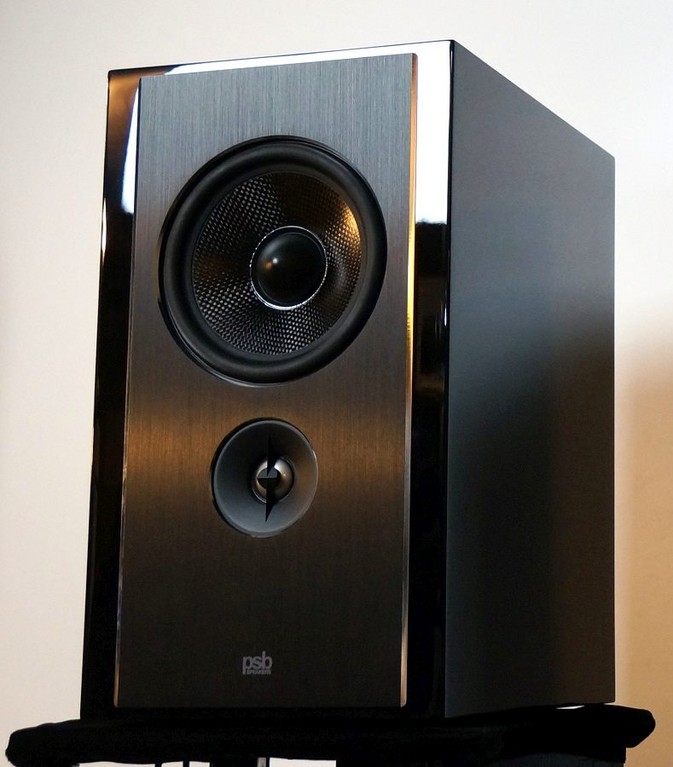 The enclosure is a fairly solid MDF construction. PSB claims there is extensive bracing inside, but I wasn't sure I could remove exterior elements without damaging the speaker, so I wasn't able to see that for myself. The hefty 23lbs. weight of each speaker does suggest some serious cabinetry. The front-mounted 5mm thick aluminum plate is decoupled from the MDF of the cabinet, and to describe in greater detail, I will quote PSB's data sheet: "The aluminum plate on the baffle has threaded pins on the rear that grab six small isolation cups, three on each side, which suspend the aluminum plate between the two sidewalls of the enclosure. The aluminum plate has contact with the cabinet only around its perimeter. The isolation cups decouple the aluminum plate from the enclosure, another measure that helps preserve fine detail." I have to wonder about the measurable, let alone the audible, advantages this would actually yield, but it is an interesting design detail that shows PSB is trying to make a really high-end loudspeaker. A more effective idea might have been to mount the tweeter and woofer frames directly to the aluminum baffle, and that way the baffle can help to serve as a heatsink thereby keeping the drivers in an optimal operating temperature for longer.
The feet were designed by IsoAcoustics and are based on their Gaia III isolators. While they seem like perfectly competent loudspeaker feet, I definitely do not buy the claims that they would offer any "improved micro-detail, clearer transients, a wider soundstage, and more precise imaging." This is nonsensical. All feet need to do is keep enclosure vibrations from audibly reacting to whatever surface they are resting on. These feet seem to do that, but to suggest they do more than that is nonsense, in my opinion. The B600 has a rear-mounted port that has a 2" diameter and a 6" depth and is flared on both ends. Those dimensions suggest a moderately deep tuning frequency for a bookshelf speaker of this size, but we will see for ourselves in the listening and measurements section. The magnetically attached grilles are just fabric draped over simple frames. The grille frames are a tad blocky and would lead to some slight diffraction, so these speakers would technically be better performers with the grilles off, but I doubt that there would be a significant audible difference either way.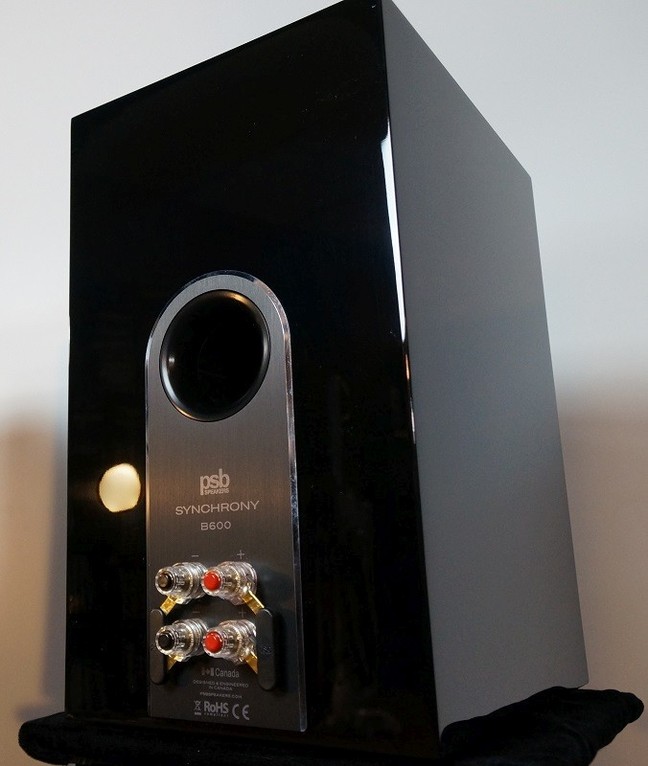 The binding posts look cool but are a hassle to use. They are usual 5-way binding posts but covered in some kind of transparent plastic shell that blocks several points of connectivity that a 5-way binding post could have. Bare wire is tricky to thread through the metal post hole because it is partially blocked by both the plastic cover as well as the jumpers. Spade connections cannot be used because that is blocked by the jumpers. In order to use banana plugs, you have to pull some plastic inserts out of the top end of the binding posts, and they don't come out easily. Of all the binding posts that I have dealt with, these are among the worst.
The overall design and construction of the B600s promise a very high-fidelity sound, but is that what they actually deliver? Let's take a listen to find out…
Listening Sessions
In my 24' by 13' (approximately) listening room, I set up the speakers with a few feet of stand-off distances between the back wall and sidewall and equal distance between speakers and listening position. I angled the speakers to face the listening position. The listening distance from the speakers was about 9 feet. Processing was handled by a Marantz 7705, and amplification was handled by the Monoprice Monolith 5x200. The speaker stands were some Monoprice Monolith 24-inch Steel Stands. Equalization was used but not automated room correction equalization. A subwoofer, the Hsu Research VTF-15h mk2, was used when noted.
Music Listening
the B600s imaged with precision; I could hear exactly where the performers were on the soundstage.
A fantastic new recording for exhibiting vocal reproduction is "Her Greatest Moments at the MET," a new album I found on Qobuz's Discover page. This album features live recordings of acclaimed opera singer Renée Fleming at The Metropolitan Opera. The Grammy-winning Fleming has performed there more than anywhere else and considers it her artistic home, so this recording is a celebration of her many performances there. There are songs taken from a variety of performances such as "Faust," "Don Giovanni," and "La Traviata." As a compilation of highlights, this should be classical music fireworks from beginning to end, a terrific demo album for audiophiles. This late 2022 release from the Decca label was streamed in a high-resolution. 
When I first started listening to "Her Greatest Moments at the MET," I thought I had set up the speakers incorrectly, even though they sounded fine with content I had listened to previously. The imaging was slightly odd. I double-checked the setup, and everything looked fine. I realized it was the recording, and these live performances at the MET had to keep the microphones out of the way and probably used overhead microphones that might not have had the most optimal locations for natural imaging on a playback system. This is a subtlety that might not have been readily apparent on another loudspeaker system. In live opera performances, the performers can be in a variety of locations on the stage, and the B600s imaged that with precision; I could hear exactly where the performers were on the soundstage. Instrumentalists were imaged nicely as well, and this recording put the listener in the middle of the orchestra rather than as a more distant audience member. The B600s wrapped the orchestra around the listener with an enveloping staging. Tonality was very good with both singers and instrumentalists, and I didn't notice anything that seemed exaggerated or curtailed. Fleming's soprano voice was built for opera, and her more dramatic moments demonstrate a talent that is almost inhumanly good. One highlight is the selections taken from "Manon" where her mellifluous voice soars amidst the orchestra yet without being piercing or searing. This album should be given attention by every opera lover, and hopefully, they will have a loudspeaker system as good as the B600s if they give it a listen.
Another new release I found via Qobuz's Discover was "Phoenix" by Lakecia Benjamin. Lakecia is an accomplished saxophonist who has toured with a long list of major artists, and "Phoenix" is her fourth studio album. It is on the energetic side of jazz with intricate compositions and lots of accompanying artists. Her sax leads her regular quartet which features piano, bass, and drums, and she is often joined by many guests including singers, string trios, and trumpeters, among others. The recording quality is first-rate, and I won't be surprised if this album is an early shoo-in at the Grammys for jazz instrumental album. This hi-res album is sure to make any good audio system shine. 
the bass was quite impressive,... jazz aficionados would love the B600s.

Much like I heard with other content, the imaging was excellent, with Benjamin's alto sax emanating from a pinpoint position squarely in the center of the soundstage. The drum set was clearly close-mic'd, since I could hear various percussion instruments spread out over the soundstage. Trumpets closely flanked Benjamin's sax on the left, and piano and electric keyboard could also be heard to have close miking. As with many other studio recordings, the intended effect is to have a 'they are here' quality rather than 'you are there.' On this count, the B600s executed that intended effect nicely and brought Benjamin's band into my living room as though this were a private performance arranged for me alone. The instruments all sounded very natural, although one peculiarity I heard was that Benjamin's sax was a bit more recessed than would be expected considering that she is the lead player for much of this album. This seemed like a choice by Benjamin in order not to overshadow her bandmates, but in a real jazz band, that sax would be significantly louder than it is on this recording. The B600's low-frequency extension was capable of reproducing the bassist and percussion on this album in full, and I didn't feel the need to bring subwoofers in at all. The bass from these average-sized bookshelf speakers was quite impressive. "Phoenix," as heard on the B600s, was a terrific listen. The ability of these bookshelf speakers to effect the sound of a full jazz band was phenomenal. I think that jazz aficionados would love "Phoenix" as well as the B600s.
For something radically different, I loaded up "Quantum Gate/Quantum Key" by Tangerine Dream. This 2017 album was the first put together after founding member Edgar Froese's passing. Froese had been the one constant in the group from its inception in 1967, so his death in 2015 couldn't help but have a profound change on the music that they would create afterward. "Quantum Gate/Quantum Key" retains much of his musical spirit since it was created using ideas and sketches left by Froese. Nonetheless, it does have a different sensibility from previous albums, but that is no surprise since Tangerine Dream has been through many different phases in its 55+ year history. I think that this post-Froese period has produced some fantastic albums with their cleanest productions so far, and they definitely kill with a competent sound system, so I decided to see what the B600s could bring to this music.  
This album opens with an electronic bass sequence with some notes that plunged fairly deep in low frequencies. The B600s rendered this bass line so capably that I literally got up to check if any of the subwoofers were also playing the music back somehow; they were not. As futuristic electronic music, the imaging could take many forms, from pads that encompassed the width of the soundstage to leads that had laser-like precision. The B600s could actualize whatever was called upon from the album. Imaging seemed to extend well outside of the width of the speakers' placement at times. Many of the tracks in this album are very densely layered with a profusion of different electronic instruments, but the B600s managed to keep them all distinct and identifiable instead of blurring them into a confused jumble. An example of this can be heard in track 6, "Non-locality Destination," a composition as intricate as anything I have heard from Tangerine Dream. The various synths were distinguishable yet integrated into a cohesive whole as a song. Track 9, "Genesis of Precious Thoughts," brought in some very low-frequency percussion and bass. The B600s were handling the bass on that track very well, but I thought I would bring in a subwoofer to see what the audible difference would be. The sub did lend the sound more gravitas and oomph, but it didn't uncover something that the speaker wasn't already playing. In other words, while the addition of a sub did improve the experience, it wasn't as if the B600s were missing anything. They still delivered a full sound, and this album could still easily be enjoyed without a sub on these speakers. "Quantum Gate/Quantum Key" was sheer ear candy to hear on the B600s, and anyone looking for bookshelf speakers that could handle elaborate electronic or pop music has a superb option in these speakers.
anyone looking for bookshelf speakers that could handle elaborate electronic or pop music has a superb option in these speakers.
To see how the speakers operated under a bit more pressure, I threw on Starkey's "Ear Drums and Black Holes," a 2010 album that has to be regarded as a classic in the genre of dubstep at this point. While this album applies most of its pressure in low frequencies, it also has a lot going on in mids and treble. At high volumes, "Ear Drums and Black Holes" can function as a good stress tester on any loudspeaker. Massive bass, sharp lead synths, and prominent percussion make for one banger after another. It would be the tool I would use to see how hard the B600s can rock.
Kicking off the first track, an easy-going tune with a thick bassline, again I had to wonder if the subwoofer was on. I knew that it wasn't, but these bookshelf speakers were so competent in low frequencies that anyone who didn't know better could easily assume there was a sub in action. To see what the difference was, I again brought in a sub. At low to medium volume levels, the sub did give a bit more definition to the lowest notes, but the difference was not huge. At higher volume levels, the sub did provide more thump than the B600s was capable of, but it was impressive how much bass the B600s could deliver even when pushed harder. I backed off the volume when I saw the woofers really moving since they must have been at or near the limits of excursion, but that was at a pretty high loudness level. Bringing in the sub and high-pass filtering the speakers definitely enabled an overall increase in headroom and significantly calmed down the motion of the woofers. While I wouldn't try to use these speakers to power a house party, I think they could get more than loud enough for any user with reasonable expectations. Kick drums and toms landed with a hit, and the lead synths cut a crisp, well-defined path. Bass lines were beefy, even without a subwoofer, but at high volumes, the B600s couldn't give any real muscle to the very lowest notes. Keep in mind, this is electronic music with deep bass, and the B600s' bass extension would suffice for any acoustic music except perhaps for those pipe organ recordings from massive organ installations.
Movie Watching
One movie I had been meaning to see for a while was "Nocturnal Animals," a 2016 psychological thriller starring Jake Gyllenhaal and Amy Adams. The plot is about an art gallery owner that discovers a manuscript written by her ex-husband that contains a very troubling depiction of their marriage. This ignites deep regret about both her ex as well as her present husband that creates fissures in her life. I was intrigued by what I knew about the movie, and I figured that would be a good opportunity for the B600 to demonstrate what it could do for the sound mix of a big-budget Hollywood drama.
"Nocturnal Animals" turned out to be an engrossing movie. It was stylish visually as well as aurally but tastefully so, It had a minimalism and restraint instead of dazzle or extravagance. Much like the movie, the sound mix was very clean and sharp, so the precision of the B600s was a perfect fit. The mix was mostly dialogue based, but some ambient noises and music were used to express emotions that the characters would not exclaim aloud. The music was a sparse, moody score by Abel Korzeniowski, and it sounded terrific on this sound system. The music was exquisitely reproduced, and the dialogue was all crystal clear. With such a clean and uncomplex sound mix, there is not much else of note to say about the B600s' reproduction of this movie, except that I thought it was terrific and didn't lack much. The inclusion of a subwoofer might have given some of the orchestral work slightly more low-end heft but not much. I would recommend "Nocturnal Animals" to anyone who wants to see an unconventional noir, and even though it does not have a very rambunctious sound mix, it still deserves to be seen with a competent sound system like what PSB has provided me here.    
One movie I was excited to see was a new horror film from Niel Marshall titled "The Lair." Marshall directed a slew of terrific genre movies in the early 2000s, "Dog Soldiers," "The Descent," and "Doomsday." He turned his attention to television series and directed what are considered some of the best episodes of "Game of Thrones," "Westworld," "Hannibal," and "Lost in Space" but then had a fairly high-profile failure with the reboot of "Hellboy." Since then, he has returned to smaller-scale horror films, the latest of which, "The Lair," concerns an air force pilot who crashes in a remote, hostile region of Afghanistan. She takes refuge in an abandoned bunker and stumbles upon the grotesque monsters that inhabit it. Horror movies can very often be a good vehicle for crafty sound mixes, since much of the tension is usually generated by sound rather than sight.
Compared to Marshall's earlier efforts, "The Lair" was rather schlocky, but at least it was fast-paced and action-packed. The characters were thin, but the action scenes were plenty, giving the B600s a lot to work with. There were multiple battle scenes of US and British soldiers facing off against unearthly monsters, and the B600s did a fine job relaying the mayhem of human firepower versus alien melee attacks. Light arms such as rifles and handguns had a satisfying popping and snapping, and the Humvee-mounted .50 BMG had a thunderous roar as it took down Taliban and alien creatures alike. The aliens' screeching and shrieking were exuberantly reproduced on the B600s, and it matched their repulsive appearance appropriately. One memorable aural moment was the obligatory autopsy scene on one of the creatures, a mandatory trope of this genre. The gooey sounds of the removal of the alien's internal organs was given a sickening articulation by the B600 speakers, and every gruesome detail was vividly reproduced. The energetic score by Christopher Drake is a combination of orchestral clamor for the action scenes and sci-fi synths for the suspenseful scenes, and the speakers recreated the scope and tension that the music intended to convey. The B600 speakers' bass performance was admirable in the absence of a subwoofer and certainly much better than would be expected from mere bookshelf speakers. While a sub would have given the movie more grunt and thunder, the speakers still managed to add some rumble and depth to the action. "The Lair" wasn't a great movie, but it was watchable, and the B600s helped to make it quite entertaining by giving its vibrant sound mix a lively reproduction.

Confused about what AV Gear to buy or how to set it up? Join our Exclusive Audioholics E-Book Membership Program!