BIC Acoustech PL-300 Subwoofer Review: Legit 20Hz Extension for Under $500?!?
BIC Acoustech PL-300 Subwoofer Review: Legit 20Hz Extension for Under $500?!?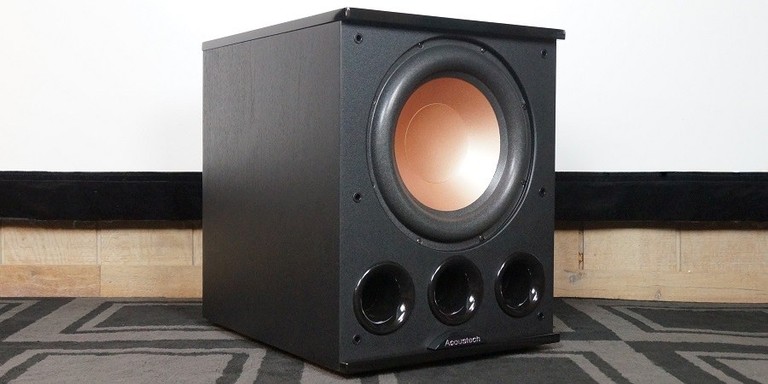 BIC Acoustech PL-300 Subwoofer
Product Name: PL-300 Subwoofer
Manufacturer: BIC Acoustech
Performance Rating:
Value Rating:
Review Date: December 12, 2022 00:30
MSRP: $ 449
Design: Front-firing 12″ powered subwoofer with Tri-Tuned flared front ports and port plug.
Power: Built-in State-of-the-Art BASH Amplifier, 1400 Watts Dynamic Peak Output, 350 Watts RMS Continuous
Frequency Response: 15Hz – 200Hz (+/- 3db)
Driver: Custom Designed Heavy Duty Long Throw 12˝ poly-injected woofer with high power magnet and high excursion surround.
Cabinet: Internally braced vibration-free MDF wood-grain cabinet with hand-rubbed black lacquer top and bottom
Dimensions: 18˝H x 15 1/4˝W x 18 3/4˝D
Shipping Weight: 48 lbs. (21.8 kg.)
Warranty: Extended 8 years woofer, 5 years on amplifier and associated electronics
Pros
Real bass extension to below 20Hz
Good deep bass output
Appearance with grille is restrained and discreet
Variable tuning enables users to determine performance attributes
5-year amplifier warranty
Cons
Mid-bass headroom loses steam compared to lower frequencies
BIC Acoustech PL-300 Subwoofer Introduction

For many decades now, the BIC brand has been providing high-value speakers and subs for those looking for a lot of bang for their buck. The brand has been a fixture in its segment for so long that I was surprised to find out that Audioholics has yet to review any of their products. Thankfully, that will change today in our review of the PL-300 subwoofer. This medium-sized sub can be purchased from online retailers for a modest $450, a price point that is filled with competing subs. The PL-300's distinguishing traits in this segment are its unusually low bass extension, its three-port variable tuning design, and its beefy 350-watt amplifier. It claims a solid 20Hz extension, which would be unmatched by anything else under $500. That is definitely something to get excited about for subwoofer shoppers on a tight budget, but the question we have to ask is how much does it deliver on these claims? How much output can it produce at such low frequencies? What is its performance like across the frequency spectrum? Let's now dig in to find out…
PL-300 Packing and Appearance
The PL-300 arrived at my home in a cardboard box with lots of printing on it to let the recipient know exactly what it contained. The sub is wrapped in a soft foam bag to protect it from moisture and scuffs. It is sandwiched by two thick polyethylene foam blocks and is protected on the sides by Styrofoam pieces. This packing is better than what I would have expected given the price. Most subs, even much more expensive ones, do not make an effort to protect the sides and merely use foam top and bottom pieces.  
The PL-300 is somewhat distinctive in its appearance in this class of subwoofers. It is not a huge sub, but most people would not consider it small either, so it is up to the industrial design to make it a pass or go in most people's living rooms, and I think that most people will be ok with it. With the grille on, it is a black box with a glossy top. The grille doesn't completely hide the driver, so the driver is still slightly visible through the grille fabric, but the front baffle is largely cloaked. As with many other subs, it looks plain with the grille on, and not particularly notable. Remove the grille, and the platinum-colored driver is exposed along with the three glossy ports. The driver's surround is quite beefy, and it makes the PL-300 look like it means business. The top and bottom panels of the enclosure are built to form edges with the grille, so when the grille is off, the top and bottom have some overhang. I think that the exposed front baffle with its mixture of silver and gloss black gives the PL-300 a toyish aesthetic that some people may find slightly tacky, and probably most people will run this sub with the grille attached. I could see younger people preferring the more flamboyant appearance of the platinum driver. The good news is that BIC gives users the choice between the sedate appearance with the grille on or the jazzier appearance with the grille off, so it can work for either preference.
PL-300 Design Analysis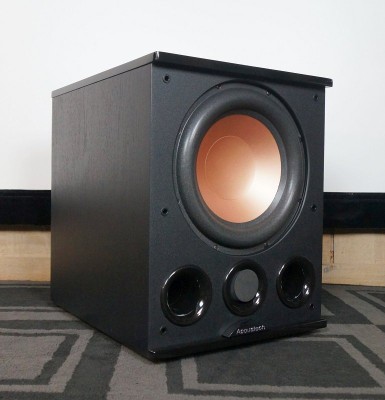 Most subs in the price range of the PL-300 keep things simple on the design front, since a tight manufacturing budget doesn't allow much room for wild design flourishes. The PL-300 design, on the other hand, is rather ambitious for its pricing. While most subs in this price range are vented with a single port, the PL-300 is a vented subwoofer with three ports and variable tuning. That means it can be made to mechanically raise or lower the low-frequency extension of the system.
To explain to those who are new to loudspeaker design and are looking for an entry-level subwoofer: the function of ports on speakers and subwoofers is to produce sound more efficiently in low frequencies than the drivers are able to alone. They do this by using the backwave off the woofer in the cabinet to resonate the air mass within the port. The port's length and width affect the frequencies at which the port generates sound; the longer a port is with respect to its width, the deeper frequencies it will produce. However, the more volumetric area a port has, the more output it will generate at its resonant frequency, and this is usually accomplished by simply making the port wider, but without lengthening the port by the same ratio as expanding its width, its resonant frequency will rise. Placing multiple ports in a speaker or subwoofer will act like one port that has the width of all the ports combined. In a variable-tuning system, the user can exchange output headroom at higher frequencies for lower frequency output by plugging one of its ports, thereby increasing the length of the ports with respect to their collective width. This enables the subwoofer to play deeper frequencies far more effectively but at the cost of output potential at some frequencies above that point.
The PL-300 comes with a port plug by which one of the ports can be plugged in order to lower the tuning frequency. Those who are interested in the deeper bass that the sub can produce should keep the plug installed in one of the ports (it doesn't really matter which port), but they do so at the expense of headroom in frequencies above port tuning. It also has an equalization switch called the "Bass Boost Switch" that sets the sub to take greater advantage of the different port tuning configurations. In the "Bass Boost" setting, deeper output is supposedly enabled by the amplifier's high-pass filter. In its "Max Output" setting, the filters allow more bass in higher frequencies. That is what the user manual says anyway. Our measurements section gives a more explicit look at the actual behavior of the port tuning system, and they seem to tell a slightly different story.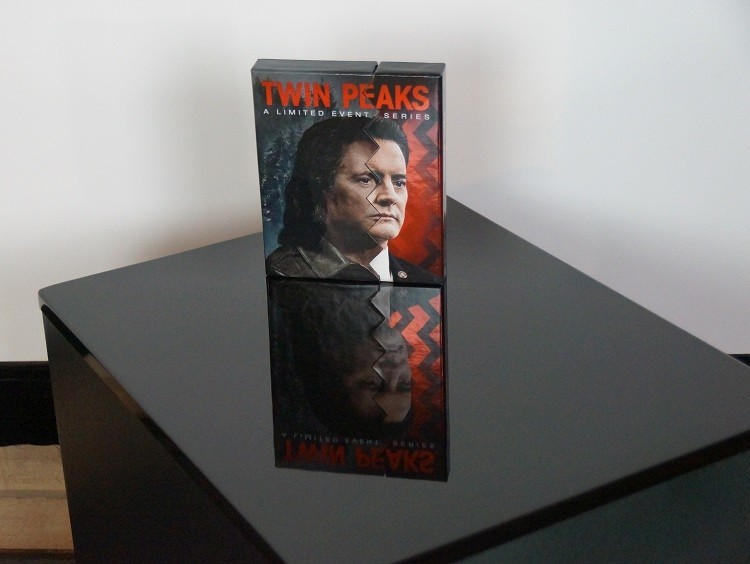 The PL-300 driver uses a polypropylene cone that is set inside a very fat surround that makes it look like it could have massive excursion. The surround attaches to a stamped steel frame. The motor uses a 5" diameter magnet with a ¾" thickness, and that is about what would be expected, although we don't know its true power without knowing its magnetic flux or how much the iron has been magnetically charged. Venting is done through the pole piece. Despite the beefy surround, excursion is going to be limited by the motor in this driver, so I wouldn't guess it will have a huge throw not that anyone should expect huge throw from a $450 subwoofer.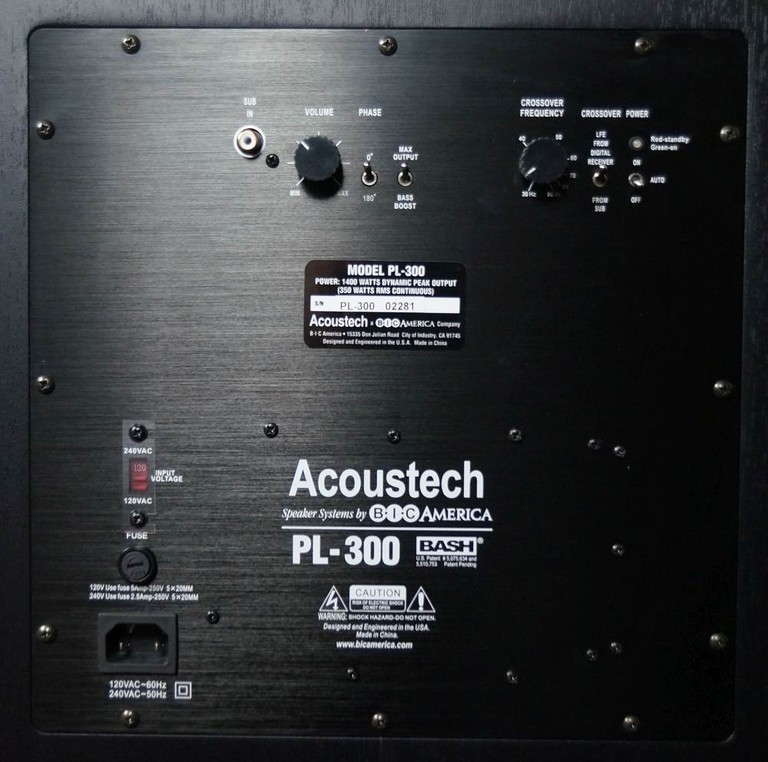 The amplifier is spec'd with a 350-watt RMS power rating, and the literature touts a 1,400 peak dynamic power. Peak dynamic power doesn't really mean a whole lot in this case. It is how much power can be produced with a 1kHz tone for 20ms with a 480ms rest period. Since most other subs just use an RMS continuous power specification, that is more meaningful for us as a point of comparison. 350 watts RMS is a lot for a below $500 sub, and there are few if any in this price range that can match that amount of power. The PL-300 uses a BASH amp (Bridged Amplifier Switching Hybrid), a technology that tries to combine the sound quality of AB amplifier topologies with the high efficiency of Class D amplifiers. Controls on the amp are pretty standard except for the "Bass Boost" switch. There is a gain knob, a 0-180 degree phase switch, a low-pass filter knob that runs from 30hz to 90Hz, an internal/external crossover switch, and an auto-on/off switch. There is also an input voltage switch for 240 voltage for non-North American users.
The enclosure uses 5/8" thick MDF and has some bracing at the cabinet midsection. It has some polyfill lining the sides. The three ports are flared and have a 17" depth with a 2 ½" width. The feet are some simple cylindrical rubber pieces.
All in all, with the exception of the variable-tuning capable triple port system and the 350-watt RMS amplifiers, the subwoofer design is about what would be expected of something at this price point. Let's now see how this all adds up in some listening…
PL-300 Listening Sessions
The best placement for a single sub in my room gives me a relatively flat response for an un-EQ'd single subwoofer, with a window of +/- 4 dB from 25 Hz to 100 Hz with no broad dips in important ranges. This location trades low-end room gain for a relatively flat response, a worthwhile trade for my tastes. The receiver used was a Marantz AV7705. The crossover was set to 60Hz. In-room measurements indicated that a better blend between the speakers and sub was happening at 60Hz rather than the usual 80Hz, so I decided on 60Hz. The majority of listening was done with a port sealed and the amp set to "Max Output" since that configuration yielded deeper bass extension according to in-room measurements. The speakers used were the Perlisten R7ts which were powered by a Monoprice Monolith 5x200watt amplifier.
As always, I will note here that since room acoustics have a huge effect on low frequencies, the way these subwoofers sound in my room at my listening position is not necessarily going to be the way they sound anywhere else for anyone else, so readers would do well to keep that in mind, and not just for this subwoofer in this review but for any subwoofer in any review.
Music Listening
The PL-300 was able to impart the low-frequency sounds with heft but not bloat.
For an example of what the PL-300 could do for a pipe organ, I found a terrific album titled "December 1705: Buxtehude and J.S.Bach Organ Music." The date in that album title is significant because it is when a young Bach traveled 400km to hear the retired master composer and organ player Dietrich Buxtehude who would pass away two years later. Buxtehude's music had a profound effect on Bach, and the pieces in this album by both men serve as a demonstration of that influence. The stirring performance by organist Manuel Tomadin makes this album more than just a dry essay, and its historical weight is furthered by the organ of choice, the Arp Schnitger Organ in The Netherlands which was completed in 1691. The album's liner notes indicate that this organ is the only one in the world that still possesses its original 32-foot pipes from its original construction. Such a large pipe should be capable of notes down to 16Hz, and some of the pieces in this album are not bass-shy, so it would make for a good demonstration of a sound system's low-end prowess. I streamed "December 1705" from Qobuz in an 88kHz/24bit resolution.
The first track, Buxtehude's "Toccata in D Minor," touched on deep notes that the PL-300 brought to life with a resounding low end. The bass in this music is present but not overbearing, and the PL-300 was capable of that soft touch, so it did not overdo any aspect of the sound. Despite the massive organ employed in this album, this was not a 'storm and thunder' bass fest, but deep bass is used in many of these tracks, and when it is, the PL-300 reproduced it ably. An example of that is the climax of Bach's "Fantasia in G Minor," which is underlined by a strong continuous bass note that gives weight to the proceedings but does not draw attention away from the main melody. The PL-300 was able to impart the low-frequency sounds with heft but not bloat. On tracks with very prominent bass, such as Bach's "Prelude in C Major," the subwoofer gave it the epic feel intended by the recording engineers. The deep bass ability of the PL-300 helped to recreate the size and scope of the cathedral that this was recorded in, the Martinikerk in Groningen. This pipe organ performance sounded whole with the low-end supplied by the PL-300. It proves that you don't need to spend a lot of money to get a good pipe organ bass experience.
The PL-300 proves that you don't need to spend a lot of money to get a good pipe organ bass experience.
"What Did He Say?" is an album of acoustic music that needs a sound system that is proficient in low frequencies to do it justice. This is the second solo album by master bassist Victor Wooten whose name should be recognizable to regular readers of Audioholic's subwoofer reviews. Wooten is one of the most talented bassists alive, and no one could doubt that after giving this album a go. "What Did He Say" came out in 1997 but was remastered in 2016, and it exhibits Wooten's musicianship with acoustic bass, electric bass, cello, double bass, and even piano. The musical styles evidenced here are varied and can swing from bluesy to hip-hop to high-energy funk with everything giving a sheen of jazz. Half the tracks are original compositions by Wooten, and the other half are covers from a diverse range of artists.
From the first track onward, the PL-300 brought a thickness to the low end of the many complex bass lines within Wooten's music. When I say 'thick,' I don't mean slow or dull; I mean the point at which low-frequency sound becomes almost physically tangible. The bass from the PL-300 was not slow in the slightest, and it could keep up with Wooten's strumming and bass percussion without any sense of lag or overhang. It's hard to imagine an album where the transient behavior of the subwoofer would be more exposed than "What Did He Say," but the PL-300 did not disappoint. It should be mentioned that the 60Hz crossover frequency that I used does filter out much of the mid-bass of the bass guitar, although there is plenty of content in this album that digs below 60Hz to keep the sub busy. The standard 80Hz crossover ended up with a 5dB dip centered at 70Hz that I first thought was a phase issue that I couldn't seem to eliminate with settings on the sub or AVR. It turned out to be an upper-end rolloff in the PL-300's amplitude response which peaks at about 52Hz and gradually rolls off above that point to be 7dB down by 80Hz. To be sure, this is more of a measurement issue than an audibility issue and flipping back and forth between an 80Hz crossover and a 60Hz crossover didn't produce a major change in the sound in this music to my ears; I thought that maybe some of the mid-bass from the bass guitar might have been a bit softer with an 80Hz crossover than 60Hz, but it was not obvious. Either way, this album sounded great, and the PL-300 contributed to making it an enjoyable experience.   \
For a totally different use of bass in music, I turned to the genre of dark ambient, and this time I found a terrific 2021 release from the Cryo Chamber label titled "Back to Beyond" by Alphaxone and Protou. The bass in this album helps to construct an aural environment and also serves as the foundation for the musical composition. Much like a classical pastoral, scene-setting is a function of the music, except instead of the tranquil country landscapes of pastorals, the scenes that this music evokes can be hinted at through the track titles such as "Future Underground" or "Delusions of Omniscience." The music evokes a dark science-fiction setting, and low-frequencies are used to effect a sense of depth and menace. If Wes Craven had made "2001: A Space Odyssey," this would have been the musical score.
The album starts out with a gently undulating drone to underscore some ethereal atmospherics, and the PL-300 executed the texture of the lower frequencies nicely. It filled my room with solid bass and not a muddy boom sound that cheap bandpass subs that often come with home-theater-in-a-box systems might have done. This is definitely beyond those entry-level subs and was able to give the bass a good degree of definition. A good example of this occurs in track four, "The Edge of Perception," where deep bass plunderphonics mix with a steady drone along with some sporadic low-frequency percussion, and the PL-300 was able to keep all of these bass sounds sorted and distinct. Another instance where the PL-300 could delineate textured bass occurred in track 7, "Regenesis," that opens with a granulated rumble; the sub was able to track the coarse, craggy sound instead of losing the detail in a swamp of inarticulate mud. The PL-300 helped to establish this otherworldly soundscape with an authoritative low-frequency foundation, and I was surprised at how well a low-cost sub could pull this off. Again, I was giving the sub a break by using a low 60Hz crossover frequency, but it was digging considerably lower than what would be expected for a sub in its price class, and that helped to give this music a weight and realism that it might not have had otherwise.
For something I could use to push the sub hard, I found a killer synthwave album titled "Seas of Infinity" by Mega Drive. Few synthwave artists use deep bass as abundantly as Mega Drive. At high levels, this music can be a serious challenge for all but the most extreme subwoofers. The music on "Seas of Infinity" sounds like something in between the music for an old-school arcade brawler game, a John Carpenter score, and a new wave pop hit. Add to that a heavy dose of modern production techniques and massive use of bass, and you have an album that is a blast to listen to for anyone interested in a heavier retro-synthwave sound.
I cranked the volume for this album, and I ran the sub hot by a few decibels. When the bass hit, the PL-300 was rarely given a breather outside of track changes, but it didn't seem bothered by the relentless onslaught of low-frequency pummeling. The bass lines in "Seas of Infinity" dig quite deep in frequency, deeper than most electronic bass music, but the PL-300 handled these tracks without exhibiting any discernible stress. It's difficult to pick an example track since they are all so bottom-heavy, but track 5, "No Fate," really pours on the deep bass, and it didn't seem to perturb the sub at all. Track 9, "Cesaro Totality," is a short one but puts a rapid jitter on the bass that I think a lesser sub might smear, but the intended effect was plainly audible with the PL-300. The percussion is all tuned to lower frequencies in this album, and the sub gave the kick drums and low toms a meaty thump. Bass lines dug into subterranean depths, but the PL-300 was up to the task of reproducing these guttural sounds with gusto. While listening to this album, I changed the configuration between "Max Output" and "Bass Boost" as well as sealing and unsealing a port. It made a difference but not a huge one. After looking at the measurements, I could see why: the different operating modes only really affect anything below 40Hz. There is some bass in "Seas of Infinity" that dug a but deeper, but most of it did not. That will largely be in the domain of movies. The takeaway is that unless you are listening to very specialized music that plunges below 40Hz, the modes will not make a big difference in music listening.
Movie Watching
The PL-300 brought out much of the deep bass with the kind of muscle befitting of a loud disaster movie.
One movie that I watched with the PL-300 was the 2017 sci-fi schlockfest "Geostorm." The absurd premise concerns a weather control satellite system backfiring on humanity, and instead of preventing weather disasters, it starts causing them. I had not yet seen "Geostorm," and while it does look quite silly, it did promise to be a subwoofer extravaganza. I just hoped that it had enough spectacle to make up for the bonkers science. This movie seemed like a good test to see how the PL-300 could handle a typical effects-driven, big-budget Hollywood movie.
"Geostorm" did indeed have passages with lots of deep bass mayhem, and the PL-300 handled them well. I didn't have the system cranked extremely loud, but for the moderately high volume that I watched it at, the PL-300 brought out much of the deep bass with the kind of muscle befitting of a loud disaster movie. The sub got its first big workout in the natural gas pipe explosions in Hong Kong where flaming pipes erupted out of the street to spew cyclones of fire. This causes many of the high-rise buildings to collapse on top of each other and topple over like literal dominoes. It was hilariously implausible but neat to see and hear nonetheless.
Subsequent disasters feature a hyperactive lightning storm that blows up an arena, a throng of tornadoes that destroy a town in India, a tidal wave that destroys Dubai, and a swiftly moving deep freeze wave that instantly freezes beachgoers in Rio de Janeiro, among other catastrophes. The bass provided by the PL-300 was powerful and plentiful, and it helped to give these colossal scenes a sense of magnitude and force. Unfortunately, the spectacle of this movie wasn't enough to outweigh its spectacular stupidity. I knew before seeing it that it would be bad, but it didn't even begin to clear my extremely low expectations. Yes, I know this is supposed to be a subwoofer review and not a movie review, but my god, avoid this movie unless you like having your intelligence continuously insulted for 109 minutes. I cannot believe that the screenplay for "Geostorm" was written by human beings over the age of eight. I cannot believe that adults read this screenplay and then decided to spend millions of dollars to produce it. How did this thing get made?
Another movie I watched with the PL-300 was the 2022 remake of "Firestarter." I was a fan of the 1984 original, and I wanted to see how Steven King's material would be approached nearly forty years later. The original was a terrific sci-fi thriller, but its visual effects never really clicked even by the standards of its day, and perhaps a remake could fill in that shortcoming. A movie about government conspiracies and children with pyrokinetic powers should also make good use of low-frequencies, so I figured it would be a good one to see what the PL-300 could do for a sound mix that was a bit more down-to-Earth than "Geostorm."
"Firestarter" wasn't a constant bass party, but what low-frequency content it did have was effectively rendered by the PL-300. When our pyrokinetic protagonist of the title used her powers, the subwoofer charged the room with a low-frequency hum that conveyed an enormous sense of potential energy. Explosions were given a thunderous discharge, and the PL-300 roared when the main character materialized columns of fire out of the air. However, most of the bass came from the music score by John Carpenter, Cody Carpenter, and Daniel Davies. Most people will know John Carpenter as the famed horror movie director, but he has made a second career as a musical artist along with his son Cody and godson Daniel. Those familiar with Carpenter's musical style will not be surprised that bass plays such a prominent role in his score for "Firestarter." Pulsating bass lines and sawtooth synth drones are hallmarks of his, and they have become hugely influential in the modern synthwave music scene and many of its subgenres. The score was given a muscular low-end by the PL-300, and the electronic bass and percussion had a beefy analog sound that sounded retro without being too vintage. It's a great score and one of the highlights of the movie. In the end, I enjoyed the 2022 "Firestarter" and thought it was a fine remake but perhaps a bit short on ambition. The film's effective sound mix played a part in my appreciation for it, and the PL-300 was an important ingredient in that aspect.
Troy. posts on December 13, 2022 21:38
A BIC product was reviewed before: the DV62si was included in a bookshelf comparisons test some years ago.
shadyJ posts on December 13, 2022 21:14
lovinthehd, post: 1582503, member: 61636
Any BIC speakers for testing on the horizon as well?

Nothing planned at the moment.
lovinthehd posts on December 13, 2022 21:08
Any BIC speakers for testing on the horizon as well?
William Lemmerhirt posts on December 13, 2022 21:01
panteragstk, post: 1582501, member: 61217
I may have to get one of these for my office.

Anything I've seen with this subs performance has about a $200 increase.

My JBL has been great, but it can't dig deep enough for me.
I think the BIC would make a nice upgrade.
panteragstk posts on December 13, 2022 20:51
I may have to get one of these for my office.

Anything I've seen with this subs performance has about a $200 increase.

My JBL has been great, but it can't dig deep enough for me.
Post Reply
Confused about what AV Gear to buy or how to set it up? Join our Exclusive Audioholics E-Book Membership Program!