SVS PB-1000 Pro and SB-1000 Pro Subwoofers Review
SVS PB-1000 Pro and SB-1000 Pro Subwoofers Review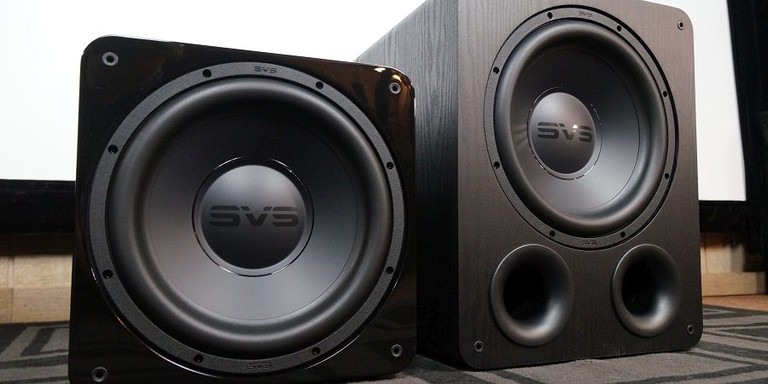 SVS 1000 Pro Subwoofers
325 watt RMS amplifier
Front-firing 12" composite fiber cone
50Mhz Analog Devices Audio DSP with double precision 56bit filtering
Subwoofer Control and Bass Management Smartphone App for Apple, Android, and Amazon Devices
SB-1000 Pro Frequency Response: 20-270 Hz +/- 3 dB
PB-1000 Pro Frequency Response: 17-260 Hz +/- 3 dB (standard mode), 19-260 Hz +/- 3 dB (sealed mode)
PB-1000 Pro Dimensions: (w/ grille): 18.9" H X 15" W X 20" D, (without grille): 18.9" H X 15" W X 19.2" D
SB-1000 Pro Dimensions: (w/ grille): 13.5" H X 13" W X 14.76" D, (without grille): 13.5" H X 13" W X 13.9" D
PB-1000 Pro Weight (unboxed): 42.5 lbs.
SB-1000 Pro Weight (unboxed): 26 lbs.
Dual 2.5-inch ports (PB-1000 Pro)
RCA stereo input/output
Right/Left Speaker level inputs
Pros
True extension down to 20Hz for PB-1000 Pro
Real mid-bass punch from both the SB-1000 Pro and PB-1000 Pro
SB-1000 Pro is quite small, and PB-1000 Pro is not huge
Both subs very light and easy to move
SVS Sub app includes 3-band PEQ
Cons
Highest drive level can incur a fair amount of distortion
SVS 1000-Pro Series Subwoofers Introduction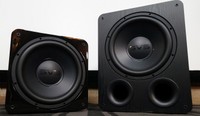 SVS's growth from a small company to a large and well-known audio manufacturer over the years has been pretty astounding to see for audio enthusiasts. It is all the more remarkable given that the segment of the industry that it operates in has been in a gradual decline for a while now. As much as it is painful to see for audiophiles, the traditional speaker templates of bookshelf speakers, floor-standing speakers, and subwoofers are losing market share as the audio systems of choice in homes in favor of soundbars and Bluetooth speakers. In the midst of this decline, SVS has grown from a small company to a global business with vendors on every continent except Antarctica. One way they have achieved this market dominance is to have something for nearly everyone as well as constantly improving their offerings to push technology and performance forward. SVS has recently made just such an improvement with their most affordable subwoofer line, which is now called the 1000 Pro series.
The 1000 Pro subwoofers is a major product revision for SVS since it makes such a significant change in what is likely to be a point of entry for people getting into SVS products. For many people, the 1000 Pros are going to the first subwoofer for those who aspire to own an SVS subwoofer, so it is important to make a good impression. The question then becomes, just how good are the 1000 Pro subwoofers? That's what we will attempt to answer in today's review since we have the SB-1000 Pro and PB-1000 Pro in-house. What do these subs bring to the table at their respective price points? Let's now dig in to find out…
SVS 1000 Pro Series Subwoofers YouTube Overview

Appearance
Both of the SVS 1000 Pro subs arrived well-packed, with thick polyethylene foam blocks sandwiching the subs to protect them from bumps and shocks. They were covered with a soft fabric bag to prevent scuffs and scratches and outside of that, a plastic back to protect them from moisture. This is the kind of packing one would hope for with subs in this price range, and they should be able to endure the usual turbulence of parcel shipping without a problem.
Once out of the packing, the PB-1000 Pro looks fine for a sub of its price point. It isn't a beautiful sub, but it doesn't look at all bad for the cost. The black ash veneer has a bit more character than the textured matte black that is often seen in this class. The rounded edges go a long way towards making it living-room friendly instead of just a purely functional item. The grille, which is just a black-fabric wrapped frame, also goes a long way towards making it inconspicuous. It isn't a huge sub (by my admittedly skewed standards), so it shouldn't stick out that much in any normal domestic space. Without the grille, the driver and ports are exposed, and it looks like a typical sub. Some people don't mind the appearance of these loudspeaker components, but others do. 
The SB-1000 Pro, on the other hand, is a truly nice-looking piece of audio hardware - at least the gloss black version that I was sent. The standard finish is black ash, much like the PB-1000 Pro, but the SB-1000 Pro can be had in both gloss black and gloss white at a $100 surcharge. It is a true gloss paint finish and not a plasticky gloss. In my opinion, it is worth the extra cost and maybe one of the slickest-looking subs in its price range. Other household occupants are unlikely to object to a gloss SB-1000 Pro, not just because of its attractive finish but also because of its diminutive size, and if they won't tolerate the presence of a gloss SB-1000 Pro, they wouldn't tolerate the presence of any subwoofer. One thing I wish SVS would do for their gloss finished subwoofers is to use magnetically attached grilles in order to give the front baffles that much cleaner of a look, but the grille guides are minor blemishes on what is otherwise a very pretty and petite subwoofer. 
Design Analysis
While the design changes for these subs are major overhaul with respect to the previous 1000 series subwoofers, they are not unexpected, given the evolution that had been occurring in the higher-end series, more specifically the 2000 Pro and 3000 series. In fact, the PB-1000 Pro resembles a smaller version of the PB-2000 Pro, which itself resembles a smaller version of the PB-3000. There is not much left of the original PB-1000 in the PB-1000 Pro, but there is much of the design from the PB-2000 Pro and PB-3000 in there. Much of the same is true for the SB-1000 Pro, although it doesn't seem to have gone through as radical a redesign as the PB-1000 Pro.
Putting aside comparisons to SVS's other subs, what is the design of the 1000 Pro subs like on their own? Let's begin that discussion by talking about the driver which is always the most interesting component of subwoofers for me. Both the PB-1000 Pro and the SB-1000 Pro use 12" drivers, but they are not the same. The PB-1000 Pro uses a more massive motor, and that extra strength is needed since, as a ported subwoofer, it is tasked with controlling the air mass behind it as well as its own cone and moving parts. On the other hand, the SB-1000 Pro has a slightly longer Xmax (SVS states a 13.3mm Xmax) since air displacement counts for more in a sealed subwoofer. There are also differences in the suspension system that are optimized for the sealed or ported designs. Much of the rest is the same between these two subs. The cone is made from a lightweight treated fiber composite, and it is attached to a stamped steel frame by a nitrile rubber surround. The surround was one notable point of improvement of the SB-1000 Pro over the SB-1000 and has been refined to enable higher excursions. The spider is made from a cotton-polyester blend and connects a 1.5" diameter former and voice coil to the motor. The motor uses a double stack of magnets that add up to a 1 ¼" thickness and a 5" diameter with a bumped back-plate for more excursion room for the voice-coil former. On the whole, the driver is about what would be expected in a good subwoofer in this price range, neither particularly heavy-duty nor especially lightweight. Much of the aspects of the driver that matter most aren't visible from the exterior and some of those properties are things like optimizing magnetic fields, induction control, suspension components balanced for both directions of travel, thermal dispersion, and other hidden attributes. SVS's engineering has always been good in these respects, so I expect that this driver will be heavily optimized much like their other subwoofers. This is very commendable design practice at a "budget" price point. Well done.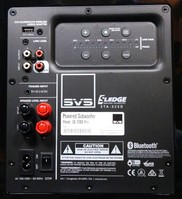 The amplifier uses SVS's class-D amps that they call the 'Sledge' amps, but the new ones used in the 1000-Pros are much different than the outgoing amps. These newer amplifiers use 34-amp 120-volt MOSFETs to deliver power instead of the typical op-amps. Power output has increased to 325-watts RMS from the older 1000's, but that extra 25-watts is going to make far less of a difference than the changes to the topology of the amp which can not be boiled down to a single number. Signal processing has been improved and is now done with an Analog Devices Audio 50MHz DSP that has 56-bit filtering. Amplifier plate controls have been changed and now use SVS's "ICI" (Intelligent Control Interface) which is basically a meter that can be switched to indicate volume, phase, and low-pass filter settings, although that seems to be the extent of the onboard controls. It is an elegant solution and doesn't take as much room as knobs and switches (to be honest, I still kind of prefer the tangibility of knobs and switches). For deeper control over the sub, the 1000 Pro subs can be controlled by SVS's Subwoofer Control App, which is compatible with Android, iOS, and Amazon operating systems. The amp has a USB port to power SVS's Wireless Audio Adapter to reduce cable clutter. One odd feature is the 1000 Pro's support for speaker-level connectivity; I doubt that many people would be using these subs with that type of input, but it is not an unwelcome feature.
SVS's Subwoofer Control App enables the user to control the sub with an extremely fine degree of precision. With SVS's Subwoofer Control App, the user can control the volume down to a single dB of precision, low-pass filter behavior from 30 Hz to 200 Hz down to individual hertz frequency precision, and also with a choice of slopes of 6, 12, 18, and 24 dB/ octave, phase control from 0° to 180° selectable down to individual degrees (or you can just flip the polarity from positive to negative), room gain compensation response curve selectable from 25 Hz, 31 Hz, or 40 Hz with a choice of a 12 or 6 dB/ octave slope (this is very handy for taming low-end boominess for those who get a lot of room gain), and port tuning configurations. One neat thing that is especially easy to use with the SVS app is a 3-band parametric equalizer with which the user can adjust the bass response to their taste. It can also help tame peaks in the response that are produced by room acoustics. These subs do away with the need for an external equalizer to shape the subwoofer's frequency response.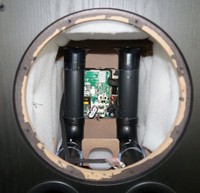 The cabinets for the 1000 Pro subs are fine for the price class and are intelligently engineered without being overbuilt. Many optimizations in the design of the PB-1000 Pro allowed it to be lighter than the original PB-1000, however, it is still robust enough that it should remain fairly inert in use. Cabinet material is MDF, of course, and the front baffle is about 1" thick. There is a window brace at the midsection of the PB-1000 Pro as well as some wood corner braces to help strengthen the edges. Each cabinet has a generous amount of stuffing lining the top, bottom, and side panels to help damp internal pressure waves as well as assist in isothermal conversion that makes the interior behave a bit larger than it actually is. The ports for the PB-1000 Pro are surprisingly long; there are two 2.5" diameter ports that I measured to have a 15" depth and then a right turn for another 14" in height. The length versus the diameter for these ports suggests a very deep tuning frequency, so this subwoofer should dig to pretty deep frequencies. The PB-1000 Pro also supports a sealed operating mode and comes with port plugs, but that would be a waste of headroom with this sub. If you want to lessen the low-end response, a better way to do that is through the room gain compensation control on their app. The cabinet feet are some wide cones that are covered with some soft rubbery material so they shouldn't scratch hard floor surfaces.
Overall, the designs for the 1000 Pro series look like a sensible balance of resources for subwoofers of this price range. They look like they could produce some real output for their size and price; but can they? Let's now find out by listening to some content to hear what they can do...
Listening Sessions
The best placement for a single sub in my room gives me a relatively flat response for an un-EQ'd single subwoofer, with a window of +/- 4 dB from 25 Hz to 100 Hz with no broad dips in important ranges (in this instance, both subs were placed next to each other in the "good spot" of the room). This location trades low-end room gain for a relatively flat response, a worthwhile trade for my tastes. The receiver used was a Pioneer Elite SC-55 and the crossover was mostly used at 80 Hz. As always, I will note here that since room acoustics have a huge effect on low frequencies, the way these subwoofers sound in my room at my listening position is not necessarily going to be the way they sound anywhere else for anyone else, so readers would do well to keep that in mind, and not just for this subwoofer in this review but for any subwoofer in any review.
Music Listening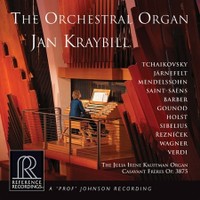 I always start my music listening reviews of subwoofers with pipe organ music because it is an acoustic instrument that stresses subs like no other on the planet. For the SVS 1000 Pro series subs, I found a recent hi-res 24-bit/176kHz release from Reference Recordings on Qobuz titled 'The Orchestral Organ.' This album is comprised of transcriptions of a variety of orchestral compositions for the pipe organ. It isn't a very simple task to condense a composition intended for a full orchestra down to something that a single instrument can play, even an instrument with the range and depth of the pipe organ. However, as pipe organs became more sophisticated and versatile in the late nineteenth and early twentieth century, they were more able to tackle the complexity of orchestral music, and so organists set about to transcribe orchestral pieces to perform for audiences since organ performances were much more accessible for ordinary people than orchestral performances. A number of the pieces in this album hit and sustain some fairly deep frequencies courtesy of the Julia Irene Kaufmann Casavant organ that has some 32' pipes capable of 16Hz notes. To be sure, this album isn't chocked full of massive deep bass, but on the occasions that it does it, the lower registers from those pipes can sound like a wall of sound that will shake the dust off of any speaker system.
The PB-1000 Pro displayed authoritative sound that could produce powerful bass at any bass frequency.
Starting off with the PB-1000 Pro, the pipe organ sounded powerful when it hit the deep notes; indeed, it rattled my drop ceiling. It doesn't take a lot of SPL to do that as resonant frequencies can be excited with relatively little energy, but it does take serious extension. I could feel the lowest notes undulating my sofa. However, the PB-1000 Pro could do more than just rumble my room with deep bass; it had an authoritative sound that could produce powerful bass at any bass frequency. The lower registers did not seem to stress it in any audible way either; it was clean and controlled at every level. Switching to the SB-1000 Pro, it was capable to a point, but there was clearly a limit to its deep bass prowess versus the PB-1000 Pro. It wasn't stressing itself to play the deepest notes, it simply played them at a much lower level which is for the best given its design. I didn't expect that it could keep up with the PB-1000 Pro in the deeper bass. But this isn't to say the SB-1000 Pro reproduced this music badly; most of the pipe organ's low-frequency range is well within its ability and there were moments where it surprised me. However, that lowest octave does make a difference with this kind of music, and the PB-1000 Pro had a significant advantage there. 'The Orchestral Organ' was an enjoyable listen on both subs, but between them, the PB-1000 Pro is the subwoofer that organ music lovers will want.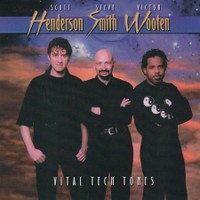 I listened to a very different type of acoustic music with lots of lower bass in 'Vital Tech Tones,' which is a 1998 fusion jazz album performed by a supergroup of the same name with members Steve Smith, Victor Wootan, and Scott Henderson. This energetic music has lots of agile bass guitar play from the master bassist Wootan who is better known as a member of Bela Fleck and the Flecktones. Subwoofers also get a lot of work to do from Steve Smith's array of bass drums. The fast attacks of the bass guitar plucks and percussion strikes in this album make it a great demonstration of the transient behavior of the low-frequency performance of any audio system. The recording is very clean and is fun to listen to at loud levels for its wide dynamic range and punchy bass and percussion.
I started with the SB-1000 Pro on 'Vital Tech Tones,' and the album opened with a bang as a bass drum strike is the first thing heard. The SB-1000 Pro managed a nice thump for the bass drum, and every hit was felt as well as heard. The fundamentals of the bass guitar playing were given a meaty, tangible presence by the SB-1000 Pro, and Wootan's deft playing was captured nicely. All of the bass guitar plucks, frets, and slides had good definition and immediate attacks. String mutes were also immediate, and I didn't sense any overhang or lingering decay. Switching to the PB-1000 Pro made a difference, but a subtler one for this music. The bass drums seemed to have a bit more grunt, but that was the only difference I could detect, and it may have had more to do with the slightly different placements of the subwoofers than their intrinsic performance difference. The PB-1000 Pro was as adept at delineating Wootan's marvelous bass guitar playing as the SB-1000 Pro. Going back and forth between the subs didn't change the sound much, and from this, I surmised that within the frequency range of this music, they were on a fairly even footing. This music doesn't dig quite deep enough to expose the most substantial differences between them. Switching between these subwoofers was also a good rebuke to the idea that sealed subs are somehow "faster" than ported. I'd love to see anyone try to tell the difference in a blind test when port output is not a factor.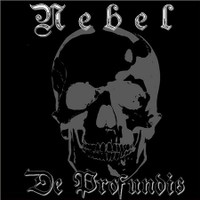 Another form of music that I think can make good use of a subwoofer is dark ambient, and for this, I found a bass-heavy album titled 'De Profundis' by an artist called Nebel. 'De Profundis' is made available from the Belgian-based dark ambient label Kopp which releases all of their music freely at Archive.org under creative commons licenses. 'De Profundis' is pretty heavy stuff, and, even among dark ambient recordings, is quite gloomy. The tracks on it are more like carefully sculpted soundscapes rather than traditional music compositions, and they create an atmosphere of foreboding and dread. Reverberant alarms, synthetic strings, distant chants, wailing of the damned, and a variety of other eerie sounds come together for music that could serve well as a soundtrack for descending the various levels of hell. There are a lot of low-frequency noises to keep subwoofers busy such as cavernous drones, the rolling rumble of thunder, and menacing mechanical hums. These deep bass sounds are mostly recessed in the background but at times they can be aggressive, and they are always present to some degree in this album. If that sounds like it floats your boat, 'De Profundis' is available in a high-quality MP3.
Both the SB-1000 Pro and PB-1000 Pro gave a good showing in the low frequencies of 'De Profundis.' They were both able to reproduce the richly textured bass of the album with ease. 'De Profundis' was given a solid foundation by either sub, and their inclusion transformed the album into a vivid soundscape in my living room instead of just a recorded sound played back on my system. The PB-1000 Pro did offer the sound a bit more 'weight' than the SB-1000 Pro, but it was not a huge difference. The SB-1000 Pro kept up remarkably well considering its size disadvantage, and it could plumb most of the depths of this album. The title of the album is quite apt for a review of such capable subs since 'De Profundis' is Latin for "out of the depths."  For ambient music, 'De Profundis' is a rather harrowing listen, but for those who take the plunge, the SVS 1000 Pro subs are very much up to the task of giving the album a deep end in which to dive.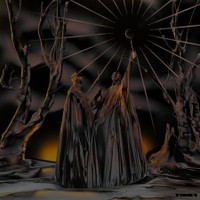 Getting back to some high-energy music, I threw in something that could push the subs hard at high levels. Not many genres of music are as hard on subs as drum'n'bass, and from that genre, I picked 'Sun Tracker' by Posij. This album came out late last year on Vision Recordings and has a futuristic sound that isn't on the harder side of drum'n'bass but isn't at all mellow listening either. It features intricate rhythms, creative use of bass lines, and interesting new melodies, compositions, and synth sounds. It is progressive electronic music in that it shows a possible forward direction where electronic music could go - and hopefully will go. Low-frequency content is brazen and plentiful in 'Sun Tracker,' and if you want to test the limits of your sub, it's a fine album to crank loud to see what your subwoofer can and can't do: a perfect test album for the SB-1000 Pro and PB-1000 Pro.
The amount of bass that SVS SB-1000 Pro managed to get out of this 13" cube was impressive.
I cranked the volume and switched back and forth between the subs during the tracks to see what they could do and how they compared. I found that both subs could thump nicely, and I was surprised by their output capability. I did find their limits, but that was at a rather high level that I don't normally listen at. When pushed, the PB-1000 Pro seemed to have a bit more punch than the SB-1000 Pro even though this was a level-matched comparison, and I think it was more than just the extra extension of the ports at work. It could possibly be due to the difference in placement; sometimes even small changes in subwoofer placement can lead to significant differences in the in-room response. Again the difference wasn't massive, but the PB-1000 Pro clearly had more grunt. It could vibrate my sofa in a way that the SB-1000 Pro could not match. Nonetheless, the SB-1000 Pro put up a great showing and provided some real thump along with a palpable buzz during the bass lines. The amount of bass that SVS managed to get out of this 13" cube was impressive. Both subs proved to be adept at bass-heavy electronic music, but the PB-1000 Pro is the one to get if floor space isn't a concern.
Movie Watching
One recent release that I just knew would be a bass fest is Zach Snyder's 'Justice League.' Scared off by poor reviews, I declined to see the original, but maybe this version rectified some of the problems that the original had. I had seen Snyder's other DC movies which were bombastic, to say the least, so this unfiltered Snyder movie was sure to be a humdinger as far as low-frequency effects go. I had the sound cranked up pretty loud, and by the end of this four-hour film, I was bruised and battered. The 1000 Pro subs acquitted themselves well. The SB-1000 Pro produced a healthy amount of bass, but the PB-1000 Pro gave all of the mayhem a deeper thunder that added a more epic feel to the spectacle. I was switching between the subs during the first couple of action scenes, but after I thought I had a feel for the differences, I just left the PB-1000 Pro on since it was doing a bit more justice to the sound mix. The SB-1000 Pro did an admirable job, but the PB-1000 Pro was built for this sort of work. The action often dipped into infrasonic bass, and the PB-1000 Pro drove it with a resounding rumble that I could feel. I couldn't help to be impressed by what SVS could bring to the experience for $600. For those who enjoy these kinds of movies, the extra space and cost of SVS's ported subwoofers are well worth the expense. I could have enjoyed this movie with either sub, but the PB-1000 Pro more fully captures the experience.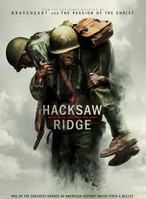 For something a little bit more down to Earth, I took an opportunity to see 'Hacksaw Ridge,' Mel Gibson's WW2 epic about a soldier who earned the Congressional Medal of Honer even though he was an avowed pacifist. I had not seen this movie previously, but I found the subject matter to be interesting coming from Gibson who did not strike me as the type to venerate pacifism. Nonetheless, this was a WW2 movie that took place in Okinawa which was a notoriously brutal battle, and so lots of low-frequency effect sound was assured. Watching the movie, both subs delivered the goods, but, as I had heard from other content, the PB-1000 Pro has significantly more oomph than the SB-1000 Pro. That is not a surprise, but the SB-1000 Pro still had enough force to have a visceral impact during the battle scenes. I switched between subs in key battle scenes, and the explosions still had punch even from such a diminutive subwoofer. The PB-1000 Pro had an earth-shaking, guttural quality that eluded the SB-1000 Pro and which gave it a heightened realism. 'Hacksaw Ridge' was an enormously violent film (strangely so for a movie about pacifism), and the SVS 1000 Pro subs could render the intensity of battle with an appropriate fierceness. If you aren't able to accommodate a subwoofer the size of the PB-1000 Pro, the SB-1000 Pro can still deliver a lively experience that will more than suffice to get across the essence of the scenes, but the PB-1000 Pro does make for a more lifelike experience.

See also:
Confused about what AV Gear to buy or how to set it up? Join our Exclusive Audioholics E-Book Membership Program!
Recent Forum Posts:
fandango1966 posts on May 29, 2021 03:10
Pogre, post: 1485844, member: 79914
Have fun!

If you have any more questions just hit us up here. If you really wanna get deep in the weeds and learn how to dial your bass in, a Umik mic and REW are great tools for seeing what's going on in your room. I think the mic is 75 or 85 bucks and REW is free. It's helped me make some very noticeable improvements.

Hello again…just an update-I got a new PC2000 pro delivered and I placed it at the front and moved the PB1000pro next to my couch and after running audyssey I'm very happy with the results. Not necesssarily more volume for bass but it feels more tactile and not overwhelming…I decided NOT to raise the subs volumes and leave them at the level Audyssey chose. I think that just the PC2000 pro would be enough for most people with modest HT -even the PB-1000 pro is sufficient for most regular people, but I always wanted a dual SVS set up and this combo is unique. I can use the same app for both and I get an amazing 5 yr warranty. Who knows when I will go to the movies again…for now my Samsung 75" TV and my HT with the SVS subs is just perfect. I may look into the REW software one of these days for sure. Thanks!
Eppie posts on May 26, 2021 13:17
Pogre, post: 1485991, member: 79914
ShadyJ's right about ported speakers but I wouldn't want to mix ported subs with sealed subs. I also wouldn't want sealed subs for any reason other than not enough room. Everything else about a sealed sub is a compromise and you're giving up performance for size.

For some reason that mad me think of AC/DC Big Balls. Sorry. I think it's from reading too much about MQA this morning.
xPlqLHcphyw
Pogre posts on May 26, 2021 13:04
wgb113, post: 1485982, member: 91850
Any concern about using sealed subs with ported mains?

ShadyJ's right about ported speakers but I wouldn't want to mix ported subs with sealed subs. I also wouldn't want sealed subs for any reason other than not enough room. Everything else about a sealed sub is a compromise and you're giving up performance for size.
shadyJ posts on May 26, 2021 12:42
wgb113, post: 1485982, member: 91850
Any concern about using sealed subs with ported mains?

Nope. At least no more so than any other kind of subwoofer.
wgb113 posts on May 26, 2021 12:39
shadyJ, post: 1485908, member: 20472
The SB-1000 Pros would only be better insofar as they would allow more placement options due to their size. In performance, the PB-1000 Pros are superior. However, unless you are going to be cranking the volume, there probably wouldn't be any serious difference in the sound between the two.

Any concern about using sealed subs with ported mains?
Post Reply