RSL Speedwoofer 10S MKII Sub, C34E MKII Atmos In-Ceiling Speakers Offer Enhanced Performance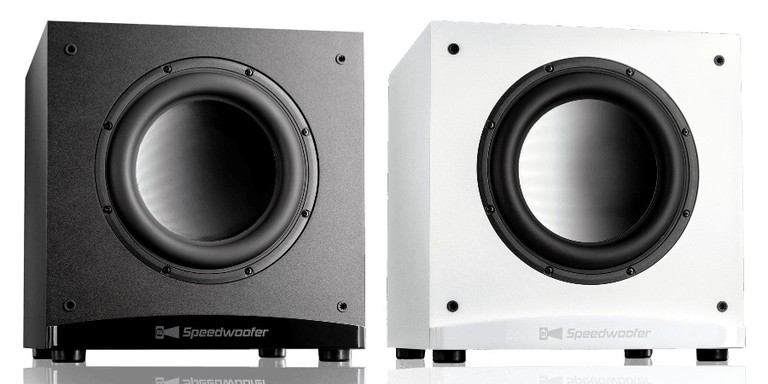 RSL Speedwoofer 10S MKII
Summary
RSL Speedwoofer 10S MKII 10-inch subwoofer
Output Power: 400 watts RMS < 1% THD; 1020 watts peak
Frequency Response: 22-200 Hz ± 3db (LFE mode); with room gain ~18-200 Hz (varies – room size)
C34E MKII Premium In-Ceiling Speaker
Frequency Response: 65Hz – 20,000 Hz
Nominal Impedance: 8 ohms
Sensitivity: 89dB SPL (1W/1M)
Recommended Amplifier Power: 25 – 150 watts
Dimensions (overall): Diameter: 11 5/8", Depth: 3 3/4"
Weight: 4.25 lbs.
RSL's Compression Guide Technology
Executive Overview

Let's say you're shopping for a luxury sedan. If you value reliability and easy maintenance for years to come, you might go with a Lexus. But if you want something that feels sportier going around corners, you'd be better off with a BMW. On the other hand, a Jaguar delivers comfort and style, if those qualities are your priorities and reliability isn't a concern. But in terms of build and interior materials quality, a Jag can't hold a candle to an Audi. Obviously, there is no one best choice at any given price point. It depends on what you care about most. And it's much the same in the audio world. Friends often ask me to recommend the best loudspeaker or AV receiver to fit their budget, but it's rarely that black-and-white. Every once in a while, though, a product comes along that delivers so much value and such solid all-around performance that it becomes the defacto "best" in its category. What's the best home theater subwoofer for under $500? It's the RSL Speedwoofer 10S, which was an Audioholics Product of the Year in 2016. Simple as that. The Speedwoofer was the budget subwoofer champ back in 2016, and it was still undefeated in March of 2022 when RSL launched the new Speedwoofer 10S MKII.
The new 10S MKII version sells for just $449, despite a number of improvements over the award-winning original. If you have even a mild interest in value-oriented home theater, there's a good chance that you're familiar with the RSL Speedwoofer, but have you heard RSL's other speakers? The company has also just launched a new-and-improved in-ceiling speaker, the $149 C34E MKII. While I haven't heard RSL's in-ceiling speakers, I did have the good fortune to stumble upon a 2.1-channel system based on the company's CG4 speakers at an audio show back in 2011 — before I knew anything about the company or its history — and I've been a fan ever since.
RSL Company History
RSL's history is uniquely fascinating. The company pioneered the concept of factory-direct audio sales, but unlike contemporary internet direct audio companies like SVS and Emotiva, RSL didn't have the luxury of an online presence back in the 1970s and 80s, nor did company founder Howard Rodgers rely on catalog sales. Instead, Rogersound Labs got its start in 1970, in a small factory/showroom in Hollywood, CA, where customers could see and hear the speakers for themselves, and even see how they were built. Other AV products were sold alongside RSL's own offerings. According to company legend, someone from the nearby Warner Bros studio wandered into the shop and ended up purchasing a pair of speakers to use as studio monitors. Eventually, RSL studio monitors became fixtures at many of the top recording studios and radio stations throughout the Los Angeles area, and Rogersound Labs audio/video stores popped up around town, with eight locations in total. Those vintage RSL speakers still have a loyal following, and the direct-to-consumer sales model has become a winning formula for many other brands. Howard Rodgers sold the company in 1989, but it went out of business just three years later. Rodgers retired comfortably after the sale of his chain of audio stores, but he bought back the RSL name just in case he ever had the itch to get back into the speaker business. That itch came along many years down the road, when Rodgers was building a dedicated theater for his own home. He developed prototypes for a compact two-way satellite speaker and matching subwoofer using an engineering concept he calls Compression Guide Technology. He showed off his new creations to audio pros and casual listeners alike, and their unanimous enthusiasm lured him back into business in 2010, when he relaunched RSL Speakers as we know it today.
According to the company, Compression Guide Technology (CGT) plays a big part in allowing RSL products to deliver high-end performance with surprising bass extension, less overhang, and virtually no cabinet "boominess," all at reasonable prices. CGT is essentially RSL's exclusive approach to speaker tuning, using a patented design to control cabinet resonance and offer both increased clarity and improved sound-staging. It all started with a kick drum, in the early days of the company's history. Rogers noticed that, in real life, a kick drum delivers a clean, impactful thwack that most loudspeakers couldn't reproduce. Instead, they offered up a muddy, woolen boom with very little percussive potency. Rogers believed that the internal resonance of the woofer cabinet was to blame for mucking up the transient response. He investigated a number of traditional design options, including both sealed and conventional vented cabinets, but none could deliver the performance he was after. Transmission-line designs came closest, but ultimately Rogers settled on his own design for a labyrinth-style enclosure, which he described to Home Theater Magazine as follows, back in 2011:
Compression Guide is a simple design that divides the enclosure into three areas of higher and two areas of lower compression with a diagonal board inside the enclosure that extends fully side to side (but not the full height). As the rear wave passes through these areas of varying volume and pressure, the audible effects of resonance are lessened. Eventually, the cabinet vents to the outside with a rectangular tuned passage, which is the same as a properly tuned bass reflex port.
— Howard Rogers
Speedwoofer 10S MKII
Compression Guide Technology was already at work in the original Speedwoofer 10S subwoofer, but the new MKII version features an updated rear vent tuned with CGT to further reduce port noise. Other improvements include an upgraded amplifier with new circuitry and integrated dual-mode DSP, and a new woofer designed to handle the increased power and heat. RSL calls its new amp the XDR (eXtended Dynamic Range) series amplifier, which can deliver 400 watts RMS (up from 350 watts in the original 10S), and 1020 watts peak for explosive dynamics. The XDR amp also features selectable dual-mode digital signal processing (DSP). The new LFE mode serves up greater low-bass output and deeper extension, down to a size-defying 22Hz. The DSP's Music mode offers the same tried-and-true performance as the original Speedwoofer 10S, but with increased power and superior dynamics. The amp uses an oversized half-bridge switch-mode power supply, coupled with a highly efficient Class D design with admirably low distortion. The new circuitry also includes advanced thermal management and protection schemes for fluctuations in voltage and DC conditions. The 10-inch woofer boasts a proprietary die-cast aluminum frame, improved thermal capacity, dual-stacked high-grade magnets, and a "fatigue-resistant" suspension. RSL says that the high-excursion linear motor and overall high-precision craftsmanship simply outclass pricier rivals. The original 10S model comfortably met our "Medium" Bassaholic room size rating so we are itching to test the MKII to see if it can achieve our "Large" Bassaholic room size rating.
The Speedwoofer's cabinet features a reassuringly solid front baffle made from 1-inch-thick laminated MDF, with cross-braced panels of 3/4-inch MDF providing the internal Compression Guide Technology framework. Additional bracing at the corners helps minimize resonance while further strengthening the structure. The new rear-vented CGT tuning delivers a reduction in air-flow turbulence, and a concomitant reduction in port noise. Thanks to the design of the wide slot-style port, RSL says you can place the Speedwoofer 10S MKII closer to a wall — just 4 or 5 inches of space should be enough to allow for the proper distribution of air-flow leaving the port. Even greater placement flexibility is offered by the new, smaller AT-4 wireless transmitter, which is available as a $50 add-on. The AT-4 works in conjunction with the wireless receivers that are already built in to every Speedwoofer 10S MKII, allowing the user to take advantage of cable-free connectivity, and to place the subwoofer(s) in whatever location delivers optimal performance. If you want to run multiple subs, the AT-4 transmitter will pair with up to 4 Speedwoofers simultaneously.
C34E MKII Premium In-Ceiling Speaker
It takes more than great bass to make a great home theater, and one of the most effective ways to take your home theater experience to the next level is to install height-effects speakers for real-deal Dolby Atmos. RSL has chosen to go the in-ceiling route, and it's not hard to justify that choice. Although in-ceiling speakers require more of a commitment on the installation side, they avoid the performance compromises inherent in reflective-style "bouncy house" height-effects speakers (which sit on top of your main speakers and aim sound at the ceiling). In-ceiling speakers are also less visually intrusive than the wedge-shaped on-wall height-effects speakers offered by brands like SVS and Arendal Sound. RSL's new C34E MKII in-ceiling speakers are a drop-in replacement for the previous version, so upgrading should be relatively painless. The new MKII version reportedly offers increased bass output and extension, greater efficiency, and lower distortion than its predecessor, along with tweeter level adjustments. The C34E MKII features dual 4.5-inch woofers with woven aramid fiber cones and butyl-rubber surrounds. The speakers employ high-energy ferrite magnets and high-strength, cold-rolled stamped steel frames, according to RSL. The 22mm soft-dome tweeter uses a treated-fabric exposed dome and a powerful neodymium magnet. The driver complement is arranged on a 15-degree angled baffle, allowing the user to aim the sound to achieve better clarity and more accurate imaging. The lateral driver placement "ensures proper time-alignment and eliminates the interference and cancellation of conventional stacked-driver designs to deliver maximum fidelity with greater mid-range and vocal clarity," according to RSL. The company also reports that the C34E's crossover uses proprietary, low insertion-loss lami-core and air-core inductors, resulting in improved efficiency and lower distortion. RSL-branded poly caps reportedly reduce distortion and improve the lifespan of the circuit. Finally, non-inductive resistors are said to provide a significant improvement to high-frequency clarity. The C34E MKII is just 3.75 inches in depth (3.5 inches mounted), and includes mounting clamps allowing it to be affixed to surfaces up to 2 inches thick. Although the C34E MKII is ostensibly an in-ceiling speaker, RSL says that it can also be used as an in-wall speaker where required. The edgeless magnetic grille can be painted to match the color of your ceiling or walls.
As I write this, both the Speedwoofer 10S MKII and the C34E MKII have sold out — the first production runs were bought up almost immediately. But RSL says that more new units are on the way in the coming weeks, and may already be available by the time you read this. Shipping is free within the contiguous 48 United States, and RSL offers a 30-day in-home trial. All speakers qualify for free return shipping, but return shipping on a subwoofer will set you back $25. I wouldn't worry too much about that, though; you won't be sending anything back unless you suddenly decide that you're willing and able to pay much, much more.
Unless otherwise indicated, this is a preview article for the featured product. A formal review may or may not follow in the future.
See also:
Confused about what AV Gear to buy or how to set it up? Join our Exclusive Audioholics E-Book Membership Program!