XTZ Cinema Series 3X12 Subwoofer Review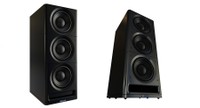 The XTZ Cinema Series 3X12 subwoofer is one of the most powerful subwoofers we've ever tested. As soon as I had a chance to really get into the nuts and bolts of the 3X12, I could tell this was a serious product from a highly capable speaker company. It proved to be unflappable no matter what source material I threw at it or torture test I had it endure. Earning our Extreme Bassaholics rating was no problem thanks to the 3 x 12" high excursion drivers each with its own 500 watt Class D amplifier. This is a serious bass system at a very down to earth price. Best of all XTZ offers you a 60 day risk free trial with free shipping both ways. But, we are confident you won't take them up on the return offer.
The XTZ Cinema Series 3X12 subwoofer earned our Extreme Bassaholic rating and proved to be one of the best performing subs we've tested. 60 day risk free trial makes it a no brainer for serious bass.