Rythmik Audio LV12R Subwoofer Preview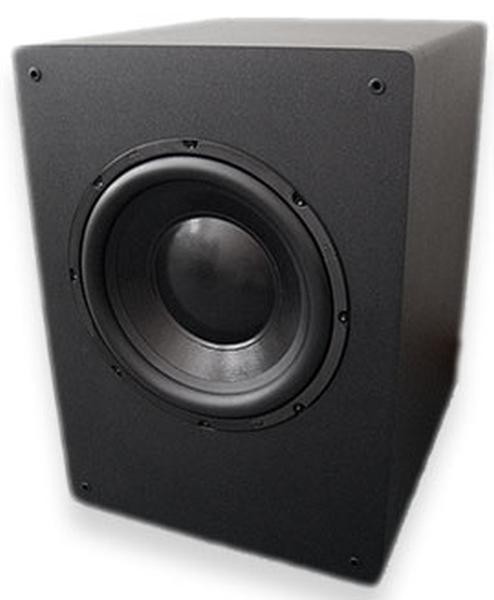 The Rythmik LV12R in matte black.
Summary
Driver: 12" driver with custom sensing coil
Driver materials: Paper cone with rubber surround; Stamped steel basket; Copper flux modulation shorting rings
Amplifier: 300WRMS Hypex class D module with patented servo controlled
Dimensions: 16 (W) "x 22" (H) x19" (D) (20-1/2" D with grille and amplifier knobs)
Frequency Response: 19 - 300 Hz(+/-2db) with LFE ; 19-100(+/-2db) with Line-in
Crossover slope: 12db/octave only
Crossover range (Low pass): 25 - 100 Hz
Rumble Filter (High pass ): built-in 12db/oct at 20hz to limit subsonic cone excursion
Phase adjustment: 0 - 180 degrees continuously variable
Bass extension settings: Low (19hz,Q=1.1), med (22hz,Q=0.9), and high(24hz, Q=0.8)
Finishes: Available in black matte vinyl or black oak vinyl
Warranty: 5 years warranty on driver and 2 years on electronics (warranty does not cover abuse); 30 day satisfaction guarantee

Executive Overview
Rythmik is a name most Audioholics are probably familiar with. The company is popular on the forums, with a reputation for offering high performance products at reasonable prices. In fact, we previously reviewed their top dog FV15HP, giving it high overall marks including a perfect 5 star value rating. Today we'll be looking at Rythmik's entry level LV12R subwoofer. Priced at $599 shipped (to the continental US), the LV12R is a medium sized vented subwoofer measuring in at 16" (W) x 22" (H) x 20.5" (D), and like all Rythmik subs, includes the company's patented Direct Servo technology. Want to know all the details? Keep reading!
System Overview & Specifications
True to the value provided by the FV15HP, the entry level Rythmik packs an impressive list of parts relative to its modest price. The core of the LV12R is a 12" paper cone woofer built on a stamped steel frame, and motivation is provided by a 300W Class D Hypex amplifier. Those familiar with Rythmik's lineup may note that the driver is a different model from that seen on their F12 sealed subwoofer, which utilizes an anodized aluminum cone and cast aluminum basket. As mentioned above, the LV12R utilizes a vented enclosure (available in matt black or simulated black oak), which extends the system's response and helps to take some of the stress off the driver around the system's tuning point.

Judging by the hardware alone, the LV12R looks to have the right parts to thrive in the ultra-competitive >$1,000 subwoofer market. However, we haven't gotten to the key piece for any Rythmik subwoofer: Direct Servo. Rythmik claims a number of advantages for servo control, but the most apparent benefit is how the servo combats compression. Looking under the "extended measurements" of the FV15HP's measurements at data-bass.com, your eye might wander to the "long term output compression". While the system exhibits some vent compression as you should expect, the FV15HP simply doesn't exhibit the effects of thermal compression so long as the amplifier has the power to compensate. While this isn't something that will show up on CEA2010 burst charts, the servo may help the LV12R to feel a bit punchier than a subwoofer with similar on-paper output capabilities.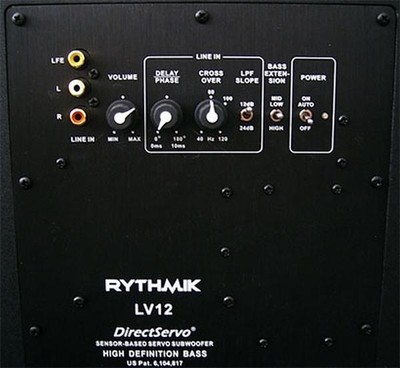 The LV12R's plate amplifier has a few useful features including phase controls and an adjustable low pass filter.

So what can the LV12R actually do? Rythmik rates the system's frequency response as 19Hz-300Hz +/- 2dB. At the high end of the range, the extended response out to 300Hz suggests that the LV12R can be mated with even smaller satellites that require a higher than average crossover point. Meanwhile, the -2dB point of 19Hz suggests that the LV12R should be capable of delivering the vast majority of movie effects. What about output? Rythmik's website states that the LV12R is a little less than half as powerful (-7dB) as the mighty FV15HP at 20Hz. This isn't a major surprise given their relative pricing. However, this suggests that the LV12R should break 100dB at the 20Hz mark in CEA2010 burst testing (normalized to 2m, RMS), putting it in the company of subwoofers like the Outlaw LFM-1 EX and SVS PB12-NSD.
Summary
A forum favorite, Rythmik has built a name for itself by offering high performance subwoofers at affordable prices. The LV12R looks to continue that tradition with substantial hardware and low prices, as well as Rythmik's Direct Servo which helps to wring the last bit of performance out of the system. Buyers should also note that Rythmik offers a 5 year warranty on the driver / 2 year warranty on the amplifier, along with a thirty day in home trial period to offer you some peace of mind. All said and done, if you're in the market for a high performance subwoofer, but don't have thousands to spend, we'd recommend giving the LV12R a serious look.

Unless otherwise indicated, this is a preview article for the featured product. A formal review may or may not follow in the future.