EMPtek ES1010i Subwoofer Review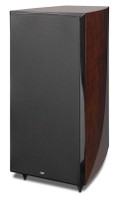 The EMP ES1010i subwoofer is a compact dual 10" ported sub with 250 watt amplifier combining beautiful aesthetics with competent performance. NO this sub won't win any output or extension wars. If that is your primary goal, then look elsewhere, but also realize you will likely be getting a large pedestrian black box with little to no WAF at this price point (and even possibly higher). The ES1010i does deliver solid bass performance at a modest price without requiring a forklift to move it or without occupying too much precious floor space since it's taller than it is deep. It blends perfectly with their matching E5Tti or E55Ti towers, but can also work extremely well with small satellite speakers due to its rather extended upper frequency response. $499 delivered to your door with a generous 30 day return policy seems about right to me and I surely hope you agree if you're looking to add some boom with style to your system.
The EMP ES1010i is a dual 10" 250 watt ported compact subwoofer combining beautiful aesthetics with competent performance. Free 30 day trial makes it a risk free recommended purchase.