HSU Research VTF-1 Subwoofer Review
HSU Research VTF-1 Subwoofer Review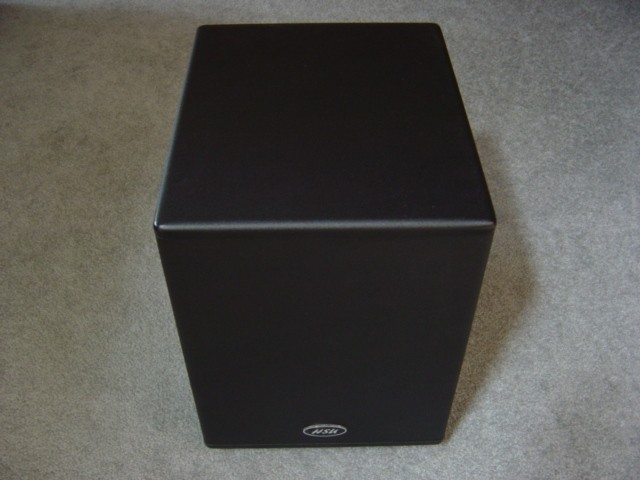 Enclosure: Down firing dual ported
Amplifier Type: Bridged Amplifier Switching Hybrid (BASH)
Amplifier Power (RMS): 200 Watts
Peak Amplifier Power: 600 Watts
Bass Extension (-3dB): 32 Hz (Max SPL)
                        (-3dB): 25 Hz (max extension)
Woofer: 10" polymer treated paper cone
Crossover Frequency: 30 Hz to 90 Hz
Crossover type: Continuous variable low pass filter with bypass
Crossover Slope: -24db/octave Linkwitz-Riley
Phase: 0/180 degree switch
Dimensions: (HxWxD): 19.5" x 14" x 18"
Weight (lbs): 56 lbs.
Pros
Musical
Actual deep bass for a budget
Performed well to its limits
A lot of sub for the price
Cons
Excursion limits at high SPL in extension mode
Pedestrian finish
Introduction
The Hsu Research VTF-1 has proven to be a solid performer that, relative to its price point, does most everything well with very little wrong. I found it to be both musical and responsive to the source material I threw at it while still capable of very respectable output levels. Sonically, the VTF-1 is similar to the STF-1, retaining the best qualities while making sonic improvements with key differences consisting of the larger driver, an increase in amplifier power, and the ability to play lower. The end result is that the VTF-1 sounds like a heftier sub, sonically, than the STF-1 with a similar price to performance ratio. If you are in the market for a high value subwoofer then Hsu should be on the list of products to investigate; the VTF-1 is a good sub that is hard to beat at the price.

Confused about what AV Gear to buy or how to set it up? Join our Exclusive Audioholics E-Book Membership Program!
Recent Forum Posts:
westcott posts on July 17, 2007 11:10
Am I to assume that Figure 4 is using a standard 10% distortion limit?
gene posts on July 10, 2007 00:52
Shouldn't this be in the "Subwoofer" section?
Thats odd, I must have scrolled too far the drop down when linking it up. thanks.
silversurfer posts on July 10, 2007 00:48
Shouldn't this be in the "Subwoofer" section?

Otherwise, I have heard an STF-1 before and was very suprised at what it could do for the price and size. The VTF-1 seems to go a bit farther according to the review.
Post Reply