Elemental Designs A7S-450 Subwoofer Review
Elemental Designs A7S-450 Subwoofer Review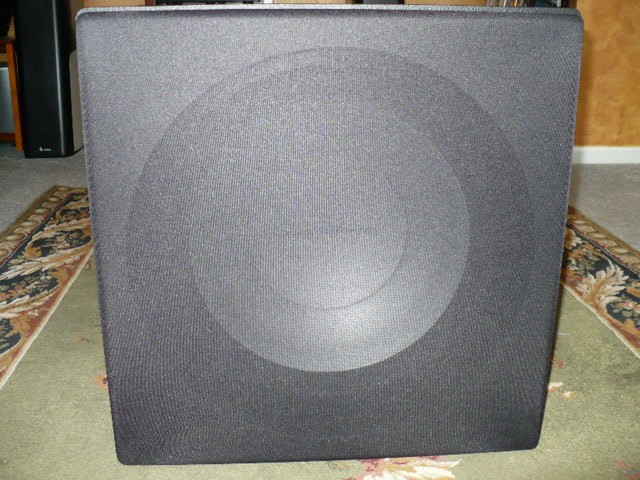 Enclosure: Front firing sealed enclosure
Amplifier Type: n/a
Amplifier Power (RMS @ 4ohms): 550/1300 Watts
Amplifier S/N Ratio: > 90 dBA
Bass Extension (+/-3dB): 22 Hz
Woofer Nominal Diameter: 18 in
Driver Excursion (+/-): 0.85 in
Total Linear Displacement: 358.4 cubic in
Motor Structure Diameter: 8.20 in
Crossover Frequency: 50 Hz to 100 Hz
Crossover type: Continuous variable low pass filter with bypass
Crossover Slope: n/a
Phase: 0 or 180 degrees
Dimensions: (HxWxD): 22.25" x 22.25" x 22.25"
Shipping Weight (lbs): 149 lbs.
Pros
Potent subwoofer that won't break the budget
Surprisingly nuanced, musical presentation
Cons
Industrial finish with minimal WAF
Will not be easy to hide
Large inrush may trip common household lines when powering up
Introduction
The A7S-450 is a lot of subwoofer for the money. It performs well, blatting out a lot of deep bass, but not at the expense of musical nuance and subtlety. Contrary to its considerable size, it is also fully capable of disappearing, sonically, blending well in a properly calibrated and tuned system, handling quiet bottom end detail, and belting it out when called upon without giving it position away. If the room to board this beast is available and the wife won't kill you for bringing it home, it is definitely a worthy subwoofer to consider at anywhere near its price point. Highly recommended!

Confused about what AV Gear to buy or how to set it up? Join our Exclusive Audioholics E-Book Membership Program!
Recent Forum Posts:
TheFactor posts on May 19, 2010 19:02
croseiv, post: 641641
yep, same here. Wait a minute, i did…:d
lol :d :d
darien87 posts on May 19, 2010 13:45
croseiv, post: 533454
Sounds like they are just slapping a car subwoofer into a box…
But if it has a nice frequency response and sounds good, who cares? A sub's a sub right?
BufordTJustice posts on May 18, 2010 20:39
A7s-450 + eQ.2 = Heaven

Seriously, the A7s-450 is a completely different sub (if you want it to be) when you use the eQ.2. Amazing performance from this thing since it has so much headroom. I has no limits in my open living room for my listening purposes. Amazing output down to 10Hz. Great dynamic impact for music. You can make it sound like whatever you want. Here is my review I posted for the one I own on eD's website:

I have had my A7s-450 for almost two weeks now. I begged the wife to let me get it as I already had an A2-300 that has worked wonders in our old, smaller living room. However, a new house meant more room and a higher ceiling…the A2-300 was struggling on some movie scenes that had the lowest bass (i.e, Master and Commander, Terminator, etc.) as I had to turn the gain higher than before, despite a corner location. I just needed to move more air.

I e-chatted with Brett to great effect; he was very knowledgeable from a design standpoint and had much insight into what was mechanically and electrically required from a subwoofer to accurately reproduce bass. I learned a lot and centered on the A5-350 15" ported and the A7s-450 18" sealed units. Brett helped me figure out how much air i needed to move (as in total driver linear displacement and the proper amp power to take advantage of it.) and the type of sound I was looking for for my music listening. We had an extremely productive chat and Brett was both very friendly and very professional. I was taken aback because it was much more like speaking with a friend on IM than a person I've never met in Iowa (I'm in Florida). His open-ness to share specific figures and specs on his products sold me. Having a background in live pro-sound mixing, I know enough to know that he did not BS me. Not even once. He didn't even try…he just knew his stuff inside and out. Then I pried it out of him….he had a direct hand in the actual DESIGN of several eD sealed subwoofers, to include the A7s-450. We talked turkey for about 15 minutes and then I let him go. NO pressure and he got ZERO info from me. There was no guarantee of a sale on his part…he just poured out the info.

Days later, I spoke with Matt over the phone, who was equally knowledgeable and helpful. I verified the free eQ.2 promo for the A7s-450 and ordered one over the phone. Wam, bam, thank-you-ma'am. No hassle and I was G2G.

I received it via, as always, free shipping. This sub was so big, I had to un-pack it completely just to fit it in my Hyundai Elantra (don't try this at home boys and girls). After a few sacrificial (and permanent) modifications to my front passenger seat, two little helpers at the UPS depot, I shoe-horned the beast in.

After getting it home and turned-on, it was a revelation; the sub just had no limits in my new living room. This was before tweaking via the included eQ.2 (a steal, I might add). I went to bed, perfectly happy with my purchase.

A few days later I found the time to fiddle with the eQ.2 Long story short, you can dial this sub to make it sound like whatever you want in your room. I've got the mid-bass shelved by about 6db from 60-65Hz on up and the low EQ centered on 25Hz with a Q of 2 and about 7 or 8 dB of boost. It's dynamic from barely audible night-time everyone-else-is-sleeping volume levels to neighborhood-rapport-destroying levels with Terminator:Salvation, Transformers II RoTF, and Master & Commander. Amazing output at well below 20 Hz. I test-toned it down to about 10Hz. Amazing. Just stupid levels of sound from this thing. It left me shaking my head at how low it went and still maintained its composure….it just kept getting louder and louder…I decided to stop testing as it was getting late and the sub just kept getting louder. I became legitimately concerned that it was going to break my sliding-glass-door as it was sitting not far from it.

Music performance is as accurate as I could ever hope. It's dynamic and impactful. It sounds great with Metallica, Anberlin, MuteMath, Diana Krall (her damn-near-perfectly recorded 'Live in Paris'), Van Morrison, Dave Brubek, AC-DC ('Shoot to Thrill' and 'Thunderstruck' will change your life using this sub), John Mayer, Michael Jackson, Jack Johnson, Black Eyed Peas, Red, Breaking Benjamin, Bach, Handel, U2, etc. It sounded great with everything I played through it…Once I got the levels dialed in, NO further adjustments were needed. I have never experienced this…it just disappeared and added depth and impact to what I thought were familiar recordings. Every song had added depth and the soundstage seemed HUGE….much bigger than the room….especially with live recordings (like U2's 'Live in Chicago' DVD). The eQ.2 adds so much versatility to this sub…they should be considered a pair. You can adjust the sub to even out your room response in so many ways, it would be worth the price of the upgrade (even though it's free now). Just amazing. I haven't heard ANYTHING any where near this price point that can even match this performance in a regular guy's living room. I do not have any sound treatments or other goodies…I have a wife who uses her magnifying glass about what the room looks like. The sub sounds so good, she even passes it now. She was able to clearly articulate that it sounds MUCH better than ANY theater she has ever been to. She said that anything that 'sounds this amazing' is okay in her living room, regardless of size. She watches romantic comedies with the sound system now because even she thinks it makes the closing of doors and city scenes seem more real. Who am I to argue?

I can whole-heartedly recommend this sub. The only thing I could imagine that would be better than an A7s-450 would be TWO A7s-450's.
gorillacooch posts on November 01, 2009 18:24
I am really pulling my hair out here, I think the A7-450 and the SVS PB-13 Ultra would be the best choice, but the only reason why I'm skeptical from buying the eD is the power rating. I"m using one 15 amp breaker for my bedroom, and my high powered gaming system, which uses 500 watts, and my xpa-5, integra dtc-9.8 and mirage OMD system, are all on the same breaker. So far it says I'm using 4.6 amperes on my power conditioner. When I game its at 7. I'm worried about using the eD cause of the 1300 watt draw. eD told me that it uses 500-800 watts on low to medium volumes. But still when you turn on the sub I'm worried about the large inrush that Audioholics mentioned. And electricians today are ripping people off like crazy just to install a 20 amp breaker, which only takes 20 min in my house to install. They want to charge something like $1000. which is ridiculous. But they quote me on the phone at 300 but then they see the house they say $1000. No offense but electricians aren't worth more than $50/hour let alone $1000 for 20 min. And this also includes me providing the breaker and the cable. So he's just charging me labor.
djreef posts on November 01, 2009 11:22
gorillacooch, post: 641815
And buy a subwoofer that is one year into the warranty? If it was 1200 with shipping I'd say yes, but 1350? id rather spend the extra 350 and make sure i get my full 3 years.

Also 3 years doesn't really seem that long. If you look at eD they have a 5 year warranty. Now thats a warranty, that shows they really stand by their product.
That's true, but then I wasn't sure where you are. It could've been a short road trip. Then at $1200 it would've been a steal.
DJ
Post Reply