Sunfire HRS-12 Powered Subwoofer Review
Sunfire HRS-12 Powered Subwoofer Review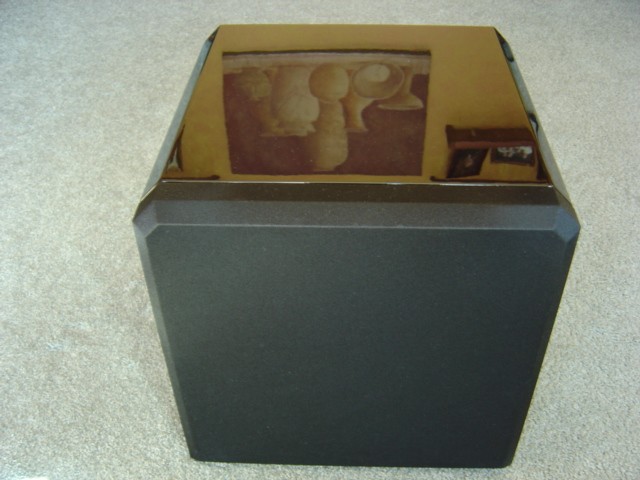 Sunfire HRS-12 Powered Subwoofer
Enclosure: Front firing sealed enclosure
Amplifier Type: Proprietary Tracking Down Converter Design
Amplifier Power (RMS): 1000 Watts
Power Consumption (avg./peak/stand by):  600 W/2000 W/16 W
Bass Extension (-3dB): 18 Hz
Woofer: 12" polymer treated paper cone
Preamp gain:  Defeat to +15 dB
Crossover Frequency: 30 Hz to 100 Hz
Crossover type: Continuous variable low pass filter with bypass
Crossover Slope: -24db/octave
Phase: Continuous variable 0 to 180 degrees
Dimensions: (HxWxD): 13.5" x 13.5" x 13.5"
Weight (lbs): 38 lbs.
Pros
A big subwoofer in a little subwoofer's body
Plenty of power, output, and depth
Attractive finish and/or small size help with WAF
Cons
Soft clipping circuitry does kick in at times
Introduction
To get good monster bass, usually some fairly mongo subs are required. It is rare to find a sub this small that can not only provide copious bass output, but also can provide deep and accurate bass output as well. While not cheap by some standards, the HRS-12 subwoofers do an excellent job balancing the design and providing outstanding performance without skyrocketing the price. . Considering that the HRS-12s can easily provide better than two thirds of the performance of subs like the Fathoms at a mere one third of the price, the HRS-12s are a well engineered, high value product that represents a very good bargain for anyone looking for extreme levels of bass performance at less than extreme prices.

Confused about what AV Gear to buy or how to set it up? Join our Exclusive Audioholics E-Book Membership Program!
Recent Forum Posts:
azimuth posts on January 28, 2011 09:42
I would be very interested about the frequency response of this sub.
I didn't find anywhere a FR graph it seems weird that anybody measured it.
rmk posts on April 14, 2008 12:05
HRS-12 impressions

I had the HRS-12 in my system for about a week. I had limited time to actually play with it but the HRS left a very favorable impression.

At first I ran it with my dual F113's placed front right (the Fathoms are on the left side wall) and felt it blended very well with the Fathoms. Then, I turned the Fathoms off and ran it alone and then did a brief A/B with a single F113. It really is a very nice little sub for the money. Build quality and finish are good and it plays clean and loud down to the low 20Hz region. It handled music and movies very well clean output that was almost Fathom like. At its street price, two or even four of these would make for a very nice HT implementation and the small form factor is a big plus for flexible positioning and hence bass optimization.

I have returned this "demo" model to my dealer but I am thinking of going to quad subs in my HT room and this little sub (it makes the small Fathom's look huge) is on the short list for that duty.

One side note, the packaging is incredible … triple boxed with a velvet sock cover on the sub. Nice job Sunfire!
sbeveraggi posts on March 29, 2008 18:34
Do you think this sub will blend well with satellites crossed over at 100hz?
Will 1 HRS-12 be enough to fill a 3000 cubic feet room?
Thanks.
haraldo posts on March 28, 2008 19:03
And the weather
Aaaaaa sorry, you already stated that
gene posts on March 28, 2008 18:53
I'm considering going all the way from Norway to CE state of the Union, do you think, that'll be worth it?
Wow you would probably qualify as the longest traveler to our event in its history if you come! Its definately worth and I am not just saying that because I am hosting it
2 days of great product demos
Debut of new products from Yamaha, EMP, Pioneer, Emotiva and others
Great food! (breakfast for 2 days, formal dining event)
Costume party, dance and entertainment
free educational seminars
chance to hang with Audioholics staff
tons of free party swag and product giveaways
a nice week of warm weather
Check out our video from last years event which was only about 1/2 the size of this one:
http://www.audioholics.com/news/trade-show-coverage/videos/2007-ce-union-overview-video
Post Reply