SV Sound PB2-ISD Subwoofer Review
SV Sound PB2-ISD Subwoofer Review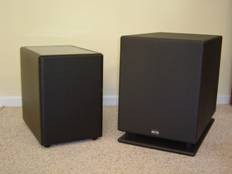 SV Sound PB2-ISD
Product Name: PB2-ISD
Manufacturer: SV Sound
Performance Rating:
Value Rating:
Review Date: October 31, 2006 08:25
MSRP: $ 899
Driver Type: 2 down-firing 12" long-throw woofers
Ports: 3 rear-firing (configurable)
Power: 600Wrms; 1450 peak
Freq Response: 16Hz – 150Hz +/- 1.75dB
Crossover: 2nd Order Low Pass Network
Crossover Freq: 40Hz – 120Hz; Bypass mode
Phase: 0-180 degrees variable
Dimensions: 28" x 18" x 25"
Weight: 140lbs
Pros
Plays strong and low down to ~16Hz
Very high SPL output capability
Excellent value
Excellent performance for both music and home theater use
Variable phase adjustment
Cons
Heavy (~$100 shipping)
Extremely large enclosure; not for smaller rooms
Can damage drivers with improper setup
As a teenager living in Orlando , I remember parking out near the International Airport to experience the jets as they came in for a landing – Wayne's World style. Anyone who has lived in Orlando knows the "Jet City" is plagued with an almost non-stop barrage of aircraft coming in from all directions to land at what is arguably the world's nicest airport. Trouble is, the surrounding area is naturally pummeled with the constant overhead noise of McDonnell Douglas/Boeing engines and the steady ring of planes on final approach. But up close, the jets take on an altogether different feel. Noise becomes power. Power is felt in a tactile way that pervades every part of your body and rattles you to the core. That feeling – the extreme low-end thrust that accompanied the landing was what I thought should be the mark of a great home theater subwoofer. In fact, I knew throughout the years that many of the subwoofers I experienced in people's homes or as part of home theater satellite systems were merely toys – shadows of the "reality" they were attempting to portray.
Several weeks ago, during a discussion about surround sound system, one of my newest friends said to me : "All subwoofers are the same – boom is boom. It doesn't matter who makes it." I sat him down in my living room (it was the first time he had been to our home) and proceeded to play one of his favorite movies. After having him listen to my system, and with his mouth hanging open, he and his wife commented that it sounded "better than a movie theater." It was at this point that I asked him if he would like to hear the same scene with the subwoofer turned on . The rest, as we say... was history.
Subwoofers can fall into one of two uses in any given home theater system. Quite often, in a budget system, they function to supply the required frequencies that a satellite system cannot attain on its own (sometimes including upper-frequency ranges that even allow dialogue through). Subwoofers in these systems cover a broader range of sound resulting in greater harmonic distortion, less efficiency at lower frequencies, and having to appropriate power across a wider range of material. The second use, where subwoofers are configured to handle frequencies anywhere from 80Hz and below, is where subwoofers have a fighting chance to really shine. Though capable of more, their amplifiers and drivers are used within a narrower frequency spectrum and the remaining home theater system is fully capable of driving the main thrust of the listening experience. Let's begin here with the Outlaw Audio LFM-1 and SV Subwoofers' PB2-ISD, two subs that are utilized in a system modeled after the second scenario.
Confused about what AV Gear to buy or how to set it up? Join our Exclusive Audioholics E-Book Membership Program!