High Output Box Subwoofers - Whats New for 2008
High Output Box Subwoofers - Whats New for 2008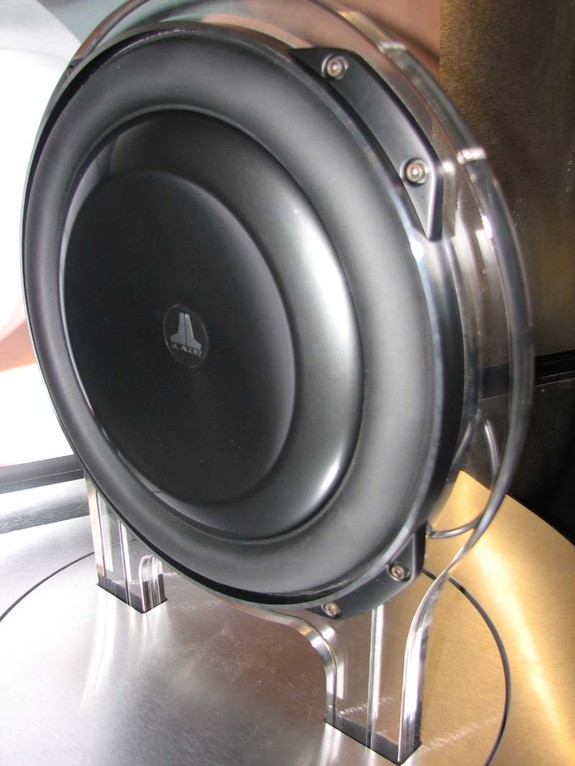 JL Driver
While scouring CEDIA, it was pretty much impossible to get away from the boom generated by all the active demos competing to get noticed in a crowded and noisy show floor.  Since bass waves travel through walls, you can rest assured that those companies engaged in bleeding edge design will get most noticed by folks walking by.  That being said, companies such as Paradigm and JL Audio put forth elaborate demo rooms to show off their new product lines.  We took the time to take a listen and did not walk away disappointed.   Don't let the size of these products fool you.  Well engineered subwoofers don't have to be the size of a refrigerator to perform.  In fact, it often takes more engineering know how to design a reasonably sized product that will perform as well or better than those bigger boxed solutions.
Paradigm SUB 25

The new SUB 25 is a high power, high excursion sub positioned as the company flagship.  With a claimed 3000 watts RMS amplifier and a 15-inch driver, this model boasts a 3-inch peak to peak excursion and 5 dB more output than their previous flagship Signature servo model subwoofer. In fact, we have it on good authority that the new SUB 25 was specifically designed to put the JL Audio F113 in checkmate.  Of course, it's a bit unclear how they are getting a 3000 watt power rating as even a 100% efficient amp would require a 25 amp line to achieve such a feat!
An optional yet valuable add-on for the SUB 25 is Paradigm's Perfect Bass Kit (PBK-1) interface, a state-of-the-art room correction system derived from sister company Anthem Electronics' ARC-1 system. PBK-1 uses proprietary processing to compute in-room frequency response of up to four different SUB 25s before computing a target frequency response for each, yielding optimized in-room reproduction of low frequencies.
The Reference Signature SUB 25 will ship in late Q3. It has a US suggested price of $3,999. The optional PBK-1 interface has a suggested retail of $399.
We sat in on their demo room which featured 2 SUB 25's and 2 smaller subs towards the back of the room coupled with their new Signature in wall speakers up front and their dipole surrounds.  The system was powered by Anthem electronics in an acoustically treated room with their proprietary ARC room correction system engaged.  Most of the listening session focused on multi channel music listening with some intense acoustical guitar solos, ending with the entire opening scene of The Dark Knight on Blu-ray.  The demo was most impressive and the bass was deep and well controlled.  There is no doubt that these new subs can deliver the goods and we look forward to doing a formal review soon.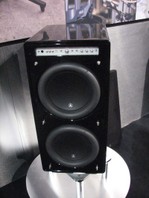 For more information on Paradigm, please visit www.paradigm.com.


JL Audio F212

JL Audio wasn't content with a gap in their model lineup between the f113 and Gotham so they appeared to have bridged the gap with the introduction of their new f212 subwoofer.  This sub pairs two of their next generation 12w7 subwoofer drivers with a massive motor structure and 3000 watt dynamic amplifier.  The f212 is said to outperform two f112's stacked together.  Like other Fathom products, the f212 features their E.L.F. trim and Automatic Room Optimization (A.R.O.) system.
Retail price is $6,000 (satin) and $6,100 (gloss). 

For more information, visit www.jlaudio.com


Monitor Audio Platinum PLW-15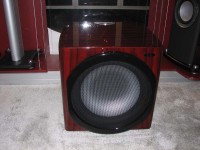 Monitor Audio unveiled their new Platinum line of loudspeakers with a series-matching PLW-15 subwoofer.  The PLW-15 boasts a 15-inch high excursion c-cam woofer with a 1000 watt amplifier.  The sub also includes powerful DSP for room optimization, and an EQ with a remote control for more convenient setup and tweaking.  The cabinetry and finish are outstanding but the grill cover for the sub sticks out like a sore thumb and seems an odd match-up for this sub.  In contrast, their new Platinum loudspeakers all use magnetic grills that fit the cabinet in perfect form.  Our best guess is that the long driver excursions forced Monitor Audio to integrate a protruding grill so it wouldn't inhibit performance or create noise.

We listened to a demo of their new Platinum system in an open booth and it sounded excellent despite the poor surroundings and noisy showfloor.  We were surprised to find out only one PLW-15 was playing as the bass seemed very linear and well integrated with the main speakers.  The demo material was from the Eric Clapton Crossroads DVD and we were glued to the track with Jeff Beck and that smoking little hottie playing bass.
We weren't sure about retail price, but seeing how the bookshelf speakers cost around $4500/pair we'd imagine this sub to be in that ballpark.
For more information, visit www.monitoraudio.com


Velodyne Optimum Series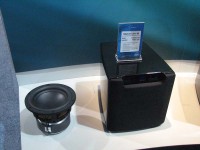 Velodyne launched a new series of subwoofers that are said to have more output capability than similar sized previous generation SPL series products.  The Optimum series also boast a one button 7 band auto EQ setup feature with dynamic drive control and current sensing servo control.  These units are all equipped with fully functional remote controls and front panel LED indicators to ensure you know the status of the sub.  The Optimum series comes in 3 models including the Optimum-8 (1200 watt amp with 8" driver), Optimum-10 (1200 watt amp with 10" driver) and the Optimum-12 (1200 watt amp with a 12" driver).
Starting at $999 for the Optimum-8, these compact subs are packed with technology to ensure they output much more than their non imposing size may indicate.
For more information, visit www.velodyne.com


Boston Acoustics VPS-210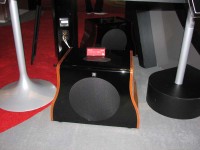 When I first saw the Boston Acoustics VPS-210 subwoofer at CEDIA, I kinda chuckled thinking it was a bit of a girly man sub, especially at its $1,699 asking price.  I mean come on, at that price, you typically get a much bigger driver mounted in a larger box.  What I didn't realize was that Boston Acoustics did some serious engineering in the VPS-210 to make it a high compression, high output design capable of playing much LOUDER and lower than its physical appearance seemed to indicate.  This sub houses a 10" long throw driver with a 3" voice coil and a 10" passive radiator.    It is powered by a 500 watt class D amplifier and implements what Boston Acoustics refers to as BassTrac circuitry which is said to ensure the sub plays tight and distortion free at all output levels.
The Boston demo area was set in open space on the CEDIA show floor.  Eric Pomerleau – Boston's National Product Trainer convinced me I should take a listen.  I've known Eric for a number of years now and appreciate his no nonsense attitude.  I stood in front of the display where  their new speakers were arranged around the  area for surround sound with two VPS-210s up front.  I instantly heard tight clean bass coming from the movie that was being demoed. As I was about to positively comment on the sound I was hearing, a low bass effect rattled me with surprise.  "Did that just come from those two little subs" I asked Eric?  He smiled and said "it sure did".  It seemed apparent to me that there is more than meets the eye with this subwoofer and I eagerly await reviewing one in the near future.
For more information, visit: www.bostonacoustics.com