Wireless HDMI Takes Flight
Wireless HDMI Takes Flight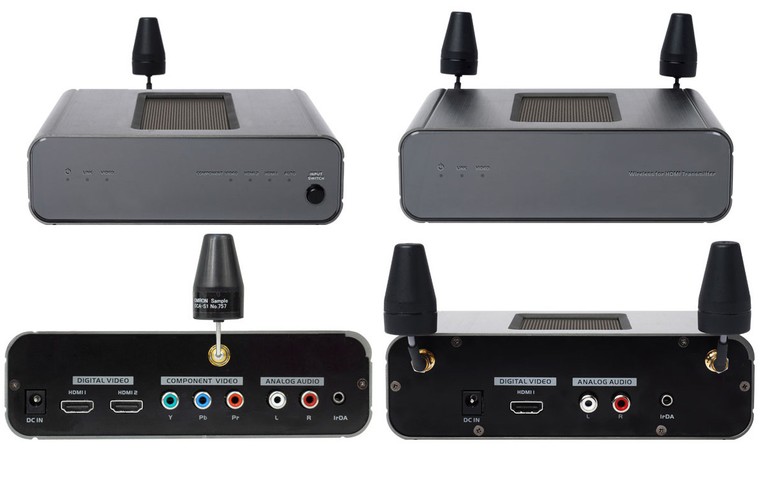 Wireless HDMI takes flight
Wireless HDMI seems to be coming to a living room near you. While everyone pretty much agrees that HDMI is the most bitter-sweet invention to hit the consumer AV electronics industry in some time, there's no denying that most are trying to make end runs around the format. In some cases that is through the use of cable conversion, while others are looking to send HDMI through the ether.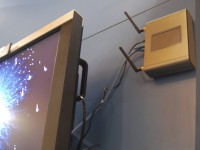 If January's CES taught us one thing this year it was that everyone wants to do HDMI over anything but HDMI. We saw instances of wireless HDMI and suspected that this year's CEDIA Expo would show us much more. We weren't disappointed. Wireless HDMI is coming to a home theater near you and manufacturers are clamoring to ensure it is their name on the box.
The first thing we discovered was that wireless HDMI is not cheap. Prices ranged from $800 to $1500. Of course you can easily spend that much on an esoteric HDMI "high-speed" cable. We are looking at the first generation of these products, however, so we can certainly expect those prices to drop over time. The real question is how well does it work. Well, honestly, we don't know yet (there were some funny instances of displays showing failed connection attempts but with all the interference on the show floor it would be unfair to make a judgment based on that) but we are looking to set up reviews. Here are some of the products that you can expect to see on store shelves (virtual or real) in the coming months:
Gefen
Gefen had two different wireless solutions, one using TZero Technologies' UWB (Ultra Wideband) and another using your standard 802.11. The Gefen Wireless for HDMI Extender uses the UWB tech, operates on the 4-6 GHz frequency, and is good up to 10 meters. The rep said that they consider it an "in-room" solution so don't expect it to pipe video across your home - through the component cabinet is about as much as you can expect. According to the press release, it is good for up to 1080/24p, though the tech guy (who should know best) claimed 1080i. This probably means that it can technically do 1080/24p and not 1080/60p but in reality it will only do 1080i in most situations (since you need both a source and a display in order for 1080/24p to be usable). It also supports 5.1 multi-channel audio. It has 2 HDMI inputs, a component video input and analogue audio inputs. The component and analogue audio inputs are upconverted to HDMI (though not upscaled). The Gefen Wireless for HDMI Extender will be available this month for around $799.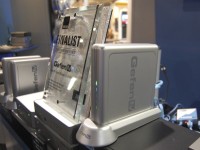 The GefenTV Wireless for HDMI Extender also comes in a two box solution. It utilizes an 802.11 signal on the 5GHz band to send HDMI information up to 30 meters. This solution is more suited to long runs through walls into other rooms. Once again, expect a 1080i max resolution along with uncompressed audio. This one retails for around $900 for the set and will be available in mid November.
If you've got a really long run (like 1000 feet) and you don't mind running some wire but you don't want to pay for HDMI (copper HDMI wouldn't work at that distance anyways), you can look into the Gefen HDMI v1.3 over Fiber Extender (I know, they really need to work on their names). It is good up to 500 meters for full 1080p Deep Color and costs just shy of a cool grand. It was so good that we could only get a picture of the one they had in use behind one of their displays. Hey, if they have all those different solutions to work with and they pick this one, it must be good. For more information, please visit Gefen.

Sony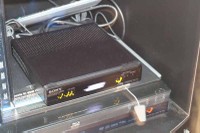 Sony's solution was a little different in that it worked only with their own displays. The Sony Bravia Link works with their newest Bravia displays (the receiver is internal) and boasts 1080i (it does not upconvert - garbage in, garbage out). It has 4 HDMI inputs and a component input and comes with 5 IR emitters. Why does it need emitters? The remote is RF so it can control your gear via the emitters making it sort of a combo universal solution/wireless HDMI thingie. Of course, this probably assumes that the rest of your gear is also Sony but honestly, it probably is. For $799 all this can be yours. For more information, please visit Sony.

Belkin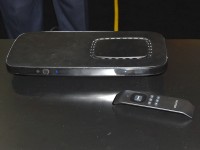 Belkin, infinitely better at naming things than either of the above, showed off their FlyWire. This wireless solution has three HDMI inputs (one with analogue audio), two component with analogue audio, 1 composite with analogue audio, and one S-video input. It supports resolutions up to 1080/24p (which again is probably code for 1080i for most of us). It operates on 5GHz. It is IR controlled and will play nice with universal remotes. At $1499 you'll be looking at the highest priced solution with the most inputs and the longest range (100 feet).For more information, please visit Belkin.

IOGear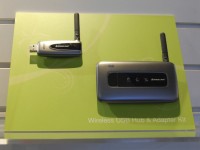 While not technically an HDMI solution, the Wireless USB to VGA Kit from IOGear will stream up to 720p from your PC to a VGA monitor. The transmitter plugs into your USB port and sends it to a receiver up to 30 feet away (only 15 feet for 720p). Your display will have to support a VGA input and there is no provision for audio but it is pretty cool (especially for business or classroom use). It works with XP and Vista (as much as anything works with Vista) and requires a USB 2.0 port. It is available now for an MSRP of $229.95. For more information, please visit IOGear.

Summary
Each of these solutions has their own pluses and minuses. The big obstacle at this point is the price. Even the cheapest solutions seem to be pushing the boundaries of what Joe Consumer will be willing to pay. Performance is the ultimate question that needs to be answered and will probably determine if all that cost is worth it. If you have a long run (to a projector or for those that want to put their equipment in a different room) this may actually work out to be economical. As time goes on, we expect the price to drop and more and more equipment will start to come with the receivers and transmitters installed (like Sony). It's funny how not so long ago we were running multiple cables for audio and video, rejoiced when HDMI promised a one cable solution, despaired when that cable cost more than our DVD player, and immediately started looking for other ways to bypass a kludgy digital connection rife with potential problems. Whether or not wireless will turn out to be the ultimate solution remains to be seen. We wouldn't be surprised to see wireless 8-bit 1080p solutions announced at next year's CES show in Vegas. With Deep Color still mostly a "spec only" technology (though it is starting to see some real world applications), that would be enough for most people.
While we are still discussing the future among ourselves, we could see this technology migrate into receivers/processors that would be packaged with a small receiver to place near your display. Sure, it would start off in the flagship receivers (Denon anyone?) but after a few years you'd see it trickle down. This may never happen but it is a compelling thought. Of course, a standardized spec (like UWB) that could be used by all components would be best, though this is unlikely to happen. More likely, each manufacturer will come up with or license a discrete solution that will make our lives just a little more difficult by trying to make it easier.
And so goes the wheel of progress...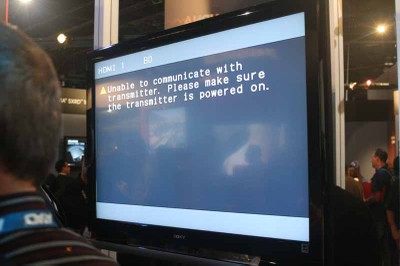 See also:
Confused about what AV Gear to buy or how to set it up? Join our Exclusive Audioholics E-Book Membership Program!
Recent Forum Posts:
eva6206213 posts on September 16, 2008 00:24
thank you for your sharing and leave my foot print!
Post Reply