Wireless HDMI from Tzero and Analog Devices

SUNNYVALE, CALIF. - Sept. 05, 2006 - Tzero Technologies, the leading innovator in ultra wideband wireless technology, announced today it has teamed with Analog Devices, Inc., a global leader in high-performance semiconductors for signal processing applications, to introduce the market's first standards-based, wireless HDMI (High-Definition Multimedia Interface) offering designed to enable wireless video and audio connections between all types of products - HDTVs, DVD players, set-top boxes, game systems, and others. Fueling the emergence of a wireless home where consumer electronic devices are capable of sharing high-definition video, Tzero offers breakthrough ultra wideband (UWB) technology that allows manufacturers to be first to market with wireless solutions that deliver the same quality of service as wired products. Analog Devices specializes in analog and mixed-signal circuits for real-time signal processing, compression, and transmission of data, images, and sound.

"The wireless HDMI solution lets consumers eliminate the cost and complexity of hard-wired HDMI connections, for which even short cable runs can cost hundreds of dollars," said Mike Gulett, president and CEO of Tzero. "Our offering enables manufacturers to build devices that can take advantage of high-definition content wirelessly and create entertainment networks capable of taking video programming anywhere in the home."
HDMI is quickly becoming the preferred method for connecting audio and video components together. It is the only interface in consumer electronics that can carry both uncompressed high-definition video and uncompressed multi-channel audio in all HD formats including 720p and 1080i. Unfortunately, HDMI cables are expensive and costly to install, making a wireless solution ideal.
Working together, the two companies have created a wireless HDMI interface solution that meets the world's leading consumer electronics manufacturers' requirements for link reliability and packet error rate. Unlike proprietary offerings, the standards-based platform is guaranteed to coexist with other WiMedia devices, and is immune to interference from other wireless networks and household appliances.
"We explored several UWB technologies that work with our JPEG2000 video compression technology to enable wireless distribution of DVD-quality HD video. The ultra wideband chipset developed by Tzero delivers the lowest error rates and latency to consistently produce the highest quality picture and multi-channel sound," said Bill Bucklen, Director, Advanced Television Segment, Analog Devices. "We expect to see ultra wideband become the standard for high-definition wireless video."
Gefen, Inc, a top provider of consumer and professional audio/video connectivity solutions, plans to base future products off of the Tzero/ADI design. "We have investigated dozens of alternative solutions over the past years, and finally have found one that meets our stringent requirements for wireless HD video distribution," said Hagai Gefen, president and CEO of Gefen, Inc. "We believe wireless HDMI will revolutionize the way people connect their high definition displays, and are fully prepared to harness this technology to enable a reliable extension of high definition video without cables."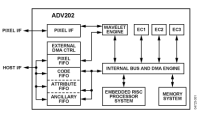 The wireless HDMI solution consists of a transmitter and receiver. It integrates the Tzero TZ 7000 chipset and Analog Devices' JPEG2000 compression ICs. On the transmit side, video data is compressed using Analog Devices' ADV202 JPEG2000 video codec, combined with audio, then packetized and encrypted, and transmitted via the Tzero MAC and PHY chip. The RF chip transmits over the air to the receiver where the audio/video data with HDMI is decompressed and presented to the display device via the HDMI port. Analog Devices' HDMI interface ICs and audio processors complete the design, ensuring the highest quality audio/visual experience.
The wireless HDMI design features non-line-of-sight operation that enables devices to communicate wirelessly through walls and extend across multiple rooms. It also features transmission quality up to 10 million times greater than other wireless networks, and transmission speeds of up to 480 Mbps per second to support even the highest demands of high-definition video. The input from video devices can be HDMI, component video, composite video, and analog audio. The output to the HDTV is industry-standard HDMI v1.2a. Full HDCP (High-bandwidth Digital Content Protection) compliance is supported, allowing protected content to be displayed to an authenticated display.
Availability
The Tzero and Analog Devices' wireless HDMI solution is available now for evaluation. Pricing is available upon request. For more information about the wireless HDMI product and other Tzero offerings, visit www.tzerotech.com or call (408) 328-5000. For more information on Analog Devices' ADV202, visit www.analog.com/ADV202 .
About Tzero Technologies, Inc.
Tzero Technologies is the only IC supplier that enables broadcast quality video over wireless networks. Tzero transforms the entire home entertainment system into an easy-to-install wireless network that delivers HD quality video, anywhere. Founded in 2003, Tzero is backed by tier-one venture partners, including August Capital, Lightspeed Venture Partners, OVP, USVP and VentureTech Alliance. Tzero is headquartered in Sunnyvale, Calif. For more information, visit Tzero online at www.tzerotech.com.
About Gefen
Gefen leads the industry in just-in-time audio/video solutions for both professionals and consumers with an eye for superior quality and reliable performance. In the HD digital domain, Gefen delivers advanced technologies with multi-platform extension, switching, distribution and conversion capabilities. Gefen equipment is valued all over the world in professional AV/IT and consumer electronics/home theater environments. Their add-on hardware maximizes system functionality by enabling AV systems to operate beyond their original capabilities. Visit www.gefen.com for detailed product information.
Confused about what AV Gear to buy or how to set it up? Join our Exclusive Audioholics E-Book Membership Program!