AV123 MFW-15 Subwoofer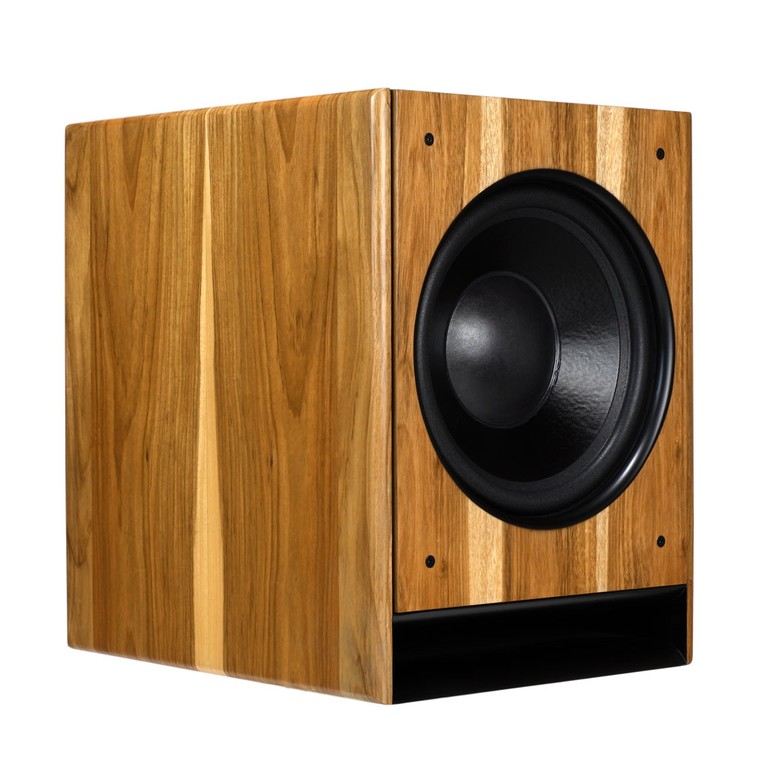 AV123 MFW-15 Subwoofer
Summary
Product Name:

MFW-15

Manufacturer:

AV123

Review Date:

February 01, 2008 13:53

MSRP: $599-$699 (real wood)
First Impression:

Gotta Have It!
System: Single driver, folded, slot port with front termination
Drivers: 15" custom woofer
Amplifier: Custom 350 watt high efficiency design.

Control: Easy-access top panel with gain, variable phase and crossover
Input:  High and low level in and out plus LFE in (crossover defeat).

Frequency Response: 18-200Hz; 15-17Hz in room low end.  Greater than 115dB output above 35Hz and 103dB max output at 20Hz at one meter.
Dimensions: (H x D x W):  23.94" x 22.44" x 18.125"
Weight: ship weight = 125 lbs each
Executive Overview
Some things are worth the wait, and if you're a fan of AV123 you've been waiting for the MFW-15 for a very long time. Well, the MFW-15 has finally been released and AV123 couldn't be prouder. The MFW-15 subwoofer is part of the next generation of subwoofers from AV123.com. The ~100 pound MFW-15 subwoofer, starting at $599 each, was designed from the ground up by AV123's Mark Schifter and renowned subwoofer guru Mark Seaton. The MFW-15 features a 25mm front baffle and plenty of bracing along with a custom designed 15" driver, 350 watt high efficiency design amplifier with separate control panel for Level, Phase and Low Pass Frequency at the top back of the cabinet and an internally folded slot port. The subwoofer is offered in beautiful Rosewood, Cherry, Black and the unique Moho.
According to AV123, you can expect 15-17Hz low end extension in most rooms and output of 103dB at 20Hz (1M measurement) and greater than 115dB above 35Hz (1M). All MFW-15's are wrapped in a real wood veneer (via renewable resource) or finished in a silky-smooth satin black. The hand finished MFW-15 subwoofer should be right at home with fine furniture, and looks far more expensive than its price would suggest. And that is what excites us most - the price. At only $599 for one (satin black) or $998 for two we can see a lot of enthusiasts foaming at the mouth over this one. As we love to recommend dual sub setups, being able to point to affordable dual sub packages is always a big plus. The first units are shipping now.

For more information, please visit www.av123.com.

Confused about what AV Gear to buy or how to set it up? Join our Exclusive Audioholics E-Book Membership Program!
Recent Forum Posts:
mike c posts on March 06, 2008 19:47
autoboy, post: 385106
Bummer. I just bought a SVS PB12-NSD. Now I want one of these. I've been very happy with my SVS, what can I expect with the MFW-15 over the PB12?
a longer wait?
seriously though, since both this and your SVS is tuned the same, you can probably expect just more output on the AV123 unit (having a bigger driver).
SQ wise, it's a toss up. (believe me, subjective opinions on subwoofers is so like choosing flavors of ice cream)
though if these were ex-stock … I might be willing to try one … or two.
autoboy posts on March 06, 2008 19:29
Bummer. I just bought a SVS PB12-NSD. Now I want one of these. I've been very happy with my SVS, what can I expect with the MFW-15 over the PB12?
jaxvon posts on February 25, 2008 20:12
haraldo, post: 380595
I'm actually a bit sceptical to these subs because, unlike all former AV123 subs, these are ported designs, and in my experience ported designs are slower and does not perform as well as sealed sub's

has Av123 compromised with their own design goals?

Regards

Harald N
A ported design should not worry you. It looks to me like AV123 used a large slot port design, meaning there should not be issues with port noise. As for ported subs being "slower", that is a common audio myth. A properly designed ported sub will offer greater efficiency and maximum output when compared to a sealed unit. Distortion and nonlinearity are more functions of the quality of the driver, not the box.
larry7995 posts on February 25, 2008 19:24
Bubba Hoosier, post: 380168
Thank you Vaughan and Larry

At first I thought I would save $300 but now I'm thinking for only $100 more I could get two. Decisions, decisions. Room is about 13x24x8, Maybe two would be overkill, I can't decide. Any thoughts?

Thanks
Mine is 11x14x8 and I definitely want two. My room already rocks with Axiom M80s.
haraldo posts on February 25, 2008 18:48
I'm actually a bit sceptical to these subs because, unlike all former AV123 subs, these are ported designs, and in my experience ported designs are slower and does not perform as well as sealed sub's

has Av123 compromised with their own design goals?

Regards

Harald N
Post Reply