RBH Sound SX-12 Subwoofer Review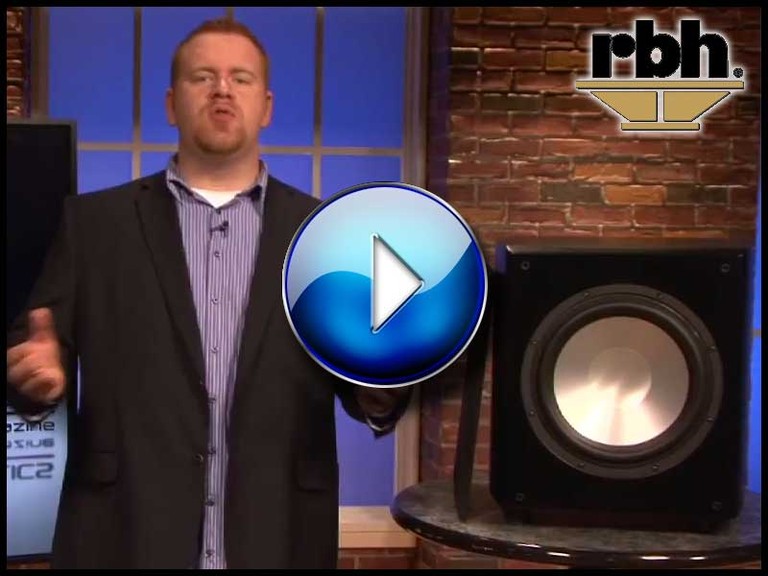 RBH Sound SX-12 Subwoofer Video Review
Summary
System Type: Powered Subwoofer

Frequency Response: 27Hz-150Hz (±3dB)

Power: 350 Watts

Drive Unit: 12" (305mm) Aluminum Subwoofer

Crossover Frequency: 40Hz-150Hz (variable)

Cabinet/Color: Medium Density Fiberboard (MDF)/Matte Black Oak

Grille: Black Cloth

Finished Dimensions: 17-7/10" W x 19-5/8" H x 21-1/8" D (450mm W x 499mm H x 537mm D)

Weight: 53 lbs. (24.04 Kg)

Warranty: 5 Years/1 Year

Executive Overview
Ever since the recent introduction of the Audioholics Subwoofer Room Size Rating Protocol, we've had subwoofers on the brain. Measuring, listening, measuring... It's gotten so that we're getting pretty good at spotting the good ones. This is a good one, and I don't say that lightly, because RBH Sound, unfortunately, isn't a company people readily associate with good subwoofers. Speakers, yes. Subwoofers, not so much. But this new front-firing, bottom-ported product from RBH, the SX-12, is really impressive. Is this the sub that brings RBH Sound into the mainstay of bassaholics everywhere? We'll have to see when we bench test it. For now, it's a beautiful product, with curved sides that give it a modern, stylized look to match the rest of the SX series, and it sports a back panel that has premium-quality connectors and even a balanced XLR input and output.
In addition to the XLRs, the sub also has an unbalanced LFE in and out as well as stereo line inputs. A variable crossover lets you sweep between 40-150 Hz and you can adjust the phase from 0-180 degrees. The sub works in either 'On' or 'Auto' mode where it senses input and turns itself on. There are no speaker level inputs or outputs, which is likely an indicator that RBH doesn't really expect you to use these with satellites. We'd have to agree, you want to mate a sub like this with something higher end to take advantage of the performance you get.
Internally, the sub is only moderately larger than the 350-watt powered 12" aluminum woofer that dominates the front of the cabinet. In terms of frequency response it's rated flat down to 27Hz, but it doesn't drop off a cliff at that frequency either. RBH Sound has always been conservative in its frequency  measurements and, as a result, this sub doesn't have artificially low tuning that would cause distortion or bottoming out. We'll talk more about the frequency response and how it performed later. The important thing to note is that the cabinet size is relatively small given the size of the driver, so what RBH has done here in terms of output is actually pretty impressive.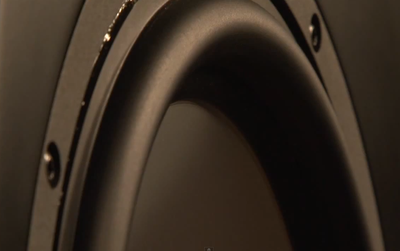 The cabinet of this sub feels solid when you rap on it, indicating that it is well-built. Inside we confirmed that it had a pair of top-to-bottom side braces and there was plenty of dampening material along the sides and top. The plastic port, which is flared both inside and out, runs up the center of the sub, nearly to the top of the enclosure. Taking a look at the linear amplifier, you can see that RBH Sound meant business - there are no cheap parts to be found - the entire amp is very well made and isn't going to peter out when it gets driven hard... a fact that we proved by pushing this thing to its limits during testing.
And test it we did. From techno, to psychedelic, rock to reggae, the SX-12 pumped out obscene levels of bass into our reference 2-channel room. We also played some movies on the system, in particular the hovercraft scene from The Incredibles and the intro scene from Star Wars Episode 2. In both cases, what we observed is that this subwoofer integrated well with our room and did a great job blending perfectly with the SX-61/R Reference bookshelf speakers we were also testing.  In the Star Wars clip, Queen Amidala's ship flies in with what is essentially an extended bass sweep that can peak and dip if a subwoofer isn't smoothly integrating with the system.

There's a lot to like about this new sub from RBH Sound. It's musical, it doesn't just sound one-notey. It's extremely powerful and can fill even larger rooms with tons of impactful sound. It's also good-looking. It's hard to make a big black box look good, but we think RBH pulled it off pretty well - and it's worth every penny of the $1100 price tag. They've engineered a lot into this product - that much is certain. It's going to be easy for us to put our stamp of approval on this sub and say that it's going to be something you definitely ought to check out. After this you might start hearing the name RBH a lot more when people strike up conversations about great subwoofers.
Oh, and if you are craving even more performance, RBH offers a Reference upgrade version which sports more power and a high excursion driver that has double the throw of the standard version.  Anyone considering the upgraded SX series of speakers should take a long hard look at this option.

Unless otherwise indicated, this is a preview article for the featured product. A formal review may or may not follow in the future.