Funk Audio 18.2 Dual 18" Sealed Subwoofer Preview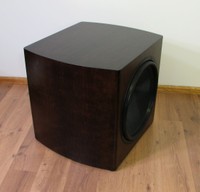 Funk Audio, a relative newcomer in the ID subwoofer marketplace, has just put its competition in checkmate. The Funk Audio 18.2 subwoofer is their latest and most advanced subwoofer design. It was designed to provide the ultimate in power, sound quality, and output, in a package so compact the amplification system has to be separate from the subwoofer itself. In Power Level Two configuration, will pump 9,600 watts into the dual 18" drivers (if you have enough wall current) allowing you to hit an ear drum busting 125 dB (2 meter GP). This is the kind of sub that will surely shatter Grandpa Simpsons teeth. With dual 4.5" voice coils, 44lb neodymium motor structures and 3" pk-pk excursion custom built drivers we have little reason to doubt the output claims of this subwoofer. Do you want us to review this beast? Let us know in the forums.
The Funk Audio 18.2 subwoofer is a dual 18" passive sub with two power amp configurations that allow it to hit an ear drum busting 134dB SPL. The driver is custom built in-house. Impressive!