Leon Speakers Aaros A10-UT Subwoofer First Look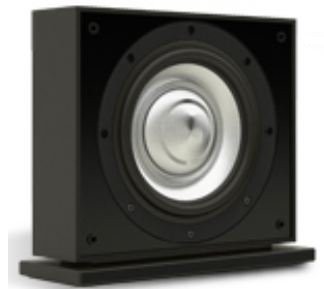 Leon Speakers Aaros A10-UT
Summary
Features 10" high-excursion aluminum cone driver
Shallow cabinet design fits into any installation and is convertible to down-firing
Sealed enclosure produces tight, accurate bass
Custom finished to match any color
Dimensions: 12.5" (t) x 14.5" (w) x 4.5" (d)
Executive Overview
Some of us... well probably most of us... wonder what it would be like to have a system custom designed and installed. Well, if you ever get the money (and decide you don't want to get raked over the coals for overpriced cables), you may come in contact with Leon Speakers. We see Leon Speakers at nearly every show we go to and they can always be counted on having a very contemporary and interesting display. They also tend to have really great swag which means we always stop by.
Leon's contemporary show display mirrors their speaker offerings. They specialize in integrated speakers that can be customized in nearly any way possible. They tend to offer very small subs and sound bars that are meant to be connected to or placed very near flat panel displays. We've seen huge LCRs in aluminum enclosures, in all hardwood, and even wrapped in the same vinyl they use for car graphics. If you glance over their website, you might not be too impressed - but that's because they are (mostly) showing you the raw, unfinished speaker. Most of the speakers that come out of Leon are customized for their particular installations.
This time, Leon Speakers has released a new, small form factor subwoofer. The Aaros A10-UT sports a 10" driver and a separate amp pushing a kilowatt. The UT stands for "ultra-thin" and the Aaros A10 lives up to the moniker at a lean 4.5 inches. While the press materials Leon has linked up on their site shows the sub installed in the wall, none of the text supports this. The A10-UT is a sealed sub with an solid aluminum baffle and back handcrafted here in the US. That's a serious baffle and should provide unparalleled structural integrity.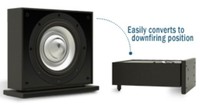 The A10-UT is only 12.5" by 14.5" and, as mentioned, 4.5" deep. This suggests that it can be placed in a wall if you really wanted (and given Leon Speaker's custom install background, is probably only a phone call away). But that is not the only placement option. The A10-UT comes with a stand and obviously won't take up much floor space. Since it is a sealed design, you won't need to worry about placement near barriers. On top of this, Leon has included an integrated stand so that you can lay it over, converting it to a downfiring sub. This is perfect if you'd like to slide it under a couch.
The size of the box should suggest that the A10-UT is a passive sub - and it is. Passive means that it does not have an integrated amp. Leon Speakers has paired the A10-UT with the L3-1K class A/B amp. This amp will driver a 1000 watts into 4 ohms. They suggest that this is a "mono" load suggesting that the amp is two channel bridgable. The amp has adjustable crossover and phase controls as well as a parametric EQ band. A single band of parametric EQ very limited in its usefulness but it is better than nothing. A custom installer surely could find something to do with it.
The question you should be asking yourself is about price. Custom installation is often associated with a high cost and here, well, stereotypes hold true. The Leon A10-UT comes in at a whooping $2,695 each with the amp. If you want to save a few bucks, you can get two for $3995 reinforcing the supposition that the amp actually has two channels. At these prices it shouldn't just convert into a downfiring sub, it should turn into a plane or a car or a movie that wasn't ruined by Michael Bay. Of course, for that price, you'd expect the A10-UT to arrive in whatever finish you'd want. According to the spec sheet, it will be custom finished to any color you desire. The color we'd choose? Wallpapered with $100 bills. At least three layers deep and secured with double-sided tape.
Conclusion
Obviously the Leon A10-UT isn't for everyone - it's for one with LOTS of cash. While it doesn't make much sense to us to spend nearly four grand on two subs and sliding them under the couch for the combo bass/Harley experience, we're sure someone is doing that right now. With disposable income like that, we're betting that couch is upholstered with baby seal. Seriously, Leon has obviously put some technology (mostly in the form of aluminum) into this sub. We're betting the output belies the size and would impress even the most hardened of Audioholics. Will it impress us enough to justify the price? We won't know until they send us one for review. Yeah, we're not holding our breath either.
For more information please visit www.leonspeakers.com.

Confused about what AV Gear to buy or how to set it up? Join our Exclusive Audioholics E-Book Membership Program!
Recent Forum Posts:
mike c posts on March 23, 2010 18:53
i wish the price wasn't that high … i now have wishes for tiny subs to tuck under my bed
KEW posts on March 23, 2010 17:23
Now, that's gutsy!
jzoz01 posts on March 23, 2010 17:03
Tom, PM me your contact info and I'll see if I can set you up with a loaner system for review.

Joe Zoz
Leon Speakers
sholling posts on March 23, 2010 11:06
I really think there is a market for something like this - just not at this price. Even say a 26"x26x12" sealed sub with a nice finish.
KEW posts on March 22, 2010 10:56
Great write up.
You're in good form, Tom!
Post Reply