Paradigm Reference Signature SUB 1 and SUB 2 First Look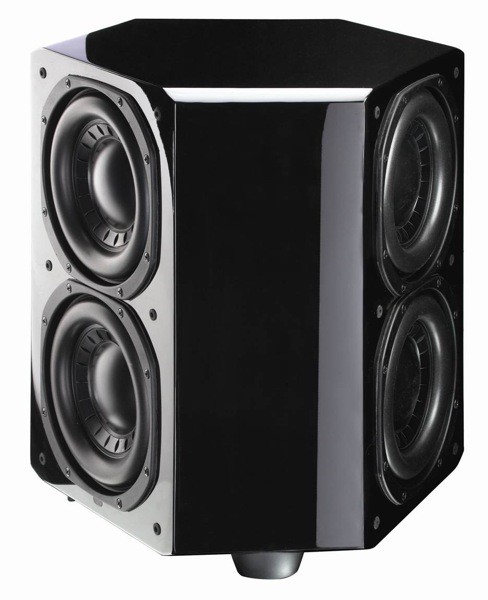 Paradigm Reference Signature SUB 2
Summary
Paradigm Reference Signature SUB 1
Design
Six high-excursion eight-inch drivers, patented built-in Ultra-Class-D™ power amplifier, USB port, sealed enclosure
Amplifier
3,400 watts Dynamic Peak/1,700 watts RMS Sustained
Auto-On/Off, Trigger-On/Off, soft clipping, thermal protection, electrical shorting protection
Bass Drivers
38-mm (1.5-inch) four-layer voice coil, high-temperature composite former, 4.7-lb. (2.1 kg) ceramic/ferrite magnet / motor structure
Oversize FEA-optimized Pleated LCS™ Linear Corrugated surround
AVS™ die-cast heatsink chassis, 203-mm (eight-inch) RCR™ mineral-filled co-polymer polypropylene cone
Paradigm Reference Signature SUB 2
Design
Six high-excursion 10-inch drivers, USB port, patented built-in Ultra-Class-D™ power isolation amplifier with Power Factor Correction, sealed enclosure
Amplifier
120V - 50/60Hz (20amp dedicated circuit recommended): 7,500 watts Dynamic Peak/3,000 watts RMS Sustained
208V/240V - 50/60Hz (30amp dedicated circuit recommended): 9,000 watts Dynamic Peak /4,500 watts RMS Sustained
Auto-On/Off, Trigger-On/Off, soft clipping, thermal protection, electrical shorting protection
Bass Drivers
76-mm (three-inch) 10-layer voice coil, high-temperature composite former, 12.6-lb. (5.7 kg) triple ceramic/ferrite magnet / motor structure
Oversize FEA-optimized elliptical surround
AVS™ die-cast heatsink chassis, 254-mm (10-inch) RCR™ mineral-filled co-polymer polypropylene cone, dual spiders
Executive Overview
The sun was not out, it was too wet to play so we sat in the house and watched movies all day.
I sat there with Clint, we sat there we two, and we thought, "How I think that this bass will not do."
We two were so sad and so mad at the bass, which was decidedly not really all that much in our face.
What we wanted was bass that was deep and was strong. Bass that wasn't afraid to break walls. 
We needed new subs, two new subs we surmised. Subs with lots of drivers but not lots of size.
We wanted two subs, that glistened and gleamed, with pairs of drivers on three of the seams.
Gloss black and triangular with drivers 10 inches wide, though for a smaller sub 8 inches would do just fine.
They'd need lots of drivers all pointing out, the radial alignment would keep the subs stout.
No internal forces would be left unchecked, the subs would barely vibrate a bit.
But power they'd need, and power they'd get. Amps measuring their output in the thousands we'd bet.
But would output be enough? Enough just to play clean? No, they'd have to be beautiful and lovely it seems.
They'd have to be rounded and glossy and black. They'd have to be slick and sick or there'd be flack.
As we talked we heard a thump!
How that thump made us jump!
We looked and we saw it right there on a floor, a box, no two! Definitely no more.
Large though they were we couldn't help but grin, for the subs we were wanting were contained there within.
We unpacked them, we unwrapped them, we took off their sock. We plugged them in, turned them on and gave them a knock.
We looked at the drivers which looked very hale, they were sturdy, and massive and unlikely to fail.
The amps with soft clipping and thermal protection, with trigger, auto on/off, Power Factor Correction.
They had USB ports and all the usual controls, though we didn't actually see them we can surely suppose.
When we turned on the movie we felt almost crippled, though the glass of water on top did not ripple.
Truly these subs were a sight to behold with their beautiful finishes that seem to never get old.
Now so happy we knew not what to do, we looked on the back it read SUB 1 and SUB 2.
We were so happy, but started to get ill, when Paradigm finally showed up with the bill.
$7500 and $3500 was quite a sum! That seemed a little steep for SUB 2 and SUB 1.
So if you have the money (and we think some of you do), you might want to check out SUB 1 and SUB 2.
For pricey they might be, they certainly should preform, for with Paradigm that certainly has been the norm.
But our wives they came home and our wives said, "No, no! Those two subs shake the house those two subs just must go!"
"But honey," we exclaimed as we tried to explain, "these subs are good subs!" We couldn't help but exclaim.
But our wives tapped their foot, our wives crossed their arms, and in the end we decided they held all the cards.
If you have to get rid of SUB 1 and SUB 2, you could spend that money on a Gotham it's true.
In the end our wives just had too much sway and we said,  "We had fun with them if only for the day."

Unless otherwise indicated, this is a preview article for the featured product. A formal review may or may not follow in the future.
Confused about what AV Gear to buy or how to set it up? Join our Exclusive Audioholics E-Book Membership Program!
egr2rst posts on October 08, 2009 16:48
Great but Late

The review was great but it came a little late.


Oh no, not rhyming, this sub thing is catching.
I just bought a sub that is not so vexing.
Sure sub 1 and sub 2 goes bumpity bump
But my 18" Velodyne goes wamphity wamph!
And it does it for less, not so much more
For I got it at the audioholics store.

Great review Tom, you're the bomb!

Oh no not again!

I'm getting out of here and suggest you do too
For this rhyming is catching just like the swine flu.
cwall99 posts on October 06, 2009 16:17
Wonderfully done, Tom. Gets my vote for Best Speaker Review Ever.

Gene and Clint owe you a bonus for that.
Tom Andry posts on October 06, 2009 12:36
I actually tried not to write it in the Dr. Seuss style but couldn't help myself. With names like SUB 1 and SUB 2, what was I to do? Oh, know, there I go again
Guiria posts on October 06, 2009 11:37
Someone has read Cat in the Hat one too many times, I'm afraid I'm right there with you…
sheepsimulator posts on October 06, 2009 09:35
Epic

Tom,

That was clearly epic win.

My tech writer friend approves of your silliness. Although he believes that it is best introduced to the world in the afternoon, not the morning.
Post Reply