Emotiva Ultra Subs 10 & 12 First Look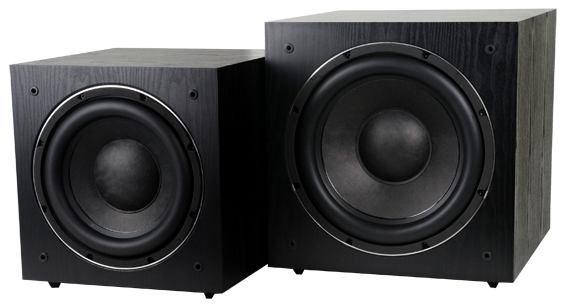 Emotiva Ultra Sub 10 and 12
Summary
Power Output:
U Sub 10‐ 300 watts
U Sub 12 ‐500 watts
Typical In‐Room Frequency Response:
USub10: 25Hz‐200Hz
Usub12: 22Hz‐200Hz

Typical In‐Room SPL:
Nominal input sensitivity:
Balanced Input: 1V
Unbalanced Input: 500 mv.
Phase Adjustment: 0 - 180 degrees @50Hz
Low pass Crossover: 50-150Hz variable, 24db per octave
Dimensions:
U Sub 10: 12.5" wide x 12.5" high x 13.5" deep
U Sub 12: 14.5" wide x 14.5" high x 15.25" deep

Weight:
U Sub 10: 30.5 lbs.

U Sub 12: 38 lbs.
Executive Overview
Do you want to see an Audioholic get excited? Mention that someone has come out with new subwoofers. There is just something about those lowest frequencies that makes the little boys (and girls) in us stand up and take notice. We all sit around like Mr. Burns or The Brain and wiring our hands imagining the stucco falling off our (or preferably our neighbor's) walls under the sonic assault of our new toy. Subwoofers - no system is complete without them.
But what do we really want out of a subwoofer? Is it just performance? Well, in a perfect world, yes. However, we actually have to pay for things so sometimes we have to sacrifice performance in lieu of the pocketbook. Sure, we may be able to buy what we want if we save up but who wants to try and save 6 months salary for a new sub? More to the point, what do you listen to while your saving that amount?
Emotiva has the answer... and maybe not only to your "what should I buy" question. For years they have talked about bringing subs to the market. Specifically subs with auto-calibration and incredible performance. Those... well... they are still in development, but Emotiva has brought something new to market. Two subs with incredible form factors and price points.
Emotiva Ultra Sub 12 Subwoofer Video Review from Clint DeBoer on Vimeo.
Generally, when we look at subs you can have one of two things - price or small size. If you have a small size you expect a big price and vice versa. Instead, true to form, Emotiva is looking to give you small subs with small price tags hefting respectable performance metrics. Let's start with the similarities (as they are pretty numerous). Both the subs sport Class D amps, die cast woofer frames with huge magnets, and long throw woofers. The drivers are constructed out of para-aramid fibers (a triple-woven synthetic polyamides used in industrial products such as bulletproof vests) blended with paper. The surrounds are constructed out of half-rolled butyl rubber.
The boxes are sealed (great if you are going to place near a wall or barrier) with a front firing driver. The box is constructed out of MDF with a 1" baffle and extensive bracing and dampening. Emotiva has really put some thought into the design of these subs. They have even included rubber boots in the grill mount so that the grill won't rattle. The sub comes equipped with threaded inserts for the included high density rubber or aluminum feet. These feet are conical with the aluminum feet designed for carpets and the rubber for hardwood or tile floors. 
The Emotiva Ultra Subs come in all the standard finishes you're used to with audio gear - Black and Black. On the back of the subs you are going to see a balanced and pair of unbalanced inputs. There is a Low Pass Filter switch to defeat the internal crossover, a 50-150Hz crossover, volume, and 0-180 degree phase control knobs. We really like that you can defeat the crossover with a switch and the variable phase control. The first is nice in that you don't have to worry about cascading crossovers (and Emotiva does a great job in their manual at explaining why this is a bad thing) and the later because the enthusiast can use the variable phase to fine tune the sub's performance. While this is almost unheard of at this price point, it makes sense that Emotiva has included it. Let's face it, Emotiva is an Enthusiast brand. They are the "insider's" brand that only those willing to do the research will know about. And those doing the research are the most likely to have the measurement equipment and/or time and tenacity to play with the phase. Let the brick and mortar brands have their switch - true Audioholics need more control.
Lastly, there is an On/Auto/Off switch. This is a typical control for subs these days. The Emotiva Ultra subs both utilize Class D amps so their power draw in standby mode is about 2 watts (or about 1/2 what a night light uses). The subs are designed to be in Standby all the time, so it is not a problem to leave them that way. The Auto setting will engage the sub after a second or so of signal and put it in Standby Mode after 10 minutes of inactivity. You can use the Main Power and Auto switches in conjunction to put the Ultra Subs in and out of Standby Mode manually. There is a color-coded LED on the back to tell you the status of the sub.
So far, we've addressed the two Ultra Sub's similarities. Now let's talk about the differences. First there is the Ultra Sub 10, which is just about a 12.5" cube (12.5" wide x 12.5" high x 13.5" deep) and 30.5 lbs. The Ultra Sub 12, on the other hand is a bit bigger at ~14.5" cube (14.5" wide x 14.5" high x 15.25" deep) and 38lbs. Neither of these subs are, by any stretch, huge. By Internet Direct standards, the Ultra subs are positively diminutive. 
Of course you'd expect a bit more performance out of the larger sub. The Ultra Sub 12 sports a 500 watt amp and dips down to 22Hz (according to the Emotiva specs) with the Ultra Sub 10 having a 300 watt amp and 25Hz depth and about 3db less output than the bigger sub. Both of these are very respectable numbers for the size of the subs. Those numbers become unbelievable when you consider that the Ultra Sub 10 is commanding only $349 and the Ultra Sub 12 only $499. Now, these are introductory prices with the 10 to raise to $399 and the 12 to $599 in the future. Currently you can only buy the Ultra Sub 12 with the 10 being listed as "available for purchase soon" status.
Conclusion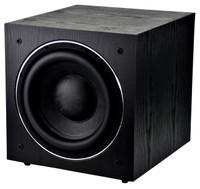 Emotiva Audio has always impressed us with their prices and their amps have been an unbelievable value for years. Honestly, we keep expecting them to get the big heads some of the other value leaders seem to have grown over the years and start inching their prices up. Instead Emotiva has continued to shock us with not only their prices but their performance. The Ultra Subs look to be a great value - the price alone will tell you that- but we really won't know their performance until they get into one of our rooms. We did note that their suggested placement for their subs in their manual is in a corner which is not what we generally recommend. Corner placement may increase the boom and impact of a sub but it is usually at the expense of linearity and clarity. We expect that the Ultra Subs should be able to fill a moderate sized room without the benefit of corner placement.
If you sense some trepidation with this first look - you are correct. The fact is, we look at the price, we look at the form factor, and we look at the claimed performance and think, "Nope, that's not going to work." But honestly, we've said that same thing about Emotiva amps for years. They send us one, tell us what we should expect in performance, tell us the price and we start talking amongst ourselves. We're dubious, we're doubtful, we're perplexed and most of all, we don't believe. For that price, in that box, that performance can't be true. But over and over Emotiva has proved us wrong. We're willing to bet that the Ultra Subs will once again make a believer out of us.
For more information, please visit www.emotiva.com.

Unless otherwise indicated, this is a preview article for the featured product. A formal review may or may not follow in the future.
dallas21 posts on July 08, 2011 23:28
emotiva ultra sub-12

I have owned many Audiophile quality items and have spent more than a decent home on Audio This sub when installed and adjusted added a solid 10% to the already good Bass,it has tunefullness and impact .Very clean and tight Bass especially good for Music, for movies in my 16x14 room it is excellent for movies also, 2 would be perfect but I am happy with one.For total movie impact you may want 2 subs for a big room or it seems ported subs can pressirize a room a little better in the spl dept but not in accurate Bass as in the Ultra 12 a sealed unit . You need to spend a lot more to get a little better.I cannot tell where the Bass is coming from so that tells me everything is good .I still need to put a solid 200 hours of quality play before the drivers is runin.
Great job Emotiva !!
headcheese_bbq posts on October 06, 2010 17:08
I have 2 of the Ultra 12's….they're awesome. Clean, powerful, and FAST.
Alex2507 posts on July 09, 2010 17:58
headcheese_bbq, post: 732453
Just placed an order for one of these bad boys. I'll have my ultra 12 next week. I'll be sure to post my experiences after a good listen.
I just had to respond because of your user name … truly inspired.
headcheese_bbq posts on July 09, 2010 17:51
Just placed an order for one of these bad boys. I'll have my ultra 12 next week. I'll be sure to post my experiences after a good listen.
j_garcia posts on July 02, 2010 12:34
These subs are brand new so you aren't going to find many with experience with them.
Post Reply
Confused about what AV Gear to buy or how to set it up? Join our Exclusive Audioholics E-Book Membership Program!