Reaction Audio PS 215X Subwoofer Preview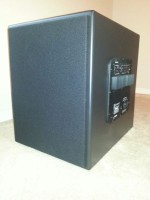 Reaction Audio is a new entrant to the hyper-competitive world of Internet direct subwoofer manufacturing; however, their PS 215X boasts a pair of 15" woofers and 1,000W of amplifier power, not to mention an affordable price of $1,179.99. Of course it takes more than sheer brawn to make a winner, and features like magnetic grills, radiused edges, and a satin black finish help this monster in the SAF (spouse acceptance factor) department. Curious to know more? Click to keep reading.
Preview: Reaction Audio's PS 215X subwoofer is a beast with a pair of 15" woofers and 1000W of amplifier power on tap. Click to read the all the details on this $1,179.99 "sub"terranean monster.