digiZoid ZO2 Personal Subwoofer Preview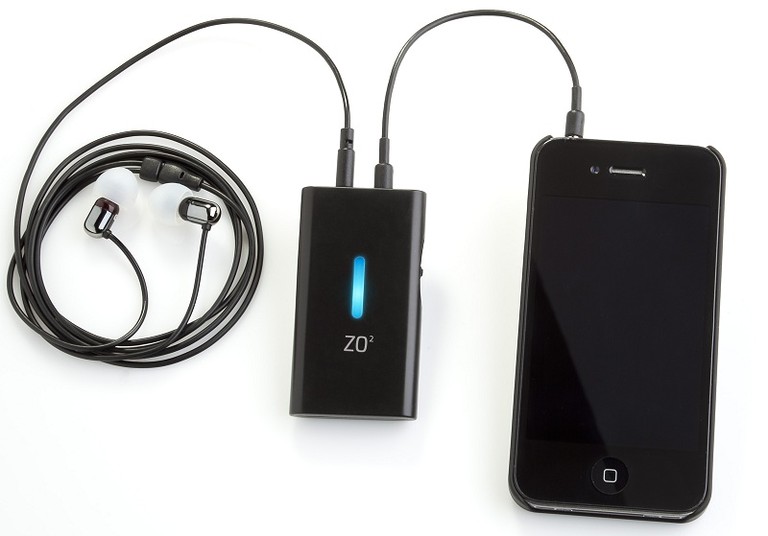 digiZoid ZO2 Personal Subwoofer
Summary
Physical
Dimensions: 2.75 x 1.5 x 0.38 in (70 x 38 x 9.6 mm)
Weight: 0.94 oz (26.6 g)
High impact-resistant polycarbonate enclosure with soft-touch coating
Made in the USA
1-year warranty
Power
USB-rechargeable Li-Polymer battery
Recharge time of under an hour
Playback time up to 17 hours
Extends the battery life of your player
Memory feature recalls last settings used
In the Box
ZO2
Mini 3.5mm stereo cable
USB recharging cable
Quick Start Guide
Performance
32-step digital potentiometer
Class-A headphone amplifier
Uses ultra-low noise pre-amp
Compatible with output impedances from:
High Gain: 16 - 250 ohms
Low Gain: 16 - 80 ohms
Gold-plated, four-layer PCB, with high-grade SMT components
Input impedance:
Low Gain - 3.8 kohms
High Gain - 2.8 kohms
Output impedance: 1.0 ohms
Power output: 400mW / 55mW(rms) (15ohms, 1kHz)
Max input voltage:
Low Gain - 2.8 Vpp
High Gain - 1.47 Vpp
THD: 0.004% (1kHz)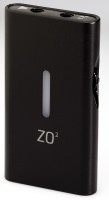 When we were introduced to the pocket-sized ZO2 Personal Subwoofer, we were initially skeptical. Well, that's not accurate. We were cracking our knuckles in preparation for the lambasting we were going to give this product. A "subwoofer" the size of a credit card? We don't care what sort of long throw technology you have on your driver, that's just not going to do it.
And then we actually looked at the product.
The ZO2 isn't an actual subwoofer with a driver trying to reproduce 20Hz bass hits from your back pocket. It is more akin to a DSP and amp in one. Now that is something that makes sense to use.
The ZO2 from digiZoid (we think they should change the capitalization of their name to digiZOid) is small. At 2.75 by 1.5 by 0.38 inches it is about the size of a credit card (though much thicker, obviously). It is constructed out of high impact-resistant polycarbonate with a soft-touch coating. It weighs in less than an ounce and can be charged via USB. Its Li-Polymer battery takes under an hour to charge but will provide up to 17 hours of use. That's pretty good no matter how much music you listen to.
The ZO2 has two modes - headphone and line out. With headphone mode, the volume is controlled by your source with the ZO2 controlling only the amount of bass boost. In line out mode, the ZO2 also controls the volume. The front of the ZO2 has an LED light which will change color depending on the mode/setting you choose. The top has 3.5mm inputs and outputs (a 3.5mm cable is included for connecting to your source when using with headphones).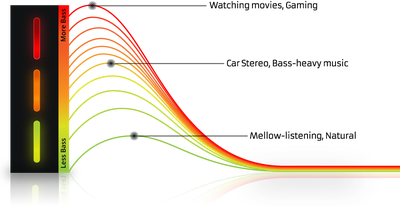 So, what is the ZO2? Well, it certainly isn't a subwoofer. It is, in fact, a headphone amp with a built-in DSP for boosting bass. While that might not sound like something you'd like, consider this. If you listen to portable music from your mobile phone at any sort of volume, what happens to it? Does it get hot? Ours does. With the ZO2, you will be able to let most of that amplification happen within the ZO2 and not at the phone, saving your battery for the stuff that matters - making calls and figuring out where you are without having to admit to your wife that you're lost.
The ZO2 features 32 color-coded levels of DSP adjustment from green (just a bit of bass boost) to red (I like everything to sound like rap music). What it doesn't have, unfortunately, is a flat mode which just allows the amplifier to work. While this may be an oversight, the fact is that most headphones need a bit of help on the bass end. 
Conclusion

Of course, the real story here is the price. At just under $120, the digiZoid ZO2 Personal Subwoofer is practically an impulse buy. If it really does save your phone's battery, those with long commutes (or weak bass response) may want it for this feature alone. While it may be misnamed, "Personal Subwoofer" sounds better than "pocket headphone bass-boosting DSP amp". We've requested a review sample of the ZO2 so we should be able to tell you more about this interesting little gadget soon.
For more information, please visit www.digizoid.com.

Unless otherwise indicated, this is a preview article for the featured product. A formal review may or may not follow in the future.