Velodyne Digital Drive Plus 18 (DD18+) Subwoofer Review
Velodyne Digital Drive Plus 18 (DD18+) Subwoofer Review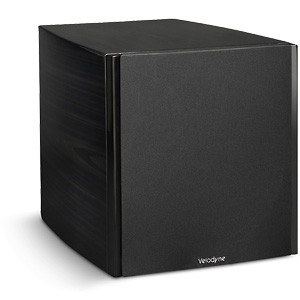 18" forward firing long throw woofer with active servo control
Sealed 1" HDF contoured, window braced enclosure
Amplifier: 1250 watts rms, 3000 watts dynamic power
Frequency Response: 14.4-120Hz +/-3dB (8.8-300Hz Overall)
Finishes: Black gloss ebony, satin cherry, walnut
Dimensions (H/W/D): 22.7" x 20.7" x 25.6"
Weight: 142 lbs.
Warranty: 3 years electronics (5 years driver)
Driver features
Rubber surround
Fiberglass / Rohacell laminate cone
Die-cast aluminum frame
39.7lb magnet structure
3" diameter 6 layer voice coil
Vented pole piece
Additional Features
Remote control
On board DSP software based control system with measurement microphone
Built in parametric equalization (8 bands) with auto or manual setting
6 user configurable pre-sets: Setup, theater, rock, jazz, custom, games
Variable low pass filter, 40-199Hz in 1Hz increments and selectable 6,12,18,24,30,36db octave slope (Defeatable)
Phase: Variable from 0 to 180 degrees in 15 degree steps
Polarity switch +/-
Selectable power mode: On, Auto-On, Standby
THD% <0.5 typically
Line and speaker level gain control (Send)
Inputs/Outputs
Unbalanced (RCA) LFE input and output
Stereo unbalanced (RCA) inputs and outputs L/R
XLR balanced inputs L/R
XLR balanced outputs L/R through
XLR balanced outputs L/R high passed (6dB octave 80 or 100Hz)
Speaker level inputs L/R
Microphone input (Balanced mini XLR)
RS-232 input and output
1/8" 12V trigger
1/8" external remote
Ethernet port
S-video jack
Pros
Good looking
Top notch parts and construction quality
Feature laden: DSP, presets, remote, EQ, measurement system, accessory pack, etc.
Great all around performance
Cons
Very expensive
Heavy
Set-up options can be overwhelming
Introduction
Velodyne's Digital Drive series is legendary for its technologically advanced sealed designs, active servo control and high fidelity, low distortion output. If the DD18+ is any indication Velodyne has significantly raised the bar with the new "Plus" series over the previous Digital Drive subwoofers. Greatly increased output headroom, better cosmetics and fit and finish being a few major areas impacted. Velodyne has also packed an extreme amount of hardware into the unit with on board EQ, remote control and more connection possibilities that seen on most any other subwoofer. The DD18+ achieved our Audioholics "Extreme Room" rating and is the first sealed subwoofer to do so. It was also the recipient of our 2011 Subwoofer Product of the Year Award. This new found sense of might comes at no cost to fidelity as the DD18+ exhibited the excellent sonic reproduction typical of Velodyne's sealed servo subwoofers and was utterly unflappable no matter what was asked of it. The new curved side panel cabinet design is more robust and the review unit looked absolutely fabulous in the gloss black finish. All of this technology, attention to detail and overall high quality does of course carry a very hefty sticker with it. $4,999 msrp is a lot of money but if it is within your budget you can be assured that you are buying one of the finest subwoofer systems available.
Confused about what AV Gear to buy or how to set it up? Join our Exclusive Audioholics E-Book Membership Program!
See also:
Recent Forum Posts:
Irvrobinson posts on November 14, 2012 17:42
cjwhitehouse, post: 856329
Hi Ed,

Long time, no speak.

By way of comparison, my own test rig is capable of 1.943V RMS in -10dBV trim and 7.62V RMS in +4dBU trim via the Lynx 2B sound card. Havng tested more Velodyne subs than most, and using them in my own home system, I am all too aware of the potential for overloading them inadvertently.

The gain structure on the Velodyne DD subs is rather high, particularly when driven via the XLR inputs, and the overload threshold is not very generous. By my own measurements, a form of clipping sets in around 1.5V RMS. The odd thing is this distortion starts to creep in below 20Hz to start with. As you increase the drive level by a few dB, the distortion creeps up the frequency scale maintaining a very definite descending slope with increasing frequency. Which suggests to me this is not simple clipping but possibly some quirk in the DSP code at high amplitudes. I have a question about this open with Chris Hagen at Velodyne currently.

The upshot of this is that I am acutely aware of the potential for overload when testing these subs. The sloping nature of the distortion as it starts to appear makes it less easy to spot in swept sine tests as it simply becomes a contributing factor in the background. Spotting it with tone-burst testing would be even harder as it will typically just appear as rather high levels of odd-order distortion. Something for the reviewer/tester to beware of is all I am saying.

However, this issue can also impact on the general user. By their nature these subs will tend to end up in high-end systems, often partnered by equipment that generates signal levels more typical in the professional arena. For example, my own Theta Casablanca DACs are specified to deliver up to 20V RMS via XLR. If you connect a DD sub direct to this and match levels, you typically end up with the DD volume set to something like 3 to compensate for the very high signal level from the processor. In this scenario, it then becomes rather easy to clip the subwoofer on loud material, which is a pity after spending all that money! A higher overload margin and lower gain on these subs would be a good idea, particularly via the XLR inputs.

My advice to anyone using these subs in such a high end system would be to ensure you don't set the DD volume lower than 15 and match the speaker levels by dropping the level of the subwoofer output in the processor setup menus only. If you currently have the DD volume set in single figures, then this overload issue may be a problem for you that you may not even be aware of.
I've been meaning to update this thread for some time and just never got around to it.
To recap, for all Velodyne Digital Drive Plus sub owners, regardless of sub size, there are three sets of inputs on each sub. One set for speaker level inputs, one set for single-ended line level, and one set for XLR line level. The speaker-level inputs and the single-ended inputs have dedicated input level controls, so input stage overload is not a factor, but the XLR inputs do not have level controls.
For those of us driving the DD Plus subs with full-range balanced outputs from our pre-amps, input overload is a very real factor. As cjwhitehouse noted, many owners running XLR cables are using sub volume levels of "5" to "10", when Velodyne ships the sub with a default of "30". I called Velodyne and asked if there was an XLR input sensitivity fix, and they never responded.
Some time ago it occurred to me that the fix was simple - use XLR line level attenuators ahead of the XLR inputs on the sub. Fixed levels (-10db, -20db, etc.) are available from Parts Express for about $10 each, and Audio Technica makes some more expensive adjustable ones. I tried the -10db versions from Parts Express.
What a difference! I remember that first listening session with the attenuators in-line clearly, and it was several months ago. Prior to the attenuators I was running the DD18 Plus's volume control at "8", and now I use "25". So what? Well, two things changed. First, the granularity of volume adjustment is so much finer. Before, "7" was too little and "9" sounded bass-heavy. Now I can fine tune the bass level depending on the recording from "20" to "30" and the subtlety of effect is very nice. Second, the sub's EQ is more effective and appears to be more accurate when I do in-room measurements. I don't know for sure that input overload was causing the problem, but the attenuators made a significant, easily audible and measurable improvement in the sub's usability and EQ performance.
As I said, most users won't care because they'll probably use the single-ended inputs. But if you are using the XLR inputs on Digital Drive Plus subs with full-range pre-amp outputs I highly recommend trying XLR attenuators.
Tracy476 posts on September 20, 2012 03:17
I am confused by your high rating of this subwoofer.
Please look at the distortion chart.
screen_x posts on September 19, 2012 23:29
Fire risk?

I couldn't help but notice the white foam inside the cabinet (in the design section).

Isn't that too close to the amp when bolted/screwed on? If the amp is hot wouldn't the foam catch on fire? Or is it made out of fireproof material?
gp4Jesus posts on February 25, 2012 18:14
Bagends subs

They make (or did make) both a 15" & an 18" that did -F3 to 8hz for way less than 1/3 the Velodyne $. And from what I recall more musically, accurately, & cleanly. BTW: powered & plenty of it. Haven't read every post, but from the few I read, if I'm ever in the market for $ no object sub, I'll hunt down Bagend, buy 2 of theirs, & bank the rest.

Cheers tony
pbc posts on January 11, 2012 14:34
Ricci, post: 856361
Ahhh gain structure…There is a surprising amount of final system performance tied to this and many are unaware of how much.
Maybe AH should write up a dummies guide to setting gain structure? I recall starting a thread about it over at AVS and never coming to a conclusion (at one point an expensive o-scope was required and then building some sort of attenuation circuit instead of the o-scope to use on my Mobile-Pre/REW setup to test for signal distortion as a VMM couldn't do this). Mind you, that was probably more involved as it included an outboard amp and DCX..
Just got too complicated. :o
Post Reply