Sunfire HRSIW8 Dual 8" In-Wall Subwoofer Preview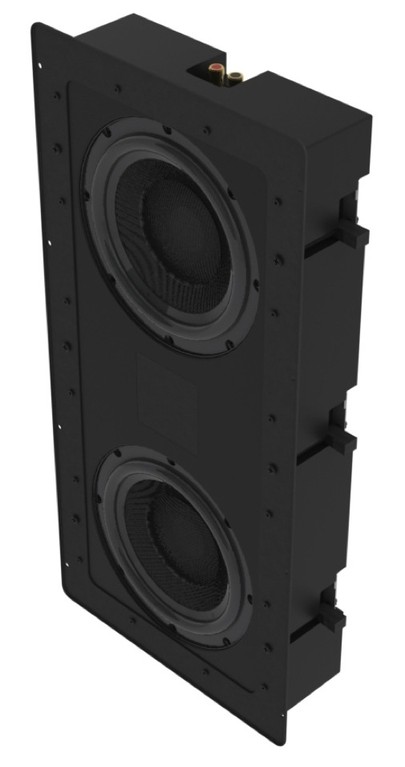 Sunfire HRSIW8 Dual 8" In-Wall Subwoofer
Summary
Dual 8" custom designed fiberglass cone long throw woofers
33Hz-150Hz

106dB maximum output
Sealed cabinet dimensions: 12.2" x 24.7" x 3.75" (WxHxD)
Cutout requirement: 10.6" x 23.5" (WxH)
Six dog-toggle style wall clamps
Wire channel to avoid pinching
Magnetic grilles

Included external digital amplifier
520 watts

Balanced and unbalanced inputs plus line level inputs

Executive Overview
If you want to see the smile fade from your customer's face, tell them they would be better off with an in-room subwoofer with their in-wall/in-ceiling system. Never mind that it is true. Never mind that you can get a lot more performance for a lot less money. Never mind any number of factors. They want an invisible system. They promised their spouse an invisible system. A box subwoofer is not invisible and no amount of performance/cost arguments are going to change that fact.
Sunfire has been known for a number of things over the years; mostly subwoofers and amplifiers. This is a company that has a lot of respect and, dare we say it, gravitas in these two fields. So when you present their new HRSIW8 Dual 8" In-Wall Subwoofer to your client and tell them that it will be powered by a 520 watt Sunfire amplifier, you're likely to be met with a slap on the back and a, "Now, THAT is what I'm talking about," rather than, "And how much is that going to cost me?"
Well, to answer the second question, $1700. No, it isn't cheap, but you aren't just paying for the name. The HRSIW8 in-wall sub sports dual 8" woofer with custom designed fiberglass cones. These long throw woofers are housed in a sealed enclosure which will fit easily in your standard 16" on-center stud bay. The enclosure is 3.75" deep and includes a wire channel to minimize the space requirements. The included cutout template will lead you to a 10.6" by 23.5" hole in your wall. Six dog-toggle style wall clamps hold the speaker in place. The magnetic grille is (we're hoping but it isn't specified) paintable.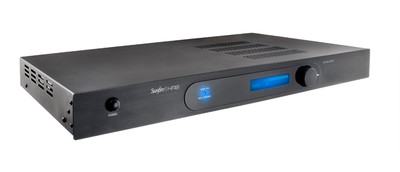 The rack-mountable Sunfire amp is external to the subwoofer and includes a number of interesting features. First, it has both balanced and unbalanced inputs. This evolution from the SDS subwoofer line digital amp includes Sunfire's Frequency Filtration Design for high fidelity bass as well as an included DSP with room equalization and a number of filters for fine tuning the response. An included remote allows users to change preset equalizer modes on the fly (also means discrete commands which is helpful for custom installers that want to integrated the presets into a universal remote system).
The HRSIW8 in-wall subwoofer brags a response down to 33Hz. While, for the money you could realize a much lower -3dB point than 33Hz, again, it is all about being invisible. The Sunfire has a maximum output of 106dB - more than loud enough for just about any user. Add a second sub (no word if the amp can power more than one) and you'll be shaking the pictures off the walls.
Conclusion
The problem with the Sunfire HRSIW8 in-wall subwoofer system is the price. At $1700, a response only down to 33Hz is pretty unimpressive. It is not hard to find other in-wall offerings that offer more performance for less money. But it is hard to find one that has an external amp with integrated room correction. The custom installer-friendly nature of the amp and system as a whole is sure to appeal to some. If you have a newer receiver with Audyssey MutlEQ XT32 that can EQ your sub or one of the other standalone subwoofer correctly systems, you can get more performance for less. If you are looking for a decent in-wall subwoofer system with integrated room correction, the Sunfire might be for you.
For more information, please visit www.sunfire.com.

Unless otherwise indicated, this is a preview article for the featured product. A formal review may or may not follow in the future.
Confused about what AV Gear to buy or how to set it up? Join our Exclusive Audioholics E-Book Membership Program!