Revel Rhythm2 Subwoofer Preview
Summary
Revel Rhythm2 Subwoofer Specifications
18" cast-frame woofer
4" diameter voice coil
1.7" Xmech

Approximately 1" Xmax

2,00WRMS / 4,000W peak power
Over 115dB over 30Hz acoustic output (table below)

High-resolution DSP room EQ
Fully configurable electronic crossover
High-pass room EQ
PC setup via USB
Dimension 24.6" H x 27.9" W x 28.1" D
Weight: 177lbs


Revel Rhythm2 Measurements

| | | |
| --- | --- | --- |
| | CEA2010 ( 1 meter 4pi) | Max RMS (1 meter 4pi) |
| Frq [Hz] | SPL [dB] | SPL [dB] |
| 20 | 92 | 105 |
| 25 | 103 | 109 |
| 31 | 116 | 115 |
| 40 | 117 | 117 |
| 50 | 123 | 118 |
| 60 | 123 | 117 |
Executive Overview
Revel is rounding out their Ultima2 loudspeaker lineup with the release of the Rhythm2 Subwoofer. Their goal with the Rhythm2 was to create a subwoofer that was worthy of the rest of the Ultima2 speakers and could compete with other premium subs on output and features. It's a single driver sealed design (nothing too crazy there), but it has a number of cool features, like setup via USB, that make it unique.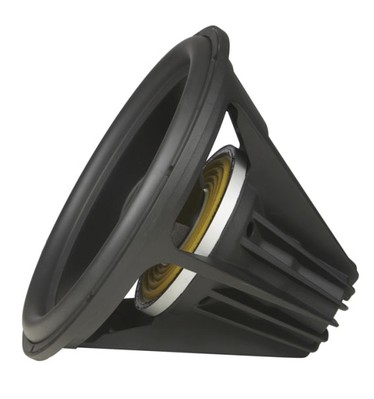 Revel Rhythm2 18" Subwoofer Driver
The Revel Rhythm2 sports a dual voice coil 18" aluminum cast-frame driver powered by two amplifiers with a total of 2,000 watts RMS (4,000 watts peak). The driver itself has a 4" diameter voice coil and approximately 1" Xmax, which is pretty big huge. Combine the powerful amp, large driver, and long Xmax and you end up with the ability to hit over 115dB and a -3dB point below 20Hz (at lower power levels). Unfortunately, the marketing material leaves a few unanswered questions about these ratings, like at what frequency can the sub hit 115dB and what exactly the -3dB point is. So, we reached out to Harman Audio and got some answers. When in "Normal" mode the -3dB point is 20Hz, but in "Extended" mode that drops down to 16Hz. We also learned that the Linear Xmax, as stated above, is approximately 1" (non peak-to peak), while the mechanical Xmax is 1.7" (not peak-to-peak). The available marketing material available simply says 1.7" Xmax, where it should more accurately say 1.7" Xmech.
Revel Rhythm2 Measurements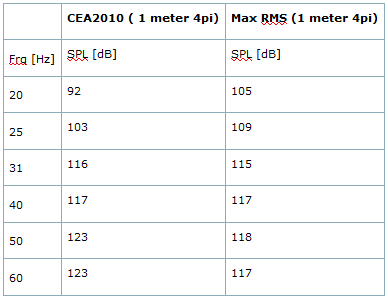 1m 4pi = 2m groundplane, Measurements Provided by Harman

The enclosure measures 24.6" H x 27.9" W x 28.1" D and the total weight comes in at a hefty 177lbs. The cabinet itself has a 1.5" thick baffle, is curved on the sides, and has a beautiful glossy finish.  There is no servo control in place, but there are protection circuits. The build quality and driver compliment are certainly impressive, but seem a little lacking for a sub in its class. Did we mention MSRP is a blistering $10,000? But let's take a look at some of the features before making a final judgment.

Revel Rhythm2 Rear View
One of the big highlights of the Rhythm2 is the optional setup via PC and extensive EQ options. Typically, most of the settings on a subwoofer are configured via controls on the back panel, but the Rhythm2's advanced adjustments are done using a computer. Revel's LFO, or Low Frequency Optimization, software allows for adjustment of delays (true delays, in contrast to most phase controls), high/low pass filters, volume, and EQ. On the back panel you will find a set of RCA and XLR inputs and outputs for your main speakers. This is because the Rhythm2's EQ has the ability to handle crossover and EQ settings for your speakers, as opposed to setting them in the receiver. Using the subwoofer's processing power you can EQ up to 10 different room modes from 20-400Hz, whether the bass is coming from your speakers or the sub. You can also choose different slopes and high pass filters for the sub and main outputs. By adding the extensive EQ options Revel allows users to integrate the Rhythm2 with their main speakers much more seamlessly than might otherwise be possible. Below is a screenshot of Revel's LFO software, which is quite full-featured.

Low Frequency Optimization (LFO) Software

Conclusion
Overall, it looks like the Rhythm2 has some cool stuff going for it, particularly the EQ options. But when compared to other subs in the $10,000 price range, a nifty EQ isn't likely going to make anyone run out and buy this thing. Lukily the Rhythm2 has much more than a "nifty EQ". It's actually quite powerful and a big feature of the subwoofer. But, ignoring the software setup and EQ, for $1000 less the Paradigm Sub2 we reviewed will give you more low frequency output and it comes with Paradigm's own Perfect Bass Kit for EQ. The SVS PB13-Ultra we reviewed costs 1/5 the price and we measured clean output levels of up to 117.5 dB earning our Extreme Bassaholic rating, but it lacks the sophisticated EQ system found on the Revel. However, you could easily purchase four SVS PB13-Ultra subs to get the ultimate in bass output, extension and smoothness to all listening seats requiring little to NO EQ at all, and still pocket $2k.  Also consider the great Velodyne DD-18+ with a very useful adjustable manual EQ that received our Extreme Bassaholic rating and 2011 Product of the Year award for 1/2 the price of the Revel.
Suffice it to say that the Revel Rhythm2 Subwoofer looks like a solid piece of equipment; we have no question that it can play loud, low, and clean. But, is it worth the $10,000 asking price? Also note that in each of these comparisons there are pros and cons, we are not making a statement that as a whole any of the alternatives are better or worse. Having 4 SVS PB13-Ultra subs would play loud enough to shatter your hip just by listening to test tones too loudly, but you would also have 4 big subs to place around your room. Two Velodyne DD-18+ subs would surely be a compelling alternative to one Revel Rhykm2 subwoofer, but the software/EQ system of the Revel appears to be light years more advanced than the Velodyne system. 
If you are looking for a bang-for-your-buck subwoofer, the Revel Rhythm2 is likely not your best choice. If you are looking for a great looking and sounding sub that has an extremely powerful software suite for integration, then it just might be your ticket. Let us know what you think the forum thread below.
For more information visit Revel
Confused about what AV Gear to buy or how to set it up? Join our Exclusive Audioholics E-Book Membership Program!
Recent Forum Posts:
Irvrobinson posts on January 24, 2013 18:42
greatdavide, post: 946614
So I'm assuming a mic is included too? Or how does the software know what to correct? Do I have to bring in my measurements from another program and iteratively come to the best solution?
A quote from the preview on Stereophile.com:
Voecks recommends using the Apple iPad-based "Audio Tools" application from Studio Six for set-up, which has very high resolution, and includes a mike and preamp/power supply. One then sends the data from the Audio Tools software via WiFi to the owner's PC running the Rhythm 2's software. By selecting a target curve, and manually adjusting parameters for the subwoofer and main speaker, one can achieve optimal balance between sub and satellites, set the delay for the subwoofer, and equalize not just for one specific spot in the room but for a wider area using 10 virtual parametric equalization sliders in software. The proof of this concept was the hugely powerful bass output that was solid, dense, and exhibit tremendous room lock, vibrating everything that was not tied down. He played Yim Hok-Man's recording of "Poetry of the Chinese Drum" which features explosive drum beats. The organ from Rutter'sRequiem ("A Gaelic Blessing") was balanced and powerful.
So, no, the Revel sub does not come with a mic, and, yes, you apparently need another program to feed the Revel software.
greatdavide posts on January 24, 2013 16:02
Mic included

So I'm assuming a mic is included too? Or how does the software know what to correct? Do I have to bring in my measurements from another program and iteratively come to the best solution?
monkish54 posts on January 22, 2013 20:43
I'd guess it has the Lexicon name…
AcuDefTechGuy posts on January 22, 2013 20:32
ACsGreens, post: 946013
I anxiously await ADTG's new owner review (only speculation, but c'mon)
R ——— I ———– G ————- H ————- T.
What I want to know is, what amp did Revel use for this sub? Is it a Crown or an ATI amp ?
monkish54 posts on January 22, 2013 20:19
Gene, is it possible to find out how Harman determines Xmax with a DD Design? As I posted in the other thread, Bl would not be a useful way to determine xmax…

Thanks!
Post Reply