Definitive Technology Wire-less Ready SuperCube Subwoofers Preview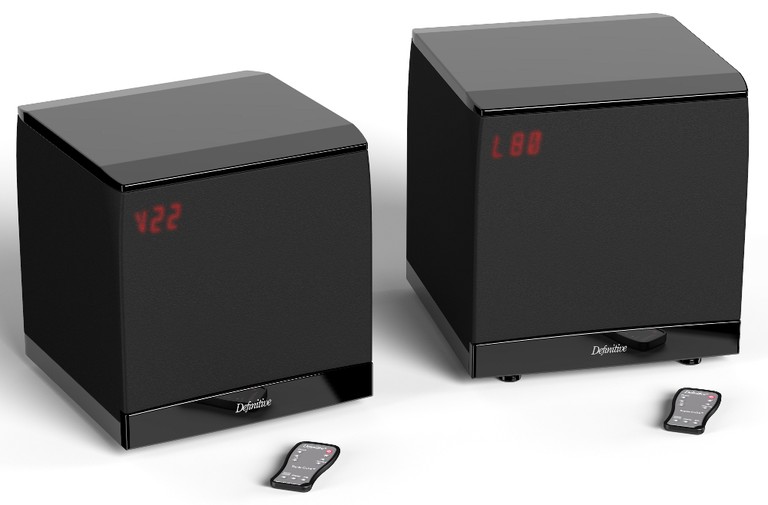 Def Tech SC4000, SC6000 SuperCube Subs
Summary
| | | |
| --- | --- | --- |
| | SC6000 | SC4000 |
| Driver Complement | One 9" (23cm) high- excursion active subwoofer driver, two 10" (25cm) planar low-bass radiators. | One 8" high-excursion active subwoofer driver, two 8" planar low-bass radiators |
| Amplifier Power | 1500 Watts | 1200 Watts |
| Height | 12 7/8" (32.5cm) | 11 7/8" (30.0cm) |
| Width | 12" (30.5cm) | 11" (27.9cm) |
| Depth | 13" (33cm) | 12" (30.3cm) |
| Inputs | One LFE line-level, one pair line-level (LP-filtered), one pair 5-way binding posts (LP- filtered), one wireless receiver port | One LFE line-level, one pair line-level (LP-filtered), one pair 5-way binding posts (LP- filtered), one wireless receiver port |
| MSRP | $999 | $799 |
Aside from having one of the cooler names in the world of subwoofers, the Definitive Technology SuperCube series has had a reputation for performance that few can match. There are people out there that would gladly part with a finger before they'd give up their SuperCube. The thing about the SuperCube series is that they deliver their bass from a deceptively small enclosure. The new Wire-less ready offerings do continue that great heritage with the SC4000 and SC6000 models.
The SC4000 is a bit smaller than a cubic foot (11" by 12" by 12"). It has a high gloss top plate and a small baffle around the bottom. The three sides (front and two sides) are covered by grille cloth as the SC4000 sports a single 8" driver and two 8" planar bass radiators. The SC6000 is a bit larger than a cubic foot (12" by 13" by 13") with a similar aesthetic. For $200 more you get a 9" driver and two 10" planar bass radiators. Both have an LFE line-level port, on pair of line-level (LP filtered) RCA ports, and one pair of 5-way binding posts (again LP filtered). 
We always say if you want big bass you either need a big box or a big amp. The SuperCubes are definitely in the latter camp with the SC4000 sporting a 1200 watt HD amp with a 56-bit microprocessor preamp stage with DSP. This is likely to keep the amps from damaging the drivers under demanding conditions.
Both of the subs feature a remote and a digital display hidden under the grille. While a remote for a sub is mostly useless (and make sure you put is somewhere you'll remember or it'll end up in your kid's toy chest), during setup, they are invaluable. The last addition is a wireless receiver port for addition of the Definitive Technology SCW 100 wireless kit. For $149, the kit has a transmitter and receiver the plugs into a slot on the sub's amp panel.
Wireless in AV rarely means truly without wires as power is always a requirement. With subs, however, consumers are used to having them hear power outlets and their location on the ground makes such a connection a snap (unlike wireless surrounds which often necessitate a wire running down the wall). While it seems like at these price points, Def Tech could have thrown in the wireless solution rather than making consumers buy an aftermarket solution, it is a step in the right direction. The wireless kit does have a number of installer specific features (12v trigger, IR repeater input) as well.
Conclusion
For the price, the new SC4000 and SC6000 SuperCube subs from Definitive Technology are quite enticing. While we wait with baited breath specifications on their performance, we love that they are basically a cubic foot box with a driver, two radiators, and a HUGE amp. The whole idea makes us want to grunt and beat our chests like gorillas. We can't wait to learn (and hear) more about these subs.
For more information, please visit www.definitivetech.com.

Unless otherwise indicated, this is a preview article for the featured product. A formal review may or may not follow in the future.