Energy Power 10 & Power 12 Subwoofers Preview
Summary
| | | |
| --- | --- | --- |
| Name | Energy Power 10 Sub | Energy Power 12 Sub |
| Amplifier Power Output | FTC Rated Power: 100 watts dynamic, 50 watts continuous | FTC Rated Power: 150 watts dynamic, 75 watts continuous |
| Variable Low Pass Filter | Variable 50Hz-150Hz | Variable 50Hz-150Hz |
| Variable Phase Control | Switchable 0 or 180 degrees | Switchable 0 or 180 degrees |
| Power Mode Switch | Auto/On/Off | Auto/On/Off |
| Voltage | 100 - 240 V, 50/60 Hz universal power supply with ½ watt power standby | 100 - 240 V, 50/60 Hz universal power supply with 1/2 watt power standby |
| System Type | Bass reflex via rear-mounted slot port | Bass reflex via rear-mounted slot port |
| Max. Load Weight (lbs) | 15 Ibs. (6.8 kg) | 23 lbs. (10.4 kg) |
| Frequency Response | 45Hz-150Hz+/-3dB | 35Hz-120Hz+/-3dB |
| Input | Two line level/LFE RCA inputs and two high level speaker inputs | Two line level/LFE RCA inputs and two high level speaker inputs |
| Overall Dimensions | 12" (30.48 cm) H x 11.5" (29.21 cm) W x 14" (35.56 cm) D | 14" (35.6 cm) H x 13.5" (34.3 cm) W x 16" (40.6 cm) D |
| woofer | 10" (25.4cm) front-firing woofer | 12" (30.5 cm) front-firing woofer |
| Product Finish | Black matte vinyl | Black matte vinyl |
Executive Overview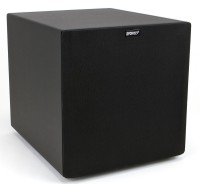 All true audioholics have run into the situation where a friend wants to know what gear to buy. They ask for your recommendation and you pull out your standards. These are products that overperform for their price tag. Some of them are such good deals, you can't understand why they aren't in every person's home. After laying out the performance, features, and how your recommendation dominates the market, you sit back to bask in glow of your friend's thanks. But instead you hear, "But I only wanted to pay..." a price that could barely buy an entry level model.
That's right, you've just wasted your time, again. And you know that your "friend" is going to go off telling everyone that you don't give "reasonable" recommendations and the product they picked up on the sale rack at Walmart was just as good.
It's the sort of thing that happens enough to use that we've learned to ask budget first. We can then tailor our recommendations. But, unfortunately, too often the budge is so unreasonable that we end up saying, "Just run out to Walmart and see what is on sale."
That's no longer the case for subwoofers.
Yes, if you ask us, subs can't be too big or too powerful. There also can't be too many in our home theaters. But we aren't everyone. And if you are on a budget, a really, really strict budget, finding a decent sub can be a problem. Energy Audio has an answer with their new Power series.
The Energy Power 12 and Power 10 are looking to put as much performance as they can in as inexpensive a package as possible. How inexpensive? The Power 10 retails for only $199 and the Power 12 retails for $299. Now those are numbers that even the cheapest of our friends can stomach.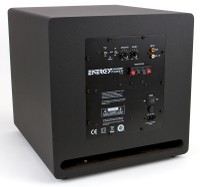 Like most subs, the model numbers indicate the driver size. The Power 10 has a 10" front firing woofer with the Power 12 sporting a 12" driver. The enclosures constructed out of MDF and feature a rear-facing slot port. Normally, we'd shun any sub with rear-facing ports as they tend to make placement more difficult, but with budget models, it really doesn't matter. People only willing to shell out a few hundred on a sub are as likely to care about proper placement as they are to change the audio settings off "Rock Arena" on their receiver.
Other than driver size, enclosure size, and weight, the only main difference between the two subwoofers is amplifier power. The Energy Power 10 has a 50 watt amp (100 watts dynamic) and the Power 12 has a 75 watt amp (150 watts dynamic). Both the amps feature variable low pass filters, 0/180 phase switch, auto on modes, and line (RCA) and high level (spring type) inputs. For maximum compatibility, the Power series subs from Energy can accept 100-240V, 50/60Hz power and consumes only 1/2 watt on standby.
The real question, is performance. The smaller (12" H x 11.5" W x 14" D, 15lbs) Power 10 will hit down to a fairly modest 45Hz. It is rated by Energy +/-3dB up to 150Hz which is important considering what speakers this $200 sub is likely to be paired with. The Power 12 (14" H x 13.5" W x 16" D, 23lbs) is rated 10Hz lower to a much more respectable 35Hz and up to 120Hz for even more flexibility.
Conclusion
No, the performance numbers of the Energy Power 10 and Power 12 subwoofers won't blow you away. But these subs are not for you. With price tags at $199 and $299 respectively, the Energy Power 10 and Power 12 subs are squarely targeted at those on a budget that are looking to build their first systems. To those people, the new Energy Power subs are sure to impress both in how hard they hit and in how low their price point sits in the marketplace. While they won't make their way into the home theaters of seasoned audioholics, the new Energy Power subs have easily made our recommendation list.
For more information, please visit www.energy-speakers.com.
Confused about what AV Gear to buy or how to set it up? Join our Exclusive Audioholics E-Book Membership Program!
Recent Forum Posts:
Ponzio posts on November 11, 2013 21:23
theJman, post: 997840
If they are accurate – and the lower F3 is just 35Hz – that wouldn't even cut it for some music, let alone HT, so I imagine it would end up being a disappointment for most people either way.
Yeah, you're right. Whether accurate, inflated or not, that 35Hz wasn't going to cut the cheese. That's why I opted to pass on pre-ordering it. Back to the drawing board.
theJman posts on November 11, 2013 16:51
Ponzio, post: 997713
Has anyone actually heard these subs? Everything I'm reading here is based on specs.
Mostly the spec's. A lot of manufacturers will embellish their specifications in order to sell a product (does anyone really think the DefTech subs go down to the mid teens?). Energy may not have done that, so what they're quoting could be spot on. If they took liberties with the numbers, and the sub can't even do what they say, that would be an anemic performer. If they are accurate – and the lower F3 is just 35Hz – that wouldn't even cut it for some music, let alone HT, so I imagine it would end up being a disappointment for most people either way.
Ponzio posts on November 11, 2013 05:22
DOH!!

Of course there are none available in the surrounding area to demo or buy but I can do a pre-order in store pickup.

Well it seemed like a good idea at the time.
Ponzio posts on November 11, 2013 05:12
Has anyone actually heard these subs? Everything I'm reading here is based on specs. Best Buy has the Power 12 for $90 (in store only)
Energy - Power 12" 150W Powered Subwoofer - ENERGY POWER 12 SUB
While I would love to get 2 SVS PB12-NSD's to go along with my KEF LS50's, SVS's recommended matching wizard result, the idea of spending $1538.00 does not compute, especially in a 14'x14' room and the size of the unit …
for me
… is just too much. I have one now in my main room and it compliments my Focal's fantastically and I love it's musicality, which is what I'm trying to do in the office. Obviously I not going to get the same results for $180.00 but if it sounds good enough to my ears, what the hell. I think I'll be making a road trip today. Worst case scenario I can give them away to my non-audiophile friends if it doesn't work out for me after a month or two.
Sheep posts on November 10, 2013 23:08
BoredSysAdmin, post: 997593
10.3 was one of the last real Energy subs. This new models have Audiovox written all over it. Ruining one good name at the time
Audiovox Buys Klipsch Group (Jamo, Mirage, Energy and Athena) | Audioholics….

They are cheap for a reason.. they are crap, but what the heck - for only $100 it's only competing with monoprice and dayton subs
It's all about the S12.3. Listed in the top 10 in Tom Nousiane's 25-62hz average Max Output list.
https://docs.google.com/spreadsheet/ccc?key=0AvieXs2IbzIfdFB1dVFtLW5HeF9yb1o2TjIyU2F1Unc&hl=en_US#gid=0
As for Energy as a whole, and someone that runs API speakers in his system (Energy Fronts, Mirage Rear) I am thoroughly disgusted with what happened to my beloved Canadian brands. I will be picking up some more speakers on Boxing day to fill out the center and rear center positions (will probably buy 7.1 configuration even though I only have 6.1 capabilities, only because they might all disappear). The Energy Veritas speakers were my all time favorites. They had a sound signature that was specifically what I wanted. Shame they don't make then anymore. I've seen them for sale on classifieds, but I would rather have had the option to purchase them new.
SheepStar
Post Reply