Paradigm Monitor SUB 12 Preview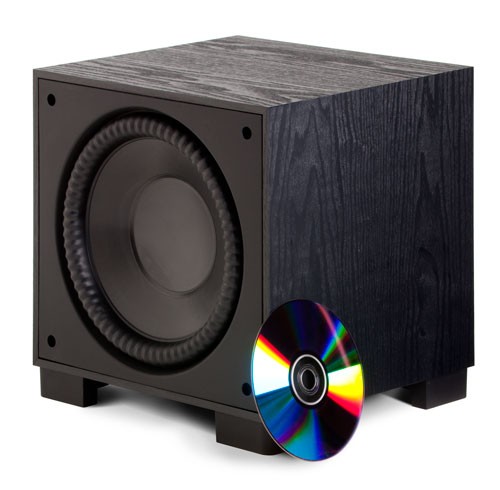 Paradigm Monitor SUB 12 Subwoofer
Summary
Design
Single driver, acoustic suspension, built-in
advanced Ultra-Class-D amplifier, USB
port for PBK equalization, removable grille
Amplifier High-Current
Discrete Output
900 watts Dynamic Peak;
300 watts RMS Sustained
Amplifier Features
Auto-on/off, soft clipping, thermal protection
Bass Driver
305-mm (12 in) carbon-loaded polypropylene cone,
NLC non-limiting corrugated Santoprene surround,
50-mm (2 in) 4-layer copper-clad aluminum voice coil.
Two Nomex spiders, 6.5 lb ferrite magnet,
AVS die-cast heatsink chassis
Low-Frequency Extension*
16 Hz (DIN)
Subwoofer Cut-Off Frequency
Variable 50 Hz – 150 Hz;
bypass option
Sub / Sat Phase Switch
Variable 0° or 180°
Line-Level Input
Two RCA (L/R-Mono) for L/R lineout
or Sub-Out/LFE-Out of receiver/processor
or other line-level source
Height, Width, Depth
(gloss side up, height is with feet)
38.5 cm x 33.0 cm x 36.8 cm;
15-1/8 in x 13 in x 14-1/2 in

Weight (unpacked)

15 kg / 33 lb
Accessories (sold separately)


PT-2 Wireless Transmitter;
Perfect Bass Kit (PBK)
Finish
Black Ash
Executive Overview
Paradigm, one of the most loved names in home theater, has introduced three new subwoofers to their line-up. The Monitor SUB 8, SUB 10, and SUB 12. The number, of course, corresponds with the size of the driver. The specs and all the specifics (including the amps) are nearly identical, excepting low frequency extension, so we are going to focus on the largest of the group, the SUB 12 in this preview. You can find information on the others on the Paradigm website listed below.
The Monitor line of subs have been designed with two things in mind: compact footprint and uncompromising bass output and extension. This means that they are trying to get the most performance they can out of their driver in the smallest box possible. We think these are fairly admirable goals and should garner them a lot of buyers if they succeed. Given their track record, we expect them to.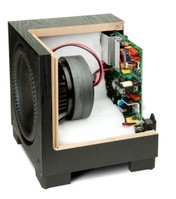 The SUB 12 inhabits a small 15-1/8" by 13" by 14-1/2" box. While not the tiniest enclosure we've seen, it certainly is small based on the size of the driver. The 12" woofer features a carbon-loaded polypropylene cone,  a non-limiting corrugated "Santoprene" surround, a 2", 4-layer copper-clad aluminum voice coil, 2 Nomex spiders, a 6.5 lb ferrite magnet, and an AVS die-cast heatsink chassis. As the picture above clearly demonstrates, the driver takes up nearly all of the front baffle and the Santoprene surround has a unique ribbed (for your listening pleasure) texture which allows for a full 1.5 inches of excursion on the SUB 12 (slightly less on the others).
Paradigm is touting their 900 watt Class D amp in the SUB 12, though that is dynamic power. Continuous power is rated at 300 watts. From the cutout pic, we see that the enclosure is well dampened with polyfil and looks to have a very thick wall, including a double-thick baffle. In such a small box, it isn't surprising not to see an internal cross brace (there's almost no room), but corner bracing is also effective at this size.
The Paradigm SUB 12 has a DIN low point of 16Hz. DIN is an in-room (calculated) estimation of the anechoic response of a sub. Regardless, it seems apparent that Paradigm designed this sub for a truly tactile experience. At less than a grand, sub-20Hz frequency response would be very impressive but it remains to be seen if their sub 20Hz spec is at meaningful output levels. Paradigm has also built in compatibility with their PT-2 Wireless Transmitter for easy placement ($149) and their Perfect Bass Kit ($99) for active room correction.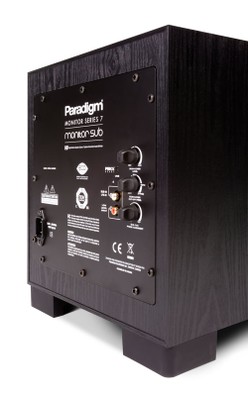 Glancing at the back of the SUB 12, you'll find volume, phase, and crossover knobs. The USB port is used for the Perfect Bass Kit and the PT-2 Wireless Transmitter (obviously, not at the same time). While there are RCA inputs, we were surprised that Paradigm didn't include speaker level inputs. This means they are expecting this system to be used with the crossover of an A/V receiver and not with satellite speakers running "through" an internal crossover. We were also disappointed that only a black ash finish is available (since they didn't specify, we're guessing it is a vinyl wrap). But is it really does reach down to 16Hz, all will be forgiven. Just as soon as we put the pictures back on the wall.
Conclusion
The new Monitor SUBs from Paradigm, headed up by the SUB 12, look to provide impressive performance for the money. For $999 you can get the 12" SUB 12 with a 16Hz low point. For $849 you can get the 10" SUB 10 with a low point of 17Hz or for $699 the SUB 8 with a 19Hz low point. All of these sound like great values. You'll have to give up speaker level inputs and custom finishes but, and we reiterate, UNDER 20HZ performance! That's an incredible value for the money. We can't wait to get one of these on our test bench to verify their performance claims. If they are true, and the subs are linear, we could be looking at the next big bang-for-buck sub.
For more information, please visit www.paradigm.com.

Confused about what AV Gear to buy or how to set it up? Join our Exclusive Audioholics E-Book Membership Program!
Recent Forum Posts:
xWARHOUNDx posts on November 17, 2011 18:17
I had a Paradigm sub once…music sounded horrible. I went to SVS and never looked back. Hopefully things have changed.
GranteedEV posts on November 11, 2011 12:19
gene, post: 840562
A tweeter has extension down to 16Hz too. What matters is what SPL it can reproduce at those frequencies. Everyone is on the extension race but the reality is you can't change the laws of physics (yet).
No, but you can always
"screw the physics for box subwoofers, time for one of these"
j_garcia posts on November 11, 2011 11:42
GO-NAD!, post: 840710
Looks sealed to me. Especially when you consider the enclosure size.
Yep, looks sealed to me too, but was curious.
We all complain about price, but in reality these companies have the markup that goes along with big business. So if they were to build to the price point we want, the subs would probably be junk. So I do understand how that happens, but on the other side of that coin, we also know that it can be done and because there are excellent subs out there that offer better value vs performance from ID offerings, it is hard to justify that kind of cash.
GO-NAD! posts on November 11, 2011 07:04
j_garcia, post: 840624
Sealed or vented? If they get down that low, I'm going to wager they don't do it with a lot of authority.
Looks sealed to me. Especially when you consider the enclosure size.
j_garcia posts on November 10, 2011 16:37
Sealed or vented? If they get down that low, I'm going to wager they don't do it with a lot of authority.
Post Reply