KEF HTB2SE-W Wireless Subwoofer First Look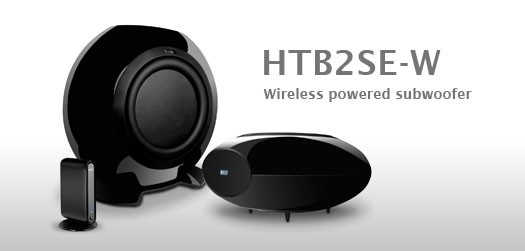 KEF HTB2SE-W
Summary
| | |
| --- | --- |
| Design | Powered subwoofer with passive radiator |
| Drive Units | 1 x 250mm (10in.), 1 x 250mm (10in.) ABR |
| Internal Volume | 15 litres |
| Frequency Range | 30Hz - 150Hz |
| Amplifier | 250Watt Class-D |
| Weight | 11.9kg (26.2lbs) |
| Dimensions (H x W x D) | Vertical: 390 x 440 x 195 mm (15.4 x 17.3 x 7.7 in.), Horizontal: 227 x 440 x 385 mm (8.9 x 17.3 x 15.2 in.) |
| Wireless Transmitter | |
| Max SPL | 110dB |
| Frequency Band | 2.4-2.4835GHz (ISM Band) |
| Data Rate | Up to 1.1Mbps |
| Transmission Protocol | AAFHSS |
| Range | 25m (27.3yds) typical maximum* |
| Sensitivity | 80dB typical |
| Transmitter Module Dimensions (H x W x D) | 147 x 79 x 79 mm (5.8 x 3.1 x 3.1 in.) |
Executive Overview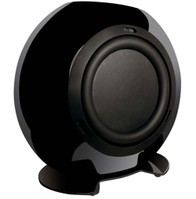 With all the subwoofer options out there, it is hard to stand apart. KEF has always had little problem in this arena with innovative and unique speaker designs. Their new HTB2SE-W wireless subwoofer is no different. Shaped like a gigantic coffee mug hot plate set on its side, the design may not appeal to all but it certainly stands out. 
Wireless is hot right now. Of course, with rear or surround speakers, you still have to deal with a power cord running down the wall. A wireless sub is a completely different matter. It isn't (likely) going to be placed anywhere but on the floor. Power cords aren't really going to be an issue. But you'll have many more options for placement if you don't have to run a wire from your receiver (usually at the front of the room) to the sub. The KEF HTB2SE-W is an unusual design - a flattened sphere set on its side (you can place it flat to the floor as well). It has a 10" driver and a 10" passive radiator. For its size (max dimension is just a hair over 17" and only 8-9" thick) it hits a respectably low 30Hz according to the manufacturer specs.
The look of the sub is distinctive but it is also quite well done. It comes in any color finish you want as long as you want high gloss black (and who doesn't these days?) it has a stand for vertical placement and three feet reminiscent of carpet spikes for horizontal placement. If you think there aren't people out there right now measuring the space under their couch for the 9" clearance needed for horizontal placement, you're kidding yourself. A few of these under a couch and you won't be pining over that massaging chair any more.
The wireless transmitter is available separately for $600 (included with the sub) and works on the 2.4 GHz band. This is the same as many portable phones. We find this to be a fairly good and stable solution for this sort of application as long as you aren't too close to interference like a microwave or wireless router. KEF claims that their system automatically corrects for interference to eliminate dropouts, loss of signal, and mutes. Only time and tests will uncover how robust this system is.
Everything about the HTB2SE-W looks great until you get to the price. At $1200, it is a costly solution. There is a Boston Acoustics wireless sub for half that price with the same size driver and similar specs (down to 35Hz rather than the 30Hz for the HTB2SE-W). As KEF is selling the wireless solution as a standalone product for half the asking price of the sub combo and the HTB2 sub commands nearly $800, the price does seem to make sense on paper. The question is whether or not it makes sense to your wallet.
Conclusion
The KEF HTB2SE-W subwoofer employs a unique design and wireless technology. With vertical and horizontal placement options, you should have little problems hiding this sub in a room. With wireless connectivity, your placement options are nearly unlimited. If the specs are accurate, a 30Hz low point is quite respectable and should put an evil grin on any owner's face. The question is really will the price preclude many people from purchasing when cheaper, albeit way fuglier, options are on the market.
For more information, please visit www2.kef.com.

Confused about what AV Gear to buy or how to set it up? Join our Exclusive Audioholics E-Book Membership Program!
Recent Forum Posts:
LabRat posts on September 28, 2009 20:53
lsiberian, post: 629078
I've had the flu all weekend. I misread the article. Wow. I mistread it.
Didn't mean to make my post read terse, I was reading through a lot of the site and wanted you to take another look… Figured you read too quickly as most of your post (at least w/ regard to audio) make sense.
Hope you are feeling better
Mister House posts on September 28, 2009 18:06
I knew you did. I just had to give you a hard time. Next time don't mistread it lol
lsiberian posts on September 28, 2009 16:04
I've had the flu all weekend. I misread the article. Wow. I mistread it.
Mister House posts on September 28, 2009 04:36
lsiberian, post: 628849
Wow I must strongly disagree with the assessment of KEF. They are very innovative and won consumer awards from cnet for their KEF 3005 series system. This sub is simply a wireless version of the Sub from that series. KEF is one of the companies pushing wireless technology and this isn't their only Wireless product.

I'd suggest doing more homework before you review a product.
What is this guy talking about? He must be replying to another post.
LabRat posts on September 28, 2009 00:27
I'd suggest you re-read the original post.
Post Reply