RBH Sound SX-10/R and S-10 Subwoofers Review
RBH Sound SX-10/R and S-10 Subwoofers Review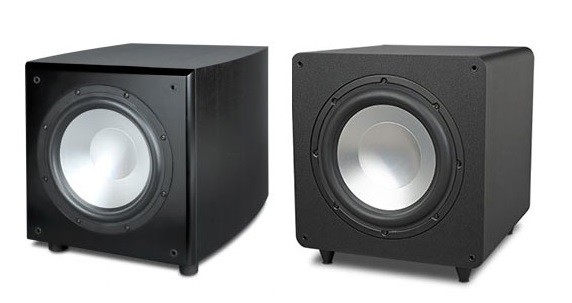 RBH Sound SX-10R and S-10
Bass Reflex Powered Subwoofers
10" Aluminum Driver
Amplifier Power: 350 Watt SX-10/R | 150 Watt S-10
Frequency Response: 26-100Hz +/-3dB SX10R | 32-150Hz S-10
Xover Frequencies: 40-180 Hz SX-10/R | 40-150Hz S-10
Crossover Slope: 12dB/Octave
Cabinet Material: MDF
Cabinet Finish: Satin black oak, Sandalwood or custom veneer SX-10/R | Black vinyl S-10
Dimensions (SX-10/R): 15"W X 15.25"H X 18.5"D
Dimensions (S-10): 13"W X 15.5"H X 16.5"D
Weight: 45 lbs. SX-10/R | 33 lbs. S-10
Pros
Top notch construction and finish
Quick transient response results in great musicality
Small size relative to output
Cons
Physical size limits ultra low frequency extension
RBH Sound SX-10/R and S-10 Subwoofers Introduction
The SX-10/R from RBH's signature reference series and the S-10 from the S series are both 10" subwoofers that produce tight bass in a small package.  Considering both are 10" subwoofers with good performance and excellent build quality, it is hard to understand what sets apart the reference series besides a price doubling.  Looking back into RBH's 38 year history reveals a track record of superlative designs at value prices across all product offerings.  This review will investigate the differences between these subwoofers and give you all of the information you need to decide if either of them represent a value to you.
RBH S-10 & SX-10/R Subwoofer Video Review
RBH SX-10/R and S-10 Design Overview
Let me start off by saying that anything I have ever seen offered by RBH has excellent build quality.  As expected, both subwoofers are well constructed using ¾" medium density fiberboard and side bracing to maintain rigidity.  However, the SX-10/R reference series subwoofer has an added ¾" medium density fiberboard on each side that is rounded giving the subwoofer curved sides.  This means that at the center of each side wall, there is 1.5" of material making for an extremely rigid cabinet.  The front baffle (where rigidity is needed most) is also 1.5" thick as well.

Both cabinets are rigid and well constructed but neither is extremely heavy meaning they can both move around a little bit when their woofers are in a high-output, high-excursion situation.
SX-10/R (Left) and S-10 (right)
The SX-10/R reference series subwoofer as tested was finished with custom sandalwood veneer that looked absolutely stunning.  The retail of the SX-10/R as configured is $1,300 but it's also available in the standard 10" cast frame woofer for $900 (SX-10)  which offers a great savings for only a modest drop in low frequency output.  There are several custom veneer options to match your décor as well as the standard satin black oak and sandalwood.  This really is a great looking subwoofer with a reasonably small footprint at 15"W X 15.25"H X 18.5"D.  The bass-reflex design has a front firing woofer with a bottom firing port.  The 3" wide port tube is flared on both ends. The front panel of the reference series subwoofer is painted black semi-gloss and provides a nice simple contrast to the sandalwood cabinet and aluminum driver.  The amplifier plate is not counter-sunk but is thin enough to look good.
RBH Sound SX-10/R Port (left pic) ; S-10 port (right pic)
The RBH S-10 subwoofer ($500) has similar build quality but the textured vinyl finish over medium density fiberboard is definitely not as nice to look at as the fine wood veneers offered in the SX-10/R.  However, it is on-par with 10" subwoofers at this price point and is still attractive due to the round-over on the top and bottom side edges.  If you are like me and your subwoofer is relegated to one of your room's less visible locations, then the difference in beauty may not be relevant to you.  This subwoofer is slightly smaller than the SX-10/R at 13"W X 15.5"H X 16.5"D.  Additionally, the port tube is 2.5" instead of 3" in diameter but it is also flared at both ends.   Even at high sound pressure levels, I was not able to detect any port turbulence due to the smaller diameter port tube.  The S-10 stuffing is foam instead of acoustic stuffing found in the SX-10/R.  The amplifier plate is countersunk on the S-10 cabinet and the plate sits flush with the cabinet.
RBH SX-10/R and S-10 Subwoofer Drivers
At first glance, without taking the drivers out, it is hard to tell the subwoofers apart.  Upon closer inspection, the S-10 has a slightly larger half-rolled rubber surround and slightly larger center cap.  The aluminum finish also looks just a little bit different.  Then upon close inspection of the mounting flange there are hints of much larger differences in the drivers.  Once the subwoofer drivers are removed from the cabinet, the once subtle is now blatantly obvious. 
RBH SX-10/R (Left) and S-1 (Right) Subwoofer Drivers
The SX-10/R subwoofer driver is completely different from the S-10 driver. Specifically, the SX-10/R driver is built like the woofers used in a few high-end do-it-yourself speaker designs I've come across.   It is a full cast frame, with a large well vented motor structure and nice looking spider.  The overhung voice coil appears to have plenty of coil outside of the gap to allow for extended linear excursion.  This is the same driver found in their Status 8T towers retailing at $50k/pair.

The S-10 subwoofer sports a stamped frame basket and much smaller motor structure compared to the SX-10R.  Maybe it was due to having just had the SX-10/R's subwoofer in my hand but the S-10 driver is nothing to write home about.  I could not clearly see the voice coil so it is hard to make any estimations about linear excursion limits.  I pressed in on the woofer and found that the mechanical excursion limits of this driver will allow high SPL but the small ventilation and motor allude to less power handling.  There is a good chance that the S-10 driver is slightly more efficient with a higher resonant frequency but there are too many contributing factors to state this absolutely without necessary data.
RBH SX-10/R and S-10 Subwoofer Amplifiers
The SX-10/R subwoofer plate amplifier supports balanced LFE in and out, unbalanced LFE in and out and unbalanced line inputs.  The amplifier controls are pretty standard with volume control, 40Hz-150Hz crossover and variable phase control.  The amplifier has a 3-position toggle switch allowing selection of off, on and auto which turns on when signal is sensed.  The IEC power socket accepts 110-120V at 60Hz or 220-240V at 50Hz once the voltage selection switch is changed.  In addition to the three position toggle switch, there is a main power switch adjacent to the power socket.
RBH SX-10/R (Left) and S-10 (Right) Amplifiers
The S-10 subwoofer plate amplifier supports unbalanced LFE in and unbalanced line in only.  The amplifier has a volume control pot, a crossover frequency control and a 0 degree or 180 degree phase switch. The LFE input on both amplifiers bypasses the subwoofer crossover control. It is recommended to use these inputs when connecting the S-10 or SX-10/R to the bass managed subwoofer output of your AV receiver.  The same three position toggle switch allows for off, on and autosensing.  Just as was found in the SX-10/R, the plate amplifier has selectable 110-120V at 60Hz or 220-240V at 50Hz main power input. 

The SX-10/R amplifier has large heat sinks attached to each power transistor and appears very well constructed.  The main speaker leads are wrapped and glued to prevent any accidents when pulling the subwoofer driver out.  The S-10 amplifier heat sinks are less substantial but the rated power output is also 150 watts instead of 350 watts.  The S-10 amplifier also wraps the output lead to prevent accidental pull out.  Having many years of experience working with electronics, I vowed to never shock myself again. Be that as it may, the S-10 amplifier had enough capacitance storage to leave a mark across the hand that mistakenly grazed the leads pulling the amplifier out.  Luckily I am doing just fine and the S-10 is still playing like a champ!