Yamaha NS-SW300 & NS-SW200 Subwoofer Preview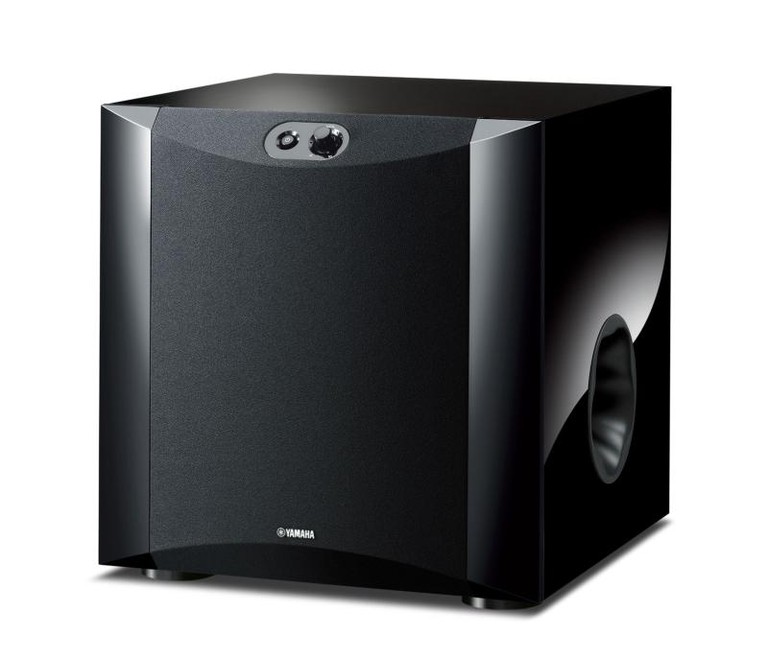 Meet the Yamaha NS-SW300 subwoofer.
Summary
NS-SW300
Driver: 10" cone
Output Power: 250 W
Frequency Response: 20-160 Hz
Advanced YST: Yes
High-Efficiency Power Amplifier: Yes
Twisted Flare Port: Yes
BASS (Bass Action Selector System): Yes
Auto Standby: Yes
Standby Power Consumption: 0.3 W
System Connector: Yes
Dimensions (W x H x D): 13-3/4" x 14-3/8" x 16-1/2"
Weight: 39.7 lbs.

NS-SW200
Driver: 8" cone
Output Power: 130 W
Frequency Response: 28–200 Hz
Advanced YST: Yes
High-Efficiency Power Amplifier: Yes
Twisted Flare Port: Yes
Auto Standby: Yes
Standby Power Consumption: 0.3 W
System Connector: Yes
Dimensions (W x H x D): 11-3/8" x 12" x 13-7/8"
Weight: 24.7 lbs.
Executive Overview
If one hundred audiophiles were asked to name their favorite subwoofer manufacturer, we're guessing Yamaha probably wouldn't top the list of responses. We'd also reckon that Yamaha might have something to say about that, namely their new NS-SW300 and NS-SW200 subwoofers. Priced at $550 and $450 respectively, both subwoofers include some interesting pieces of tech including Yamaha's new twisted flare port and Advanced YST II (Yamaha Active Servo Technology II). How do we think Yamaha's latest subs stack up? Keep reading to find out.

Hello Beautiful
Unlike many comparably priced subwoofers, we can admit to being impressed with the looks of the NS-SW300 and NS-SW200. These aren't your average ugly black boxes, instead featuring a curved front panel and an attractive piano black finish. Moreover, at measuring in at 13-3/4" W x14-3/8" H x 16-1/2" D for the NS-SW300 and 11-3/8" W x 12" H x 13-7/8" D for the NS-SW200, these aren't particularly large and imposing subwoofers. In a nod to practicality, the Yamahas also offer some control of the subwoofer on the front panel, with a power button and volume control readily accessible. 
Meanwhile, moving to the rear of the NS-SW300, you'll find speaker level inputs and outputs as well as stereo line level inputs and a single LFE input connector. Phase and high pass filter controls are also present, as is a B.A.S.S. selector which switches between music and movie modes. The rear of the NS-SW200 is similar, but substitutes spring clip connectors for the speaker level connections versus the NS-SW300's binding posts, and also omits the B.A.S.S. selector.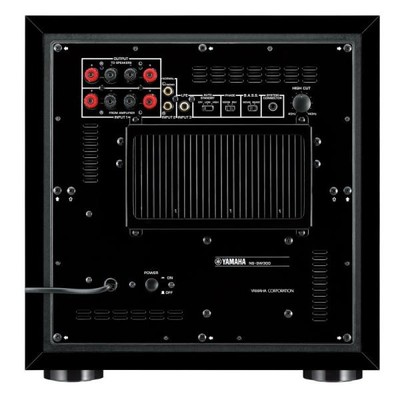 A view of the Yamaha NS-SW300's rear panel.


So What Can They Do?
 Looks and features are nice but let's face it; they aren't the raison d'etre for buying a subwoofer. So what are these beauties packing? Starting with the costlier NS-SW300, you get a 10" driver backed by a 250W amplifier. With a little digging, it's noted that output is rated at 100Hz into a 5 ohm load, with 10% THD, which is a bit liberal for our liking in terms of distortion. The NS-SW200 meanwhile gets by with an 8" driver backed by 130W of amplifier power. As implied earlier, both subwoofers utilize a vented alignment and feature Yamaha's twisted flare port, said to reduce port turbulence and consequently noise relative to a standard flared port. Yamaha is also boasting about their active servo technology, YST II, which they claim should provide more linear driver motion and tighter cone control.

In terms of specifications, the only relevant performance specification provided on either subwoofer is frequency response, rated from 20Hz-160Hz for the NS-SW300 and 28Hz-200Hz for the NS-SW200. While ostensibly respectable ratings, no tolerance is provided, which unfortunately makes their utility minimal.

Summary
There are certainly a few things to like about Yamaha's latest subwoofer offerings: they're attractive and they offer a useful feature set including some conveniently located controls and speaker level inputs. They also boast some technology which might prove very interesting, i.e. twisted flare ports and YST II active servos. On the downside, it's difficult to gauge performance from the specifications provided, including liberally rated amplifier power and frequency response without any tolerances. As such, we remain cautiously optimistic about what these beauties can do.

Confused about what AV Gear to buy or how to set it up? Join our Exclusive Audioholics E-Book Membership Program!
Recent Forum Posts: