Triad InWall Bronze 4 Slim Sub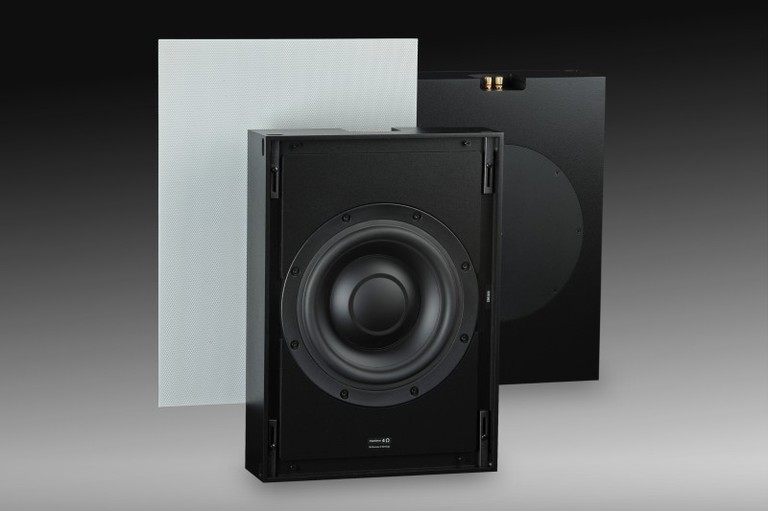 Triad's InWall Bronze 4 Slim Sub
Summary
Features
Drive Unit: 10" Proprietary aluminum cone woofer.
Amplifiers available: RackAmp 350 DSP: Rack mountable (1 space rack height), RackAmp 600 DSP for dual sub configurations.
Brand new DSP BASH technology.
Compact & efficient - Only 14-1/4" deep; Rack friendly (ears included).
EnergyStar compliant & energy efficient.
Low heat generation.
Five user selectable Preset Modes. (Reference, Cinema, Night, THX, Custom1, Custom2).
Intuitive Menus.
Changes are dynamic (hear them in real time) & auto saved.
Specs

Impedance: Driver impedance 4 ohms (8 ohms - dual sub configurations)
2pi Frequency Response: 20 Hz - 200Hz (+/-2dB); F3 (-3dB) = 20 Hz
Enclosure: Highly compact, fully braced and sealed cabinet.
Finishes: Grill and frame available in various paint & custom matched finishes.
Cabinet Dimensions: Width 13-1/2" (34.3cm), Height 19" (48.3cm), Depth 3-15/16" (9.9cm)
Wall Hole Cut Out: Width 13-3/4" (35cm), Height 19-1/4" (49cm)
InWall Frame/Grill: Width 14-3/16" (36cm), Height 19-11/16" (50cm), Depth 0"
New Construction Bracket: (NCB) size V
Product Weight: 20 lbs. each (9kg)
Shipping Weight: 27 lbs. each (12.2kg)
Executive Overview
As many of our regular readers are aware, generating deep, powerful bass for music or home theater usage generally calls for a fairly large and capable subwoofer. So what happens if you'd like credible low end reproduction, but for lack of space or aesthetic concerns, you need something effectively invisible? Enter the Triad InWall Bronze 4 Slim Sub. For those unfamiliar with Triad, they aren't exactly a newcomer to the A/V market, having been founded in 1982. Specializing in custom solutions, the vast majority of Triad's speakers are built to order in the US. The Bronze/4 Slim Sub is Triad's latest in-wall subwoofer offering, made to quite literally disappear into a room.
So what exactly goes into making a Bronze 4 Slim Sub? Triad's latest solution sports a 10" aluminum cone driver in a very shallow (slightly less than 4" deep) sealed enclosure, and power is provided courtesy of an external 350 watt DSP controlled BASH amplifier. The Slim Sub is made to slip into a standard 4" deep wall cutout, and be flush with the surrounding wall, unlike its predecessor which protruded several inches from the wall. This is in part accomplished by utilizing a rounded steel back plate as opposed to a much thicker sheet of MDF, which allows the driver to reach full extension in the relatively shallow enclosure.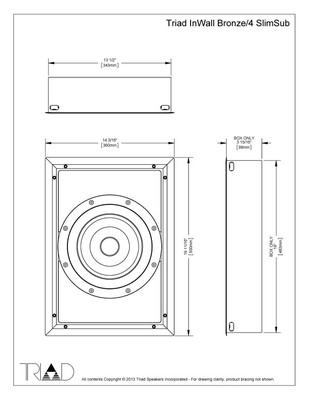 CAD Drawing of the Triad InWall Bronze 4 Slim Sub
Usually the grill is about the last thing people talk about when it comes to subwoofers, but Triad's Acoustimesh grill is worth a quick note. First and foremost, Triad will custom paint-match the grill at the factory, allowing the Slim Sub to blend into any space, right out of the box. The other nice thing to know is that the Acoustimesh grill is metal, which may be of some comfort for those audio buffs that happen to have young children.
OK, enough babbling on about grills; what kind of performance can you really expect out of the Bronze 4 Slim Sub? Triad reckons the 10" driver should be good to deliver up to 109dB of output from 40-80Hz, with useful extension (-6dB) down to 25Hz. Unfortunately, conditions for how these numbers were arrived at were not mentioned. Taking an educated guess, we'd figure the performance should be somewhere in the ballpark of what was measured for the B&W ASW 610XP, though the B&W's driver isn't restricted by enclosure depth, and it sports a marginally more powerful amplifier.
Suffice it to say, for the asking price of $1,400, the Slim Sub isn't going to be a bang for the buck champion. Still, in smaller spaces where invisibility is a must, we'd expect the Slim Sub to offer adequate output and extension for music. With respect to movies, it's unlikely that the Slim Sub is going to be reproducing infrasonic effects with authority; however, for those that are willing to give up a bit of extension and aren't demanding full reference level, the Slim Sub presents an interesting compromise.
Conclusion
We understand that Triad's Bronze/4 Slim Sub may be anathema to folks whose setup boast multiple subwoofers the size of small refrigerators. The Slim Sub is aiming for a market where blending into the environment is considered a positive attribute; given that it will flush mount with your wall and be color matched at the factory, we'd expect it will pull off the invisibility trick very well. Obviously there are tradeoffs to be made: with an enclosure less than 4" deep, it simply isn't feasible to shoehorn in a high excursion 18" woofer. Still, in a smallish room where you just can't get away with a conventional subwoofer, Triad's latest offering looks like it might just fit the bill for delivering satisfying bass while remaining inconspicuous.

Unless otherwise indicated, this is a preview article for the featured product. A formal review may or may not follow in the future.