Yamaha NS-SW1000 Subwoofer Preview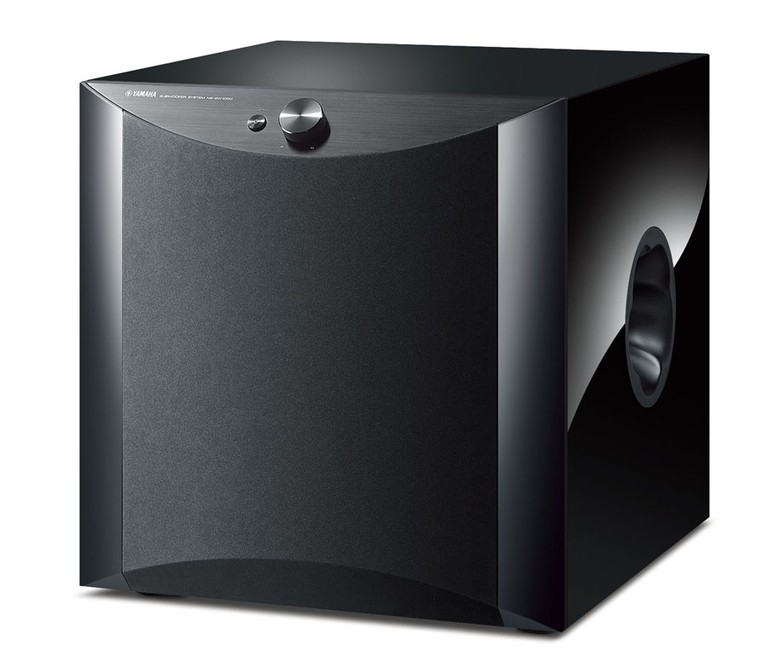 Yamaha NS-SW1000 Subwoofer
Summary
NS-SW1000
Driver: 12" cone
Output Power: 1,000 W
Frequency Response: 18–160 Hz
Advanced YST: Advanced YST II
Twisted Flare Port: Yes
Auto Standby: Yes
Standby Power Consumption: 0.3 W
System Connector: Yes
Bass Action Selector Switch: Yes
Phase Control: Yes
Aluminum Front Panel: Yes
Power and Volume Switch: Yes (front panel)
Dimensions (W x H x D): 17-3/8" x 18-3/16" x 20-5/8"
Weight: 90.4 lbs.

Executive Overview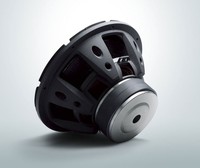 Ordinarily when most AV enthusiasts think of Yamaha with respect to consumer audio, they think of their excellent AV receivers.  In fact, I still salivate like Pavlov's Dog for their old school orange displays found on their AV receivers from yesteryear that let everyone know you had a Yamaha.  Well today, let's talk subwoofers.  Subwoofers for Yamaha?  Surely you jest?  No I don't, and don't call me Shirley. 
Unlike most of Yamaha's previous subs that lacked the gusto to hang with the big boys, their new flagship NS-SW1000 means business. The NS-SW1000 features a powerful1,000-watt amplifier and high excursion driver with a double ferrite magnet and cast frame.  The NS-SW1000's 12-inch driver incorporates Kevlar® fibers in the cone and is said to be able to generate long strokes with superior linearity due to its twin-stacked, large diameter ferrite magnets with double dampers and air vent. Like most great subwoofers, Yamaha employed an aluminum die-cast frame to suppress unwanted resonance and provide extra strength for optimal performance.
Don't expect the typical Plain Jane box found on most ID subwoofers.  The NS-SW1000 instead has an impressive black gloss finish, reminiscent of a Yamaha grand piano, which provides a touch of elegance to any living space.  Of course, the rather diminutive footprint (17"x18"x20") of the NS-SW1000 also helps to earn it a reasonably high WAF as far as subwoofers go.
"The NS-SW1000 is the latest evolution of the subwoofer, representing our best technologies and structural design elements to deliver uncompromised sonic performance," said Bob Goedken, general manager, AV Division, Yamaha Corporation of America. "Every component, including the black gloss finish, has been carefully considered to meet the demands of those seeking superior listening experiences."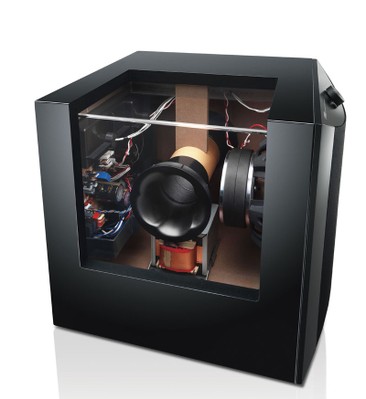 Yamaha NS-SW1000 Internal View
Yamaha claims the innovative cabinet with its Twisted-Flare Port (about 4" diameter), which delivers smooth airflow to reduce extraneous noise, achieves perfect tuning of the enclosure.
This subwoofer features a 3-way mitered construction that ensures extremely tight joints, which enable its entire cabinet to behave and respond as a single unit, allowing for powerful and accurate bass reproduction without noise-causing vibration. The heavy bass reflex enclosure (a whopping 90lbs) is constructed of thick, medium-density fiberboard and is supported by cast-iron legs for added stability to guard against distortion at any volume.
To conserve energy, the NS-SW1000 has Auto Power Standby that turns the subwoofer off when no signal is received for a period of time and back on when an audio signal is detected by the subwoofer's amplifier. A system control is also available and will automatically turn the unit on and off when connected to compatible devices.

Yamaha NS-SW1000 Amplifier Backpanel View
Advanced Yamaha Active Servo Technology II dynamically compensates for the negative effects of speaker impedance and is said to maintain better control of the subwoofer's driver for cleaner audio reproduction.  The NS-SW1000 uses the latest Yamaha DP200 digital amplifier integrated circuit, which supports a high current MOSFET discrete push-pull design for the output stage. This, along with a triple-wound litz wire, high capacity output coil and specially designed capacitors allow this subwoofer to reproduce extremely powerful low frequencies. 
One thing is certain, Yamaha wants to be taken seriously with this new subwoofer.  If we were to guesstimate on the Audioholics Bassaholic Room Size Rating of the NS-SW1000 subwoofer, we'd have to say it should be able to achieve our Large rating based on the hardware it sports.  Of course we will have to take one for a spin to be sure.  About the only thing that leaves us wondering, other than CEA-2010 performance numbers and how it sounds is why Yamaha omitted balanced inputs? 
The Yamaha NS-SW1000 will ship in June for an MSRP of $2,499.95.

Confused about what AV Gear to buy or how to set it up? Join our Exclusive Audioholics E-Book Membership Program!
See also:
Recent Forum Posts:
ATLAudio posts on May 26, 2015 12:19
Like most retail subwoofer offerings that are worthy of consideration (an it's not the only one) it's vastly overpriced compared to ID subwoofers.
3db posts on May 26, 2015 09:16
gene, post: 1084109, member: 4348
Unlike most of Yamaha's previous subwoofers that lacked the gusto to hang with the big boys, their new flagship NS-SW1000 means business. The NS-SW1000 features a powerful 1,000-watt amplifier and high excursion 12" driver with a double ferrite magnet and cast frame. The NS-SW1000 has an impressive black gloss finish, reminiscent of a Yamaha grand piano, which provides a touch of elegance to any living space. Does it sound as good as it looks, and can it really thump? Based on the hardware inside, we'd venture to guess a big Yes and Yes. We just may have to put one through our rigorous testing procedure to find out for sure.



Yamaha NS-SW1000 Subwoofer Preview

Do you think this Yammie has what it takes to be a serious contender for those serious about bass?
Any plans on testing the unit?
hk2000 posts on May 24, 2015 00:24
I got an impression from the picture before I saw the price and I was thinking $300 to $500, when I saw the price I was absolutely shocked!! the thing reminds me of the cheap Polk subs that are often offered free as an incentive to buy something else. If I had to pick between this Yamaha and the SVS SB16, I'd pick the SVS even if the prices were flipped.
Sam Black posts on May 22, 2015 09:22
Litz wire? Really? It's dumb enough for full range audio, but using it on a subwoofer it's pure marketing.
3db posts on May 22, 2015 07:55
From reading the description, it seems like Yamaha did do their homework on the enclosure offering mitered joints all around, a beefy driver and powerful amp to make up for the smallish enclosure. My impression of this sub seems like its really well built but like BoredSysAdmin says, I wonder if they could have priced it lower and stll make good money on it.
Post Reply