Monolith Two New THX Certified Ultra Dual-Driver Subwoofers BIG Bada Boom!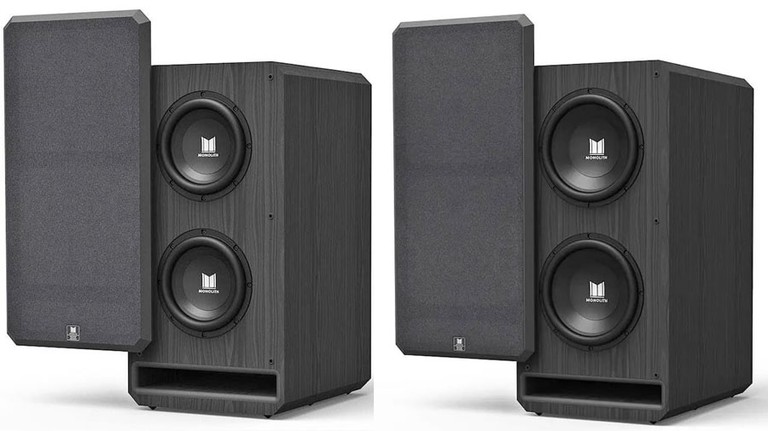 Monolith 2022 THX Ultra Subwoofers
Summary
Monolith M-210 dual 10-inch subwoofer
Output Power: 1000 watts (RMS) with DSP control
Frequency Response (‑6dB): 20Hz - 200Hz (Sealed, THX EQ); 16 - 200Hz (Vented, Extended EQ)
Dimensions (LxWxH): 23.6" x 17.7" x 36.4"
Weight: 162.0 lbs
Monolith M-212 dual 12-inch subwoofer
Output Power: 1000 watts (RMS) with DSP control
Frequency Response (‑6dB): 20Hz - 200Hz (Sealed, THX EQ); 16 - 200Hz (Vented, Extended EQ)
Dimensions (LxWxH): 36.4" x 17.7" x 23.6"
Weight: 174.2 lbs
Executive Overview
Monoprice must be a shrink-wrapped airport deli sandwich because the company has been on a sub roll for at least a few years now. Dad jokes aside, Monoprice has been churning out well-built and intelligently-engineered subwoofers at a wide range of prices under the Monolith brand, putting up serious competition for respected subwoofer makers like SVS and Hsu Research. Back in 2018, Audioholics reviewer James Larson was mightily impressed by the Monolith 10-Inch THX Select Subwoofer and 12-Inch THX Ultra Subwoofer ($500 and $800, respectively, at the time of review), which delivered "beautifully linear" frequency response, outstanding build quality, very low distortion, bulletproof operation, and exceptional value. Last year, James took the Monolith 13-Inch THX Ultra Subwoofer ($1,600) for a low-frequency spin, and admired its high-fidelity sound quality, very wide dynamic range, and serious extension below 20Hz. Alas, the Monolith 16-Inch THX Ultra Subwoofer ($2,299) was simply too big and heavy to be practical for a formal review, but we fully expect that it can deliver even more devastating bass power than the already-brutal 13-inch model. New for 2022, Monoprice has introduced a pair of dual-sub towers, the Monolith M-210 dual 10-inch subwoofer ($1,299.99) and the M-212 dual 12-inch ($1,799.99) sub.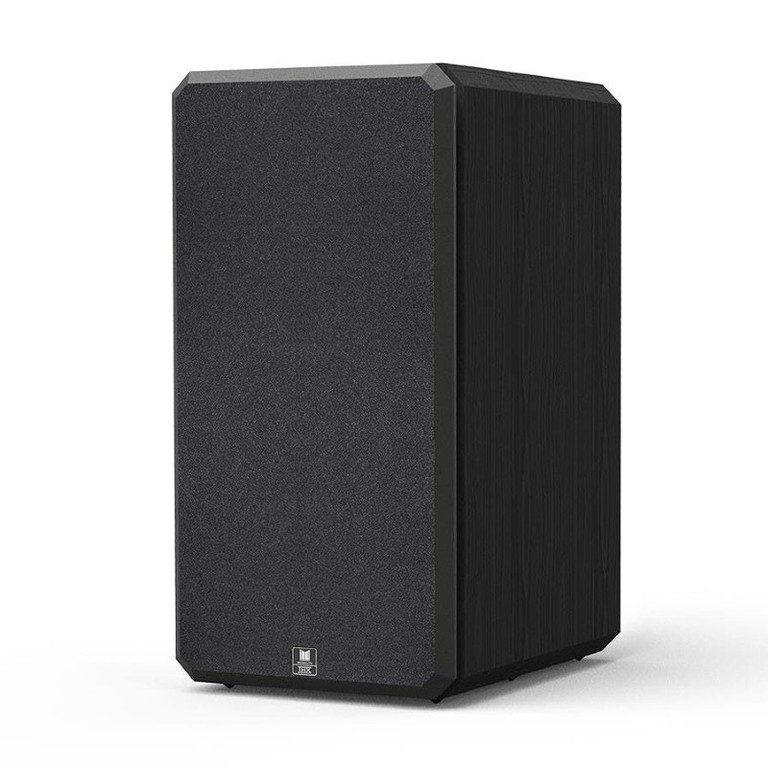 The obvious benefit of a dual-driver, tower-style design is that you get twice the cone surface area from the same size footprint as a single subwoofer. Both the M-210 and M-212 are engineered to "amplify the entertainment experience" in spaces as large as 3,000 cubic feet, according to Monoprice. Both new models have also been exhaustively tested by THX audio engineers, earning THX Certified Ultra bragging rights for their ability to reach THX Reference Levels without added distortion or artifacts.
No two rooms are the same, so when it comes to maximizing bass output, Monolith has solutions to fit everyone's needs. With the same footprint as our single woofer system, these dual sub towers pack double the woofers, double the cone surface area, and double the power, making them ideal for customers who want two subwoofers but don't have the floor space for them.
— Hobie Sechrest, Monolith Business Unit Manager, Monoprice
New Drivers
Monoprice says that the new Monolith M-210 and M-212 both offer "performance and value without comprising anywhere," with the main difference between the two being the larger model's ability to dish out higher sound pressure levels (SPLs). The beating heart of these new subs is an entirely new driver design. Both the 10-inch and 12-inch high-excursion woofers were reportedly engineered from the ground up specifically for these products, with the aim of achieving high efficiency and incredible accuracy, without losing the ability to handle massive amounts of power. Monoprice says that every part of these drivers has been customized to deliver high output and low distortion. With those goals in mind, the designers chose a unique hybrid cone material that combines long fiber pulp with fiberglass. Together, these materials are said to provide superior stiffness and rigidity along with low weight, to deliver a durable driver capable of more than 90mm of peak-to-peak excursion while maintaining "optimal motion at all frequencies it is asked to produce and beyond." Other key elements of the new drivers include the following:
Lower suspension — Monoprice's engineering team used both Finite Element Analysis (FEA) modeling and Klippel laser-based optimizations to produce drivers capable of extremely high excursion. In particular, the lower suspension was critical for the drivers to be able to maintain very low levels of distortion at excursions exceeding 90mm. This combination of high excursion and low distortion is the recipe for high SPLs at low frequencies. Monoprice says that the lower and upper suspensions were designed together with the motor structure to give the best possible results.
All new woofer surround — FEA modeling and Klippel laser-based optimization were also employed in the creation of a new, high-profile surround composed of a unique and durable formulation of nitrile butadiene rubber (NBR). According to Monoprice, the exact formula is the result of months of materials science research, including computer modeling and physical prototyping, to maximize excursion without increasing distortion or sacrificing linearity.
Spider and cone venting — The spider is composed of multiple layers of Nomex, a meta-aramid textile material developed by DuPont in the 1960s. Monoprice says that the spider has "integrated tinsel leads hand stitched in place for low mass, yet high strength and durability." The cone vents serve two distinct purposes: they help to cool the voice coil via convection, and they also reduce asymmetrical compliance caused by air compression under the cone/spider. This reduction in asymmetrical compliance prevents unwelcome distortions.
Motor structure — Monoprice tells us that the motor is made from "CNC-milled, low-carbon steel in the modified undercut 'T' pole assembly to focus the magnetic flux." The magnetic flux is further stabilized by dual aluminum shorting rings, which cancel eddy currents, significantly lowering distortion. The precision-wound, high-temp bobbin is made from aluminum, chosen for its lower thermal compression compared to copper. This helps the voice coil to remain cool during use.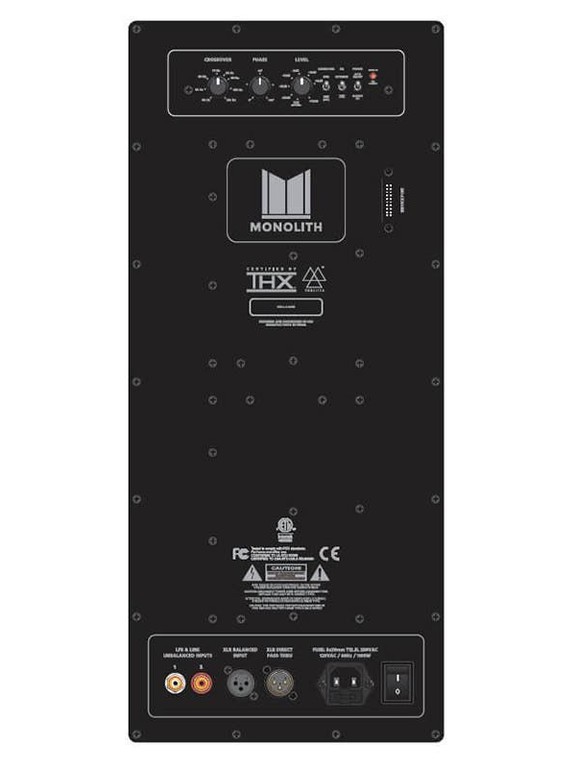 Monoprice has clearly put effort into the driver design, and these details are critical if you want to maintain control over a woofer's displacement over a wide range of input signals, but it would all be for naught without the right amplifier. Luckily, the 1,000-watt RMS (1,800-watt peak) Class-D amp used in both the M-210 and M-212 means serious business. The amp features a 48-bit Texas Instruments DSP (digital signal processor), allowing the engineering team to refine system performance and deliver in-room bass response that is flat down to a subterranean 16Hz. The DSP also provides customization for each individual woofer and cabinet air volume combination; the hardware is the same for both the M-210 and M-212, but the amp is tweaked via software to optimize both designs, allowing both models to maintain accuracy at peak output while keeping added distortion and artifacts to a minimum. According to Monoprice, the DSP engine "allows virtually unlimited design flexibility with the assurance of no signal degradation. The amplifier's transfer function, power output limiting, and thermal protection are monitored to the millisecond," resulting in "maximum headroom capability, excellent transient response, high output, and very low distortion."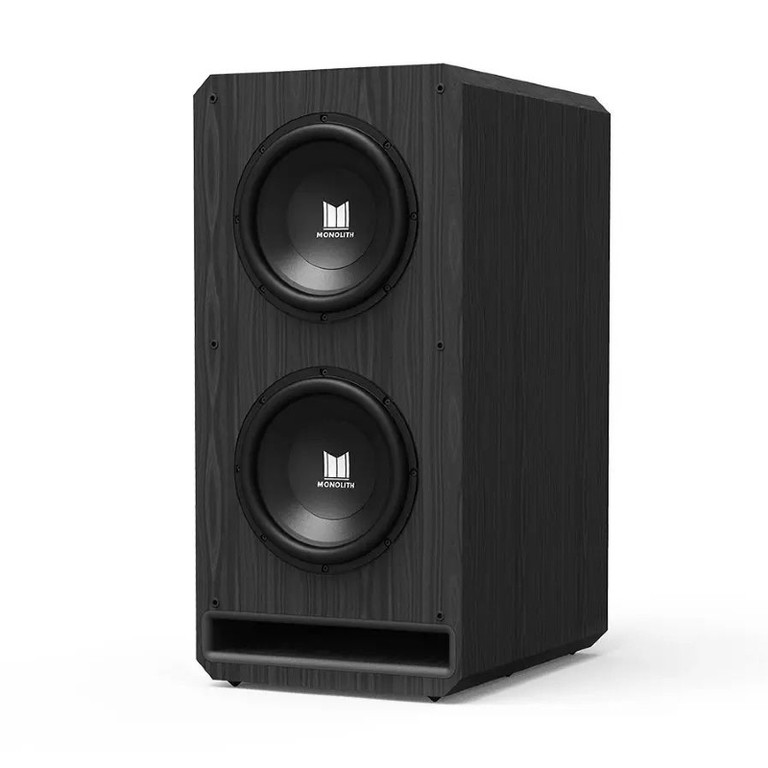 Built to Last, Warranty to Prove it!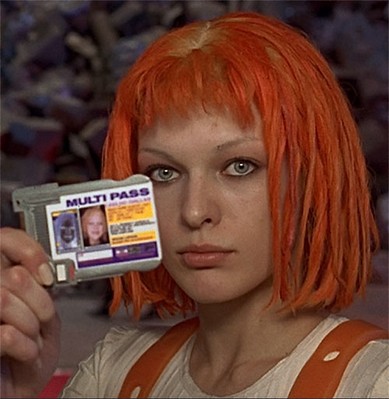 The final piece of the puzzle is the cabinet, which is built from internally reinforced and braced HDF (high-density fiberboard). According to Monoprice, the enclosure won't vibrate or add unwanted resonance, even when the subs are playing loud. A large rectangular port on the bottom of the front baffle maximizes SPLs at low frequencies, though users who prefer to run their subs in sealed mode can make use of the included foam plugs. The fabric-covered grille is designed to allow airflow around the woofers and ports, according to Monoprice. If the M-210 and M-212 are anything like the other Monolith subs that we've tested, the build quality of the cabinet should be excellent. Perhaps the only real concession to affordability is the simulated black ash finish, which is fine for a dedicated home theater, but might be less welcome in a multi-use space than the beautiful paint job you'd get on a sub from REL or Perlisten, for example. That said, the 5-year replacement warranty and 30-day no-questions-asked return policy remind us that, as with so many things, it's what's on the inside that really counts. Both the M-210 and M-212 are available now at monoprice.com.
Don't disappoint Leeloo. Get some Big Bada Boom with these new Monolith subs.

Unless otherwise indicated, this is a preview article for the featured product. A formal review may or may not follow in the future.
Confused about what AV Gear to buy or how to set it up? Join our Exclusive Audioholics E-Book Membership Program!
Recent Forum Posts:
haraldo posts on May 09, 2022 05:08
cerwinmad, post: 1556382, member: 32318
Man, my PB 2000 is enough in my 716 cubic foot room, but I really want one of these. I'm pretty sure I'd vomit at full noise, and that sounds badass . Pity I'm in New Zealand.

There's never enough…. same issue here, they don't have all these available over here in Norway
Trell posts on May 09, 2022 04:38
Hetfield, post: 1547660, member: 80792
Save your breath, this person doesn't know that they are talking about. He still thinks expensive cables make a difference. Disqualified for that alone.

TLS Guy told me to ignore him as he is more wrong than right.
cerwinmad posts on May 09, 2022 03:59
Man, my PB 2000 is enough in my 716 cubic foot room, but I really want one of these. I'm pretty sure I'd vomit at full noise, and that sounds badass . Pity I'm in New Zealand.
Hi -Fi Haven posts on May 09, 2022 02:29
Man both of those are awesome. Awesome price tags too. With their vertical design the 10 inch would be great for my smaller room.
Pogre posts on March 31, 2022 15:28
3db, post: 1549491, member: 3560
The much vaunted servo tech is to protect it from being over driven and not to control group delay. And since Rythmik keeps everything in the analog domain, there is no DSP control that can be used to lower it as Shady theorized for the Monolith.

Ah, see I learned something. I always thought the servo tech helped reduce group delay too. It's been a while since I've read up on it.
Post Reply