Monoprice Brings the BOOM with their dual 15" Monolith THX M-215 Subwoofer
Monolith M-215 THX Sub
Summary
● Model: 38543
● Woofer: 2x15" cone
● Cone Material: 2 layer long fiber pulp/glass fiber cone
● Voice Coil: 60mm with high-temperature aluminum wire and black anodized aluminum bobbin
● Surround: FEA optimized NBR (nitrile butadiene rubber)
● Motor: FEA optimized, 2 aluminum shorting rings, undercut T-pole focused field
● Magnet: Ceramic Y35, 2 pcs total 216 oz.
● Xmax: 25mm (one-way)
● Xmech: 90mm (peak-to-peak)
● Enclosure: Slot vented HDF cabinet with horizontal and vertical bracing
● Finish: Black Ash
● Amplifier: 2000Wrms
● Frequency Response: 12-200Hz (Extended)
● Harmonic Distortion: <3% 20-100Hz (94dB @ 1m)
● Variable Level Control: +15/-20dB
● Crossover: Inline/Bypass variable 40-160Hz
● Inputs: RCA (2), XLR
● Outputs: XLR
● Signal Turn On: Selectable always on/auto
● Auto Turn Off: 30 minutes
● Dimensions (H x W x D): 42.32" x 20.0" x 27.55" (1075 x 508 x 700 mm)
● Weight: TBD
Executive Overview
We recently reviewed Monoprice's newest speakers, the Monolith THX-365T Mini-Tower and THX-365C Center Speaker with rave reviews, but internet direct superstore Monoprice isn't sitting still.  On the heels of their previous THX products, Monoprice announced new speakers in this area which look to surpass their previous ones. At the 2019 CEDIA show, Monoprice unveiled THX tower speakers and an absolutely massive subwoofer. These new products are based on the existing Monolith THX designs but take them up to a whole other level of performance.
Monoprice 16CH Processor, THX Towers and Dual 15" Subwoofer @ CEDIA 2019 YouTube Video Overview
We recently did a full review on the Monoprice 15" THX Ultra Sub and found it to be a product that was designed with high performance as its first priority. Both burst testing and long-term testing reveal it to have very high output capability while maintaining extraordinarily low distortion. Its frequency response remains impressively linear regardless of output level. Its deep bass performance is especially noteworthy.
The M-215 uses a 2000watt RMS amplifier and the same 15" driver from their 15" THX Ultra sub. That is a recipe for an absolute monster of a sub- but also an extremely high-fidelity one too. The 15" THX Ultra has a ruler flat response and vanishingly low distortion. It was as high of a fidelity sub as we have ever come across, and this promises to double its performance meaning it will have half the distortion quantities for the same SPL. Monoprice let us take a peek at the CEA-2010 numbers that it has measured from the M-215 and they are astonishing. Here is what Monoprice has measured and how it compares to the 15" THX Ultra: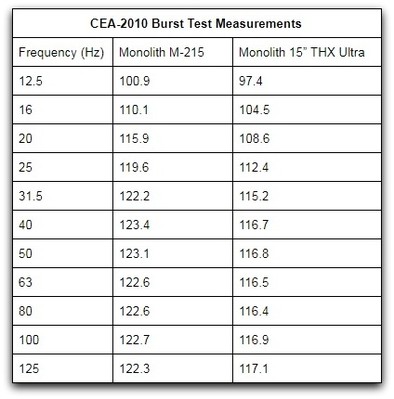 Check Your Homeowners Insurance Before Buying!

Given that a 6 dB increase in output is a doubling of amplitude, we can see that the M-215 is, on average, fully twice as powerful as the 15" THX Ultra. That is about what would be expected, given the design, but that is still some serious output given that the 15" THX Ultra was already such a monster. Our own testing of the other Monolith THX subwoofers was a pretty good match for Monoprice's own measurements, so we have every reason to take these measurements seriously. Sadly, we may not be able to review the M-215 since the sheer weight will likely make it prohibitive (at least for this subwoofer reviewer), but given the track record for the Monolith THX products thus far, we think that Monoprice has another winner on their hands. For those bassaholics who think they can handle the size and weight of this thing, not to mention the sheer output, it looks like a solid choice to satiate even the most fanatical bass head's craving. However, before pulling the trigger on the order button for one (or two or more if you are truly insane), it may be worthwhile to check if your homeowner's insurance covers structural damage from deep bass pressure waves!

Confused about what AV Gear to buy or how to set it up? Join our Exclusive Audioholics E-Book Membership Program!
Recent Forum Posts:
gene posts on October 09, 2019 02:20
Savant Smart Soundbar, Precision Audio Meets Ultimate Home-Connectivity
gene posts on October 06, 2019 22:36
_Y6zjojfJBQ
utopianemo posts on October 02, 2019 13:54
I'll have to check that end clip out at home on my dual 18" sub setup. I love how the low frequency waves cancel out all other sounds. At home, on certain very low frequency-heavy clips, those large sine waves literally cancel out my voice. I'll talk to somebody ten feet away and almost no sound I'm making reaches them.
hangin7 posts on October 01, 2019 18:55
CyberAthlete, post: 1341296, member: 56538
Doesn't sound like (pun intended) that they're any different in drivers than the ones they're replacing. Just an aesthetic over haul but that's about it.
Your joking right,aesthetic overhaul better reread dude!!!!!
VonMagnum posts on October 01, 2019 07:42
Sadly, according to the Monoprice web site, that "beast" only supports 11.1 DTS:X. With 15.1 support, it really NEEDS DTS:X Pro….

Edit: I've been told elsewhere it WILL be getting DTS:X Pro early next year. That would improve things quite a lot.
Post Reply