Monoprice Monolith 13" THX Ultra Subwoofer Review
Monoprice Monolith 13" THX Ultra Subwoofer Review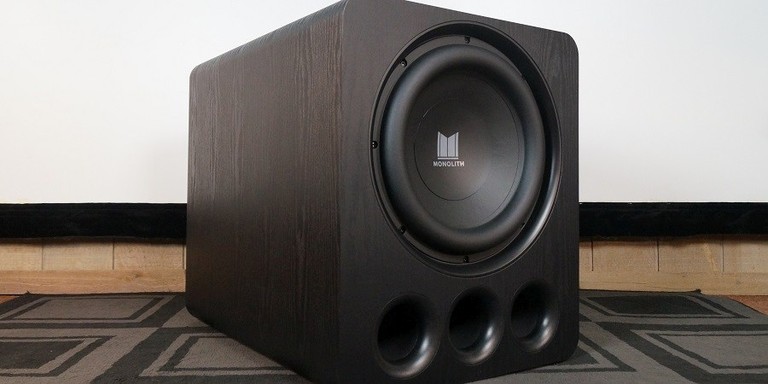 Monoprice Monolith 13" THX Ultra Subwoofer
1,800 RMS amplifier w/ DSP control
Front-firing 13" 2-layer long-fiber pulp/glass fiber cone
Surround: FEA optimized NBR (nitrile butadiene rubber)
Voice coil: 100mm, High-Temp Alum wire, black anodized aluminum bobbin
Motor: FEA optimized, 2 aluminum shorting rings, undercut T-pole focused field
Magnet: Ceramic Y35, 2pcs total 300oz
Xmax: 28mm (one-way)
Xmech: 90mm (p-p)
Enclosure: HDF Cabinet, horizontal and vertical bracing
Finish: black ash PVC
Freq. response (-6dB): THX EQ: 20-200Hz
Freq. response (-6dB): Ext. EQ: 16-160Hz
Inputs: RCA stereo input/output, XLR
Dimensions (HxWxD): 23.8" x 20.27" x 29.14"
Weight (net, gross): 69.5kg (153.2lbs.), 79.5kg (175.2lbs).
Pros
High-fidelity sound quality
Very wide dynamic range
Serious extension below 20Hz
Heavy-duty build quality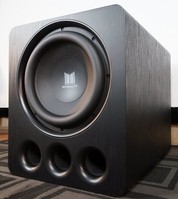 Monoprice's foray into the subwoofer market has seen some real expansion. The success of their Monolith THX series prompted the release of a monster dual 15" that blew our socks off when we experienced it at the 2019 CEDIA, but they are not stopping there. Monoprice has just launched two new beasts in this segment, a large 13" THX Certified Ultra subwoofer and an enormous 16" ported subwoofer, both powered by 1,800 watt RMS amplifiers. These new subwoofers are a step up from their existing line, as is evidenced by their more powerful amps, but it's also seeing upgrades in a more refined aesthetic and even higher build quality. They also have even beefier drivers than the 15" THX Ultra, a feat that beggars belief given how massive that 15" driver is. These higher-end Monolith subs are priced at $1600 for the 13" and $2000 for the 16". In for review today is the 13" sub from this product line.
While the regular Monolith THX subs offered a terrific performance, they were a bit brutish in their appearance and size. While the 13" isn't substantially smaller than the 15" THX Ultra, it does have a more refined styling, so it should be more passable as an addition to the living room or family room. The raison d'etre of these new Monolith subs seems to be to expand the Monolith brand into a higher segment of the market while keeping to their value-minded ethos. In other words, they want a piece of the pie for the 1.6k to 2k price range but they want to give those shoppers more than just a prettier enclosure and a couple of new bells and whistles around their existing designs. They want to push the performance envelope without resorting to making a refrigerator-sized sub that very few people could accommodate like the dual 15" M-215 behemoth. The question before us in this review is have they done that? Let's dig in to find out... 
Monoprice Monolith 13" THX Subwoofer YouTube Discussion

Packing and Appearance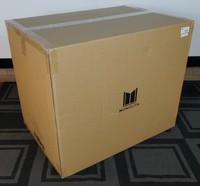 The Monolith 13" arrived at my house in an enormous box which promised a monster subwoofer inside. The box edges were reinforced with edge protectors, and the sub was sandwiched between two large, stiff foam caps. The sub was covered in a large drawstring cotton sack to help protect the sub against scuffs and scratches as well as moisture. The packing is good and is in line with other subs we have seen in this category. Packages like this are pretty brutal for parcel delivery drivers, and Monoprice ought to consider just sending them on pallets since many parcel delivery services don't seem to value the well-being of their drivers (in my experience).
Once out of the packing, we see a large black sub with a black oak veneer similar to what the other Monolith subs have had. Unlike the other Monolith subs, the Monolith 13" has rounded corners, and that goes a long way towards giving it a bit more dignified style than the others, which looked a bit more 'raw.' What is more is that the driver is sunk into the front baffle so that the surround is flush with the front edge, also giving the 13" a more upscale appearance than its lower-end siblings. On top of that, the grille uses magnetic adhesion, so there are no grille guides pocketing the front baffle. The grilles themselves have rounded edges as well, so they look a bit more cordial than the other Monolith subs. While it is essentially a big black box much like the other Monolith subs, this one is definitely more polished looking and may get a passing aesthetic grade from other household members whereas the others wouldn't.
With the grille on, it is pretty innocuous, aside from its sheer size; not beautiful but not offensive, just plain. Without the grille, the Monolith 13" is a much more interesting-looking object. The most notable visual feature is the beefy-looking driver; the surround is huge. Monoprice specifies this as a 13" cone, but it looks much larger. An inverted dustcap bears the Monolith logo. Under the cone are three flared ports, which ensure some real firepower. This sub looks like it means business. It has the feeling of a race car at rest; it is just begging for a real track to chew on. 
Design Analysis
The Monolith 13" is, as its name implies, a subwoofer using a 13" driver. But this isn't just any 13" driver; this is an absolute monster of a 13". The motor is huge and comprises the bulk of the 49 lbs. weight of the driver. It features a triple stack of magnets that total 2 1/2" height and an 8 1/2" diameter. It has a heavily bumped-out backplate for high excursions, and venting occurs under the spider. It uses a very large diameter voice coil with the former having a 4" diameter, and it's going to need that space to handle the 1,800 watts that the amplifier can put out. It uses dual voice coils and so has binding posts on both sides of the frame. Such a large voice coil is sure to be a source of problematic inductance, so to fight against that, Monoprice has installed two aluminum shorting rings which should go a long way to eliminating inductance and all the problems it brings. The cast aluminum basket for the driver is very large; it measures 15" from frame edge to frame edge, and most other subwoofer manufacturers would simply call this a 15" driver, but the moving surface area is that of a 13". The driver uses the basket of a 15" so that there is room for the spider and surround which the wide diameter of the basket supplies. This larger space is needed because it is more difficult to have the right suspension compliance for high excursions in smaller baskets since smaller suspension areas normally entail tighter compliance and therefore shorter throws. This is doubly true for this driver because the large diameter of the voice coil former takes up so much space. The surround is also quite sizable with a 1" height and 1 ¾" width; that should enable the moving assembly a very long throw before high tension restricts motion. The underside of the surround has a radial grooved structure that could possibly assist in keeping surround deformation more uniform at high excursions, thus reducing distortion.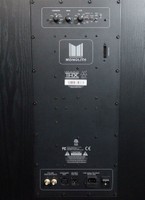 Such a beast of a driver will need a serious amplifier to take full advantage of its capabilities, and Monoprice has provided one with a 1,800 watt RMS class-D design. It is made up of four 500-watt modules, and it presumably uses them in a way that maximizes the performance of the dual voice coil design. The amp features the usual spread of controls but also includes a variable phase knob instead of a phase switch and a THX mode selector. Connectivity is a pair of RCA inputs and an XLR input and XLR pass-through. The THX Selector switch allows switching from THX performance to an extended mode. The THX mode assures a very clean and tightly controlled response but rolls off deep bass extension at a higher frequency in order to preserve extremely low levels of distortion. The 'Extended' mode grants the user deeper bass but at the cost of higher distortion.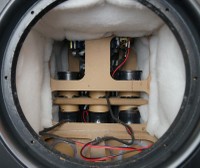 As with the other Monolith subs, the enclosure is made from high-density fiberboard instead of the traditional medium-density fiberboard. High-density fiberboard is, of course, heavier than MDF and composes the majority of the Monolith 13"s 150 lbs. weight. It has four pieces of internal bracing, and two of these braces also serve to hold the ports solidly in place. With a 22" depth and then a right turn for a 14" height, they are large ports and could use the additional support. The ports have an approximate 3 ¼" diameter and are flared on both ends. There is a polyfill-type stuffing lining the interior side panels, and the internal corners are lined with some corner braces to help strengthen the edges. The feet are the same type used on the other Monolith subs that I have complained about in the past; they are hard rubbery cones that do not give the cabinet much clearance from the floor. I wish Monoprice would use feet that give a bit more clearance. There are six feet with a pair in the middle of the cabinet to give the whole of the enclosure more support, which is not a bad idea given its weight. One interesting build feature is that part of the amplifier is mounted on the top of the cabinet. I would guess this is done so that all four amp modules aren't right next to each other, making for better thermal management. Either that, or it was simply easier to assemble two boards with the amp modules mounted on them rather than placing them all on one board.
Port plugs are included for the option to take full advantage of the deeper extension of 'Extended' mode or to run the subwoofer in a sealed mode. If the user wants big output below 20Hz, they can seal one of the ports and set the operating mode to 'Extended,' or, if the user wants to shut down port output entirely, they can seal all the ports and substantially reduce all output below 40Hz. I don't see the point in buying a large sub and then using it in a sealed mode. The point in making a sub as large as the Monolith 13" is in large part to get that deep bass extension. Maybe if the user's room is small and they are getting too much room gain to sound good, then sealing the ports is a way to deal with that, but even then equalization is a better option since it doesn't eliminate deep bass headroom.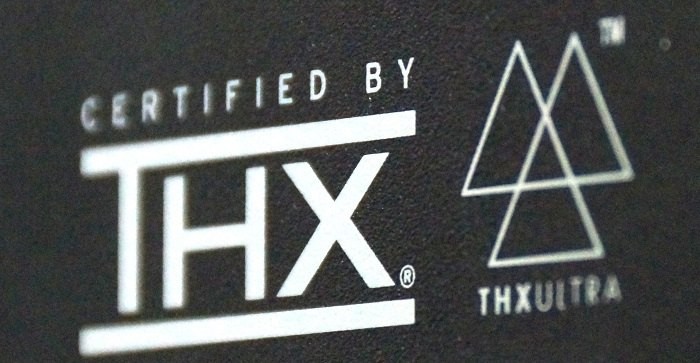 As was mentioned before, setting the operating mode to THX does ensure very controlled output at the expense of some extension. The Monolith 13" does boast a THX Certified Ultra rating meaning that it is able to hit THX Reference level SPL of 115dB peaks with low distortion in a 3,000 cubic foot room and a ten to twelve-foot distance from the subwoofer. That signifies that it is a very capable subwoofer, of course, but, on the surface, this one seems much more capable than other THX Certified Ultra subwoofers I have reviewed, such as the Monolith 12" THX Ultra. So having an Ultra certification looks to actually be underselling the Monolith 13". I have to wonder how close it gets to Dominus certification, meaning that it can achieve THX Reference Level performance in a 6,500 cubic foot room with a twenty-foot listening distance from the subwoofer. After all, compared to the Monolith 12", the Monolith 13" has a much beefier driver, four times the amplification power, and a significantly larger enclosure with more port area.
Altogether these design cues add up to a sub that takes the Monolith 15" THX Ultra sub to the next level, and I would expect higher performance. The Monolith 15" THX was already a very high performer, so this sub has a high bar to hurdle that was set by preceding Monolith subwoofers. Let's give it a listen to see how it sounds…
Listening Sessions
The best placement for a single sub in my room gives me a relatively flat response for an un-EQ'd single subwoofer, with a window of +/- 4 dB from 25 Hz to 100 Hz with no broad dips in important ranges. This location trades low-end room gain for a relatively flat response, a worthwhile trade for my tastes. The receiver used was a Pioneer Elite SC-55 and the crossover was used mostly at 80 Hz. As always, I will note here that since room acoustics have a huge effect on low frequencies, the way this subwoofer sound in my room at my listening position is not necessarily going to be the way they sound anywhere else for anyone else, so readers would do well to keep that in mind, and not just for this subwoofer in this review but for any subwoofer in any review.
Music Listening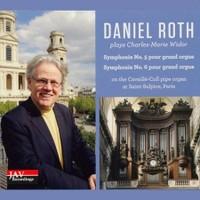 As always, I turn to the pipe organ for musical content that can take advantage of subwoofer range frequencies since it is one of the few acoustic instruments that have powerful deep bass. The album I used was titled 'Daniel Roth Plays Widor Symphonies No.5 & No.6 on the Cavaille-Coll Pipe Organ at Saint-Sulpice,' which I streamed from Qobuz. Such a descriptive title leaves little needed to explain the contents of the recording. Daniel Roth is the organist at Saint-Sulpice in Paris which was also the position held by Charles-Marie Widor for nearly 64 years and whose compositions are the subject of this recording. Some organ compositions and recordings use the low-frequency capabilities of this instrument much more than others, but this album is not shy in the bass department on the whole. The lower pitches are not used sparingly. The Saint-Sulpice organ is special in that it is driven entirely by mechanical and pneumatic means with no electrical systems aiding its function and is largely in the same working condition as when it was created in 1862. So the pieces of music in this album should sound very similar to what the composer Widor had in mind when he first conceived this music back in 1879.  
The Monolith 13" was able to recreate the whole-body experience...
Relative to other classical music recordings, this one seems quieter, and to set it at loudness levels that I am used to, I had to move the volume dial up a bit. When the larger pipes started to hit their stride, I understood the reason for the lower average loudness level of the recording, a reason that the Monolith 13" made abundantly clear: a wide dynamic range. This is especially important for bass frequencies since they can eat up the dynamic range of a recording very quickly. This album attempts to preserve a realistic dynamic range for such a massive organ, and that means lots of headroom for low frequencies. The Monolith 13" was able to recreate the whole-body experience that can often be felt with live pipe organ performances. I could feel the lower notes vibrating my sofa. But the Monolith 13" was just as adept at reproducing softer bass notes as it was at the bombastic passages, so the full breadth of bass in this music was realized. Complex timbres were not lost by the Monolith 13", such as on track 6, the allegro, which cycles through a range of low-frequencies, many simultaneously, yet the subtle changes were apparent. I would bet that these nuances would be lost on a less-linear subwoofer. Music like this needs a sound system that has deep extension, wide dynamic range, and linearity in the frequency response, and the Monolith 13" delivers in all three of these categories. Organ music lovers would surely love what this sub can do.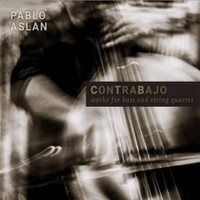 Another instrument that regularly dips into subwoofer-band frequencies is the double bass, and that is very evident in the 2018 album 'Contrabajo, Works for Bass and String Quartet' by Pablo Aslan. As a consequence of physics, it takes a big instrument to produce low frequencies, and the double bass certainly qualifies in that regard. 'Contrabajo' covers original compositions as well as covers of existing works with the double bass as the lead instrument in a string quartet, and it also features a clarinet and bandoneon. It has a traditional classical feel overall, not surprising since Aslan is a player in two orchestras, but it does dip into jazz and tango music. Those who are interested in instrumental arrangements where the double bass is at the forefront ought to check this album out. 
The album opens with a plucked slide that is sure to wake up any subwoofer, and the Monolith 13" gave it the kind of oomph that really reminded me of just how substantial of an instrument the double bass is. Aslan employs all techniques in playing the double bass, bowed playing, plucking, sliding, slapping, and striking, and the Monolith 13" gave a solid foundation to all of it. This is the kind of album that will let you know how well your subwoofer is integrated with the speakers right away since the plucks and strikes have such a sharp attack combined with how much of the harmonic spectrum of the double bass lay above subwoofer band frequencies; a laggy subwoofer will put the fundamental notably behind the harmonics. Good calibration with a high-performance subwoofer will yield a natural sound, and that is what I was able to accomplish with the help of the Monolith 13". There was no discernable overhang in its tracking of the mutes and attacks. It matched the speakers precisely in following the transient aspect of the recording. The power and drama of the double bass was on full display thanks in part to the Monolith 13". To be honest, it's probably a bit overkill for an album like this, but if you are after an unquestionably high-fidelity subwoofer, 'Contrabajo' serves as a great testimony to the Monolith 13"s ability in this regard.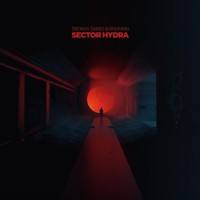 I usually use a dark ambient album for subwoofer reviews since they can sometimes plumb very deeply into low frequencies as well as use many different types of bass sounds. For this outing, I selected an album titled 'Sector Hydra' by an artist called Dronny Darko on the Cryochamber label. While the artist name is a humorous riff on the cult classic film, the music is deadly serious and sounds like a soundtrack to a cosmic horror/science fiction movie. There is a myriad of deep bass sounds for subwoofers to chew on in here including colossal drones, subterranean rumblings, distant thunder, and the shudders of some giant machine. Sometimes the low-frequency sounds are very prominent and other times they are subtle and recessed, but they are always present to some degree.
While I had heard this album before, listening to it again on the Monolith 13" revealed depths that I had previously missed. My first listen was done using sealed subwoofers, and they just didn't quite catch the deepest bass that I was hearing from the Monolith 13". This sub provided a foundation for a very evocative soundscape. Some of the sounds that it could produce were surprising to hear come from any sound system, and a part of that is that I am not used to music that uses bass in such a pictorial manner. It's the kind of low-frequency sound that you would expect to hear at a major airport with jet planes taking off or heavy machinery digging up the earth at a construction site. Music doesn't normally use that kind of near-infrasonic sound, but this album does, and the Monolith 13" was able to render it to a scary degree of realism. I would imagine that most listeners of this album would be using headphones, but I can't imagine any headphones having bass as deep or palpable as what this sub can produce. Fans of this kind of music should try listening to it on a sound system with a subwoofer as capable as the Monolith 13".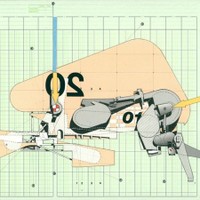 For something much more flagrant in its use of bass, I picked a brand new release from Fearful entitled 'Exordium,' a deep-digging electronic music album with a heavy dubstep inflection from the Yuku label. This kind of album is great for pushing a subwoofer hard and finding its limits. The bass here is huge and would be taxing on almost any sub if played at a loud enough level. On paper, the Monolith 13" would seem to have the chops to handle an album like this at a high level with no problem, but theory doesn't always translate to practice, so I set out to see how hard the Monolith 13" can rock in practical terms.
I cranked the volume, and let the album rip (courtesy of Qobuz). 'Exordium' is pure subwoofer candy, and the Monolith 13" ate it up like an unsupervised kid on Halloween. The bass it could produce was as much a physical sensation as it was an aural sensation. Every kick drum hit was like a punch in the chest. My sofa felt like it had a transducer attached to it and vibrated along with the bass lines. The Monolith 13"s rendition of the track 'Void' made my listening room feel like a pressure chamber, much like that feeling of being in a jet plane that is descending for a landing. It didn't just sound heavy, it felt heavy. For all of the physical abuse the Monolith 13" could dish out, it didn't exhibit any signs of strain or stress. The bass was clean no matter how deep it could dig in some of these tracks. I should make special mention of the track 'Obliteration' for some of the most richly textured bass that I have heard in electronic music; hearing/feeling it at a loud level from such a potent sound system was truly an experience to behold. While it wasn't a surprise that such a beast of a subwoofer could shine with an album like 'Exordium,' it was still a delight to hear it in action, and anyone who digs bass-heavy electronic music will undoubtedly love what the Monolith 13" can do.
Movie Watching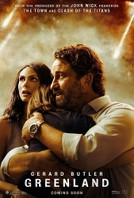 A movie that looked like it would be a total bass fest is the new release 'Greenland,' a 2020 disaster film that depicts a scenario that was almost as disastrous as 2020 actually was. In this light-hearted escapist fare, a man played by Gerard Butler has to save his family from the cataclysmic fallout of a giant asteroid that strikes Earth by evacuating them to Greenland. This is a big-budget Hollywood release so it should have plenty of large-scale effects scenes of bass-heavy destruction. This is the type of content that a deeply-tuned ported sub was made for, so it should be right up the Monolith 13"s alley. So how does it really do?
While Greenland didn't have the extended scenes of destruction that are found in many other disaster movies, it does feature some pretty violent explosions of comet debris striking Earth followed by shockwaves, and the Monolith 13" definitely packed a wallop when they occurred. Such powerful low-frequency effects gave the movie a much more visceral realism and made the impact scenes far more hair-raising for that reason. What helped the immersiveness is that 'Greenland' tried to keep to the perspective of a 'man on the ground' view instead of all kinds of Hollywood money shots of grand destruction, so the bass was a bit more restrained than ordinary, but when it hit, it had more impact than in films that are a constant barrage of effects scenes. One notable scene was a rain of flaming boulders that fell like a mortar bombardment; the Monolith 13" delivered a tactile punch for every ground strike that was quite effective in conveying the danger of the situation and gave it a realism that perhaps compensated for the scientific dubiousness of the scenario. The physical sensation of bass that it could induce was far more engrossing for a movie like this than any amount of surround speakers. The lesson here is if you really want immersive audio, do not shortchange your system's bass ability, and the Monolith 13" is positively not a shortchange of bass ability.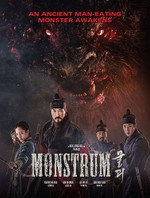 Another movie that I watched with the Monolith 13" was the 2018 Korean monster period movie 'Monstrum' which combines martial arts and big monster mayhem. 'Monstrum' is set in 1527, in a particularly dark time in Korean history since it is in the middle of a plague as well as an insurgency against the monarchy. In the middle of all of this, a large monster starts to terrorize villagers, so the prime minister sends a team of warriors to destroy the monster. 'Monstrum' is a well-produced movie with a healthy budget and good creature effects, and any modern movie centering on a large monster should be a good exercise for subwoofers.
While it wasn't a wall-to-wall bass-fest, 'Monstrum' had plenty of LFE fun once the monster started to make appearances. The creature was about the size of a tow truck, and the sound mix, reinforced by the Monolith 13", made a very convincing case for the weight of the creature. The monster's footsteps and its bounding off of various surfaces all had a tangible thud, and its roars filled the room with low-frequency pressure. Indeed, I could feel its guttural growl rumble my digestive tract which provoked a primal gut feeling that I was no longer at the top of the food chain. This fearsome monster was a unique creation that I hadn't seen anything like before, even having spent a large chunk of my youth surveying monster movies, and its sonic actualization was given a powerful bedrock by the Monolith 13". Along with the monster sound effects, the subwoofer was also given a lot of work to do by the percussion-heavy music score which prominently featured giant Daego drums which are like western orchestral bass drums except much larger and therefore lower-pitched in frequency. These epic drums gave a chest-pounding pummeling and made a good match for the monster of the movie's name. A powerful subwoofer is a necessary component for the complete giant monster movie experience, and my experience showed the Monolith 13" serves this role well.

Confused about what AV Gear to buy or how to set it up? Join our Exclusive Audioholics E-Book Membership Program!
Recent Forum Posts:
Danzilla31 posts on September 18, 2021 16:07
Kleinst, post: 1505233, member: 91045
They might be coming out with new towers too which I really want to consider if they look good and depending on dimensions.
It is a good question in the 16 vs the M-215 ( I have the M-215 and like it)

Monolith is coming out with new towers? Oh wow that's cool where did you hear that info?
haraldo posts on September 18, 2021 15:19
Kleinst, post: 1505233, member: 91045
They might be coming out with new towers too which I really want to consider if they look good and depending on dimensions.
It is a good question in the 16 vs the M-215 ( I have the M-215 and like it)

Would be really cool to hear what you get out of the M-215, do you have one single or a stereo pair? … man, those subs look unreal cool
I am thinking myself now to upscale to a stereo pair of dual 15" subs …need more cone area … or ideally quad 15" stereo pair
(I officially disagree with myself now, ref previous posts)
Kleinst posts on September 18, 2021 14:54
They might be coming out with new towers too which I really want to consider if they look good and depending on dimensions.
It is a good question in the 16 vs the M-215 ( I have the M-215 and like it)
Danzilla31 posts on September 18, 2021 12:17
Thread bump the new monoprice 16 ultra that's shipping middle of next month has on there site an option now for the matte black finish. That finish looks niiiiicccce Youthman had one on his review on YouTube of the 13.

The price is like 300 more just 200 under there M-215 monoprice must be pretty confident in the 16 to price it that close to the 215 for that special finish

Man Shady really getting squirrelly on the data for that 16 you got!
haraldo posts on August 28, 2021 16:14
Post Reply