Sigberg Audio 10D Subwoofer Review: Best Performing Small Sub?
Sigberg Audio 10D Subwoofer Review: Best Performing Small Sub?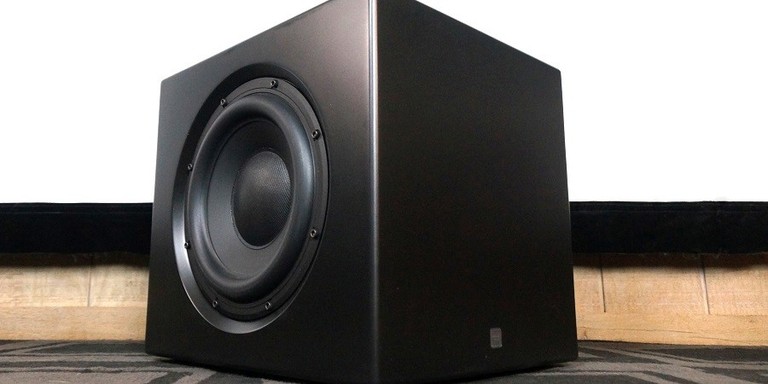 Sigberg Audio 10D Subwoofer
Frequency Response: 23-250hz +/-3dB (ground plane)
Drivers: 2x10" aluminum cone drivers
Design: Sealed Cabinet
Amplifier: 500W Hypex nCore, DSP enabled amplifier
Equalizer / Room correction: Manual EQ, 9-band parametric
Max SPL @ avg 30-80hz/1m: ~117dB
Finish options: Satin White, Satin Black
Weight: 27kg (59.5 lbs)
Size (HxWxD): 14.5"x14.1"x16.1"
Inputs: Analog: RCA, XLR balanced (in/through)
Pros
Small size makes placement easy and raises spouse acceptance factor
Excellent performance for a small subwoofer
Attractive appearance
9-band parametric EQ
Top-notch build quality
For our recent review of Sigberg Audio's SBS.1 active speakers, Sigberg sent us their 10D subwoofer to complement the speakers since they needed a subwoofer to play full range, and the 10D is made to be easy to set up with the SBS.1 speakers. However, the 10D subwoofer is made to be more than just an accessory to the SBS.1 speakers. It has the design, functionality, and performance of a very serious audio product, and it warrants a close look in its own right. That is why we are going to take an in-depth look at it in today's review. It is a smaller, pricey subwoofer, and there isn't anything else on the market quite like it. Like the SBS.1 speakers, Sigberg made an audio product with a reasonable size that was uncompromised in every other regard. It uses high-end components in a high-end design and is built in Norway, and it looks (and costs) the part. The question that we have to ask now is how good can a small subwoofer get when it's chocked full of the highest performing components currently available? And is it worth the $3.7k asking price (pricing is currently pinned on the Norwegian Krone, so dollar and Euro pricing may fluctuate a bit)? Let's dig in to find out…
Packing and Appearance
The 10D arrived in a heavy-duty cardboard box with some dense polyurethane foam packing. That should be adequate to protect it for routine shipping practices, but I think it could benefit from double boxing and another layer of foam in case shipping transit gets rough. Once unpacked, the 10D is revealed to be an understated yet attractive subwoofer. All the edges are rounded, and it has a fine satin black finish. Apart from the side-mounted drivers, the only detailed feature is the Sigberg emblem on the lower front of the unit. Its minimalism gives it an air of seriousness, but the rounded edges soften that a bit. That minimalism could have been emphasized a bit more if the drivers had trim rings around the frame, and if the cones had used inverted dustcaps, but those who want minimalist as possible will probably just use the grilles which hide the drivers altogether. They use magnetic grille guides so the side panels are that much cleaner looking. The feet are spherical and aren't really visible when the sub is resting on them. There isn't a whole lot more to say about the appearance of something with such a simple industrial design. It is classy-looking without being flashy or ostentatious. 
Design Analysis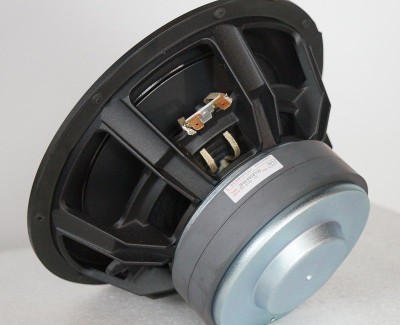 The basic design of the Sigberg Audio 10D Subwoofer is a sealed sub with two dual-opposed mounted drivers and is powered by a 500-watt RMS Class-D amplifier. There is, of course, much more to it than that, so let's dig into some of the details, and let's start with the driver. Sigberg uses a Scan-Speak driver from the Discovery line, which is a known quantity among speaker designers for its wide bandwidth and linearity. It's a driver befitting of a high-end subwoofer. It has 1" of linear travel, peak-to-peak, and over 2" of total peak-to-peak excursion, which is quite a bit for a 10" woofer. Two 10" woofers have about the same surface area as a 14" cone, so this subwoofer could be considered the equal of a sealed 14", everything else being equal. However, everything else is not equal, since few 14" drivers would have anything like the combined motor properties of these two 10's. One nice thing about splitting the displacement of a subwoofer among multiple drivers is that sensitivity can be retained and inductance can be lowered since there isn't a whole lot of coil stuffed into a single motor. That means the moving assembly weighs less, thereby increasing sensitivity, and not as much moving copper in the gap will produce less inductance, thereby flattening the response as well as reducing even-order distortion.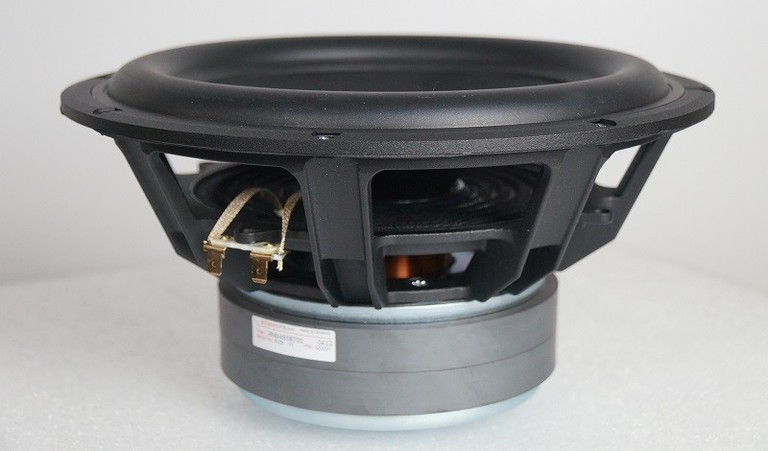 The cone itself is made from aluminum and has a large glass fiber dustcap. Aluminum is a bit heavier than some alternative cone materials that could have been used, but it does have the added benefit of serving as a good heatsink. It attaches to the basket via a thin and light NBR half-roll surround that should provide a lot of travel before any serious tension sets in. The basket itself is a heavy-duty cast-aluminum piece that definitely will not flex in the slightest against anything the moving assembly could do. The motor uses a stack of two magnets for a combined thickness of 1 ⅜" with a 5 ¾" diameter, although those figures aren't all that meaningful without knowing the magnetic flux they produce in the gap. I would guess they would provide a great deal of force, since this driver doesn't appear to be using a huge coil to drive the moving assembly and would therefore be relying more on the magnets to provide force. Again, this is another good strategy to reduce inductance. The motor uses a 2" diameter voice coil around a titanium former. The heat conductivity of titanium isn't very good, but it is light and is only weakly magnetic so it won't interfere with the magnetic field of the motor very much. Venting of the motor is done in the basket under the spider. The backplate is slightly bumped out to allow for greater excursion without hard bottoming of the former.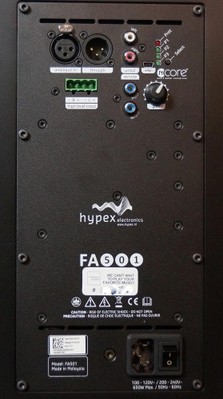 To power the drivers, Sigberg has chosen Hypex's FA501 amplifier, again using the acclaimed nCore modules much like Sigberg's other offerings. This state-of-the-art Class-D amp provides 500W RMS of power with extremely low distortion and noise with linearity metrics that are much better than subwoofers could probably ever benefit from. The drivers are wired in a parallel circuit with the amp, and that might seem like a heavy load with two 4-ohm drivers, but the amp has been verified to be stable with the 10D's electrical load. The drivers are given as much power as they can handle, and the limiters set by Sigberg ensure that they won't beat themselves to death from over-excursion or melt from thermal overdriving as well.
The amp has a balanced XLR input and throughput, as well as left and right RCA inputs. There are also high-level inputs for those who want to connect it to a system via speaker wire. The amp also has a USB input with which its DSP functions can be accessed from a Windows PC, and Sigberg provides the USB Mini-B cable with which to connect the sub to the PC. There are three preset configurations that can be accessed from the amp controls: Preset 1 removes the low-pass filter so the sub can be used with external bass management. Preset 2 sets the sub up to be used with the Sigberg Audio SBS.1 speakers by lowpass filtering the subwoofer at 100Hz. Preset 3 lowpass filters the sub at 40Hz and is intended to simply shore up the lowest octave in systems that have no bass management. Included in the software is a 9-band parametric EQ, so the inevitable deformation that in-room acoustics does to the response can compensated for to a pretty fine degree. Of course, it is always good practice to address peaks with equalization and dips with placement, and, if it can be accommodated, a multi-sub system. Other aspects of the sub that can be adjusted are individual input gain, input level for wake-up, time to enter standby after no signal detection, LED brightness, among others.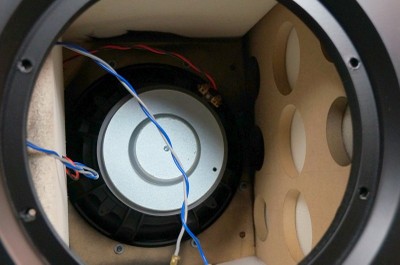 The MDF enclosure is a fairly beefy one with the drivers being mounted on panels that are approximately 1 ¼" thick. Running parallel to the drivers are two full-length braces with large holes. There is a soft, rubbery foam lining the side walls for damping. The feet, as previously mentioned, are rubber half-spheres that give the sub a reasonable level of clearance. They aren't hard rubber so they won't scratch any hard flooring, and they are probably well-damped enough to absorb what little cabinet vibration might occur. With a dual-opposed driver orientation, the moving force that each driver imparts on the enclosure is canceled out by the opposite driver, and this prevents the drivers from transferring any rocking motion on the cabinet. That, combined with the heavy internal bracing, means that the 10D cabinet should be solid as a rock at every drive level. This level of build quality should be expected at this price point, and Sigberg delivers it. It can be felt in the 60 lbs. weight, a considerable amount of heft for such a small sub. 
Looking at the overall design, as with the SBS.1 speakers, the 10D sub uses some of the very best components available, which is quite impressive. That is reflected in its price. Its design suggests a vehicle that is trying to produce an exceptionally high-fidelity sound from a modestly sized subwoofer. The ingredients are all present to do that, but how does it sound in practice? Let's do some actual listening to see what all this technology and design amounts to…
Listening Sessions
The best placement for a single sub in my room gives me a relatively flat response for an un-EQ'd single subwoofer, with a window of +/- 4 dB from 25 Hz to 100 Hz with no broad dips in important ranges. This location trades low-end room gain for a relatively flat response, a worthwhile trade for my tastes. The receiver used was a Marantz AV7705 and the crossover was used mostly at 80 Hz with a pair of the SIgberg Audio SBS.1 speakers. As always, I will note here that since room acoustics have a huge effect on low frequencies, the way these subwoofers sound in my room at my listening position is not necessarily going to be the way they sound anywhere else for anyone else, so readers would do well to keep that in mind, and not just for this subwoofer in this review but for any subwoofer in any review.
Music Listening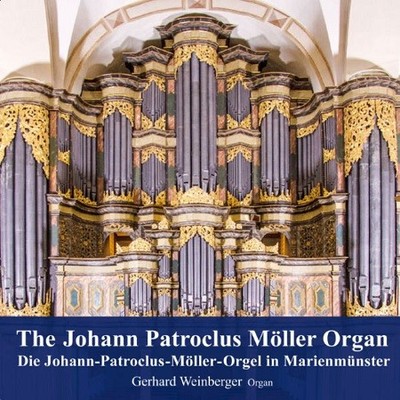 No acoustic instrument can do deep bass like the pipe organ, so I always try at least one pipe organ recording for every subwoofer review. For the Sigberg Audio 10D, I found a terrific 2012 release titled "The Johan Patroclus Moller Organ" that was made to celebrate the restoration of the title-referenced organ in the former Benedectine Abbey in Marienmunster, Germany. This organ was built in 1738 and survives with most of its original components intact. It was restored as closely as possible to its historical condition. Music lovers of the 18th century certainly enjoyed their bass, as can be heard in this album, and the music is a selection of compositions that would have been played on this organ when it was new by composers Johann Sebastien Bach, Carl Philipp Emanuel Bach, and Heinrich Gerber. The recording quality is very good and captures the sound character of the organ quite well, so it is up to the quality of the sound system to reproduce the performances here for the listener to hear what the organ is like.
The Sigberg 10D subwoofer's pitch and definition are flawless.

This album is not a deep bass extravaganza like some other pipe organ albums, but it does hit the lower notes enough to keep the sub busy. A shoddy sub might be too busy and smear the notes together, but thankfully that was not the case with the 10D; its pitch definition was flawless. Many pipe organs require a light touch as well as some muscle when needed, and a competent sub has to scale the range between those two poles. The 10D could effect a hint of bass in some of the undertones, and when the big pipes opened up, it was more than up to the task for that barrage. One thing I could hear in this recording through the 10D was a very light background rumble that apparently did not get filtered out in the mixing stage. It's possible that it was left deliberately in order to fully recreate the environment of the performance. Another subtlety that I could hear through the 10D was the light decay of the lower notes from the acoustics of the Marienmunster church. Of course, most of the acoustic cues are delivered by the speakers, but the sub has to maintain a presence without being overbearing in order to properly realize the acoustic properties of the performance space. The 10D accomplished this, and pipe organ enthusiasts who need a smaller sub are going to love what this thing can do. 
Another acoustic instrument that can take advantage of subwoofer range frequencies is the double bass. An album that really shows off the deep bass ability of this instrument is "Crescent" by bassist Tony Overwater and pianist Atzko Kohashi. This recent release that I streamed from Qobuz is a jazz album that keeps the energy high even with only two players. Kohashi and Overwater play off each other beautifully, and the harmony found by these two musicians helps to make these two very different instruments blend together effortlessly. This is a very nice jazz album, but to get the full effect, listeners will need a truly full-range speaker or a subwoofer.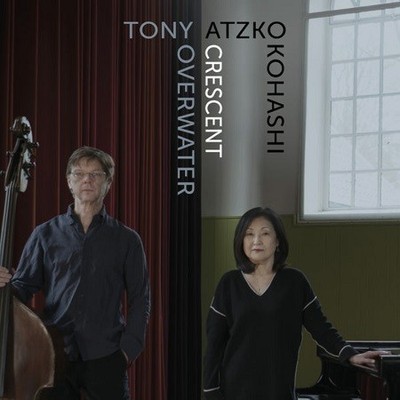 Many people might think that the attack of a plucked double bass string is a good demonstration of a subwoofer's transient character, but I would say that particular part of the sound has a lot more to do with the speakers and their integration with the sub than the sub itself. So much of the attack is higher frequency information and that is simply not in the subwoofer's bandwidth. For my money, the real exhibition of a sub's transient character lies in the muting of a double bass string, since much of the harmonics have decayed yet the fundamental is still strong but suddenly has to be silent. Either way, on "Crescent," the 10D shows that it is adept at both, and the double bass was given a physical presence by the 10Ds and sounded like it was in the room with me. The lowest octave on the piano was also nicely materialized by the 10D, and it served as a reminder that of all the acoustic instruments, the piano is actually one of the deeper frequency diggers. It's remarkable how this little sub and these little speakers were able to recreate the sound of such large instruments with such realism. It's the kind of system that could leave people baffled: "where is all that sound coming from?" I think anyone would be impressed by the 10D's performance with this type of music, even without considering its size.
For a very different musical approach to bass, I found a portentous album in "Colossus" by dark ambient artists Atrium Carceri and Kammarheit. This album creates an atmosphere of gloom and foreboding, and Carceri and Kammarheit's use of bass is key towards that end. Low frequencies are often subtle but ever-present and loom like a distant thunderstorm. There is a cinematic quality to this music as though it was a score for a surrealistic horror film. Low frequencies are used across a range of different sounds so subwoofers would be kept busy although rarely driven hard. This type of music tends to be a good test of nuance in deep bass, insofar as it can have any nuance. 
On the 10D sub, the first track, "Subpulse," definitely lived up to its name. An intense bass pad reminiscent of the opening credits of "The Thing" throbbed and seemingly energized the entire room with a low-frequency buzz. The subsequent tracks dialed the bass down to a deep hum but then kicks in with some percussion that sounds like a large koto drum, and the 10D continued to impress with its ability to reproduce every low-frequency sound, whether large or small. The bass used in "Colossus" often had a complex texture due in part to the multiple layers of low-frequency sounds, and the 10D had no trouble delineating these individual sounds. The different layers were all kept distinct by the 10D instead of blurring together into a muddy mess, and a good example of this is track 6, "Interwoven," which would undoubtedly be a challenging track for a mediocre sub to get right. The 10D helped to substantiate the ominous soundscapes presented on this album. It provided a solid foundation to the music that was tangible in a way that headphones could never match.  
the bass produced by the 10D sub was so thick you could cut it with a knife.
For a much more flagrant use of bass, I listened to Milanese's "Lockout." This 2009 album sits somewhere between UK garage and dubstep in electronic music styles, and it uses heavy bass underneath sparse percussion and rap lyrics. At high loudness levels, this music can be a tough load for subwoofers, and as such, serves as a good endurance test to see how a sub can tolerate some heavy lifting. Milanese was a London-based electronic music artist who released a slew of bass-heavy classics from the mid to late 2000s. Anyone looking to make the cones of their audio systems really move would do well to check out his releases.
Not long into the first track, I again had to wonder how such a small thing was able to make such a massive bass sound. The bass produced by the 10D was so thick that you could cut it with a knife. It was able to belt out track after track of pounding bass. I might have been pushing it close to its limits, but I was pretty satisfied with the tremendous sound it produced and felt no need to turn it up louder. It has no problem hitting eviction-level SPLs. Kick drums had a nice tactile punch, but the real star of the show here was the basslines. The basslines that Milanese cooks up for "Lockout" are like a rollercoaster on such a capable sub, and on the 10D it was a fun ride. Listening to it on the 10D made me realize just how killer this album is. Seriously, bass heads need to check it out if they have a system with potent low-frequency performance. I have reviewed smaller subs before, but they weren't able to produce bass like the 10D. Don't let its size fool you, this is definitely not some gimmicky toy sub. Its pricing should be evidence of its seriousness, but the proof lay in the sound it can produce, and cranking "Lockout" with the 10D would prove to anyone beyond a shadow of a doubt that it can be a real bruiser.  
Movie Watching
One movie that I watched with the 10D sub was the 2011 fantasy-actioner "Conan the Barbarian" starring Jason Momoa. I had not yet seen it, but with warring armies, battles against colossal monsters, and feats of tremendous strength, this movie looked like it would make for a good test of low-frequency dynamic range. "Conan" was panned critically and wasn't a big box office hit either, but sometimes these types of movies can be fun once your expectations are adjusted. Such was the case for me with the newer "Clash of the Titans" movies, which were neither thought-provoking nor emotionally engaging but were nonetheless an amusing way to spend a couple of hours. I set out to see if "Conan the Barbarian" could provide that same level of entertainment and also if the 10D could deliver the low-frequency mayhem that this movie promised.
"Conan the Barbarian" turned out to be exactly what it was advertised, and it's strange that anyone choose to see this movie and then complained about it. On the promise of a bombastic sound mix replete with low-frequency mayhem, it delivered. From elephant-drawn land ships, sea monsters, underground temple cave-ins, and lots of full-grown men being thrown into walls, there were plenty of bass-heavy effects to push the subwoofer, and the 10D could keep up with all of the carnage without breaking a sweat. The music score by Tyler Bates also had its fair share of bass, and as one would imagine, it was full of kettle drums. The 10D managed to keep the bass of the music distinct from the effects sounds even though they very often overlapped. The climactic scenes had tons of low-frequency content, and the 10D energized my room with thunderous bass throughout its duration. While "Conan" isn't likely to be remembered as a classic of world cinema, I found it to be a competent sword and sorcery action movie, and a good sub like the 10D makes these types of movies a lot more fun.
A very different movie that I watched with the 10D subwoofer was "Troll Hunter," a 2010 Norwegian mockumentary about a group of film students who set out to make a documentary about an illegal bear trapper. What they tragically find out is that he isn't out hunting bears but rather trolls- monsters that are far larger and much more dangerous than any bear. "Troll Hunter" had received good reviews ever since its release, and I had been meaning to watch it for some years now. The fact that I am reviewing a Norwegian audio product using a Norwegian movie is merely coincidental since I wasn't even sure what country the movie came from specifically, only that it was from a Scandinavian country. A movie about giant monsters is usually a good demonstration of a subwoofer's prowess, so "Troll Hunter" seemed like a suitable film to see what the 10D could do.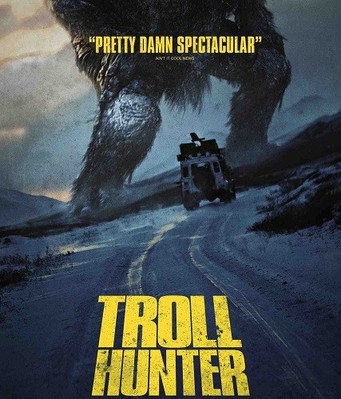 "Troll Hunter" turned out to be a low-frequency fiesta, and the 10D sub ate its heart out. When the trolls made their appearances, the ground shook, and the 10D brought that rumbling sensation into my living room. The bellowing of the trolls resounded with force from the 10D subwoofer, especially in the final act with the gigantic mountain troll. The sound mix, as rendered by the 10D subwoofer, managed to make the trolls frightening as opposed to what might have been comical. In fact, deep bass is crucial to get the full effect, and I don't think that aspect of this movie would have worked as well without a good subwoofer. As a pseudo-documentary, all of the sounds in this movie are mixed to appear to come from the documentary film crew's microphones, and we get plenty of other low-frequency sounds such as air turbulence in a moving car cabin, wind noise on the mic, and the thuds of physical contact with the microphone itself, and a full reproduction those sounds helped to give the movie a sense of realism despite the absurd subject matter. "Troll Hunter" really benefits from a powerful sub, and it is a feat of technology that such a small subwoofer can so amply recreate the sound of such enormous creatures. It is serendipity that I ended up watching a terrific Norwegian movie with a terrific Norwegian subwoofer, but I am glad I held off in watching "Troll Hunter" for so long since I ended up seeing it with some truly good audio equipment, nationality notwithstanding.

Confused about what AV Gear to buy or how to set it up? Join our Exclusive Audioholics E-Book Membership Program!
Recent Forum Posts:
ryanosaur posts on June 14, 2022 21:08
MandM, post: 1561534, member: 36148
That Scan-Speak woofer and Hpex amp combo seem quite popular!
http://www.troelsgravesen.dk/26W-4558T00.htm

Troels has been using all the premium European Drivers and Hypex Plate Amps for a while.
MandM posts on June 14, 2022 19:11
lovinthehd posts on June 10, 2022 01:34
Sigberg Audio, post: 1561007, member: 92130
@lovinthehd I feel the need to point out that while buying SBS.1 for all 7 channels in a home cinema system is an interesting proposition (it would probably sound bonkers and we would obviously be happy to sell it), that was never the primary use case for this system.

The SBS.1 and accompanying subwoofers were designed to replace and outperform large, expensive floorstanders - and I'm happy to report that they do so very well. What you get is the performance of a large, high-end system with a significantly lower visual footprint. And while size will be a factor for many buyers, I'm confident the absolute performance is high too.

The subwoofers (since that's the theoretical topic of the thread) obviously go well with other good speakers as well.

I was more just extracting some numbers and perhaps a bit of humor from the situation, particularly due TLS' ongoing rants about various consumer audio issues
I do like your use of a dual opposed design….
Sigberg Audio posts on June 10, 2022 01:29
@lovinthehd I feel the need to point out that while buying SBS.1 for all 7 channels in a home cinema system is an interesting proposition (it would probably sound bonkers and we would obviously be happy to sell it), that was never the primary use case for this system.

The SBS.1 and accompanying subwoofers were designed to replace and outperform large, expensive floorstanders - and I'm happy to report that they do so very well. What you get is the performance of a large, high-end system with a significantly lower visual footprint. And while size will be a factor for many buyers, I'm confident the absolute performance is high too.

The subwoofers (since that's the theoretical topic of the thread) obviously go well with other good speakers as well.
BoredSysAdmin posts on June 09, 2022 19:25
shadyJ, post: 1560973, member: 20472
You would have to be nuts to buy a older used M5. Or you would have to be on very good terms with your mechanic, because that thing is going to need constant attention to be drivable. Owning a BMW out of warranty is a terrifying prospect for my wallet. It's definitely not an investment that will appreciate.

I meant the house, most cars just depreciate
Post Reply