SVS 2000 Pro Subwoofer & SoundPath Accessories Giveaway $1207 Value
SVS 2000 Pro Subwoofer & SoundPath Accessories Giveaway $1207 Value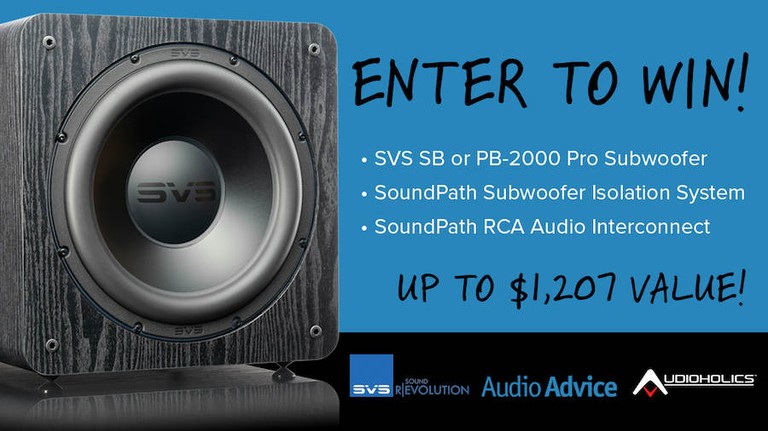 SVS 2000 Pro Subwoofer Giveaway!
The Audioholics / Audio Advice Giveaway is back! This time around our partners at Audio Advice are giving you freedom of choice with a prize that asks the question; do you prefer a ported or sealed subwoofer? Whatever your answer, Audio Advice will throw-in two SoundPath subwoofer accessories. Our winner choose between two award winning SVS Pro 2000 subwoofers with accessories to make your sub go boom!
Are you Sealed or Ported Subwoofer Fan?

Choose between: SVS SB2000 Pro Subwoofer ($999 value) -OR- SVS PB2000 Pro Subwoofer ($1099 value). Winner will also receive: SVS SoundPath RCA Audio Interconnect (up to 15-meters) and a four-pack of SVS SoundPath Subwoofer Isolation System. Help a winner out... Go to our Forum's SVS 2000 Pro Contest post and give us your reasons why you're team ported or sealed.
Easy Entry
Audioholics/Audio Advice contests are always FREE, nothing to buy and you never pay shipping for the prize! Only your email address and name are required for initial registration. By registering to our sweepstakes-style contest you agree to receive free informative newsletters from Audioholics and Audio Advice for timely news, reviews, how-tos, great deals and discounts on audio/video. Optionally, you can improve your chance to win by engaging with Audioholics online then earn even MORE entries to further improve chances to win by sharing this contest with friends. Entries are made easy in the sign-up form widget (below).

Contest open to the lower 48 states of continental USA only.
Winner Selection
Contest registration closes Thursday, June 30th midnight, Eastern Time. Once entry form is closed ONE lucky winner will be randomly selected by a third-party party app. The winner will then be contacted via email within the week, so keep an eye on your inbox and spam filters. See the Audioholics Contest Rules Terms and Regulations in the Contest Forum for details.
NOTE: Audioholics Contests are always FREE! From registration to shipping the prize, nobody from Audioholics will attempt to contact any registrant until after registration has closed (June 30th) at no time will you be required to pay for shipping or any fees regarding this contest. So, watch your spam filters in case we attempt to contact YOU!
Overview of the Prize!

SVS SB2000 Pro Powered Subwoofer ($999 value)
"Jaw-dropping deep bass extension and massive output with stunning musicality that will delight both audiophiles and home theater fans." - Audio Advice
Dimensions (w/ grille): 14.6" (372mm) H X 14.2" (360mm) W X 15.6" (395mm) D
SVS PB2000 Pro Powered Subwoofer ($1099 value)
"Breathtaking output and subterranean low frequency extension down to 16-Hz with pinpoint accuracy and control. Optimized with dual port cabinet design for effortless bass with vanishingly low distortion." - Audio Advice
Dimensions (w/ grille): 20.9" (532mm) H X 17.3" (440mm) W X 23.6" (600mm) D
Both SVS 2000 Pro Subs Feature:

12-inch Front-firing high-excursion SVS driver

550 Watts RMS, 1,500+ Watts peak power
Sledge amplifier with fully discrete MOSFET output
SVS subwoofer DSP smartphone app
Winner selects SVS SB2000 Pro (sealed) or SVS PB2000 Pro (ported). Tell us which you would choose in the Contest Forum post!
The Pot Sweetened with SoundPath:

SVS SoundPath RCA Audio Interconnect (up-to $59 value)
Pure copper conductors with 24K gold plated brass connectors and five-layer dielectric insulation system maintain pristine signal between subwoofers and audio components so your system always sounds its best. - Audio Advice
SVS SoundPath Subwoofer Isolation System, 4-pack ($49 value)
"The SVS SoundPath Subwoofer Isolation System works with nearly every subwoofer brand and model to improve bass performance while reducing floor and wall vibrations, noise artifacts and complaints from neighbors or roommates. De-coupling a subwoofer from the floor results in inherently tighter and cleaner sounding bass. It's also the next best thing to sound-proofing and ideal for carpeted rooms, hardwood floors or any space where room rattles, buzzes or vibrations are present." - Audio Advice
                      SoundPath Subwoofer Isolation System and a SoundPath gold-plated brass and copper interconnect
Sealed vs. Ported Sub; Which Should You Choose?
Gene moderates the eternal subwoofer debate with advocates for both sides.
Sealed Vs Ported: Experts go head-to-head

Please Read Before Entering: Contest Rules, Terms and Regulations
Entry must be received BEFORE 06/30/22 at 11:59 PM EDT
PLEASE NOTE: By registering for the contest, you agree to receive both the Audioholics and Audio Advice email newsletters. Contest open to Continental US ONLY.
To enter the Giveaway, simply:
1. Register with name/email to receive the Audioholics and Audio Advice email newsletters. Earn additional entry points with engagement and recommendations in the contest widget.
2. Respond using that same address if you are contacted as the winner.
Note: You will ONLY be contacted from an authentic Audioholics email address AFTER the contest ends, you may also be contacted for verification as an Audioholics Contest entrant.
IMPORTANT NOTE: Prize sent through July 2022.
CONTEST RULES OVERVIEW: Please go our Contest Rules sticky-post in the Audioholics Forum for the complete rules. To enter, simply provide email address and follow confirmation to sign up for the Audioholics and Audio Advice newsletters. Read the complete Contest Rules, Terms and Regulations before entering. One new subscriber who joins between now to 06/30/22 will be chosen at random as the system winner. Only one entry will win. The system will know if you already entered and will prevent you from multiple entries. *
Don't wait, the entry period ends June 30, 2022 at 11:59 PM EDT! Contest open for Continental US only.
Subwoofer Talk and Giveaway with SVS & Audio Advice YouTube Livestream

Recent Forum Posts:
tenorira posts on June 25, 2022 16:49
Team Sealed, they are night and day and a breath of fresh air over their ported brethren. Musically, they add much needed depth that a ported sub cannot match. Movies, the bass is tight, there is no delay, it just happens seamlessly.
Filipe posts on June 22, 2022 16:37
I'll let you guys know my preference once I get to actually hear a proper subwoofer.. where I live the only thing I can test or buy in a brick and mortar store are the crappy subs from crappy soundbars (not even "good" soundbars)
William Lemmerhirt posts on June 14, 2022 23:57
Sealed sux. Congratulations to whatever random creeper wins.
everettT posts on June 14, 2022 10:43
Without knowing any other variables, ported.
zepaholic posts on June 14, 2022 10:03
I think both kick butt I just prefer the looks of ported, like those ports are torpedo tubes firing bass at you.
Post Reply