REL's Serie T/x Subwoofers Promise 'Sound Beyond Their Size'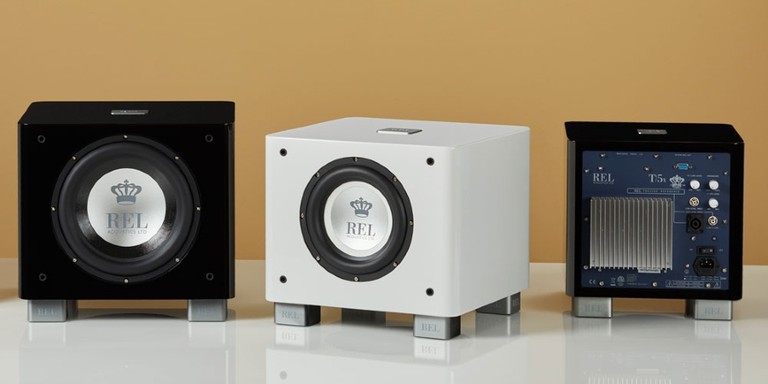 REL Serie T_x
Summary
REL T/5x 8" Sealed Subwoofer
Low Frequency Extension: -6dB at 32 Hz
Power Output: 125 Watts RMS
Dimensions (W x H x D): 11.8 x 12.0 x 12.3 inches
Weight: 31.5 lbs
REL T/7x 8" Subwoofer w/ 10" Passive Radiator
Low Frequency Extension: -6dB at 30 Hz
Power Output: 200 Watts RMS
Dimensions (W x H x D): 14.0 x 12.6 x 14.3 inches
Weight: 38.5 lbs
REL T/9x 10" Subwoofer w/ 10" Passive Radiator
Low Frequency Extension: -6dB at 27 Hz
Power Output: 300 Watts RMS
Dimensions (W x H x D): 14.5 x 13.4 x 15.5 inches
Weight: 45.5 lbs
Executive Overview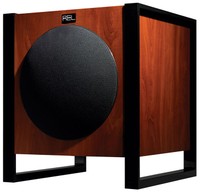 Have you ever experienced an AV demo that forced you to rethink everything? Those are the ones that stick with you. In the last few days of 2006, I walked into a Magnolia Home Theater store (back when Magnolia had standalone locations instead of being crammed into the corner of a Best Buy), just to check out the post-holiday sales. I wandered into a demo room that was playing Superman Returns, which had just been released on Blu-ray. I didn't yet have a Blu-ray player, so it was thrilling to experience this level of HD playback, even if the movie was ultimately disappointing. The audio system employed five smallish loudspeakers from Vienna Acoustics, but the sound was enormous, with deep bass that pressurized the whole room, and seemed to come from everywhere and nowhere at the same time. I looked around for a monster subwoofer, but no such sub was present. Instead, there were 5 small, unassuming REL subwoofers, one for each channel. This was my first encounter with the original T series subs from REL, which had just launched that year. Nowadays, the advantages of using multiple subs are widely known, but back then, I simply couldn't believe what I was hearing. It's no wonder, then, that REL's smallest and most affordable T collection became the company's best-selling product line, only to be surpassed by the Serie T/i collection that eventually took its place. Now in 2021, small subwoofers are having a bit of a moment. The $799 SVS 3000 Micro has broken the age-old rule — the one stating that small size, high performance, and reasonable price can't all coexist in a single sub. Meanwhile, KEF's infinitesimal KC62 subwoofer ($1,500) is so small and dense that it's practically a neutron star of pure bass. REL's tiniest sub, the Tzero, was updated to MKIII status just last year. At only $449, this diminutive unit is designed for the smallest of audio spaces, and reportedly pairs well with desktop speakers, mini-monitors, or small Magnepans (especially when used in pairs). REL's Serie T/i subs have remained highly recommendable since their release a few years back. But REL's head of design and acoustics, John Hunter, wanted to push the company's entry-level offerings even further into the realm of high performance. And so Serie T/i has been replaced by the new Serie T/x, which includes the compact T/5x ($679), the step-up T/7x ($1,099), and the range-topping T/9x ($1,449).
The new T/x are not a little better than the outgoing T/i; they are surprisingly better in every regard. They have that jump factor that larger, dearer RELs have, they preserve remarkable clarity and tension (at this price range we've never heard better), and they have incredible dynamics both because they render the smallest passages with greater delicacy but also how they explode vertically. Surprising, and highly gratifying.
— John Hunter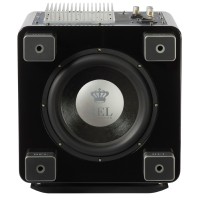 According to REL, the Serie T/x subs are faster and more transparent than their predecessors, while at the same time delivering higher output levels and greater impact. How were these performance gains achieved? On paper, there haven't been any dramatic design changes between the old Serie T/i and the new T/x. They are powered by the same, famously reliable Class A/B amplifiers, complete with massive power supplies. But according to REL, "small upgrades are found everywhere" within the amps, including new driver mosfets that are said to "open up performance and transparency," and a new method for securing the toroidal transformers, resulting in "better performance and superior reliability." In an effort to generate an increase in dynamics performance, Hunter and the design team decided to increase the volume of air within the cabinets. According to Hunter, changing the internal volumes turned out to be a tricky business. "Add too much and we lose control of the backwave," he said. "Too little and the increase will have zero effect. In the end, each unit grew 5-7% internally. But they also received radiused structural corners that add mass and eliminate hard corners that can trap pockets of air pressure. And they became heavier — the alloy feet grew and became more integral in delivering greater solidity and clarity." Despite the increase in internal volume, the Serie T/x subs have been designed to appear less physically intrusive, thanks to those aforementioned radiused edges, and to changes in the subs' overall dimensions. For example, the T/9x is shorter but deeper than its predecessor, the T/9i. According to REL, this change makes the sub look smaller when viewed from across the room. These changes weren't made willy-nilly though. According to Hunter, "The proportions of the key ratios defining height, depth, and width play crucial roles in how a driver behaves within otherwise identical volumes. As does, of course, the internal damping. Too much and the sound goes dead, too little and it trivializes music." REL says that the drivers in Serie T/x are "faster and more reactive" than in previous generations. In order to account for the increases to the internal cabinet volume, Hunter found it necessary to adjust the stiffness of the drivers, and that meant "a thorough revision of critical suspension components." The new suspensions are stiffer, and better suited to what REL describes as "advanced duty." In plain terms, that means the drivers can travel farther and handle more power, while at the same time remaining agile enough to trace minute sonic details. The drivers also feature larger, completely-redesigned surrounds, and the diaphragms themselves use new materials and doping techniques. 
Serie T/x Lineup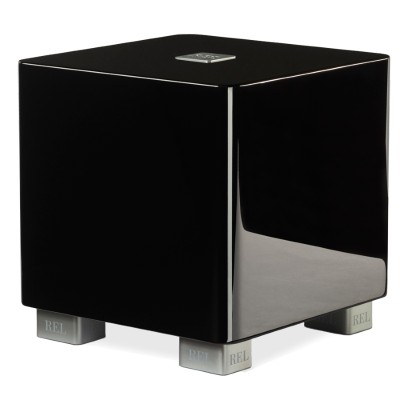 The T/5x has one mission, according to REL: "to make remarkable bass far beyond its modest size, do so in a way that complements every interior's style, and eliminate all visual distraction." To this end, the T/5x employs a single, down-firing 8-inch longthrow driver made from FibreAlloy, a composite of aluminum and light paper. The heavily-braced and beautifully-curved sealed cabinet also houses a 125-watt Class A/B amplifier. Connectivity includes REL's signature high-level inputs, along with low-level inputs (for use with powered/active speakers with a subwoofer output), and a separate, dedicated LFE input for home theater use. REL's optional Arrow Wireless receiver can be used if desired. The T/5x replaces REL's best-selling sub of all time, the T/5i. According to REL, the new model has "greater fluidity and power," while retaining all the sonic attributes that made the T/5i so successful. According to John Hunter, the T/5x is "so much more articulate — it's faster; it starts and stops on a dime. Things like echo decay patterns are much more evident on (the T/5x)." The frequency response of the T/5x is down 6dB at 32 Hz, and the sub measures a tidy 11.8 x 12.0 x 12.3 inches.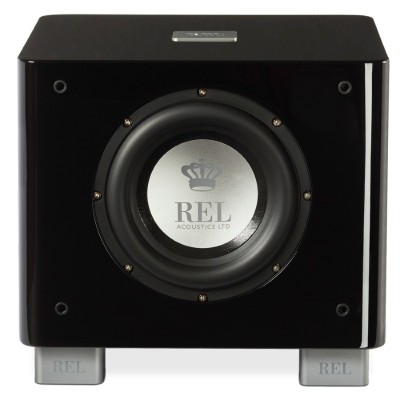 The mid-sized T/7x will be the Goldilocks choice for many, and REL calls it "the perfect answer for the real world." According to the company, it's small enough and pretty enough to prevent the arguments that might accompany the purchase of a bigger, more brutish competitor. And yet the T/7x also claims to be powerful enough to satisfy most needs. REL reckons that the T/7x is "balanced enough to blend beautifully with many of the quality speakers out there and still flexible enough to work in specialty applications." Under the hood, the 200-watt Class A/B amplifier has new limiters that allow for an additional 40-50 watts of power during peaks (compared to the virtually identical amp in the T/7i). This creates an overall sound that's "fresher, faster, and more dynamic than before," according to REL. The amp drives an 8-inch driver similar to the one found in the smaller T/5x, but this time it's front-firing, and supported by a 10-inch down-firing passive radiator. According to the specs, you don't gain a great deal of bass extension by moving up to the T/7x, which is rated as being down 6dB at 30 Hz. But the T/7x is still a small sub, at just 14.0 inches wide x 12.6 inches tall x 14.3 inches deep. And sometimes, basic specs don't tell the whole story. REL says that the T/7x is "quick and delicate for a perfect blend, (yet) it can pound out exceptionally deep, tuneful bass that belies its size and plays louder than most will ever require."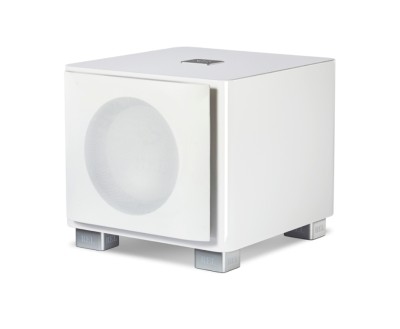 Finally, the T/9x is the flagship of the range, and as you'd expect, it plays louder and digs deeper than its smaller siblings. But according to REL, the most important attributes of the T/9x are not its greater output and deeper extension. Instead, the big news is about its remarkable level of intimacy, clarity, and speed. The company claims that "there are no longer trade-offs between the sonic balance of smaller models weighed against the power and scale of a model 9." The T/9x is reportedly quick enough and transparent enough to blend seamlessly with anything from electrostats to beryllium-coned monitors. Making all this happen is a 300-watt Class A/B amplifier powering a 10-inch front-firing FibreAlloy driver, which is supported by a 10-inch down-firing passive radiator. Though it's the Papa Bear of the Serie T/x collection, the T/9x is fairly small in my book, measuring 14.5 x 13.4 x 15.5 inches. There are plenty of other subs at this price point that will deliver deeper extension than the REL's claimed -6dB point at 27 Hz, but they are certainly going to be larger, and arguably less attractive. And few will be able to match the T/9x for speed, clarity, and integration with the main speakers.
According to REL, the company's goal in creating Serie T/x wasn't to offer an upgraded Serie T/i, but instead "to deliver as much as possible of our latest Serie S on a budget." The smallest and least expensive sub in Serie S is the S/510, which is substantially larger than the T/x subs, and quite a bit more expensive at $2,499 each. For your money, the sub reaches down to 20 Hz (-6dB). How much are the last few Hz worth to you? Share your thoughts in the forum thread below.
T/5x Subwoofer YouTube Discussion with John Hunter

For more information on the Serie T/x subwoofers, check out these videos with REL's John Hunter:
T/7x: https://youtu.be/K2JRS9cqXlE
T/9x: https://youtu.be/t12EXkUxoVE

Confused about what AV Gear to buy or how to set it up? Join our Exclusive Audioholics E-Book Membership Program!