SVS 1000 Series Subwoofers Get a Major Redesign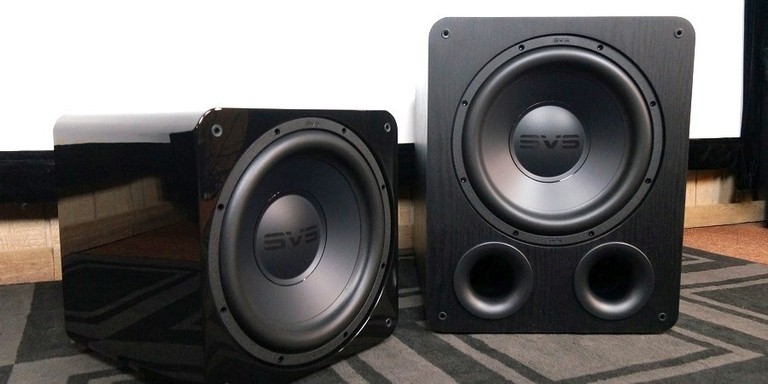 SVS 1000 Pro Series Subs
Summary
PB-1000 Pro:
Type: vented subwoofer
Woofer: 12" aluminum cone
Frequency response:
17Hz to 260Hz +/-3dB (standard mode)
19Hz to 260Hz +/-3dB (sealed mode)
Amplifier: 325-watt Class-D
Dimensions: 18.5" H x 15" W x 18.5" D
Weight: 45.5 lbs.
SB-1000 Pro:
Type: sealed subwoofer
Woofer: 12" aluminum cone
Frequency response: 20Hz to 270Hz +/-3 dB
Amplifier: 325-watt Class-D
Dimensions: 13" H x 13" W x 13" D
Weight: 26.5 lbs.
Executive Overview
SVS launched a new entry-level subwoofer line that supersedes their venerable 1000 series subwoofers. It probably shouldn't come as a surprise that SVS has announced a redesign and refresh of their entry-level subs as the 1000 series has been around for roughly nine years now, and that is a long run in an industry that is always changing due to evolving technologies. I would say it is a testament to the strength of the 1000 series design that it has remained unchanged for so long, however, all of SVS's other subwoofer lines have undergone major improvements from advancing technology, and it was only a matter of time that technology would find its way down to SVS's most accessible subwoofer line. This brings us to the SVS 1000 Pro series.
Like the 1000 series, the 1000 Pro series comes at us in two flavors: ported in the PB-1000 Pro, and sealed in the SB-1000 Pro. The SB-1000 Pro looks the same as the original SB-1000 on the surface, but it has gone through some very deep changes. The PB-1000 Pro, on the other hand, has a redesign from which it does not resemble the original PB-1000 at all. Like the SB-1000, the SB-1000 Pro is using a 12" driver, however the PB-1000 Pro has upgraded to a 12" driver over the original's 10" cone. The port configuration from the original PB-1000 has also changed, and the PB-1000 Pro uses two 2.5" diameter ports mounted below the woofer as opposed to the single 3.5" diameter port of the original. The PB-2000 Pro went through a similar redesign from the original PB-2000, so it is not unexpected that the same should occur in the PB-1000 Pro. It's also worth noting that, like the PB-2000 Pro, the PB-1000 Pro also natively supports a sealed operating mode as a configuration setting. While the SB-1000 Pro retains the same pricing as the SB-1000 at $500 shipped, the PB-1000 Pro does incur a price hike versus the original due to the larger driver, added port, and improved amplifier, so it is priced at $600 shipped.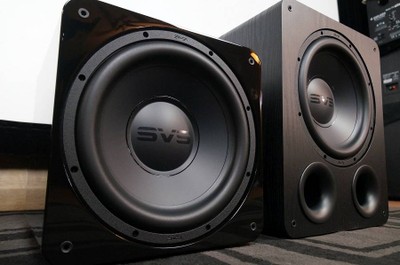 The most profound changes may be those that occurred 'under the hood.' The technology first developed for the flagship 16-Ultra series which has steadily made its way down SVS's subwoofer lines has finally reached its last stop in a textbook example of the trickle-down benefits of high-level R&D. This was very likely the long-term plan at SVS, and it must be very satisfying for them to see their grand strategy finally come full circle. Among the trickle-down technologies that the 1000 Pro series have is app control with the SVS Subwoofer App that can be used with Android, Apple, and Amazon devices. It's a neat way to control SVS's subs to an incredibly fine degree, but what I like most about it is the three-band parametric EQ. That is an extraordinary feature to have on a subwoofer in their price range. For physical controls, the 1000 Pro subs are using the 'Intelligent Control Interface' found on the 2000 Pro and 3000 Series. This is an elegant alternative to the whole line of switches and knobs used for most subwoofer controls. That is easy for SVS to implement since the DSPs allow the interface to be whatever the engineers think to be the most efficient. Speaking of DSPs, SVS has thrown in the same type of Analog Devices Audio 50MHz DSP found in their higher-end subs, so the 1000 Pro subs have all the processing power they need for all of the very precise response changes that can be made in the app.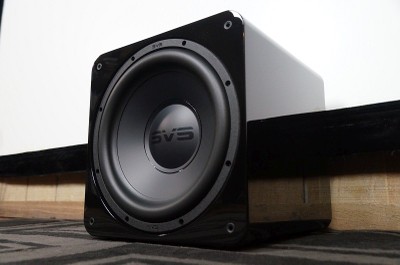 The amps have been given a slight boost over the original 1000 series, and the 1000 Pros now have a 325-watt amplifier. However, the construction of the amp may be a much more significant change, since, like SVS's higher-end subs, the 1000 Pros now use discrete MOSFETs which may allow for higher peak power delivery than the outgoing amplifier. While SVS calls their amplifiers the 'Sledge' amps, that isn't a design but rather a house name for the class-D amps that SVS uses. In reality, these new amps are very different and improved from previous Sledge-named amps.
In addition to the amp changes, SVS has made substantial improvements to the drivers. The PB-1000 Pro driver in particular is not much like the former PB-1000 driver, and the changes go well beyond just having a larger diameter cone. It's a ground-up redesign that sees improvements made to the motor and suspension for higher output and greater linearity. The SB-1000 Pro driver also sees a significant upgrade to its surround that allows higher excursion. While SVS might have used the same driver in both subs to save money, they decided to use different drivers to optimize performance for their respective designs, and one way to tell is that the SB-1000 Pro driver uses a vented back plate as opposed to the PB-1000 Pro.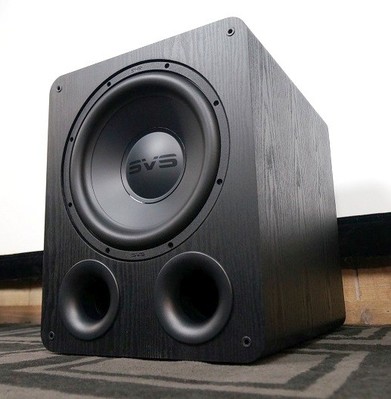 SVS Trickle-Down Technology in Action

SVS has had an annual refresh of one of their subwoofer lines ever since the launch of the acclaimed 16-Ultras. The trickle-down technology developed for those flagship subs has payed dividends in SVS's more affordable offerings, and now it has led to serious improvements in SVS's entry-level line. We are looking forward to seeing what SVS has in store for the next round of technological evolution that starts at the top and changes everything below it (a PB-5000 perhaps?). In the meantime, we will be poking and prodding the PB-1000 Pro and SB-1000 Pro to see what they can do since we have these subs in our labs right now. Stay tuned to Audioholics for a full review of SVS's newest efforts to turn the entry-level subwoofer market upside-down.
Do you own an SVS subwoofer or do you plan on getting one of these new 1000 Pro series? Share your thoughts in the related forum thread below.

Confused about what AV Gear to buy or how to set it up? Join our Exclusive Audioholics E-Book Membership Program!
Recent Forum Posts:
gattaca posts on March 25, 2021 09:37
lovinthehd, post: 1465589, member: 61636
Maybe you just need David Gage at Deep Sea Sound to do a WAF friendly build? (he uses good amps, too….)

+1 Yes, Mr. Gage exceeded my very high WAF/SAF criteria of "No more
big black boxes (monoliths)
in the great-room." was her bottom-line. Since this was not a dedicated HT setup but the main room of the home, 10-4 was the only path forward.
shadyJ posts on March 23, 2021 16:01
dmoeller17, post: 1470201, member: 90839
Really what the measurements and size rating James. Curious if two of these will cut it in a 14x22x8 room with door openings vs the PB2000 PRO's? Probably your just getting louder lower extension with the 2000 series.

I am still in the review process with the 1000 Pros at the moment, and I haven't measured them yet so I can't give you a bassaholics room rating. I would say that whether they cut it or not in your room is a matter of your personal expectations. There are some people for whom two of these would be absolute overkill, and there are other people for whom it would be nowhere near enough SPL. They don't have the performance of the 2000 Pros, of course, but that is reasonable. I don't want to say a whole lot more since I don't want to spoil the review, and the review won't be published for a while, but you can find out whether they are enough pretty easily by just ordering one. If it suffices for you, good, and if it doesn't just arrange to return it, you don't stand to lose anything other than a little bit of time.
dmoeller17 posts on March 23, 2021 15:05
Really what the measurements and size rating James. Curious if two of these will cut it in a 14x22x8 room with door openings vs the PB2000 PRO's? Probably your just getting louder lower extension with the 2000 series.
afterlife2 posts on March 07, 2021 16:24
Twiddle23, post: 1464636, member: 94589
Just got the sb1000 pro from the giveaway today .holy crap this little guy bumps as much as my pb2000 pro! And it's not 50-100 pounds!

Pic's!!!!
XDM posts on March 07, 2021 16:15
shadyJ, post: 1464140, member: 20472
I don't get a lot of cabin gain in my room. The SB-1000 Pro doesn't look like it would yield a whole lot of cabin gain, since there is a high-pass filter. It looks to me it is being filtered at a 24dB/octave starting at 25Hz. That is the kind of response resembles a ported subwoofer response.

It's also likely compressing at that frequency (25Hz) and below, as SVS did with the SB-2000 Pro, and even with the SB-3000 Pro:

The graph below shows that, with the two loudest input signals, the SB-2000 Pro exhibits noticeable compression (i.e., its measured output no longer tracks increases in volume) at 20Hz, the very bottom of the audioband. The two top plots show effectively the same SPL of 102-103dB at 20Hz, despite the increase of 3dB on the SB-2000's volume setting. That's compression.

(…)
The plot below, of the SB-3000, shows roughly the same compression at 20Hz, but it's also clear that the SB-3000 can output higher SPLs at around 17-18Hz than could the SB-2000 Pro.
https://www.soundstageaccess.com/index.php/equipment-reviews/1029-svs-sb-2000-pro-subwoofer
Post Reply