Arendal Sound 1723 Subwoofer 2S Review
Arendal Sound 1723 Subwoofer 2S Review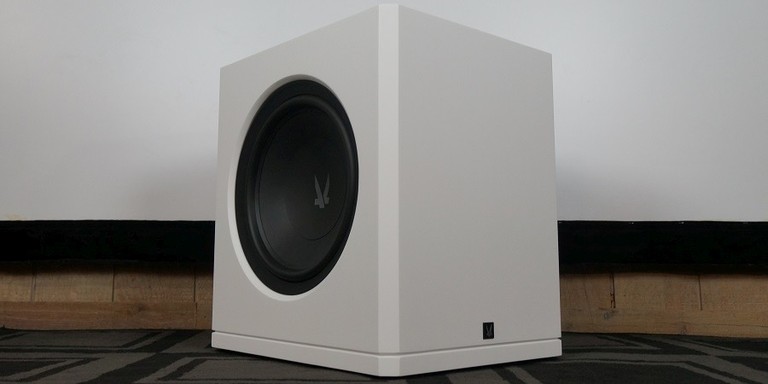 Arendal 1723 Subwoofer
Amplifier: Avalanche 1200IQ, 1200 Watts RMS
Frequency response:
EQ1: 17-200Hz (+/-3dB)
EQ2: 24-200Hz (+/-3dB)
EQ3: 33-200Hz (+/-3dB)
Box design: Sealed
Woofer: 2 x 13.8"
Inputs: Left/right unbalanced RCA & balanced XLR
Outputs: Left/right unbalanced RCA & balanced XLR
Dimensions w/ Feet: 21.3"H x 16.5"W x 19.7"D
Weight: 41.4kg (91.3lbs.)
Warranty: 10 years (5 years electronics)
Pros
Big performance from a medium-sized package
Advanced feature set
Nice looking
Excellent build quality
5-year electronics warranty
Cons
Expensive (but not unfairly priced)
Arendal Sound 1723 2S Dual Driver Sealed Sub - Deep Bass, Reasonable Size

The first subwoofer that I reviewed from Arendal Sound was the 1723 Subwoofer 2V. I was so impressed that when Arendal asked if I was interested in taking a look at their other subs, I leaped at the opportunity. Since then, I have reviewed all but one of their subwoofer designs, but today, I will be examining the final sub of the six that they offer, the 1723 Subwoofer 2S. I don't expect any surprises in this review since I am familiar with Arendal's design philosophy at this point. However, I am still excited to get my hands on this sub since I think it may be the sweet spot among Arendal's subwoofer offerings.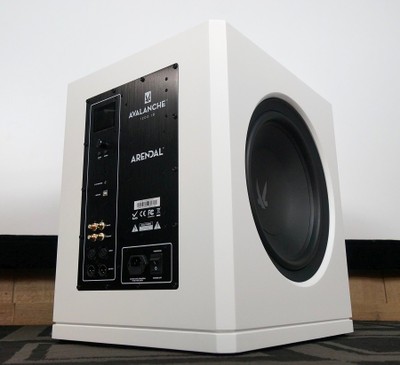 The reason why I think the 2S could be their finest sub is the performance density per liter that it could provide. To put it another way, it could possibly pack more punch for its size than any other sub from Arendal. While the 1723 Subwoofer 2V is certainly Arendal's highest performer, it is a behemoth that weighs over 130 lbs., and stands 27" tall. It is simply too large and heavy for most people. It is almost twice the size of the 2S at 13,000 cubic inches vs. 7,000 cubic inches, and that extra 40 lbs. pushes it over from being merely heavy to massively heavy. The extra girth of the 2V's ported design does enable it to have more efficiency and output at the port tuning frequency, but the sealed design of the 2S should give it an infrasonic advantage below the 2V's port tuning that could potentially yield significantly more ultra-deep bass, especially in smaller rooms. While the 2S will give up output from perhaps 40Hz to 16hz, it is far more physically manageable and won't be a gigantic presence in-room, but I would still expect pretty tremendous performance from this dual 13.8" driver, 1,200-watt subwoofer.  
But the question is, does it actually provide the performance that it promises based on Arendal's other subs? Let's now dig in to find out…"
Packing and Appearance of Arendal 1723 2S

As usual for Arendal, the 2S arrived at my doorstep with excellent packing. The box was wrapped in a multi-layer black shrink wrap with security tape around the edges. There were dense cardboard edge protectors on both the inside AND outside of the box, as well as corner protectors inside and outside. Inside the box, the sub was surrounded by thick polyethylene foam blocks covering all sides of the sub instead of just the top and bottom that we traditionally see. The sub itself was wrapped in a silky fabric drawstring sack as we see with other Arendal products. The packing also came with a pair of white cotton museum gloves to unpack the sub without getting fingerprints on it. Outside of shipping items in wood-crated boxes or aluminum flight cases, Arendal's packing is the best in the business, but it must be good to survive the rigors of parcel shipping.
Once unpacked, the 1723 Subwoofer 2S reveals itself as an attractive, minimalist piece. It's not a huge subwoofer but it can't be accused of being small either. By my (admittedly skewed) standards, I would call it a medium-sized sub. The design accentuates the vertical dimensions by beveling the vertical edges, and this gives the sub a 'monolithic' look (idea for an installation artist: make a scale model recreation of Stonehenge by using these subs). Also adding to the monolithic look is the drivers being mounted on the sides rather than the front. The bottom of the sub has a ringed groove around the lower panel which gives it a more stately appearance. The finish that I received was an impeccable satin white, but the sub can also be had in black satin or black gloss as well as white gloss. The finish quality here is excellent, but buyers have a right to expect that at this pricing.
The cones are sunken in the enclosure with a chamfered edge that leads to a rubber trim ring. The cones themselves have a smooth concave dustcap with an Arendal logo printed in the middle. They can be hidden by grilles that magnetically adhere around the trim ring. The grilles use black fabric draped over a frame and so stand out on the white subwoofer that I received, but I would imagine they would have a better aesthetic fit on the black finished subs. If the cone is not in danger from rambunctious children or pets, I would advise users to leave the grilles off because the sub looks a lot cooler that way.
Design Analysis of Arendal 1723 2S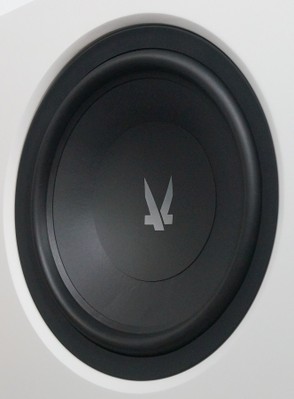 The 1723 Subwoofer 2S shares a lot in common with previous Arendal subs that we have already reviewed, so I will be borrowing design descriptions from those reviews where applicable. It is essentially the 1723 Subwoofer 2V but in a sealed enclosure. In other words, it takes Arendal's 1723 subwoofer driver and uses it in a dual-opposed configuration in a smaller sealed cabinet and drives it with the same 1,200-watt amp found in the 2V. For more detail, we will simply crib from the 2V review where applicable since they use the same components except for the enclosure. 
The cones are made from a combination of long fiber pulp and fiberglass and are attached to the baskets with a nitrile-butyl rubber surround and a Connex spider. The voice coil has a 2" diameter and uses aluminum wiring around a polyamide former. The basket is a thick stamped steel frame that connects to a beefy motor comprised of a 1 ½" stack of two magnets that are 6" in diameter. There is a heavily bumped-out backplate for longer excursions with a reduced risk of hard bottoming, and venting is done under the spider. There are multiple aluminum shorting rings used for reducing inductance. Arendal claims it has a 50% higher excursion than the previous generation of 1723 subwoofers. The two 13.8" cones add up to a lot of surface area, about the same surface area as a single 18" cone, and that combined with the high excursion means the 2S should be capable of moving a lot of air.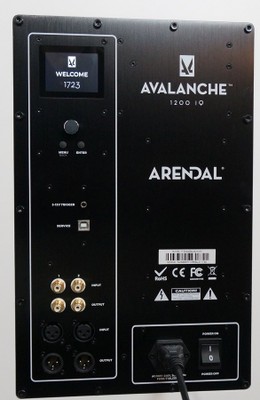 The drivers are powered by a 1,200-watt RMS class-D amplifier that Arendal calls the "Avalanche" amplifier. The user controls the 1723 2S sub not through traditional knobs but rather through a 2.6" color LCD screen. This enables a lot more control over the sub than an array of knobs. You can adjust how each input is controlled individually, and aspects of control include different crossover slopes as well as high-pass slopes, wake-up times and wake-up sensitivities, operating mode selection, and even a 7-band parametric equalizer. The 1723 2S has a pair of RCA inputs and outputs as well as balanced XLR inputs and outputs. The outputs can be handy for daisy-chaining subs in a multi-sub setup as well as running the signal to some active speakers. Balanced inputs and outputs also make the 2S a great choice for pro-audio setups or recording studio systems.
A subwoofer needs highly sophisticated processing to deal with all of that, and the Avalanche amp has that with a 32-bit microcontroller. The microcontroller is also constantly monitoring performance parameters so that the sub is always operating in safe conditions. Some of the parameters monitored include output voltages, power supply rail voltages, and amplifier temperatures. If it senses anything amiss, it immediately shuts down the unit to prevent damage.
The 1723 2S can be controlled by an app for iOS and Android for those who don't want to have to get up off their sofa to change the settings of the subwoofer. All the same settings from the LCD screen can be controlled by the app. The app also has a test tone for when you want to make sure it can produce a signal. One nice thing about the app is the graphic display of the parametric equalizer for those who want to see the effect that their changes have on the response. The app also has a time delay setting that can be changed by 0.25ms increments out to 50ms which can come in handy for situations in a multi-sub system where the subs have different distances. The ability to change time delay can synchronize all the subs so that their arrival of sound can hit the listening position simultaneously.
With a 7-band parametric equalizer, each Arendal 1723 subwoofer has a great deal of flexibility in taming the response from the inevitable damage inflicted by typical room acoustics. What is more, a multiple 1723 subwoofer system can be globally controlled as subwoofer groups in the Arendal sub app, so that equalization can very easily be extended to multiple units, which is the best way to equalize low frequencies in a multi-sub system instead of having a different equalization for each sub. That feature, plus the ability to set delays in such fine increments on each sub, essentially does away with the need for external equalization in a multi-sub system altogether. All the user has to do is measure the system response and make the required changes in the app. With this ability, it's worth experimenting with higher crossover frequencies in a multi-sub system as well since room modes don't stop at the standard 80Hz crossover frequency. With a multi-sub system, localization from higher crossover frequencies will be less of a concern since the bass will likely be emanating from several different directions, thereby balancing out any particular localizable source.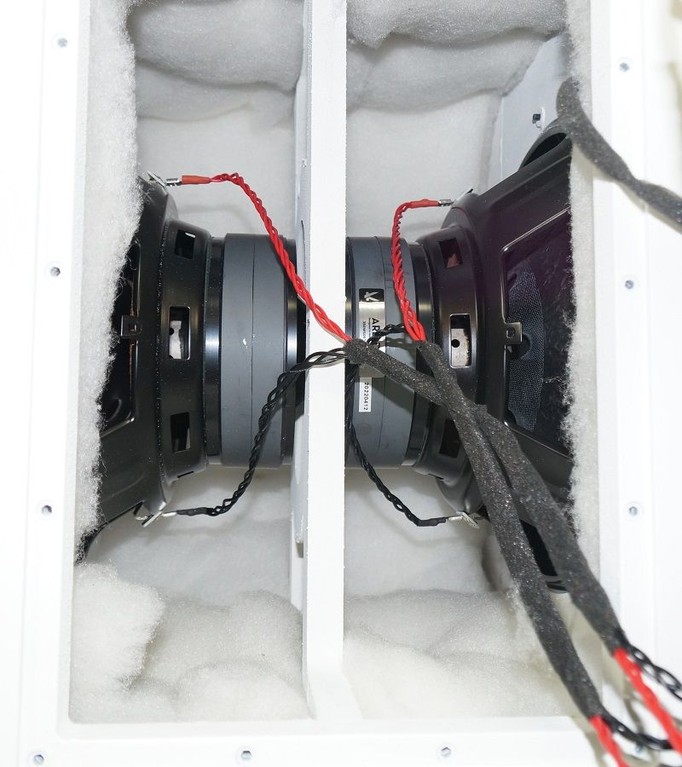 The drivers and amplifier are mounted in a stout high-density fiberboard enclosure that constitutes the bulk of the weight of the unit. The driver mountings are 2" thick, and the side panels are 1" thick. There is a ¾" thick windowpane brace running along the length of the cabinet to reinforce the lengthwise mid-section, along with plenty of stuffing to help damp rear pressure waves. An elegant touch is the mounting of the drivers on opposite sides of the cabinet. The mechanical transfer of energy from the moving mass of the drivers to the enclosure is canceled out completely by the opposite driver per Newton's laws of motion. This means that the drivers impart no rocking motion on the cabinet. Contrary to popular belief though, there is still a need for a braced cabinet since dual opposed driver mountings do nothing to alleviate resonances from internal pressure forces.
As was mentioned previously, the 1723 2S includes grilles that cover the cones. The grilles are attached with some magnets that have a good amount of force, so they do not come off easily. There are some hard rubber feet that give about 3/4" clearance from the ground. That isn't a lot of room for fingers that have to lift the sub, and I would wish for just a bit more height to safely lift the sub by hand. The feet have the Arendal emblem molded into the bottom which is a nice point of detail for the sub.
Given what I have experienced with previous Arendal 1723 subs, I would expect the 2S to be a real firecracker. Let's see how that plays out in some real-world use…
Listening Sessions on Arendal 1723 2S

The best placement for a single sub in my room gives me a relatively flat response for an un-EQ'd single subwoofer, with a window of +/- 4 dB from 25 Hz to 100 Hz with no broad dips in important ranges. This location trades low-end room gain for a relatively flat response, a worthwhile trade for my tastes. The AV processor used was a Marantz AV7705. The crossover was set to 80Hz at the receiver and the sub's LFE connection was used. The speakers used were some PreSonus Eris E8 XTs.
As always, I will note here that since room acoustics have a huge effect on low frequencies, the way these subwoofers sound in my room at my listening position is not necessarily going to be the way they sound anywhere else for anyone else, so readers would do well to keep that in mind, and not just for this subwoofer in this review but for any subwoofer in any review.
Music Listening
The Arendal 2S sub was able to realize the scale of the Grand Organ...
As usual, I started off listening to the subwoofer with a pipe organ album, and one I found which I decided to use for listening to the 2S was unusual. "B.A.C.H: Anatomy of a Motif," a recent release from the Chandos label. It might seem like another pipe organ recording of Bach's works, and while it does have one unfinished piece from Bach in it, that is not what the title is referring to. The B.A.C.H of the title is referring to its notational sequence (B natural was expressed as H in early German musical notation), so it is really a four-note theme that has been used by many composers whose relevant work is played here (Bach himself used it as a hidden musical signature at times). Organist Simon Johnson plays pieces that use this notational sequence on the monumental Grand Organ in St. Paul's Cathedral in London. I streamed this recording in high definition from Qobuz. 
Many of the tracks in this album don't place a lot of pressure on the subwoofer, but most of them did dip into subwoofer range frequencies, albeit with a light touch. Mendelssohn's sonata inclusions were a great example of this; they did not pound the lower registers but they did refer to them frequently, and the 2S provided a solid but not overbearing foundation for those tracks. But for those moments of heightened emotion when low-frequency muscle was needed, the 2S gave those passages the appropriate Sturm und Drang befitting of such a majestic instrument. Indeed, it made my living room sound like a much larger space than I really had, and I had to once again marvel at the ability of subwoofers to make a big sound come from such a small package. The 2S was able to realize the scale of the Grand Organ, a massive instrument set in the cavernous space of St. Paul's Cathedral. The recording was set up to mitigate some of the prolonged reverb of the acoustical space, but I could still get a sense of it through the system. I normally recommend ported subwoofers for pipe organ music due to their stress-free reproduction at the lowest notes, but I will make an exception for the sealed 2S since there are probably not many pipe organ recordings that could cause it to break a sweat. If you are the kind of pipe organ enthusiast who wants live playback levels of the most powerful organs in the world, then yes, perhaps you should stick with massive ported subwoofers, but for anyone else, the 2S will offer a terrific reproduction of this colossal instrument.
The 2S's low-frequency extension gave this system a true full-range sound that most tower speakers cannot offer.
For some more bass-heavy acoustic music, I queued up Micheal Giacchino's score for 2022's "The Batman." Batman films have been a source of inspiration for great music to the composers who were tasked with creating their scores, such as Danny Elfman, Hans Zimmer, Tom Holkenborg, and James Newton Howard. Much like those others, Giacchino has crafted a memorable score that turned out to be one of the highlights of the movie. This score is largely orchestral with a smattering of rock instrumentation, and Giacchino does not shy away from deep bass notes, so this is a score that will keep subwoofers busy. Again, I streamed this epic 2-hour score from Qobuz.
The album opens with the simple familiar theme that is underscored by kettle drums, and the 2S lends those drums an alarmingly visceral feeling. The whole orchestra was actualized by the sound system, and the 2S gave the speakers a sure footing on which to build the sound. One example is the thrumming of the bowed strings in track 7, "Moving in for the Gil;" the 2S gave them a tactile feel beyond what the left and right main speakers would have been capable of, yet the system as a whole did not sound like a 'sub/satellite' system. In fact, the subwoofer integrated with the speakers beautifully, although I think integration has a lot more to do with calibration as well as the loudspeaker design rather than the subwoofer itself, the sub does need to have smooth upper-frequency extension to allow that. The system worked as a whole to give the album a 'big screen' sound, and the subwoofer was an integral part of that. The 2S's low-frequency extension gave this system a true full-range sound that most tower speakers cannot offer, and that helped to give the sound a more immersive feel. I think a multi-sub system of these subs would be absolutely phenomenal, although one would need some very potent loudspeakers to keep up with them. 
For an entirely different kind of musical bass, I listened to "Hard Fork" by Shoeg. This is experimental electronic music reminiscent of Musique Concrete, so no traditional meters to tap your foot to or ear-catching melodies to hum afterward. Much like Musique Concrete, the sound is focused on sonic 'objects' rather than conventional melodies, harmonies, or rhythms, and the musical structure is highly freeform. The sounds that Shoeg uses can dig very low in bass, and this artist has a healthy disregard for musical norms in both arrangement as well as sound. As a result, this music does benefit from a true full range of sound reproduction, much more so than typical music recordings and a powerful sub would be very advantageous for this music.
The first track opened with what might be called artfully arranged crashing noises with bass of a guttural quality. The 2S plunged these depths with authority and had nearly a ported subwoofer's command of extreme deep bass. The second track, "Call Me," relegated bass to a deep background drone, and the 2S was able to keep it present without overdoing it. Subsequent tracks gave us many strange musical objects, many of which had almost infrasonic spectral components, and the 2S gave them the size and scope intended by the artist by providing practically unlimited dynamic range at any frequency. As was mentioned before, its two 13.8" woofers would have about the same surface area as an 18," and I would expect similar performance. A particularly heavy track was "A Matter of Persistence" where very low frequencies were used extensively to create a bizarre concoction that might be the language of an AI superbeing from millions of years in the future, and the 2S helped to give it a shape and texture that not many subs would have been capable of. Further on, the lead instrument on the track "Unstable" sounded like the engine of a colossal cargo ship trying to turn after decades of disuse. It was a thundering grinding noise, and the 2S helped to materialize it with incredible low-frequency violence. "Hard Fork" isn't for everyone, but those searching for new sounds could find a lot to like here, especially if their sound system can deal in bass with as much competence as the 2S.
the Arendal 2S pummeling me with tactile bass....
While they both produce electronic music, Current Value is as different from Shoeg as could be imagined,  but only from the standpoint of structure. While Shoeg totally dismissed the regularity of musical meter, Current Value pushes the regularity of loops and rhythms to the point of experimentalism. "Platinum Scatter" exhibits this obsession beautifully; his high-tempo music divides moments of time into seconds, centiseconds, and milliseconds with utmost lucidity. Current Value has been a major figure in hard electronic music for many years and has consistently pushed genre boundaries all the while. He can always be counted on to find a new sound or rhythm, so while he is an established and influential artist within that community, his music is still quite avant-garde. As an example, the music in "Platinum Scatter" lay firmly in the genre of drum'n'bass, but the sheer speed and eccentricity of this music do not easily lend itself to the dancefloor. Nonetheless, it is rowdy, bass-heavy music and can be a handful for any subwoofer at high loudness levels. 
While the first couple of tracks have some fun bass in them, things don't get really heavy-duty until the third track, "Greed." A punchy kick drum rides on a pulsating bassline, and the 2S transmitted that combo attack through my chair for an intensely tactile effect. Further tracks are structured the same way; rapidly undulating basslines supporting an assortment of high-tempo breakbeats, with the 2S pummeling the listener with variations on this theme. To see how loud the 2S could get without toasting my ears or the speakers, I turned off the amp powering the speakers and pushed the sub's volume as high as it would go. That was an experiment that didn't last long, since I quickly backed down after hearing what the 2S could do at full throttle. It was a brutal but thankfully short-lived experience, and the 2S certainly had dynamic range beyond what I could tolerate if not simply testing the sub's limits. In other words, it had significantly more performance than what I needed for my own enjoyment, and I probably listen to bass-heavy music at louder levels on occasion than most users ever would. My experience in listening to "Scatter Platinum" confirmed what I had already suspected: the 2S makes for a killer subwoofer for lovers of electronic music.
Movie Watching
the Arendal 2S sub relayed the immensity of these creatures with a stomach-vibrating rumble.
I had not yet seen "Avatar: The Way of Water" but was looking forward to it, and I figured it would be a good time to watch it when I have such a seemingly capable subwoofer in-house. While I had always been a fan of the first "Avatar" film, I felt that it had an odd relationship with the moviegoing public. Millions of people adored it when it was released in 2008, but as time went on, it had seemingly fallen out of public favor, and I would guess that came from over-exposure and excessive hype for its initial success. Thirteen years later, its sequel also proved to be a smash hit, and that surprised me since so many people were so quick to show disdain for the original as time went on. And yet, the last "Indiana Jones" movie, a franchise almost universally beloved, completely flops at the box office? It's a puzzle to me. Anyway, "The Way of Water" is almost certain to have some serious LFE content in it, and I felt that it was sure to make for a great exhibition of the 1723 Subwoofer 2S's capabilities. 
"The Way of Water" turned out to have tons of heavy deep bass content. I had guessed that it would, but I didn't know how much to expect since the first "Avatar" movie, while rich in bass content, didn't really go near infrasonic ranges. The sequel more than makes up for the deep bass deficiency of the first movie, and the 2S was given a very vigorous workout. From the moment the retro thrusters for the colonizing human spacecraft fired, I knew that the sound engineers were going to town on deep bass, and thankfully, the 2S was more than up to the task here. Any movie where whales play a major role should have deep bass, and the 2S relayed the immensity of these creatures with a stomach-vibrating rumble. Among other moments of heavy bass were depth charges, heavy-machine guns, giant hydroplanes, exploding attack choppers, and Simon Franglen's epic orchestral score, and all were reproduced with gusto by the 2S. As was said before, this sealed subwoofer could tackle extreme deep frequencies with ported-like ability. With the 2S, I don't feel as if I missed anything by not watching this movie with a ported sub in action. It exhibited very potent deep bass ability, a quality that I felt as much as heard. I am not sure how much more impact can be wrung from such a modestly sized container, and, for my tastes, the reason to get multiples is to address acoustic nulls, but as a single sub, the 2S had all the headroom I could ask for.
For some bass content that is a bit more down-to-earth in nature, I watched the 2020 Netflix action movie "Extraction." This big-budget production stars Chris Hemsworth as a highly trained mercenary who is hired to rescue the abducted child of an imprisoned Bangladeshi arms dealer. This film promised lots of fistfights and gun violence, and it has the budget for a great sound mix for that type of content. It should give the 2S a workout at a high volume. 
"Extraction" ended up being quite a bit more violent than I was expecting (according to List of Deaths Wiki: 114 onscreen deaths), and that was ample opportunity for the 2S to show what it can do. Most of the deaths were from guns, but the movie had its fair share of stabbings, choking, neck breakings, vehicular collisions, and explosion deaths too. The orchestral soundtrack by Alex Belcher and Henry Jackman had its moments of low-frequency thunder as well. The first action sequence had our main character murdering a whole room full of bad guys via guns, head-bashings, and stabbings, and the 2S gave all of this mayhem a visceral quality. Every time anyone had their head slammed into a wall or table, I could feel the thump through my seat. Gunshots, car crashes, grenades, and RPGs were given a chest-punching impact which increased the realism of the action. The action was brutal and nearly non-stop, and the sub had inflicted a beating on me. I enjoyed the movie, but I couldn't help to feel some relief when it ended. Anyone who enjoys movies with lots of gunfighting will like "Extraction," and they will love it when a good sub is in play such as the 1723 Subwoofer 2S.
Arendal Sound 1723 Subwoofer 2S Measurements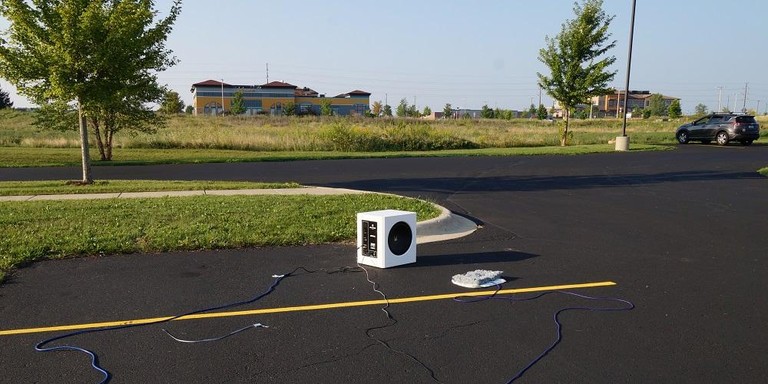 Testing on the Arendal 1723 Subwoofer 2S was conducted with the microphone facing the woofer at a 1-meter distance with measurements scaled back to a 2-meter distance by subtracting 6dB. The temperature was recorded at 75F degrees with 76% humidity. The subwoofer's gain was set to maximum, phase was set to zero, and the low pass filters were set to bypass.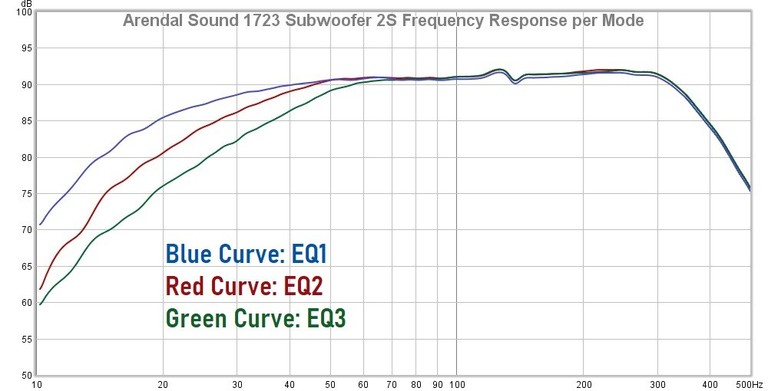 The above graph shows the measured frequency responses for the 1723 Subwoofer 2S. Depending on the selected mode, users can have a beautifully flat response from 30Hz to 300Hz. Of course, the room will wreak havoc on this pristine response, so any subwoofer having such exquisite neutrality doesn't really matter, but it is still nice to see. EQ2 and EQ3 will roll off the response and reduce the deep bass output, and that may come in handy for rooms that get a lot of low-end gain so that the bass does not become too bloated. EQ3 has the most natural 'sealed' type of response, but DSP equalization was doubtlessly used to create that response, so I would guess that isn't the natural response of the drivers within this enclosure. One aspect that I like about this performance is the upper-end extension all the way to 300Hz. That enables the user to experiment with higher-than-normal crossover frequencies which can bring a host of benefits, especially in multi-sub setups.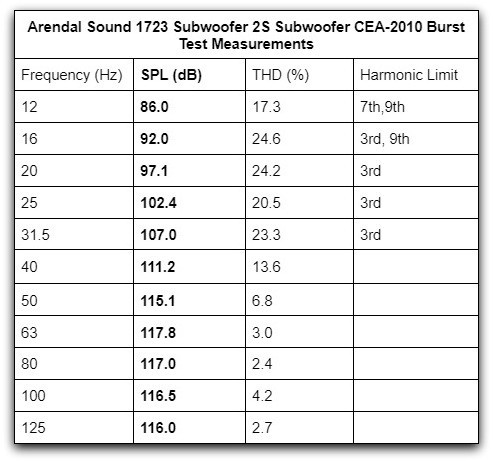 the 1723 Subwoofer 2S is a real corker among sealed subs.
The above CEA-2010 measurements are short-term bursts that show the subwoofer's clean peak SPL before heavy distortion sets in. Our measurements have been referenced to 2-meter RMS, which is 9dB down from the standard requirement for the measurements to be shown at 1-meter peak. However most publicly available CEA-2010 measurements are shown at 2-meter RMS, so we followed that convention.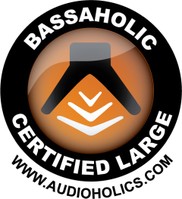 The 2S puts up some pretty serious numbers here, especially given the size. 115dB+ at 50Hz and above is some pretty beastly mid-bass output, and the deep bass is great for the class as well. These numbers do significantly depart from Arendal's posted burst test numbers at some frequencies, and that is not surprising given the design of this sub. Existing measurement techniques are not standardized well enough to fully capture the output of subwoofers with opposite radiating surfaces. Unless I measured the sub in the exact same manner that Arendal tested the sub, I would not expect to duplicate their results. Another factor that might have led to my somewhat lower measurements versus Arendals is that I tested the sub on relatively fresh asphalt on a sunny day. Even though the day was not especially warm at around 75 to 80 degrees, the reflective heat off of the asphalt may have led to thermal effects that degraded the total recorded output than it might have had otherwise. This being the case, I would definitely not consider my own recorded numbers more valid than Arendal's. In either case, the 1723 Subwoofer 2S is a real corker among sealed subs. These numbers corroborate my listening experience that this sub has a tremendous punch. 
This measurement set earns the 2S our Bassaholics 'Large' Room Rating, meaning it should be sufficient for a 3,000 to 5,000 cubic foot area. For more information on how our room ratings are determined, read our article: 'Bassaholic Room Size Rating Protocol.'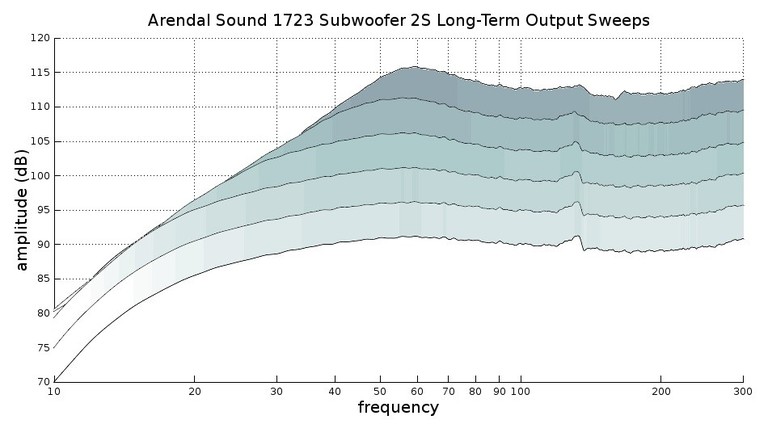 Testing for long-term output compression was done by first conducting a 20-second sweep tone where 50Hz hit 90 dB with the subwoofer 1 meter from the microphone (graph has been scaled to 2 meters for easy comparison with our other review measurements). We then conduct further 20-second sweeps by raising the gain by 5dB until no more output could be wrung out of the subwoofer. These tests show us the long-term continuous headroom that the 1723 Subwoofer 2S is capable of.
The 2S shows great capability in terms of continuous output and can belt out more than 110dB above 40Hz for sustained periods. At high levels, we do see compression over-riding its equalized response in EQ1 mode so we do get a peak at what its natural response is more like. I could probably have pushed it even harder for more output above 70Hz, but the response was already compressing heavily, so I decided to end testing at the 115dB sweep since it was already closing in on all the useful output that could be had.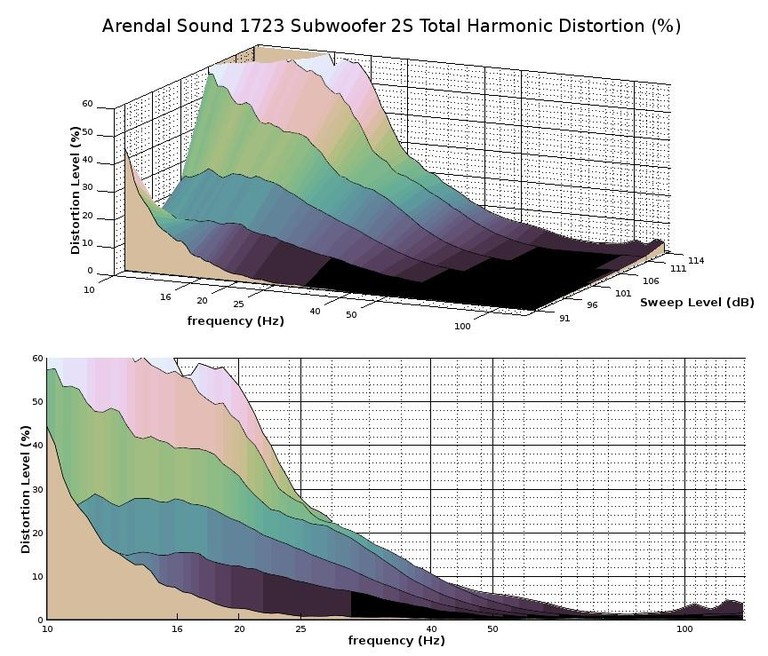 The above graphs show the corresponding total harmonic distortion to the long-term output graphs. Essentially, they depict how linear the subwoofer remains for the corresponding drive level seen in the long-term sweeps. The quantity being measured is how much of the subwoofer's output is distortion and is shown here as a percentage.
We do see distortion ramp up quickly in the low-end as drive levels rise, much like they would in most sealed subwoofers. Distortion rises quickly below 25Hz in the last 15dB or so as the equalized response shape reaches the end of excursion very quickly in deep bass. Deep bass is very tough for sealed subs, since excursion demands quadruple for every lower octave in order to retain the same amplitude level. However, we do see very clean output in mid-bass, even at the highest drive level. At 40Hz and above, the sub can't really be pushed past 10% THD. At nominal levels, the 1723 Subwoofer 2S produces very clean and well-controlled bass. At 90dB, we see a lot more environmental noise in the measurements than actual distortion, and even then, above 40Hz, it cannot exceed 1% THD. Sealed subwoofers are generally not ideal for seeking high levels of deep bass, and the 1723 Subwoofer 2S is not an exception here. That being said, it acquits itself very well given its size. A ported sub of the same size would only have a performance advantage over a very narrow range of frequencies.
the 1723 Subwoofer 2S produces very clean and well-controlled bass.
The above graphs depict measurements of the constituent harmonics from the long-term output sweeps and are what the total harmonic distortion measurements are composed of for the 2nd and 3rd harmonics. These individual harmonics can give us a clue as to what might be the cause of some quirk or non-linearity. We are only showing the 2nd and 3rd here because they more or less reflect the higher even-order and odd-order behaviors, although higher-order harmonics tend to be much further down as a percentage of distortion compared to the second and third.
The most immediate aspect of these graphs that leaps out at us is the 3rd harmonic constitutes much more of the total harmonic distortion than the 2nd. This is not unusual, and it means that the driver is reaching the limits of linear excursion more at both ends of the cone's throw rather than only in one direction. We do see that there is some asymmetry in excursion at high drive levels since the 2nd harmonic can be as high as 20% below 30Hz. I would guess this is not from induction effects since we see vanishingly little distortion in upper frequencies. Again, these high levels of distortion are only of concern when you blast the sub in deep bass; not a sealed subwoofer's forte.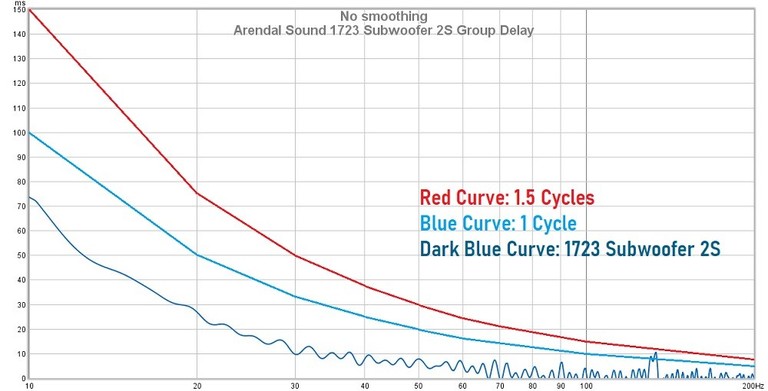 The time-domain performance of the Arendal Subwoofer 2S shown is superlative; very musical...

Group delay is the measurement of how much time it takes for individual frequency bands of an input signal to be produced by the speaker. It can indicate that some frequency components are developing slower than others or are taking longer to decay. It is generally thought that 1.5 sound cycles are needed for group delay to be audible at bass frequencies, although there is an argument that group delay should remain under 20ms to be completely unnoticeable, but that is likely meant for mid and upper bass frequencies.
Arendal subwoofers have always done well in time domain performance, and the 1723 Subwoofer 2S is no exception. Group delay is largely kept under 10ms down to 40Hz, and this is the range where it matters most. Below 40Hz, human ability to resolve sound degrades rapidly, so larger values of group delay do not matter as much, but even here the 2S maintains excellent performance, and does not cross our most strict threshold of 20ms until 25Hz. The rise that we do see in deep bass is due to response shaping from DSP equalization, but it is very well controlled and does not crop up into anything remotely audible. The other EQ modes have much the same group delay with only slight differences, so I have not bothered to include them in this graph in order to keep it uncluttered. The time-domain performance shown here is superlative, and anyone who wants a sub that isn't laggy at all has a great choice in the 2S.
Conclusion of Arendal 1723 2S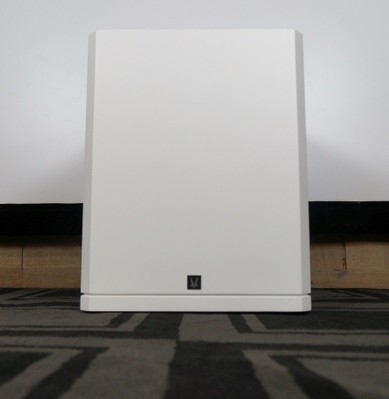 Before bringing this review to a close, I will briefly go over the strengths and weaknesses of the product under evaluation, and, as always, I will start with the weaknesses. The problem with this is that, much like other Arendal products I have dealt with, the 1723 Subwoofer 2S just doesn't have any real weaknesses. It is an expensive subwoofer, but it does deliver the goods, and there are no unexpected shortcomings for the price you pay. It is true that you can get more SPL for your money with some other brands, but the 2S is not lacking in high output, and shoppers in this segment aren't looking for SPL drag race winners anyway. There is nothing in particular that I can be seriously critical of for this sub.
So then let's talk about its strengths, the foremost of which is its performance, especially for its size. The deep bass is good for a sealed sub, and the mid-bass is terrific. While the sub can be pushed into high levels of distortion in deep bass at high driver levels, it simply cannot be pushed into any appreciable distortion in mid-bass at all. Since midbass is where the vast majority of recorded music lies, those who want to blast their tunes with near-perfect fidelity have a superlative choice in the 2S. This is further helped by the excellent time-domain performance that maintains less than 10ms of group delay down to 40Hz.
The amount of punch it packs for the size is a major advantage. As we said before, the 1723 Subwoofer 2S is not a tiny sub, but it is not a huge mini-fridge either. An advantage to this is that it can fit in many spaces where a giant sub would not. A benefit of this is that it can better be placed in more optimal locations that can address cancellation nulls and other acoustic problems, so users are more likely to get a better in-room response and thus higher sound quality from their system.
One interesting placement choice that it may be particularly suited for is that of an end table substitute. The size and shape are perfect for that function. Also, since the cabinet is very inert even at high loudness levels (thanks to the force-cancellation of the dual-opposed driver alignment), any objects placed on top will stay there instead of being shifted off from vibrations. For this reason, they could also be used as speaker stands; they are about the right height for larger stand-mount speakers, and users would not have to worry about the speakers falling off from vibrations. The signal output jacks on the 2S's amp would make it especially easy to do with powered speakers. And a pair of 2S subs would have fabulous performance as a system. 
The feature set of the 1723 Subwoofer 2S is great in its class. More modern subs are using apps for fine-tuned adjustments, but they only have crude controls on the sub itself. However, in the 2S, any change you can make on the app can also be made on the sub via a handy color LCD screen. One feature that it lacks that a handful of other same-priced subs have is an automated room correction program, although I would argue that room correction is best done through system processors rather than the sub itself. Nonetheless, that can be useful in older systems that don't have automated equalization. The 2S makes up for that omission with a 7-band parametric equalizer that is more than sufficient for addressing any acoustic compromises caused by room acoustics.
It's a nice-looking subwoofer, as subs go, and wouldn't be out of place even in higher-end interiors. And it feels as solid as it looks. The build quality is terrific for the class, and the 1723 Subwoofer 2S is built like a brick. Even though it's not a huge sub, it still has a hefty 91 lbs. weight, and a knock test returns a dull thud instead of a hollow resonance. What also inspires confidence in its build quality is the 5-year warranty on the electronics: well above the industry average.
Arendal Sound 1723 Subwoofer 2S Versus Competition

While the 1723 Subwoofer 2S holds its own, there is some pretty stiff competition out there that is worth mentioning. At $2k, the MartinLogan Dynamo 1600x is lighter, a bit smaller, and offers comparable mid-bass output, although it doesn't quite have the deep bass prowess of the 2S. The REL Acoustics HT/1510 Predator II can be had for $1.9k, and is a simpler system with fundamentally good performance. It doesn't quite have the overall output of the 2S, but it is also a lot less complex, which is not necessarily a bad thing. For those even more interested in squeezing a lot of performance out of a small container, there is the Sigberg Audio 10D . While buyers would give up some performance for going to a smaller size, the 10D packs a real punch for such a small sub, and the build quality and feature set are absolutely premium. For those who don't need their sealed sub to be too petite or beautiful, there is the JTR Captivator RS1. What it lacks in advanced features and fine finish options, it makes up for with raw performance, and it has an undeniable edge in output over the 1723 Subwoofer 2S. But the 2S's most direct competitor has to be the SVS SB16-Ultra. Given that the 2S is more difficult to comparatively measure than the SB16-Ultra, the performance is probably closer than our own measurements would suggest. The SB16-Ultra has an edge in build quality, and lifting it feels like carrying a boulder. While they share similar feature sets. I would have to give an edge to the Arendal sub in that respect since all its features are accessible from the rear panel, so you don't need the app to fine-tune the sub as you would with the SVS sub. SVS's customer service and post-purchase support are very good as well, much like Arendal's. Personally, I prefer the 2S for the versatility and flexibility of its form factor, but I would understand if someone opted for the SB16-Ultra's beefier appearance and build.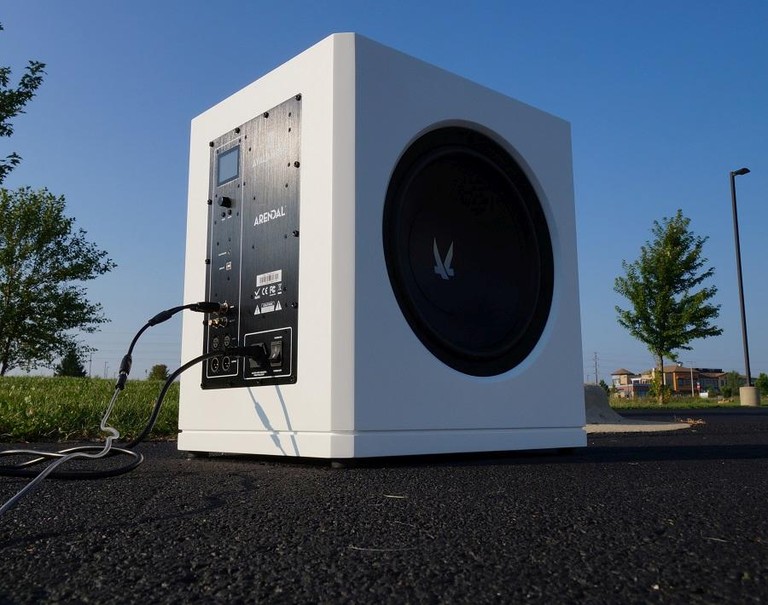 In the end, I found that there was a lot to like about the 1723 Subwoofer 2S and nothing to dislike. It's not a cheap subwoofer, but I think that it is very fairly priced, especially considering shipping is FREE and it comes with a very generous warranty (10 years on driver, 5 years on amp). I am sure that anyone who buys one will feel that that certainly got their money's worth. If I was shopping for sealed subwoofers in this price range, it is one I would strongly consider. Arendal makes that easy for anyone to see for themselves since they offer a 60-day trial period in which that subwoofer can be returned for a full refund for any reason. I will be sad to return my review unit, but my evaluation of this one is finished, so it's time to look at the next sub. I wish all subwoofers that pass through my examination were as good.

The Score Card
The scoring below is based on each piece of equipment doing the duty it is designed for. The numbers are weighed heavily with respect to the individual cost of each unit, thus giving a rating roughly equal to:
Performance × Price Factor/Value = Rating
Audioholics.com note: The ratings indicated below are based on subjective listening and objective testing of the product in question. The rating scale is based on performance/value ratio. If you notice better performing products in future reviews that have lower numbers in certain areas, be aware that the value factor is most likely the culprit. Other Audioholics reviewers may rate products solely based on performance, and each reviewer has his/her own system for ratings.
Audioholics Rating Scale
— Excellent
— Very Good
— Good
— Fair
— Poor
| Metric | Rating |
| --- | --- |
| Bass Extension | |
| Bass Accuracy | |
| Build Quality | |
| Fit and Finish | |
| Ergonomics & Usability | |
| Features | |
| Dynamic Range | |
| Performance | |
| Value | |