Print Media/Advertising in Freefall - Say Major Media Sources
Print Media/Advertising in Freefall - Say Major Media Sources
NY Times publisher: Our goal is to manage the transition from print to Internet
by Eytan Avriel, source, excerpts:
Why would the man behind the New York Times be stressed? Well, profits from the paper have been declining for four years now, and the Times company's market cap has been shrinking, too. Its share lags far behind the benchmark and just last week, the group Sulzberger leads admitted to a loss of $570 million because of writeoffs and losses at the Boston Globe.
I really don't know whether we'll be printing the Times in five years, and you know what? I don't care, either," he says. He's looking at how best to manage the transition from print to Internet.

Internet is a wonderful place to be and we're leading there," he adds. The Times has doubled its online readership, and now has 1.1 million subscribing to the print edition - and 1.5 million readers online, each day. The New York Times is on a journey, Sulzberger says, and its end will be the day the company decides to stop printing the paper. That will be the end of the transition.
CE Pro Gives Away Free Subscriptions at Trade Shows to Boost Circulation

This one took us by surprise, but lo and behold, everyone who registered for CEDIA 2010 could get a free subscription to CE Pro - at absolutely no cost!
World's Oldest Newsletter Goes Digital
by Karl Ritter (AP), source, excerpts:
For centuries, readers thumbed through the crackling pages of Sweden's Post-och Inrikes Tidningar newspaper. No longer. The world's oldest paper still in circulation has dropped its paper edition and now exists only in cyberspace. The newspaper, founded in 1645 by Sweden's Queen Kristina, became a Web-only publication on Jan. 1. It's a fate, many ink-stained writers and readers fear, that may await many of the world's most venerable journals.
U.S. media jobs slashed 88 percent
by UPI, source, excerpts:
U.S. media job cuts surged 88 percent in 2006 from the previous year, a downsizing trend expected to continue this year, a survey said Thursday.
Media companies, including the New York Times Co. and Time Inc., have already laid off 2,000 employees in 2007, Challenger noted, saying the cuts suggested the downsizing trend would continue.
Time, Inc Closes D.C., Chicage, LA Bureaus - 289 cuts
by Nat Ives, source, excerpts:
Today's job eliminations at Time Inc. totaled 289 mostly editorial posts after all was said and done, including layoffs at crown jewel People, flagship Time and other magazines from Entertainment Weekly to Sports Illustrated.
"As you all know, the past year has been a time of transition at Time Inc.," said Chairman-CEO Ann S. Moore in a midday memo to staff. "While we continue to invest in our core magazines, we are also focused on transforming our work force and broadening our digital capabilities in order to become a truly multiplatform publisher.
Goldman Sachs Says 'Star Tribune' Sale a Troubling Signal for Industry
by E&P staff, source, excerpts:
Early Wednesday, Goldman Sachs became one of the first newspaper industry analyst firms to analyze the shocking announcement of the pending sale of the Star Tribune of Minneapolis by McClatchy Co. to a private equity firm. In its heading, Goldman stated it plainly: "Minneapolis valuation a Bearish signal for newspaper industry."

"The substantial loss on the sale is a vivid reminder of the industry's declining fortunes ove the last several years," Goldman declared.
Web Use Overtakes Newspapers
by Andrew Edgecliffe-Johnson, source, excerpts:
The time European consumers spend online has, for the first time, overtaken the hours they devote to newspapers and magazines, a study revealed.

The Jupiter Research survey of more than 5,000 people in the UK, France, Germany, Italy and Spain shows that Europeans' use of the Internet is still behind the rates seen in the US. A similar study by Jupiter of US habits found that Americans now spend 14 hours a week online – as much time as they spend watching television – and just three hours reading print.
Net Advertising Spending Poised to Overtake National Press
By Carlos Grande (Financial Times), source, excerpts:
The internet will this year overtake national newspapers to become the third biggest advertising medium by spend, according to authoritative forecasts.

It estimates the internet will take 13.3 per cent of the total media advertising market – excluding areas such as direct mail, public relations and market research – in 2006. National newspapers will take 13.2 per cent.

The 39 per cent forecast rise in internet advertising contrasts with a 9 per cent decline in national newspaper advertising revenue. GroupM predicts that by the end of next year, national newspapers will have seen their share of media advertising fall to almost two-thirds of its share in 2000.
Internet holds only future for newspapers, experts warn
by South China Morning Post, source, excerpts:
Newspapers have no future without online and digital services, media executives heard at a World Association of Newspapers meeting in Madrid.
"Digital revenue is serious business ... Online business is a growth business, while newspapers are not," echoed Helmar Hipp, regional director of Austria's Voralberger Nachrichten, which draws 15 percent of its revenue from the Internet and related activities.
Time Inc. Subpoenaed on Circulation Practices
by Reuters, source, excerpts:
In what may be the most significant development to date in the ongoing consumer-magazine circulations scandals, the U.S. Attorney's Office in New York has subpoenaed Time Inc. in what appears to be a probe of its sponsored-sales practices.

On July 19, the Audit Bureau of Circulations voted to disqualify paid circulation from In Flight and EBSCO, a subscription agent. BusinessWeek and Martha Stewart Living are among a handful of magazines to miss their rate base in the wake of sponsored circ issues.
ABC Semi-annual Report of Publishers Estimates Reports Some Huge Drops in Circulation
By Stephanie D. Smith, source, excerpts:
a few magazines missed their rate base for the period. Playboy missed its 3.15 million rate base for the second reporting period in a row by 35,002 copies, as young men continued to reach for tamer publications like Dennis Publishing's Maxim and Stuff.

TV Guide, which just slashed its rate base from 9 million to 3.2 million and announced a massive redesign and reformatting of the title coming in October, saw circulation remain flat at 9.07 million. However, single copy sales crashed 38.7 percent to just 314,854 copies.

Finally, a number of titles, such as The Source, did not file by press time, usually a sign that something is amiss with its circulation. The Source, plagued by circulation woes, advertising losses and legal troubles surrounding its top editors, has not filed its audit report on time for at least two reporting periods in a row.
But Home Theater Magazines are different, right? I mean, their circulation is still going strong!
Well, we don't want to put down any particular magazines, and we certainly read a few of them ourselves, but it is becoming increasingly clear that in order to keep up circulation, many magazines are having to be given away. This technique is designed, apparently, to all but match the free-content Internet model (of course, without the high numbers of monthly readers we enjoy).
When subscriptions can't be sold in the conventional sense (on newsstands or at bookstores, supermarkets, etc) then other methods need to be applied: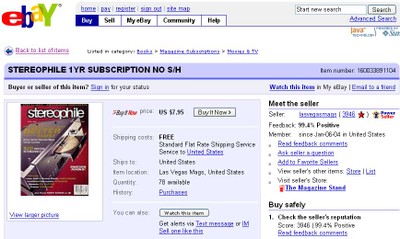 Stereophile subscriptions available on eBay for $7.95/year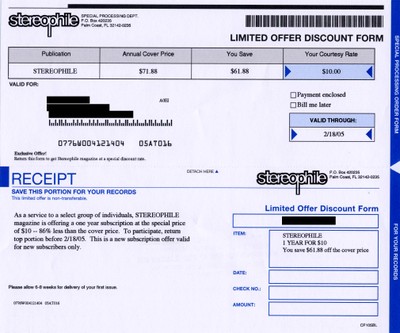 Stereophile 86% discount subscription rate

Stereophile 3YR subscriptions available on eBay for $14.25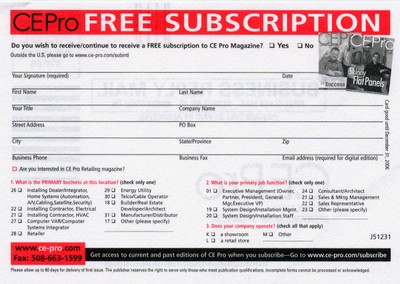 CE Pro Subscriptions are routinely free, and free to attendees of an EH Expo (also free)
Does this mean that we think Magazines are history? No, but in a changing world, they are clearly dealing with shrinking markets and readership. They are also playing catch-up to the Internet sites that have already cultivated readers, community and professional/authoritative status in the online medium. As a result, magazines are just "breaking in" to a new business model. It would be prudent, as a result, to treat them the same way you would an Internet company who suddenly started a magazine.
What will Audioholics' role be?
To be the most effective example of a 21st-Century, forward-thinking company with its sights on not only being the best source of consumer and dealer information, news and reviews, but also the best and most sensible place to put your advertising dollars. We're working for the consumer as well as manufacturers in helping to ensure everyone gets the most accurate information available on products and services.
Our education and reviews will expand into video, audio and other multimedia areas that take advantage of the growing trends on the Internet. Audioholics plans to set trends and stay on top of the industry. This is what we do and we love doing it.
See also: