Client Advertising Testimonials for Audioholics
Client Advertising Testimonials for Audioholics
We received numerous client testimonials over the years and wanted to share a few of them with our prospective advertisers:
Impact Acoustics
"I'd like to share something with you. The following chart illustrates the direct response to our advertising on Audioholics.com. The results speak for themselves: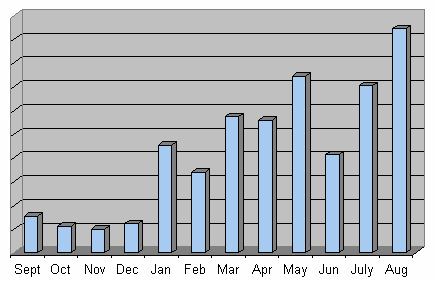 So far we've completed a year of our joint adventure. You should know that I certainly plan to continue my advertising on Audioholics. With a 3.71 ROI on advertising cost directly attributable to Audioholics driven sales, and an excellent effect on brand awareness, advertising with Audioholic has been a winning marketing strategy. Thanks for maintaining such an important and valuable resource for both the A/V community and for businesses like ours."
Joseph D. Cornwall, Business Development Manager
Impact Acoustics
Yamaha Electronics
"I have seen Audioholics evolve from a fledgling website to a premier interactive web magazine. They have been very patient and deliberate with their growth plans, and this is evident with their ongoing dedication and commitment to their clients. A high degree of technical knowledge and the ability to communicate this to their forum readers is only one of the reasons that Yamaha has chosen Audioholics to provide online advertising and marketing support through their "Silent Partner" program. We have received numerous accolades about their service, and many people have bought Yamaha products based on user experience information provided by their forum members and Audioholics staff."
Bruce Bernstein, Manager CRM/Operations
Yamaha Electronics Corporation, USA
Axiom Audio
"Axiom has been advertising with Audioholics for several years, from when they were a 'hobby' site right up through to the present incarnation as the web's leading pursuer of 'truth in audio'. Gene DellaSala and his whole team are a pleasure to work with - focused, receptive, flexible and prompt. They genuinely care about how each new marketing initiative performs for advertisers - a too-rare find these days. Top notch service, qualified audience, timely topics and a consistent attention to quality of both content and delivery make this marketing buy an easy choice for Axiom."
Amie Colquhoun, VP Marketing
Axiom Audio
Rives Audio
"We've worked with Audioholics for more than a year now. When I say "with" I truly mean that. Audioholics is in the process of growing, and they have grown quite rapidly. The work we've done with them, in particular the Acoustics section, has supported that growth and at the same time increased web traffic to our site. In almost any given time period Audioholics ranks second only to the traffic we receive from Google as a referrer to our site. Not only is the increased traffic important, but we frequently have people e-mail us or tell us that they read a particular article on Audioholics and that prompted them to call us or place an order. We expect to continue an ongoing long term relationship with Audioholics."
Richard Rives Bird
Rives Audio, Inc.
Summit Wireless
"The weekly statistic reports are very encouraging. We are seeing 51% of the traffic to our site coming from Audioholics. Nice!"
Linda Ferguson
Summit Wireless
RBH Sound, Inc.

"Web traffic on rbhsound.com is quantifiable through sophisticated metrics software; this software allows us to determine exactly how many referrals we get from each of our on-line advertising partners. The two graphs below depict actual referrals from both Audioholics.com and forums.Audioholics.com for the past 12 months:
Partnering with Audioholics.com has been one of the best marketing decisions RBH Sound has made. It seems as if we hear weekly from prospective buyers how they saw an advertisement or article about our products on Audioholics.com. Many of these people are in the United States, but more frequently we're hearing the same from people in Europe and the Far East. Try getting those results with one U.S. based print publication!"
Daren Egan, VP of Sales/Marketing
RBH Sound
River Cable
"Advertising with Audioholics has given our new brand a special credibility within the marketplace. Coordinating banner and product features with Audioholics objective review of our new cable, made a real difference in the launch success. There is no question that Audioholics' readers ARE 'audioholics' - serious about their equipment, determined to find the best performing products at the best price."
Katherine Hilliard, Marketing Director
River Cable Technologies
AV Cables
"Audioholics advertising campaign has been an excellent investment for our company. They have made every effort to tailor an ad program to fit out company's unique requirements and budget. Their customer service and responsiveness has been fantastic. I would definitely recommend them to anyone in the audio/video industry."