2017 Audioholics Product of the Year Award Winners
2017 Audioholics Product of the Year Award Winners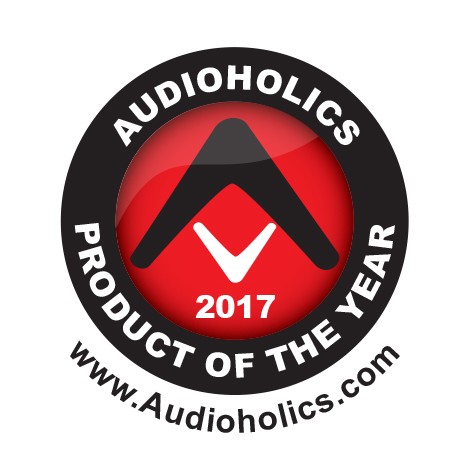 2017 Audioholics Product of Year Awards
2017 marked the year when smart devices infiltrated home theater taking things to a new level of integration both promising and terrifying for the years to come. As if AV receivers didn't do enough already, now they come armed with Amazon Alexa integration, proprietary music management systems for streaming and of course the latest in HD immersive audio and Ultra HD video support. We saw the competitive marketplace of high-performance speaker systems and sound bars expand to offer even more fantastic options that simply weren't available at these price points only a few years ago. While, at the same time, Ultra HD became more attainable especially in front projection systems. Some of our loudspeaker picks are a bit spendy but you have to appreciate the engineering behind them and the stunning sound quality as a result. Without further ado, here are our winners for the 2017 Product of the Year Awards based on our direct experience via reviews or personal demos.
YouTube Video Discussion:  2017 Audioholics Top Products and Year in Review
Award: Atmos/DTS:X 11.2CH AV Processor
Yamaha CX-A5100 | Preview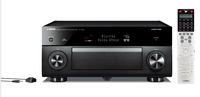 For the demanding home theater enthusiast that wants all of the latest features without sacrificing performance, Yamaha's Aventage CX-A5100 AV preamp processor is your answer. With Dolby Atmos and DTS:X support, this 64-bit powerhouse can seemingly do it all. With an array of speaker configuration options, you will be ready to support a full 11.2 or 7.2.4 system for the latest immersive audio. From high-resolution music to serving as the hub of a whole house wireless music system via their new MusicCast system to full HDMI 2.0a support, Dolby Vision and HDR support and manual PEQ function down to 15Hz per channel,  this new pre-pro from Yamaha has all the hallmarks of being a real winner. We are in the process of reviewing this unit now and are blown away by the performance/dollar ratio it offers. Long live Yamaha!
MSRP: $2,499 | Buy Now
Award: Atmos/DTS:X 11.2CH AV Receiver
Marantz SR8012 | Preview
We've been a fan of Marantz AV receivers over the years as they've always maintained good quality while offering the latest features on the market. It's no secret they share platforms with Denon, another Audioholics favorite, so this technology exchange really benefits both brands. With the ability to decode ALL of the latest immersive surround CODECS (including Auro-3D), easy to use OSD, bulletproof HDMI functionality, Audyssey editor App, and HEOS music management, what's not to like about the latest SRXX12 line of receivers from Marantz? We are currently reviewing the SR7012 but the 8012 takes it up a notch by offering a much meatier amplifier section reminiscent of days of the Super AV receivers.  A large toroidal power supply and dual heatsinks allow this bad boy to provide 140 watts/Ch x 11 which should be enough power for most home theater systems with up to a 7.2.4 speaker configuration.  
MSRP: $2,999 | Buy Now
Award: UHD Blu-ray Player

Oppo UDP-203 | Review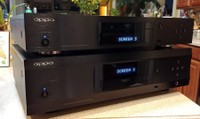 Oppo upped their game yet again with the introduction of two new Ultra HD Blu-ray players; the UDP-203 and audiophile hotrod UDP-205. Both players have very responsive interfaces, silent operation, and exhibit state of the art audio and video playback performance with every type of source material thrown at them. Whether you're viewing the latest UHD format, or standard DVD or Blu-ray upscaled to 4K, or listening DVD-A or SACD multi-channel high-resolution audio, the UDP-203 will deliver stunning results unequaled by all others except maybe their very own UDP-205 (analog audio).  
MSRP: $549 | Buy Now
Award: Bookshelf Speakers
HSU CCB-8 | Review

HSU Research dazzled us with the performance of their new coaxial CCB-8 bookshelf speakers. Featuring an 8" woofer utilized as a waveguide for a center-mounted tweeter, these compact speakers pack quite a wallop.  We've heard much, much more expensive speakers that could not image nearly as well as the CCB-8s and we found them to serve well in both two-channel and home theater applications. Don't let their compact size and reasonable price fool you. These are some serious speakers.
MSRP: $699/pair | Buy Now    

HSU CCB-8 (left pic); Legacy Audio Calibre (right pic)

Award: Upscale Bookshelf Speakers
Legacy Audio Calibre | Demo Report

Legacy Audio is known for packing their speakers with lots of piston area in the bass and mid-range frequencies to play deep and effortlessly. With 4" AMT tweeter, 7.5" mid-woofer, 8" bass driver, and dual 8" mass loaded opposing pneumatic radiators, Legacy proved to us that good things can come in small packages and they are called Calibre bookshelf speakers for a reason. If you want full range audiophile sound in a compact form factor, the Calibre speaker system from Legacy won't disappoint.
MSRP: $5,500/pr | Buy Now
Award: Floorstanding Speakers
Revel Concerta2 F36 | Review

Ever heard the saying, "It's worth the wait?" Well, it's been years in the making but Revel has finally launched their highly-anticipated Concerta2 lineup. There's nothing entry-level about the Concerta2 F36 from the lauded high-end speaker manufacturer. The F36 tower is a 2 1/2 way, ported-design, full range loudspeaker. It's built, finish, and sheer performance brings to bear some of Revel's latest audio research—and it delivers with surgical precision. You will be hard-pressed to find a better tower speaker system that gets so many things right than the Concerta2 F36.
MSRP: $2,000/pr | Buy Now
Revel Concerta F36 (left pic) ; Paradigm Persona 5F (right pic)

Award: Upscale Floorstanding Speakers
Paradigm Persona 5F | Review

The Paradigm Persona 5F tower speaker is a three-way tower speaker featuring beryllium mid-woofer and tweeter, and three 7" bass drivers. This highly-regarded Canadian loudspeaker manufacturer has launched themselves into the high-end speaker market with their Persona product line; their first foray into speakers with five-figure price tags. What struck us about these speakers wasn't their balanced sound character, or impressive build quality or aesthetics, but their stunning midrange clarity which had no equal. If you're in the market for a fullrange tower at this price point, make sure you demo the Persona 5Fs.

MSRP: $17,000/pr | Buy Now
Award: Powered Subwoofer

Outlaw Audio Ultra-X13 | Review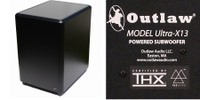 Outlaw Audio loaded the Ultra-X13 with all of the necessary ingredients of a great subwoofer including a 1,000 watt amplifier and a very long-throw 13" downfiring driver. The Ultra-X13 not only earned our Extreme Bassaholics room size rating but was one of the first home audio subwoofers to earn the THX Ultra2 certification as a single unit. It is a variable tuned subwoofer that can trade deep bass output for deep bass extension, and it also supports a sealed mode. The user can decide how they want it to handle deep bass. Sure there are cheaper options that offer similar output capabilities, but none that we've found so brilliantly executed in form and function that won't ignite a war between spouses.
MSRP: $1,500 | Buy Now


Award: 5.1 Wireless Soundbar System

Polk Audio MagniFi Max SR | Preview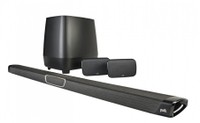 We recently reviewed Polk's foray into a niche small soundbar market with their MagniFi Mini Soundbar and Sub. With all the acclaims of their mini sound bar last year Polk decided to unleash a full-sized model based on the MagniFi Mini and announced the release of their MagniFi Max SR. For $600 you get a premium soundbar plus a wireless subwoofer AND two wireless surrounds! After hearing a demo at the 2017 CEDIA Expo, we can't think of a better way to dip into 5.1 audio so affordably and conveniently as this Polk offering. Can you?
MSRP: $600 | Buy Now


Award: 4K Front Projector

JVC DLA-X570R | Review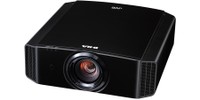 It was a tossup between JVC's DLA-X570R and Epson's 6040UB projector and we could have given the nod to either. Both projectors reproduce a stunning presentation for 4K/Ultra-HD content. Both feature 4K/UHD enhancement technology, which produces a faux-4K image that is virtually indistinguishable from a true 4K/UHD projector by alternating pixel-shifted 1080p images. They both support HDR and go beyond REC.709 but won't reproduce the full BT.2020 expanded color gamut. We gave the nod to the JVC because of its slightly deeper blacks, dual HDMI 2.0b inputs, support for HLG HDR for broadcast TV, and JVC's projection software that will allow power users to make further adjustments to the projector's settings. IF you value full P3 color gamut and having a motorized lens cover, get the Epson 6040UB.
MSRP: $3,999 | Buy Now


That's a Wrap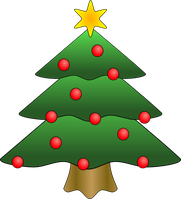 Well, that signifies the end of 2017 which proved to be a year where manufacturers of already finely established products decisively took things up a notch either in performance, features or both.  Next year will likely see another jump point in the industry of upscale Immersive Audio Preamp/Processors and affordable 4K UHD displays and projectors. We plan on focusing on products that push beyond the 7.1.4 barrier to discover what benefits they may hold beyond just adding additional speakers. We will also look at just how far smart home integration influences new home theater product development and the way we use them as consumers.
Happy New Year and here's to a great 2018 ahead!