Epson's 2016 Budget Friendly 4K Enhanced Projector Preview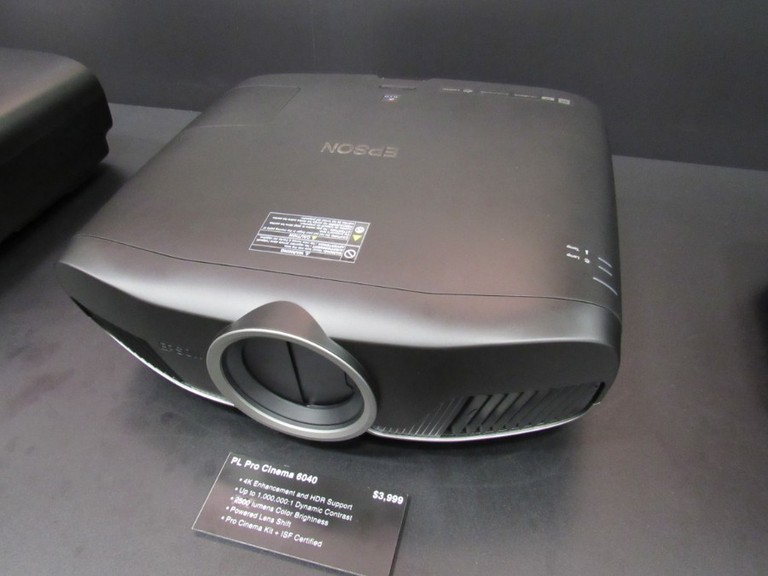 Summary
| | | | | | |
| --- | --- | --- | --- | --- | --- |
| Model | Price | Lumens | Contrast Ratio | Warranty | ISF Certified |
| Pro Cinema 4040 | $2,699 | 2300 | 160,000:1 | 3 year | No |
| Pro Cinema 6040 | $3,999 | 2500 | 1,000,000:1 | 3 year | Yes |
| Home Cinema 5040UB | $2,999 | 2500 | 1,000,000:1 | 2 year | No |
| Home Cinema 5040UBe | $3,299 | 2500 | 1,000,000:1 | 2 year | No |
On the video side of Audioholic's 2016 CEDIA experience in Dallas Texas, we got a chance to see Epson's new lineup of 4k enhanced projectors, and were impressed with the quality and price of their new line of budget friendly 4k enhanced projectors.  With large 4k ultra high definition TV's flooding the market for well below $1,000 it was just a matter of time before projector manufacturers found a way to compete with their smaller counterparts.  Enter Epson's Pro Cinema 4040 and 6040 and Home Cinema 5040, a line of projectors that utilize 4K enhancement technology to get resolution that is significantly better than 1080p projectors, but without the high cost.  4K Enhancement Technology shifts each pixel diagonally by 0.5 pixels to double the resolution and surpass Full HD image quality. Resolution is around 1920 x 1080 in 3D Mode. So considering that just last year the closest you could get to a 4k projector was around $6,000 and most cost between $10,000 to $20,000, the $2700 to $4000 price point of their new projectors is a draw for people who want better than 1080p resolution, but don't want to pay the extra money for a true 4k projector.  
Pro Cinema 4040 and 6040
Pro Cinema 4040 (left) and 6040 (right)

As mentioned, the elite Pro Cinema series features 4K Enhancement technology and supports 4K streaming devices and Ultra HD Blu-ray content and is compatible with High Dynamic Range (HDR) content as well. The 4040 is rated to 2,300 lumens of color brightness and 2,300 lumens of white brightness while the 6040 model is rated to 2,500 lumens of color brightness and 2,500 lumens of white brightness.  The 4040 projector features a 160,000:1 dynamic contrast ratio, whereas the 6040 ups it to a whopping 1,000,000:1 dynamic contrast ratio.  Both models come with a 16-piece glass lens and an amazing three-year warranty. 
Home Cinema 5040UB and 5040UBe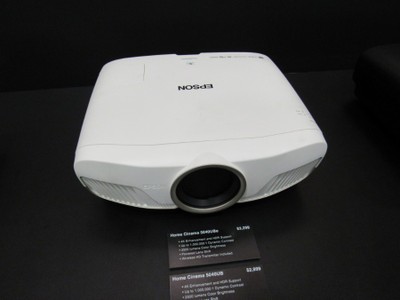 Home Cinema 5040UBe
The wireless Home Cinema 5040UBe projector is the World's First Wireless HD Projector with 4K Content Support. Like the Pro Cinema 6040, the 5040UB and 5040UBe are compatible with 4k content as well as High Dynamic Range (HDR) content. They also deliver 2,500 lumens of color brightness and 2,500 lumens of white brightness and a 1,000,000:1 dynamic contrast ratio and a two-year warranty. In fact, the 5040UB and the Pro Cinema 6040 are basically the same projector. 
So what do you get for the $1000 upcharge for the 6040? You get an extra bulb, a cable cover, and an extra year of warranty.  You'll be able to find and install the 5040UB yourself, but the 6040 is more apt to be installed by an authorized Epson installation agent.  The 6040 is also ISF certified which means that the projector has been calibrated to show the colors that the director and film editors want you to see not tricking you into seeing colors by changing the brightness or color balance. The 5040UBe is wireless though, eliminating cables and clutter. The Wireless HD transmitter has four HDMI inputs to support 4K HDCP 2.2 standards.
Are you Ready for 4k?
Whether it's the 5040UB, 5040UBe, Pro Cinema 4040, or the Pro Cinema 6040 I'm sure you'll be pleased with these new Epson projectors and your wallet will thank you as well. We use Epson projectors with great success in some of our personal theater systems and must admit the new Pro Cinema 6040 is a very tempting upgrade from our 6030 model.  Let us know what you think of these projectors in the related forum thread below and if you're ready to take the 4k plunge.  Just make sure if you do take the plunge into 4K, that you have a compatible AV receiver and source device to get the most from these new projectors.

Unless otherwise indicated, this is a preview article for the featured product. A formal review may or may not follow in the future.