Epson PowerLite Pro Cinema LS10000 3LCD Reflective Laser Projector Preview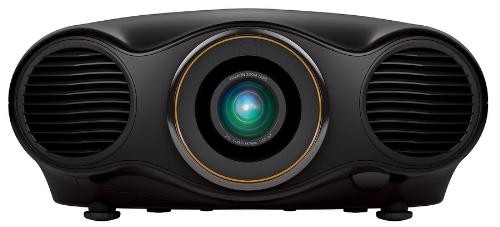 Epson PowerLite Pro Cinema LS10000
Summary
Projection System: 3LCD Reflective 3-chip technology
Projection Method: Front / rear / ceiling mount
Product Color: Black
Driving Method: Epson Poly-silicon TFT Active Matrix, 0.74-inch wide panel Reflective HTPS
Projected Output: HD, 2D, 3D, 1080p
Pixel Number: 2,073,600 dots (1920 x 1080) x 3
Color Brightness (Color Light Ouput): 1500 lumens1
White Brightness (White Light Output): 1500 lumens1
Aspect Ratio: 16:9 widescreen (4:3 resize) Compatible with 4:3 and 2.35:1 video formats with Normal, Full or Zoom Modes
Native Resolution: 1080p (1920 x 1080)
Resize: 16:10, 4:3
Laser Type: Laser Diode 41.9 mW (Output)
Light Source Life: Up to 30,000 hours (ECO Mode)2
Throw Ratio Range: 1.28 (Zoom: Wide), 2.73 (Zoom: Tele)
Size (projected distance): 100" diagonal (wide: 9.3' – tele: 19.8')
Keystone Correction: ±30 degrees
Contrast Ratio: Absolute Black (Full White 1500 lumens / Full Black 0 lumens)
Color Reproduction: Up to 1.07 billion colors
Color Processing: 10 bit (Partial 12 bit)
Projection Lens
Back to top
Type: Powered Optical zoom/ Powered focus
F-number: 2.5 – 3.7
Focal Length: 21.3 mm – 44.7 mm
Zoom Ratio: 1.0 – 2.1
Lens Shift:
Vertical: 90% max (up and down with horz. centered)
Horizontal: 40% max (left and right with vertical centered)
Lens Cover: Powered, Slide Lens Shutter
Other
Back to top
Lens Position: the following 3 items are saved in memory: Lens Shift Position / Zoom Position / Focus Position
Memory Positions: 10 (Memory 1 – 10)
Picture-in-Picture: Yes (HDMI® only)
Display Performance: 1920 x 1080 native 1080p; HD, 2D, 3D, 2D to 3D conversion
Color Modes: Dynamic, Living room, Natural, THX, Cinema, B&W Cinema, Adobe RGB, Digital Cinema, 3D Dynamic, 3D Cinema, 3D THX
Lens Iris: Fine adjustments
Super Resolution: 4K Enhancement Off / 1 / 2 / 3 / 4 / 5 / 4K-1 / 4K-2 / 4K-3 / 4K-4 / 4K-5
Deinterlacing: Film / Auto, Video, Off
Frame Interpolation: Off / Low / Normal /High (2D and 3D Mode)
Pull Down: (1080/24p) 10:10 pull down
Epson Super White: Controlled automatically adjusting to HDMI source (Available at Natural / THX / Cinema / B&W Cinema / 3D Cinema / 3D THX, User selectable On/Off on OSD)
Input Signal: HDMI: 480i/576i/480p/576p/720p/1080i/1080p/ 4K x 2K
Terminal Outputs: (2 x) configurable as Screen Power or Anamorphic Lens - Trigger On/Off (3.5 mm mini-stereo jack) each - 12 VDC 200 mA (max.)
Computer Compatibility: PC, Mac®
Interfaces:
HDMI x 2
RS-232c x 1
RCA (composite) x 1
RCA (component) x 3
VGA D-sub 15 pin (computer input) x 1
Wired LAN (RJ45, 100 Mbps) for command and Control only x 1
Operating Temperature: 41° to 95° F (5° to 35° C)
Power Supply Voltage: 100 – 240 VAC ±10% , 50/60 Hz
Power Consumption:
ECO mode: Laser on 267 W
Standby mode: 0.29 W
Fan Noise: 19 dB – 28 dB (4K Enhancement: Off)
Security: Kensington Security Lock Port
Dimensions
Back to top
Including feet: 21.65" x 21.77" x 8.85" (W x D x H)
Weight: 39.7 lbs
Executive Overview
Projector technology hasn't changed a whole lot since the advent of DLP and LCD. We've gotten better versions of these technologies but not a lot that was really "new" at a consumer level. Epson is looking to change that with their PowerLite Pro Cinema LS10000 projector. While it is still an LCD projector, the light source isn't a traditional bulb or even one of the newer LED bulbs - it is a laser.
Yes, a laser.
The Epson PowerLite Pro Cinema LS10000 has a 3LCD reflective laser solution that brags 1500 lumens of white output and zero lumens of black output. This should give owners extremely deep black levels and some of the best contrast available.
The laser light source gives a few other advantages:
High-speed contrast control and wider color gamut with rapid warm-up and cool down
Instant Off — content appears onscreen and turns off with virtually no wait
High-speed contrast control for both bright and dark scenes
Worry-free operation — up to 30,000 hours of use.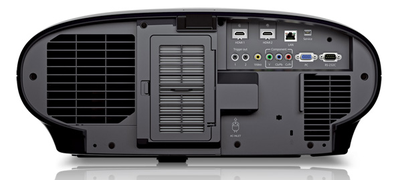 Epson PowerLite Pro Cinema LS10000 Rear

The LS10000 is a 1080p projector but has what Epson is calling "4k Enhancement technology." This new pseudo-4k shifts each pixel diagonally by 0.5 pixels to double the resolution to 3840 x 2160 and surpass Full HD image quality. Resolution is 1920 x 1080 in 3D Mode. The projector also has THX Display Certification and modes along with ISF calibration tools to ensure that you get the best possible picture (with calibration).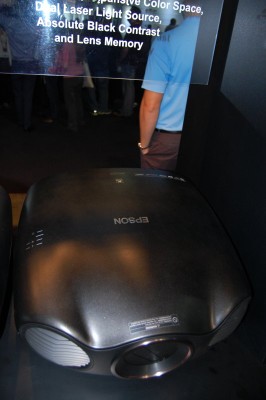 Epson PowerLite Pro Cinema LS10000 at CEDIA 2014

The LS10000 has two HDMI inputs (Picture-in-Picture is available over HDMI), one component video, one composite video, and a VGA input for connecting to a computer. There are RS-232 inputs for control as well as an Ethernet port (for control only - no streaming). Lens shift is an impressive 90% vertical and 40% horizontal with ten memory slots that save lens shift position, zoom position, and focus position for those that want to have different settings for different aspect ratios (this is extremely convenient for power users).
There is an automatic powered lens cover along with powered focus and powered optical zoom. The zoom ratio is 1.0 to 2.1 for extremely flexible placement. It accepts everything from 480i up to 4k signals though, again, it is a native 1080p projector.
Conclusion
The Epson PowerLite Pro Cinema LS10000 projector isn't cheap at somewhere under $8000 estimated street price, but it certainly isn't anywhere near the astronomical prices we've seen in other high-end projectors. With a laser light source bragging up to 30,000 hours, absolute black with zero lumens given off, and every bell and whistle you could want in a projector, the only thing this projector is missing is 4k resolution. With their pseudo-4k solution, maybe you won't miss it.
For more information, please visit www.epson.com.

Unless otherwise indicated, this is a preview article for the featured product. A formal review may or may not follow in the future.