2020 Audioholics Product Of Year Award Winners
2020 Audioholics Product Of Year Award Winners
2020 Audioholics Product of Year Award Winners
Let's face it, 2020 was a year of suck. If Doc Brown's DeLorean time machine ever becomes a reality, let's make sure the year 2020 is blacked out NEVER to be revisited again. Because of COVID-19 and it's impact on review product availability as well as all of us dealing with social distancing, we simply didn't review as many products as prior years. We did however focus our efforts on some incredibly innovative products some of which happened to earn our coveted 2020 Product of the Year Award.
2020 Audioholics Product of Year Award Winners YouTube Discussion

Award: In-Ear Monitors
Anker: Soundcore Liberty 2 Pro | Review Pending

Anker is a brand we've never heard of until we got a chance to do a shootout of their Liberty 2 Pro to more well known brands. The Soundcore Liberty 2 Pro's are the worlds first balanced armature concentric dynamic driver which is said to perfectly align directly to the ear eliminating acoustical interference while time aligning the bass and treble for seemingly perfect integration. These IEM's are armed with many sound adjustment options including: a personal hearing test to suite your ears, custom EQ to suite your taste, specialized tune based on Grammy Award producer Darrell Thorp (bass heavy, not very accurate in our opinion) or default which is the Soundcare Signature house curve. We heard so much intimacy in the vocals listening to the Soundcore Liberty 2 earphones, more so than some of its competitors from the likes of Jabra, Samsung Earbuds and the more expensive but still excellent Sennheiser Momentum. Sound seems to beam directly into your head like an Electrostatic (ESL) speaker in the sweet spot. We found ourselves rediscovering music, most notably the subtleties in the background that often aren't as noticeable on lesser designs. The magnetic box they ship is is almost as slick as the magnetic charging carry case. Plenty of tips are provided to customize the sound to your ears. Get these if you're serious about good sound and value from an IEM.
MSRP: $149 | Buy Now for $99

Award: Noise-Cancelling Headphones
Bowers & Wilkins PX7 | Review Pending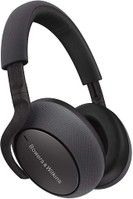 This was a difficult decision to make since we currently have two noise cancelling headphones in for review: the Bose 700 UC and the Bowers & Wilkins PX7, and we like both. While the Bose have the edge in comfort, noise cancelling and microphone quality, the Bowers and Wilkins PX7s have a longer battery life (30hr vs 20hr) and they just sound more musical to our ears. The PX7s have lots of bass output and extension and the rest of the frequency range is warm and a bit laid back but compelling to listen to. The noise-cancelling works very well and the app is a nice feature to customize your settings though we wished for an onboard EQ to better tailor the sound based on source material and preference. Still, everything from the carrying case to the swivel nicely padded earcups, Bowers & Wilkins has proven they could make a good sounding noise-cancelling headphone. If you prefer more neutral sounding headphones you may instead want to get the Bose 700 UC.

MSRP: $399 | Buy Now for $349

Award: Streaming Amplifier/DAC
Arylic A50 | Review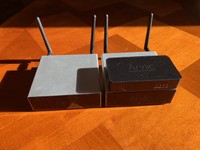 If you're looking for whole-home audio, but you already love the existing  speakers you own,  Arylic Audio has the perfect solution for you and best of all, it's relatively inexpensive. The A50 sports a high end ESS Sabre DAC found in much costlier products and it's powered by a Class D amplifier capable of outputting 35 watts/ch (8 ohms)  or 50 watts/ch (4 ohms). You can pair this with other Arylic products such as their S10 preamp if you already have amplification in other zones and network them all together for high resolution streaming playback throughout your whole home for a fraction of the cost of other systems such as Sonos. The A50 can use Wifi, Bluetooth 5.0, Apple Airplay, DLNA and Universal Plug and Play devices to get your music playing OR you can go wired through USB or RCA. There's no 3.5 mm AUX in, but they do include a 3.5mm to RCA converter cable. High resolution streaming apps such as Tidal and QoBuz so you can take full advantage of the high resolution DAC. We were quite happily surprised with the fidelity and function of these products and are confident you will be too.
MSRP: $169 | Buy Now
Award: 11CH Atmos/DTS:X AV Receiver
Marantz SR8015 | Review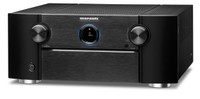 Marantz refreshed the already excellent SR8012 11CH AV receiver we reviewed back in 2018 with some great improvements we suggested from that review.  Thus the SR8015 was born. The biggest improvement is a preamp mode that disconnects the power amp section for the purest signal for anyone wanting to use the SR8015 as a dedicated preamp. In reality, the preamp section on this receiver is so good, independent if you use the preamp disconnect feature or not. Don't let the receiver moniker through you off. The SR8015 rivals ANYTHING in the Marantz AV lineup when used as a dedicated pre/pro giving the AV8805 a run for its money. Best of all, you get 11CH solid amplification rated at 140wpc x 2, tested to > 100wpc x 7CH driven. Add a 2CH external amp and you've got 13 channels of processing to run a full fledged 7.2.6 speaker layout to support Dolby Atmos, DTS:X Pro and Auro 3D. HDMI 2.1 is on board ready to support the latest 4K/120Hz resolution for next generation gaming. 
MSRP: $3,199 | Buy Now
Award: High-End Bookshelf Speaker
Polk L200 | Review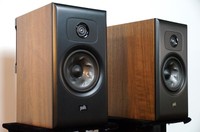 One shame about the Polk's L200 speaker is that it stands a good chance of being overshadowed by the rest of Polk's exemplary product line-up in the Legend series, particularly the monumental L800 speakers since the legend towers are a lot more grandiose. That means that speaker shoppers could potentially overlook a terrific bookshelf speaker or maybe merely use them as surround speakers in a Polk Legend surround sound system, but that would almost be a waste of these speakers' potential; surround speakers don't need to be this good. The Legend L200 speakers have a ruler flat response, excellent dispersion characteristics, and look very classy, and all without being unaffordably expensive. This is a high-end speaker, but it doesn't cost as much as many other high-end speakers with the same build quality or sound quality, so we view it as a high-end bargain. 
 MSRP: $1,799/pair | Buy Now for $1,499/pair
Award: High-Value Powered Monitor
PreSonus Eris E8 XT | Review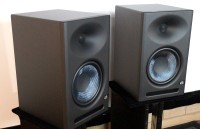 We didn't deal with any lower-cost bookshelf speakers directly in 2020, but we did review a slew of powered monitors which take largely the same size and shape as bookshelf speakers, so we will allow powered monitors in this category. It was a tough choice between the PreSonus Eris E8 XT and the Kali Audio LP-8 speakers. Both have a very high sound quality and dynamic range, in fact, they can't really be equaled in these areas by normal home-audio passive speakers, and the fact that they come with their own amplifiers sweetens the deal. What is more, their sound is easily customizable by tuning controls on the back panel, so you can adjust the sound to your taste. We narrowly hand the Product of the Year to the PreSonus Eris XT E8s because of its very low-noise amplifier which makes it more suitable for near-field use. However, those who are looking for low-cost speakers for home theater room may do a bit better with the Kali LP-8s on account of their tremendously wide dynamic range. 
MSRP: $520/pair | Buy Now
 Award: High-End Active Tower Speaker
RBH Sound Limited Edition Signature SVTRS Active Reference | Preview | Youtube Interview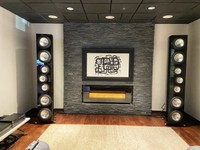 RBH Sound flagship products are no stranger to our POY awards. This company constantly pushes the envelope of performance with each new statement piece and the SVTRS active speaker system is the epitome of this. Imagine a monolithic modular tower speaker standing 7.5 ft and weighing in at over 300 lbs capable of producing cinematic SPL levels in ANY room size with the fineness of the very best audiophile product. The SVTRS system sports four(4) SV-1212 subwoofers (each earning our Extreme Bassaholic room size rating) and two SV-831 satellite modules featuring triple 8" aluminum mids and one of the best AMT's on the market from Aurum Cantum with output capabilities on par with the best horns. What makes this system really special is its a fully active design with NO passive crossovers. Instead, RBH utilizes a very powerful studio grade Marani DSP to do FIR filter optimization to make it a truly phase coherent loudspeaker. The end result? Unlimited dynamic range, bass extension that rattles your spinal column and fineness to seductively reproduce every nuance in your audiophile recordings. Serious buyers act quickly as RBH Sound is only producing 20 pairs of these and Audioholics has the first pair which is serving as our new reference speaker. If you do purchase this system, an RBH Sound employee, most likely the designer Shane Rich himself will fly out to set up and optimize the performance of this product to match the acoustics of your room. We don't know of any other consumer company offering this type of product or service which is yet another reason why it earns our 2020 Speaker of the Year award.

MSRP: $45k/system | Buy Now
Award: High Value Tower Speaker
Definitive Technology Demand D15 | Review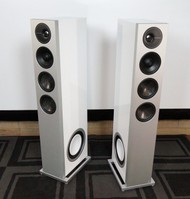 When Definitive Technology sent us their Demand D15 tower speakers in for review, we didn't know what to expect seeing as how it was a departure from their hallmark design that radiates sound from the rear of the speaker as well as the front. The Demand D15 was a more traditional speaker design, so how would Definitive Technology handle this kind of speaker in a market that already has many good examples? The answer, as it turns out, is outstandingly well. The Demand D15 is a very accurate speaker with a pancake flat response and thus a very balanced and neutral sound. What is really astonishing is its price versus its aesthetics and build quality. There are a lot of loudspeakers that are a lot more expensive than these which do not look as high-end nor sound as high-end. The D15s are not cheap speakers at $3,400/pair, but they seem like they should cost a lot more.  
MSRP: $3,398/pair | Buy Now for $2800/pair
Award: High-End Subwoofer
JTR Captivator 2400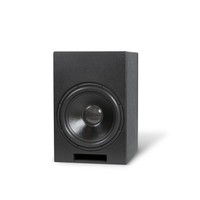 We did a full review on the JTR Captivator RS1, JTR's sealed sub with a single 18" driver, and we found it to be a great subwoofer. We also tested JTR's Captivator 2400 which is the ported version, and while we did not run a review on it, it busted all of our measurement records in the ultra-low deep bass range of 10Hz through 20Hz. This range is generally considered (although mistakenly so) below the range of human hearing but not below the range of human sensation. The JTR Captivator 2400 is both an extraordinarily high-fidelity sound reproducer and also a deep-bass monster. It is tuned for low-frequency havoc but not at the expense of accuracy, so it is just as much at home in a high-octane home theater setup as it is in a finely balanced two-channel system. It's not a small subwoofer, and it isn't a really cheap one, at $2,700 not including shipping, but it offers a level of sound quality along with deep bass extension that is unmatched at its price point. 
 MSRP: $2,699 | Buy Now
Award: High-Value Subwoofer
SVS PB-2000 Pro | Review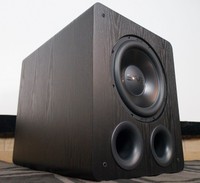 The SVS PB-2000 Pro is more than just the regular SVS PB-2000 with a couple of added features, as we found in our full review. It is an entirely new redesign with major performance gains, especially in mid-bass frequencies which is where so much content dwells. For this reason, the Pro iteration of the 2000 series hits a lot harder than its predecessor ever did. Along with the boost in performance which earned it our Large Bassaholic room size rating, the PB-2000 Pro adds SVS Subwoofer Control App for smartphones as well as native support for a sealed operating mode. It also has an uptick in aesthetics with symmetric ports and a fabric grille. The PB-2000 Pro is a major upgrade over the previous series, not a minor one, and it easily earns our product of the year in the class of affordable subwoofers. A FREE 45 day home trial with paid shipping both ways makes this subwoofer a no brainer.
MSRP: $899 | Buy Now

Conclusion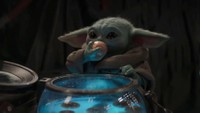 2020 was a year nobody will ever soon forget. While it was marked with global struggle to overcome a pandemic befitting a cinematic doomsday movie scenario, we were fortunate enough to cover some truly outstanding products. With the recent announcement of the Warner/HBO Max partnership and move towards first run movies in the home, there has never been a better time to build or upgrade your existing home theater. It is our hopes that some of these products make your future shopping list to provide many years of home audio bliss. Just make sure you have extra stock in eggs in case you get a surprise visit from Grogu. May the force be with you in 2021 and beyond!
See also:
Confused about what AV Gear to buy or how to set it up? Join our Exclusive Audioholics E-Book Membership Program!