Wireless IEM Headphones: Soundcore Liberty 2 Pro vs Samsung, Jabra and Sennheiser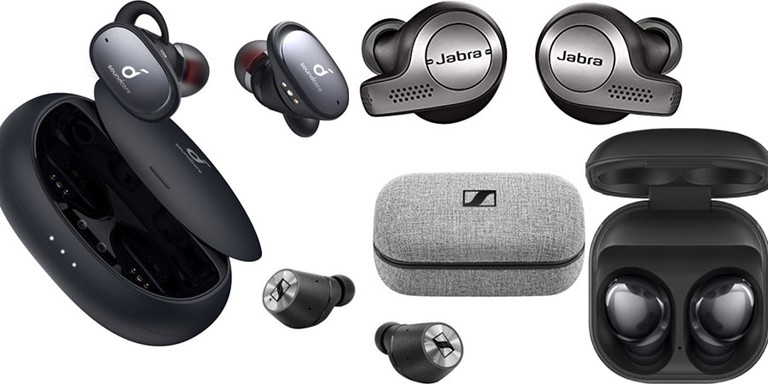 IEM Wireless Headphones
Summary
Product Name:

Buds, Elite 65T, Momentum, Soundcore Liberty 2 Pro

Manufacturer:

Samsung, Jabra, Sennheiser, Anker

Review Date:

May 30, 2021 01:35

MSRP: $130 Samsung Buds; $75 Jabra Elite 65T; $179 Sennheiser Momentum; $149 Soundcore Liberty 2 Pro
First Impression:

Gotta Have It!
Executive Overview
In Ear Monitors (IEM's) have saturated the marketplace for quite awhile but what I didn't realize before doing this comparison is how far the technology has evolved in such a short period of time. The fact that you can now purchase a pair of truly wireless IEM's with robust bluetooth integration for as little as $130 with more than 6 hours of playback time and a portable charging station to extend that while traveling is truly remarkable. This review compares the design, sound quality, and function of 4 pairs of earbuds with an emphasis on how a relative newcomer named Anker  with their Soundcore Liberty 2 Pro compares to more known bigger brand competitors.
The following IEM models were compared:
Test Set up
The majority of the sound quality and functional testing was done using an LG G7 ThinQ phone with Quad DAC. High-resolution music streaming sources included: Tidal, QoBuz, and lossless downloads. All earphones were fully charged before usage and the correct ear tips were selected based on fit and bass response.
Samsung Buds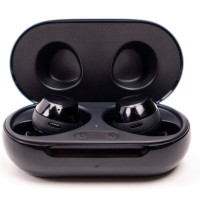 The Samsung Buds are the least expensive wireless IEM's in this comparison but don't let their price fool you. They are packed with AKG technology thanks to Samsung's acquisition of the brand which directly benefits from the research conducted by Harman.

Features:  Wireless charging, case charges with earbuds, 6-hour charge, case gives 7 hr extra charge. Bluetooth 5.0, magnetically secured to case, IP2 rating for water
Initial Impression: The Samsung earbuds are lightweight, not bulky, and they paired quickly. The case was easy to open and close. The magnetic coupling with the earbuds is a nice feature but a bit weak and easy to shake lose if turned upside down. The default ear tips were too small, making poor audio coupling with my ears. The next size up were only slightly better but there were no Comply foam tips, which are better for bass coupling. The supplied ear tips were too small to make good coupling for bass with my ears.  I had to press them into my ears hard to get good bass but they didn't stay in well enough to remain coupled. Twisting them to fit ears for best bass made it hard to use the controls because of poor finger access. I initially found they couldn't play loudly enough even though I cranked up my LG phone all the way.  I couldn't figure out how to make them louder until I downloaded the App, hit the touchpad and configured the taps to raise the volume. This is NOT intuitive and a quick Google search revealed it to be a common consumer complaint.
Sound Quality: They don't play at uncomfortably loud levels even when maxed. Bass was weak until properly fitted, but vocals were clear. Separation was good, but sound wasn't as clean as it should be because the bass seemed distorted at high volume. Dynamic EQ sounded best but the other EQ presets were mostly unpalatable. "Bad Guy" from Billie Eilish, lacked depth in bass, especially towards the end of song. Fourplay - Galaxia had clear sound in piano, drums were snappy, triangles were audible, but the soundstage seemed a bit compressed and cymbals were a bit harsh and splashy sounding.
While listening to Pat Metheny - Quartet on QoBuz, the cymbals sounded compressed and metallic, almost processed. The guitar had a nice tone, bass was present but not very deep and was a tad boomy. Overall sound was average but didn't inspire me to listen and enjoy.
Ambient sound feature - sounds very artificial and metallic, not a particularly useful feature and barely audible if music is playing. Don't use this "feature".
Phone: Distance from office to kitchen for Bluetooth (50ft).  Voice sounds thin on calls. However the person being called noted good sound quality from my voice.
Samsung Earbuds Subjective Ratings (1-5):
Bass: 3
Mids: 4
Highs: 3
Dynamics: 3
 Loudness: 4
Ambient Sound: 1.5
Overall Place:

4th Place



Jabra Elite 65T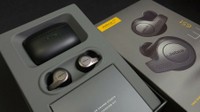 Jabra is a brand I've been unfamiliar with but it's apparently pretty popular with gamers. The Jabra Elite 65t is a third generation true wireless product which means they've had plenty of time to perfect the stability of their technology. This is definitely a step up in features and performance over the Samsung Buds and the price reflects that.

Features: Bluetooth 5.0, 5-hour battery, charging case with earbuds, case offers 2 full charges (5hr/ea.) total charge 15hr, 4 built-in microphones, built-in Alexa, built-in EQ and App control, not magnetically secured to case, IP5 water resistant, 2-year warranty
Initial Impression: The carry case is difficult to open/close. If my life depended on opening the case to get the earbuds out quickly to ward off the aliens from the movie A Quiet Place, I'd be dead. The earbuds aren't magnetically coupled to the case, which is disappointing. The USB charging cable is much too short. There are no screens on the transducers to prevent earwax from clogging them, which is a major oversight.
A similar issue of the Samsung Buds exist with the Jabra 65T. They don't couple to my ears well with the default rubber tips. In addition, it was difficult to raise volume up and down by hitting the top/bottom of left earbud. The music equalizer was much more useful on these IEM's than the presets found on the Samsung Buds. A slight elevation in treble balanced things in my ears. The larger tips coupled for bass much better in my ears. Bass was very authoritative.
Sound Quality: Billie Eilish's voice on "Bad Guy" was fuller sounding on the Jabra than on the Samsung Buds. Bass was deeper, fuller, less compressed. With tweaks to the EQ, the highs had more sparkle and detail. The bass was the biggest difference between these and the Samsung Buds. Dynamics were also better. The subtle details were clear and obvious and the bass depth was impressive during the song "My Strange Addiction".  The sound was more effortless and refined on these earphones compared to the Samsung Buds. Playing Pat Metheny -Quartet, cymbals were detailed and guitar had a nice tone, bass was full but a tad boomy. The overall sound was pleasant.
Jabra Elite 65T Subjective Ratings:
Bass: 4.5
Mids: 4.5
Highs: 4.0
Dynamics: 4
Loudness: 5
Ambient Sound: 3
Overall Ranking:

3rd Place



Hearthrough mode (aka. Ambient Sound): This was far more effective on the Jabra than on the Samsung. It didn't sound metallic or artificial though it was still not loud enough to be as effective as simply removing the headphones and using your own ears.
Phone: Distance from office to kitchen for Bluetooth (50ft).  Voice sounds better than on the Samsung. The person being called noted good sound quality from my voice.
Sennheiser Momentum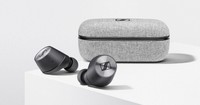 Sennheiser is a brand that needs no introductions when it comes to headphones. They are perhaps one of the most respected among audiophiles and for good reason. I was a big fan of the HD 600 over-ear headphones which I owned for many years. Their comfort and performance was excellent. I walked into this competition expecting the Momentum IEM's to impress and they didn't disappoint. The Momentum's are meticulously crafted and have the most impressive output capabilities and deep bass performance of all the IEM's compared. But, they are also the most expensive and bulky as well. A true Audiophile's headphone? Perhaps.

Features: Bluetooth 5.0. APTX, 8-hour battery from case, 4 hr battery in buds = 12 hours total, built-in EQ and App control, feels more premium, double tap right earphone to turn mic on to hear surroundings, water resistant IP4, USB-C, built-in App for EQ, smart pause feature
Initial Impressions: The Sennheiser Momentum have the nicest case, and best build quality t compared to the Jabra and Samsung earbuds. The magnets holding the Momentum earbuds to the case are much stronger than the Samsung Buds. I could NOT get the Momentum's to pair with my LG phone until I downloaded their App, which was a bit annoying. The App gives good setup instructions with graphics. I had the most pairing problems with the Sennheisers with my phone. Every other pair of earbuds in this comparison instantly paired once I placed them in my ears. The Sennheisers required multiple pairing attempts, including power cycling my phone. It was a very annoying experience. The eartips have extra protection from wax with a cross sectional cover, which was a nice addition.  The carry case is impressive with the cloth wrap and etched Sennheiser logo instead of being simply generic plastic like the others. Although these earphones were the most bulky of the four, they were easiest to fit into the ear. Out of the four earphones in this comparison, the Sennheisers were the only ones that had a dead battery after about 2 weeks of no use. This happened to me twice so definitely make sure you charge these headphones before traveling.
Sound Quality: Billie Eilish voice on "Bad Guy" immediately had a level of detail and bass I didn't hear before on the Samsung or Jabra earphones. Bass was almost too heavy on these headphones when played extremely loud. The EQ adjustment is over simplified with a one-touch control that you just slide towards bass or treble to preference. Bass is more tactile and deep on these headphones compared to the others. Vocals remain clear regardless of how much bass is pumping.
On Pat Metheny - Quartet, cymbals were more detailed and effortless than the Jabra's and guitar had a nice tone, though slightly more laid back. Bass was fuller and tighter than on the Jabras. Overall sound was more detailed and vibrant.
Transparent mode (aka. Ambient Sound): sounded the most natural and not processed like I heard with the Samsung Buds.
Phone: Distance from office to kitchen for Bluetooth (50ft).  Voice sounds similarly good to Jabra. The person being called noted good sound quality from my voice.
Sennheiser Momentum Subjective Ratings:
Bass: 5
Mids: 4
Highs: 4.5
Dynamics: 5
Loudness: 5
Ambient Sound: 4
Overall Ranking:

2nd Place



Anker Soundcore Liberty 2 Pro
Anker is a brand I've never heard of but they've got quite a selection of IEM's in their product line up. The Soundcore Liberty 2 Pro's are the worlds first balanced armature concentric dynamic driver which is said to perfectly align directly to the ear eliminating acoustical interference while time aligning the bass and treble for seemingly perfect integration. I couldn't find another IEM that has a driver like this so I'd give them kudos on this claim. But did it materialize into superior performance?

Features: 7-hour playtime, 28hr total with charging case, test hearing, customize sound.
Initial Impressions: The packaging is impressive, with the magnetic flap. The charging case is the bulkiest of the four brands, but it's very easy to open and close and fits in the hand better than the Sennheiser.  The diversity of ear tips is both impressive and the most extensive of the group, though I'd love to see some Comply foam tips included as an option.
I found it difficult to properly install these earphones into my ears with the ear wings installed. Even after they were removed, they seemed so wide that it felt odd placing them in my ears. Then I realized I was installing them upside down. The side buttons should be facing outwards but this wasn't obvious just picking them up without looking at the quick start up guide. An illustration would be useful. The quick startup guide is mostly useless. It didn't even show me how to increase/decrease volume levels but I found plenty of range just using the volume up/down from my phone it was paired with. The graphics in the setup manual are hard to read and understand. Why not tabulate what each function is and how to engage it instead? Do people read anymore? The paper it's printed on seems cheap and an afterthought. I do like the folded paper that asks the customer how they sound along with the toll-free phone support.
The case design is very impressive. I like the shape of it, and how easily and smoothly it opens and closes. The logo is trendy and I like it. The headphones themselves are lightweight despite their somewhat bulky size.
I wasn't expecting a coaxial driver topology to be advantageous since I tend to NOT prefer the sound of this type of driver in loudspeakers unless they are used in a nearfield environment. However, in the ear, this type of design makes sense and I was intrigued to hear them.
Upon initial review there was no working APP yet or EQ function accessible via the buttons, so I had to tune the bass with the ear cups. Using the 2nd largest size provided a bit more bass than stock units whereas the largest ones sealed best to my ears but produced too much bass as a result. The headphones show 2 Bluetooth connections on my phone for some reason (Soundcore Liberty 2 Pro and Soundcore Liberty 2 Pro L). This can be very confusing to the customer and I don't see a reason to pair independently like this but I found just selecting the Soundcore Liberty 2 Pro option paired both units on my phone for stereo listening. I recently downloaded and tested the Soundcore App. It takes you through a hearing test that takes roughly 3 minutes to complete. You hold down on the button each time you hear a tone. The App boosted my left ear high frequencies and cut the right ear proportionally. I recognize my hearing isn't as pristine as it was 20 years ago but I was surprised by the ampltiude corrections the App made. Though they don't tell you how many dB is on the vertical axis so you don't know for sure what amount of correction was made. I did  the hearing test twice and got consistent results. I directly compared my custom hearing setting to the recommended Soundcore Signature EQ tune and found they sounded more similar than different. These were definitely the best sounding settings for music listening in my experience.
Soundcore HearID: 1st calibration (left pic); 2nd Calibration (right pic)
Sound Quality: I found there was so much intimacy in the vocals listening to the Soundcore Liberty 2 earphones. In this regard, it was superior to the others in this comparison. Sound seems to beam directly into your head like an Electrostatic (ESL) speaker in the sweet spot. I found myself rediscovering music, most notably the subtleties in the background that often didn't stand out prior to listening on these earphones.
On Billie Eilish "When I was Older", the bass was incredibly deep and clear, the ticking clock on the right headphone felt like it was inside my head, her voice projected into me. The sound was just incredible, with excellent reverb clearly audible. This track sounded a bit more dynamic on the Sennheisers with the bass being more pronounced but not as extended.
For less bass-intensive music, I switched back to the large eartips to get fuller sound. The high-definition detail these headphones offer are leaps and bounds better than even the Sennheisers. While they play plenty loud, they just don't quite get the ludicrous mode like the Sennheisers. If you want balls to the walls loud, than the Sennheisers are your best bet in this group of IEMs.
There was an almost immediacy to Harry Connick, Jr's vocals in "What Child is This?" while listening on the Liberty 2 earbuds that I didn't sense when listening to the Sennheiser Momentums. The Liberty 2's showed off their ability to extract all of the detail in the high hats on "Silver Bells". I felt this song was a bit bright sounding and wished I could have trimmed that in EQ. But, bass was extremely punchy and the sound was very dynamic. These earbuds were engaging to listen to and had me wanting to hear all that I was missing from my favorite music on lesser products. I was having an OMG moment and was simply awe struck at how good this Harry Connick, Jr track sounded. "Joe Slam and the Spaceship" had some very deep bass tones that the Liberty 2s were able to reproduce better than I could have imagined. I was quite taken by how deep and tight the bass sounded on these earbuds, surpassing what I heard on the Sennheisers.
However, on "New Kid in Town" by the Eagles, I felt the bass was a bit too much on the Liberty 2's. It sounded more balanced on the Sennheisers. Having custom EQ settings would be very helpful in this situation. Despite the extra bass, I still preferred the clarity in the vocals on the Liberty 2's over the Sennheisers.
On ELP, "Lucky Man" I felt the Liberty 2's had better deep bass extension but the Sennheisers had a bit more midbass punch making the sound more full in this particular song when played back through them. The high frequencies were extremely detailed but a tad too bright on the Liberty 2's in this comparison.
Phone: Distance from office to kitchen for Bluetooth (50ft).  Voice sounds similarly good to Sennheiser. The  person being called noted good sound quality from my voice.
Soundcore Liberty 2 Subjective Ratings:
Bass: 5
Mids: 5
Highs: 5
Dynamics: 4.5
 Loudness: 4
Ambient Sound: not tested
Overall Ranking:

1st Place



Conclusion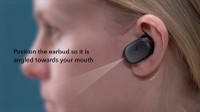 The Soundcore Liberty 2 earphones were quite an impressive product that had me captivated every time I listened to them. Aesthetically, they are very appealing with their modern, slick design and cool form factor. The fact that you could get this level of performance out of the box without even using the App to do customized EQ was quite amazing. At $149, these are shaping up to be some of the best values in wireless IEMs. Overall, I'd say the Liberty 2s are superior to the Samsung and Jabra earphones. They are also better than the Sennheisers in some areas, including high-definition detail, vocal clarity and deep bass extension. The Sennheisers do sound more dynamic and punchier on some music but this can likely be addressed with custom EQ settings tailored to the listener. The Liberty 2's need a little boost in mid bass and a slight cut in high frequencies to sound better balanced to my hearing. The user manual needs some work with better illustrations and should be printed on better quality paper. The bluetooth pairing should be unified as a single connection on the source device to eliminate confusion.
If I were writing a headline Anker to market the Soundcore Liberty 2s, it would go something like this:
The Sound of an Electostatic Speaker in your personal listening space for only $149.
Confused about what AV Gear to buy or how to set it up? Join our Exclusive Audioholics E-Book Membership Program!